Joe Martin Stage Race - NE
Fayetteville, Arkansas, USA, May 12-14, 2006
Main Page Results Overall standings Previous Stage Next Stage
Stage 2 - May 13: Road race, 92/69 miles
Fraser Foils Jelly Belly Train
by Mark Zalewski, North American Editor with additional reporting from Kirsten Robbins
Gordon Fraser (Health Net)
Photo ©: Tom Ewart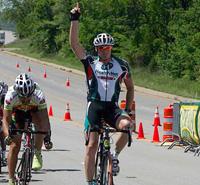 For the second day in a row, Gord Fraser (Health Net-Maxxis) has won in a field sprint at the Joe Martin Stage Race. The second road race played out in an almost identical fashion to Friday's opener, with a break going out, splitting up and then chased down. "It really was kind of the exact scenario," Fraser said. "We had Nathan in the move, and then there was a split in the move so we had to chase. Toyota helped a bit but we had to do the majority of the work."
Also like yesterday the Jelly Belly team was working for their sprinter Alex Candelario to get a win for the local sponsors. And with Brian Jensen in the break until the end, the entire team was fresh for a strong lead-out. But like yesterday, he came up just short on the line. "It was your typical downhill sprint," he explained. "I had a sick lead-out, all the guys were there. But Gord came around me."
Even though his team had to do a lot of work today, Fraser thinks his team is riding strong and is a little more confident going into the uphill time trial. "We are more tired from the early start than anything. I have a pretty good lead now, but the uphill time trials are not my strong suit. But if things go really well I'll be able to have the lead going into the last day."
While the Toyota-United Pro team did help out in the chasing later in the stage, Fraser acknowledges that some tension does exist between the top two domestic NRC teams. "Toyota has been working hard against us. It's been adversarial with that. Sometimes I think it's better to be able to coexist, but it hasn't been like that yet, at least not at this race."
Toyota-United Pro's team director Frankie Andreau says that this is to be expected at the top. "From the first day we battled. Today in the break they had O'Neill in there, so we sat on to bring it back. Every day it is a battle with them because they are super strong and we are super strong. But in tomorrow's criterium we are going to lay the smack down!"
After stage one's finish, one rider to watch from his team is Ivan Stevic, but Andreau replied that the team has a few cards they can play. "Ivan is going good, but we got a couple of other guys like Sean Sullivan too."
Pic and Van Gilder wrestle for the leaders jersey
Tina Pic (Colavita/Cooking Light)
Photo ©: Tom Ewart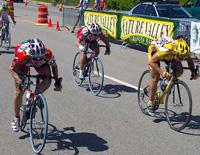 The second road stage came down to a drag race between TEAm Lipton's Laura Van Gilder and Colavita-Cooking Light's Tina Pic, with Pic nipping Van Gilder at the line to take the win while Pic's sweeper Gina Grain hung on for third. The sprint was reviewed in a photo finish post-race because both sprinters thought that Van Gilder had won. After a careful review the decision was made that Pic was slightly ahead of Van Gilder.
"I wasn't sure when I crossed the line who had won because it was really close," said Pic. "I thought that Laura won because that is what the announcer said. After winning I think I may have a five second lead in the over all."
Despite the change of decision after the race Van Gilder was still happy with the sprint and her team's performance. "It was such a fast finish and I was going for it really hard. When the announcer called my name for the win I was just really happy," said Van Gilder. "I felt like I made some mistakes yesterday and I wanted to make amends today. I am proud of the team and the way we are coming together here."
The field rolled eleven miles out of town toward the two-lap, twenty-three mile circuits. The women's field rode an aggressive road race this morning and attacks were launched by every team from the beginning of the first lap.
Many small breaks had been established and brought back during the first lap. Teams such as Webcor, Victory Brewing and TEAm Lipton launched their attacks through the climb during the second lap. These relentless surges caused a split in the field with approximately twenty riders on the front. This group spent the remainder of the lap attacking each other but all was brought back before the run-in to the finish.
Kelly Murden of VelloBella slipped off the front within fifteen miles of the finish. However, it was in Colavita-Cooking Light's best interest to keep the field together and that is just what they did. "Our team work was fantastic today," said Pic. "Our chase was good because it kept other teams from attacking and when they started we were there to cover them. When we started to sit up when Victory Brewing's Rachel Heal went and Sue brought that back. We had our work cut out for us today."
There were several attacks on the way to the finish line in a final attempt for the win but the field came flying down to the finish line together. It was a fast, long finish and difficult to judge. Van Gilder was on her teammates wheel coming into the sprint. "I let Kori go just a little to force Colavita to chase," said Van Gilder. "It gave me some extra 'real estate' in order to maneuver around before the line. Tina jumped early and it was basically a drag race the whole way and I thought I got her at the line."
All assumed Pic and Van Gilder to be tied for the leaders jersey coming into stage three held this afternoon. However, Pic held a five second lead over Van Gilder going into the infamous two and a half mile uphill time trial. Both leaders acknowledge the difficulty of the stage and the dependency on how other riders are feeling. "We have had little rest between stages and it is adding up for everyone. We will have to see how spunky the riders are feeling after this morning," said Pic.
Photography
For a thumbnail gallery of these images, click here
Images by Tom Ewart/www.nwaphoto.com
Results
Pro men
 
1 Gordon Fraser (Health Net presented by Maxxis)               3.33.29
2 Alex Candelario (Jelly Belly)                                       
3 Richard England (Priority Health)                                   
4 Caleb Manion (Jelly Belly)                                          
5 Shawn Milne (Navigators Insurance)                                  
6 Ivan Stevic (Toyota-United Pro Cycling)                             
7 Emile Abraham (AEG - TOSHIBA - JetNetwork)                          
8 Viktor Laza (AEG - TOSHIBA - JetNetwork)                            
9 Chad Nikolz (Broadmark / Hagens-Berman)                             
10 Robbie King (Priority Health)                                      
11 Whitey Debroux (Team Einstein's Cycling)                           
12 Jonathan Garcia (Team Einstein's Cycling)                          
13 Stefan Rothe (Mercy Cycling)                                       
14 Brice Jones (Jelly Belly)                                          
15 Chris Wherry (Toyota-United Pro Cycling)                           
16 Scott Moninger (Health Net presented by Maxxis)                    
17 Winfield Gibson (CTCA / Tulsa Wheelmen)                            
18 Buck Miller (Fiordifrutta Elite Cycling Team)                      
19 Predrag Prokic (AEG - TOSHIBA - JetNetwork)                        
20 Brooke Boocock (Calyon-LiteSpeed)                                  
21 Janne Hamalainen (CTCA / Tulsa Wheelmen)                           
22 Jack Seehofer (Team Einstein's Cycling)                            
23 Chad Cagle (Mercy Cycling)                                         
24 Wes Hartman (TargeTraining)                                        
25 Jose Garcia (Toyota-United Pro Cycling)                            
26 Mike Olheiser (Memphis Motor Werks/ CARVE)                         
27 Andy Guptill (TargeTraining)                                       
28 Zac Bell (Rite Aid)                                                
29 Bobby Lea (Toyota-United Pro Cycling)                              
30 Mason O'Neal (Velossimo Racing benefitting Susan G Komen)          
31 Pleasure Jackson (Broadmark / Hagens-Berman)                       
32 Jean Sebastien Perron (Calyon-LiteSpeed)                           
33 Ryan Nenninger (Mercy-Specialized)                                 
34 Bruno Langlois (AEG - TOSHIBA - JetNetwork)                        
35 Aaron Tuckerman (Team Rubicon/Gleukos)                             
36 Tom Burke (West Michigan Coast Riders)                             
37 Kevin Attkisson (Texas Roadhouse)                                  
38 Ryan Barnett (UCI CT: CAICO Pro Cycling Team)                      
39 Joel Dion Poitras (Calyon-LiteSpeed)                               
40 Richard Speer (Team Rubicon/Gleukos)                               
41 Kyle Gritters (Health Net presented by Maxxis)                     
42 Alexander Gonzalez (UCI CT: CAICO Pro Cycling Team)                
43 Scott Nydam (Rio Grande/Sports Garage)                             
44 Stephen Spanbauer (Papa John's Racing Team)                        
45 Heano Jaramillo (Monex)                                            
46 Josh Bezecny (TargeTraining)                                       
47 Ernesto Lechuga (Memphis Motor Werks/ CARVE)                       
48 Christoph Herby (Rite Aid)                                         
49 Brian Jensen (Jelly Belly)                                         
50 Andrew Bajadali (Jelly Belly)                                      
51 Eudaldo Asencio (UCI CT: CAICO Pro Cycling Team)                   
52 Nathan O'Neill (Health Net presented by Maxxis)                    
53 Eric Keim (AEG - TOSHIBA - JetNetwork)                             
54 Josh Dillon (Fiordifrutta Elite Cycling Team)                      
55 Barry Wicks (AEG - TOSHIBA - JetNetwork)                           
56 Stefano Barberi (Toyota-United Pro Cycling)                        
57 Ryan Trebon (AEG - TOSHIBA - JetNetwork)                           
58 Sean Sullivan (Toyota-United Pro Cycling)                          
59 Anthony Colby (TargeTraining)                                      
60 Michael Cody (Fiordifrutta Elite Cycling Team)                     
61 Tom Zirbel (Priority Health)                                       
62 Barkley Robinson (Rio Grande/Sports Garage)                        
63 Jamie Kimberley (Turin Bicycle/Life Fitness)                       
64 Andy Applegate (Abercrombie & Fitch p/b Inferno)                   
65 Glen Mitchel (Priority Health)                                     
66 Maxime Vives (Calyon-LiteSpeed)                                    
67 Abe McNutt (Abercrombie & Fitch pb Inferno)                        
68 Andrew Smith (Dent Wizard Cycling Team)                            
69 Eddy Hilger (Priority Health)                                      
70  Brian Sheedy (Priority Health)                                    
71 Nick Reistad (Jelly Belly)                                         
72 Kirk Albers (Jelly Belly)                                          
73 Jason Donald (Team Einstein's Cycling)                             
74 Paul Esposti (Rio Grande/Sports Garage)                            
75 Roman Kilun (Health Net presented by Maxxis)                       
76 Owen Gue (Broadmark / Hagens-Berman)                               
77 Josh Thornton (Toyota-United Pro Cycling)                          
78 William Gault (Tulsa Wheelmen / CTCA)                              
79 Neal Arnett (NA)                                                   
80 Chris Frederick (AEG - TOSHIBA - JetNetwork)                       
81 Stephen Shepherd (Rio Grande/Sports Garage)                        
82 Frank Pipp (TargeTraining)                                         
83 Michael Lanyon (Mesa Cycles Racing Team)                           
84 Tero Hameenaho (CTCA / Tulsa Wheelmen)                             
85 Chris Rozdilsky (Fiordifrutta Elite Cycling Team)                  
86 Christian Valenzuela (Monex)                                       
87 Brian Dziewa (Mercy Cycling)                                       
88 Andrew Fischer (Broadmark / Hagens-Berman)                         
89 Matty Rice (Jelly Belly)                                           
90 Brian Kendall (Team Einstein's Cycling)                            
91 Jarred Berger (Team Kaos/Nebraska Medical Center)                  
92 Ryan Hamity (Team Einstein's Cycling)                              
93 Joshua Johnson (Big Shark Racing)                                  
94 Scott Walnofer (Boston Mountain Cyclists)                          
95 Jason Woods (Dogfish)                                              
96 Eddie Swedlund (RBM Elite / Matrix)                                
97 Trevor Lister (Turin Bicycle/Life Fitness)                         
98 Tim Johnson (Health Net presented by Maxxis)                       
99 Jeffrey Schroetlin (Mesa Cycles Racing Team)                       
100 Derek Goerke (HRRC/College Point/Bike Source)                     
101 Matt White (Fiordifrutta Elite Cycling Team)                      
102 Jake Rosenbarger (Rio Grande/Sports Garage)                       
103 John Delong (Rite Aid)                                            
104 Ryan Gamm (Abercrombie & Fitch pb Inferno)                        
105 Eric Essick (Papa John's Racing Team)                             
106 Duane Dickey (Bianchi/Grand Performance)                          
107 Emmanuel Suarez (Monex)                                       0.23
108 Russell Langley (Rite Aid)                                    0.33
109 Edward King (Priority Health)                                 1.00
110 Franco Font (UCI CT: CAICO Pro Cycling Team)                  2.15
111 Frank Traviesio (AEG - TOSHIBA - JetNetwork)                  2.19
112 Loren Dodson (Velossimo Racing benefitting Susan G Komen)     2.30
113 Ian Stanford (Nature Valley / Penn Cycle)                     2.41
114 Eric Marcotte (Bianchi/Grand Performance)                     3.03
115 Hugh Moran (AEG - TOSHIBA - JetNetwork)                       3.59
116 Derek Wilkerson (Toyota-United Pro Cycling)                       
117 Erik Tomlinson (Dent Wizard Cycling Team)                     4.33
118 Eneas Freyre (TargeTraining)                                  5.15
119 Hunter East (Memphis Motor Werks/ CARVE)                     13.04
120 Karl Kupecz (Velossimo Racing benefitting Susan G Komen)          
121 Chris Spence (Team Kaos/Nebraska Medical Center)                  
122 Michael Necessary (Mesa Cycles Racing Team)                       
123 Paul Deninger (Mercy-Specialized)                                 
124 Ryan Keels (Compliance Depot)                                     
125 Glenn Fant (Monex)                                                
126 Brian Eppen (Mercy-Specialized)                                   
127 Travis Woodruff (Litespeed/PCW)                                   
128 Anuthee Huffstetter (Compliance Depot)                            
129 Shane Densmore (Compliance Depot)                                 
130 Noah Singer (Mercy Development Cycling Team)                      
131 Erik Lyman (Calyon-LiteSpeed)                                     
132 Andrew Lister (Turin Bicycle/Life Fitness)                        
133 Ryan Heydenrych (Mercy Development Cycling Team)                  
134 William Crecelius (Papa Johns Racing Team)                        
135 Charly Vives (Calyon-LiteSpeed)                                   
136 Scott Barnes (Boston Mountain Cyclist)                            
137 Mat Ankney (Mercy Cycling)                                        
138 Edwin Ramos (UCI CT: CAICO Pro Cycling Team)                      
139 Ruben Borrero (UCI CT: CAICO Pro Cycling Team)                    
140 Logan Hunn (Team Rubicon/Gleukos)                                 
141 Ethan Froese (Columbia Bike Club Race Team)                       
142 Kurt Fletcher (Dent Wizard Cycling Team)                          
143 Devon Vigus (Monex)                                          17.55
144 Jason Macom (Mercy Development Cycling Team)                      
145 Brian Baker (Papa Johns Racing Team)                              
146 Joshua Carter (Mesa Cycles Racing Team)                           
147 Marco Vasquez (Team Kaos/Nebraska Medical Center)                 
148 Andrew Weir (Sunrise Sports)                                      
149 Shawn Adams (Abercrombie & Fitch p/b Inferno)                     
150 Mark Hekman (Abercrombie & Fitch p/b Inferno)                     
151 Thomas Luke (HRRC/College Point/Bike Source)                      
152 Scott Veggeberg (Compliance Depot)                           18.20
153 Cesar Correa (Endeavour Cycling)                             28.31
154 John Meehan (Mercy-Specialized)                                   
155 Jeremy Sievers (All9Yards.com)                                    
156 Brady Gibney (Endeavour Cycling)                                  
157 Justin Jackson (MATRIX)                                           
158 Kirk Carlsen (Team Rubicon/Gleukos)                          28.41
159 Chad Vandelune (All9Yards.com)                                    
160 Matt Muyres (Nature Valley / Penn Cycle)                     47.21
DNF Ryan Fiddler (Mercy Development Cycling Team)                     
DNF Justin Morgan (Broadmark / Hagens-Berman)                         
DNF Josh Lewis (CTCA / Tulsa Wheelmen)                                
DNF Carlos Vargas (Monex)                                             
DNF Billy Jones (Endeavour Cycling)                                   
DNF Lucas Musselman (Cannondale)                                      
DNF Karl Stover (Dent Wizard Cycling Team)                            
DNF Leo Frayre (Mercy Cycling)                                        
DNF Gordon McCauley (Monex)                                           
DNF Tracy Smith (Mesa Cycles Racing Team)                             
DNF Michael Cragun (Team X Cycling)                                   
DNF Dan Timmerman (Fiordifrutta Elite Cycling Team)                   
DNF Peter Knoop (Memphis Motor Werks/ CARVE)                          
DNF Joseph Miller (Compliance Depot)                                  
DNF Doug Greek (Mercy Cycling)                                        
DNF Bryan Smith (TIAA-CREF)                                           
DNF Matt Henry (Nature Valley / Penn Cycle)                           
DNF John McLauchlin (Memphis Motor Werks/ CARVE)                      
DNF William Gowin (Appalachian State University)                      
DNF John Olney (Mercy-Specialized)                                    
DNF Chris Hamilton (NRC/PedalMasher)                                  
DNF Edgar Ibarra (Mercy Cycling)                                      
DNF Omer Kem (Monex)                                                  
DNF Zach Reed (Mesa Cycles Racing Team)                               
DNF Nathan Rogut (Compliance Depot)                                   
DNF Zach Martin (Mercy Development Cycling Team)                      
DNF Dale Sedgwick (Bianchi/Grand Performance)                         
DNF Jay Blankenship (Team X Cycling)                                  
DNF Marco Rullo (Summit Velo)                                         
DNF Clark Butcher (Memphis Motor Werks/ CARVE)                        
DNF Jim Farasy (Boston Mountain Cyclist)                              
DNF Tommy Nankervis (Priority Health)                                 
DNF Ben Raby (Bianchi/Grand Performance)                              
DNF Josh Taylor (Rite Aid)                                            
DNF Mat Stephens (Mercy Cycling)                                      
DNF Curt Kippenberger (Mercy Development Cycling Team)                
DNF Terry Beenken (Bianchi/Grand Performance)                         
DNF Matthew Long (Memphis Motor Werks/ CARVE)                         
DNF Keith Franklin (CTCA / Tulsa Wheelmen)                            
DNF Larry Perera (Fiordifrutta Elite Cycling Team)                    
DNF Jamson Hendler (West Michigan Coast Riders)                       
DNF Jeremy Sartain (Bianchi/Grand Performance)                        
DNF Ryan Blickem (TargeTraining)                                      
DNF Cale McAninch (Boston Mountain Cyclists)                          
DNF Brad Viera (Rite Aid)                                             
DNF David Sachs (Vision Quest Team)                                   
DNS Jonathan Kersha (Columbia Bike Club Race Team)                    
DNS Sterling Magnell (Toyota-United Pro Cycling)                      
DNS Steven Grife (Boston Mountain Cyclists)                           
DNS Bain Foote (Herring Gas)                                          
DNS Eric Reber (Pedal Pushers)                                        
DNS Justin England (Toyota-United Pro Cycling)                        
DNS Solomon Woras (Broadmark / Hagens-Berman)                         
 
Pro women
 
1 Tina Pic (Colavita/ Cooking Light Cycling Team)              3.01.36
2 Laura Van Gilder (Team Lipton)                                      
3 Gina Grain (Colavita/ Cooking Light Cycling Team)                   
4 Kelly Benjamin (Cheerwine)                                          
5 Katherine Bates (Nurenberg)                                         
6 Shontell Gauthier (Team Joy Rides/Austin Flyers)                    
7 Kim Geist (Victory Brewing Team)                                    
8 Dotsie Bausch (Colavita/ Cooking Light Cycling Team)                
9 Laura Yoisten (Victory Brewing Team)                                
10 Maatje Benassi (Excel Sports)                                      
11 Tara Ross (Victory Brewing Team)                                   
12 Beverley Harper (Touchstone Climbing)                              
13 Betina Hold (Webcor-Platinum Women's Cycling Team)                 
14 Molly Vetter-Smith (Mesa Cycles Racing Team)                       
15 Kathleen Billington (TRIA)                                         
16 Michelle Beltran (Cheerwine)                                       
17 Brenda Lyons (Victory Brewing Team)                                
18 Laura Bowles (Victory Brewing Team)                                
19 Leigh Hobson (Victory Brewing Team)                                
20 Kristin Wentworth (NOVA - IS CORP)                                 
21 Felicia Gomez (Webcor-Platinum Women's Cycling Team)               
22 Betsy Galenti (America's Dairyland)                                
23 Alison Powers (Rio Grande/Sports Garage)                           
24 Sue Palmer-Komar (Colavita/ Cooking Light Cycling Team)            
25 Kori Seehafer (Team Lipton)                                        
26 Allyson Brandt (ConexTrain)                                        
27 Catherine Walberg (Team Kenda Tire)                                
28 Hã©Lã¨Ne Carabin (B1 Rocks)                                        
29 Kristen Lasasso (Team Lipton)                                      
30 Erinne Willock (Webcor-Platinum Women's Cycling Team)              
31 Jennifer Manefield (Cheerwine)                                     
32 Rachel Heal (Victory Brewing Team)                                 
33 Amanda Lawrence (Verducci Racing/Break Away Bikes)                 
34 Robin Farina (Team Kenda Tire)                                     
35 Beth Allen (Team Joy Rides/Austin Flyers)                          
36 Kate Sherwin (Victory Brewing Team)                                
37 Audrey Lemieux (Colavita/ Cooking Light Cycling Team)              
38 Kristin Sanders (Cheerwine)                                        
39 Liza Rachetto (Team Lipton)                                        
40 Tracie Akerhielm (Compliance Depot Cycling Team)                   
41 Sarah Tillotson (Colavita/ Cooking Light Cycling Team)             
42 Suz Weldon (TRIA)                                                  
43 Hiroko Shimada (Velo Bella-Kona)                                   
44 Pam Hinton (TRIA)                                                  
45 Alisha Lion (Webcor-Platinum Women's Cycling Team)                 
46 Brooke Ourada (Colavita/ Cooking Light Cycling Team)               
47 Andrea Dvorak (TRIA)                                               
48 Kele Murdin (Velo Bella-Kona)                                      
49 Jenny Trew (Team Kenda Tire)                                       
50 Patricia Palmer (Americas Dairyland)                           2.31
51 Mandy Lozano (Cheerwine)                                      10.28
52 Sarah Bambeger (Cheerwine)                                         
53 Suzanne Aguero (Mercy Cycling Team)                           11.07
54 Juli Fiocca (ConexTrain)                                           
55 Mary Downing (Team Kenda Tire)                                     
56 Amber Rais (Webcor-Platinum Women's Cycling Team)                  
57 Tamyra Barnard (Team Kenda Tire)                                   
58 Cat Malone (Webcor-Platinum Women's Cycling Team)                  
59 Caroline Soong (Team Kenda Tire)                                   
60 Shannon Koch (Compliance Depot Cycling Team)                       
61 Charm Breon (Cheerwine)                                            
62 Syrae Weikle (Rio Grande/Sports Garage)                       23.10
63 Carrie Eller (TRIA)                                           27.35
64 Audrey Carmical (Team Joy Rides/Austin Flyers)                     
65 Marley Shipps (NA)                                            28.01
66 Miranda Quigley (Team Joy Rides/Austin Flyers)                     
67 Rebecca Gross (US Armed Forces)                               30.23
DNF Megan Melamed (Rio Grande/Sports Garage)                          
DNF Natalie Klemko (America's Dairyland)                              
DNF Carrieann Kopernik (NOVA - IS CORP)                               
DNF Deborah Elliott (Team Kenda Tire)                                 
DNF Kirsten Robbins (Victory Brewing Team)                            
DNF Andrea Ratkovic (B1 Rocks)                                        
DNF India Sanjuan (Touchstone Climbing)                               
DNF Allison Carter (Team Kenda Tire)                                  
DNF Jennifer Chapman (Velo Bella-Kona)                                
DNF Kendra Keeley (Rio Grande/Sports Garage)                          
DNF Sima Trapp (Colavita/ Cooking Light Cycling Team)                 
DNF Mackenzie Woodring (Priority Health Cycling Team)                 
DNF Debbie Dust (Team Kenda Tire)                                     
DNS Megan Hottman (MRRC/Trek-VW Midwest)                              
DNS Rebecca Anderson (Americas Dairyland)                             
DNS Amanda Cox (Team Kenda Tire)                                      
DNS Stacey Bertsch (Mercy Cycling Team)                               
DNS Jane Ziegler (Velo Bella-Kona)                                    
DNS Katharine Carroll (Victory Brewing Team)