54th FBD Insurance Rás - 2.2
Ireland, May 21-28, 2006
Main Page Results Overall standings Next Stage
Stage 1 - May 21: Dublin - Enniscorthy, 121 km
Newton wins, Evans loses out on opening Rás stage
Defending champion back in yellow
By Shane Stokes
Newton passes Evans
Photo ©: Shane Stokes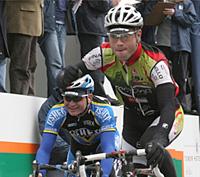 No matter how experienced the rider, there is always the chance that a fast approaching finish line and the anticipation of a big victory can combine to cause what is an elementary error. It's happened to riders such as Erik Zabel in the past, the German losing out on certain victory in the 2004 Milan San Remo, and also to many others around the world. Today, it was the turn of Dublin IRC Usher Insulations' Tommy Evans.
The 1996 Rás winner lost out by the smallest of margins at the end of the opening stage of the FBD Insurance Rás to Enniscorthy, throwing his arms in the air before the finish line and thus enabling a fast-closing Chris Newton to lunge by at the line. Evans lost out on a sixth Rás stage win by the width of a tyre, while Newton got the defence of his title off to a perfect shot with a victory and the first yellow jersey of the race.
The double world track champion was delighted with how things turned out. "I thought my team-mate Rob Sharman would get it but Tommy countered," said Newton. "It was looking good for him but I started my sprint from 300 metres out and just got by him at the line."
"It's great to get yellow," he added, smiling. "I've seen the weather reports for the week so it will be good to have another clean jersey!"
Tommy Evans (IRC Usher Insuls.)
Photo ©: Shane Stokes

Evans regretted what could have been. "I made a mess of it," he admitted after the prize presentation. "Newton's team-mate Rob Sharman went with about 1600 metres to go, I set off in pursuit with about a kilometre remaining and passed him 600 metres from the line. My legs were tying up all the way to the line…I could see Newton closing but it looked like he was going to try to get by on the right. I moved over slightly, closing the door a little on him, and thought that was enough. But I put my arms up too early. I'm really annoyed with myself."
"I have won five Rás stages in my career and made a boo-boo in two others," he continued. "Today is one, and the other was in Donegal a couple of years ago when I pulled my foot out of the pedal just before the line. I actually felt rough today, really bad – I had a cold after the Tour of Ulster and took a week completely off the bike. My goal here is to target a stage win…I had a great chance today, it's a pity I messed it up."
Two seconds after their sprint, Joe McDonnell (Australia FRF Couriers) led home the main bunch of riders. He, Evans and Newton had been part of a ten man break which was clear in the closing stages, the bunch finally getting up to them in the sprint.
Best young rider Lukasz Modzelewski
Photo ©: Shane Stokes

Bartlomiej Matysiak (Poland Legia Bazylisek) was fourth, with Benjamin Hill (Germany Stevens) and Morten Hegreberg (Norway Sparebanken Vest) filling the other places in the top six. Sharman, who may have won had Evans not succeeded in bringing him back, took seventh.
The 121 kilometre stage from Tallaght to Enniscorthy was run off in brutal weather conditions, 144 riders braving the elements for nearly three hours while sporting fixtures were being cancelled all around the country. After a number of early moves failed to stay clear, Evans, Martin Prazdnovsky (Norway Sparebanken Vest) and Bartlomiej Matysiak (Poland Legia Bazylisek) surged with 30 kilometres remaining and opened up a decisive lead. They were caught eleven kilometres from the line by seven others, Newton and Sharman included, and rode flat out from there until the finish in order to fend off a frantic chase behind.
The Ireland Grant Thornton team of David O'Loughlin and double Rás champion Ciarán Power's Éireann Dan Morrissey squad joined forces and brought the lead down to 150 metres with 2 kilometres remaining. However a slight stall was all Sharman, Evans and Newton needed to fight it out for the stage win, the latter making the most of his world track champion speed and experience to take both the victory and race lead.
Evans is second overall heading into tomorrow's 180 kilometre leg to Cobh, four seconds back, while Power and Paídi O'Brien (Ireland Grant Thornton) are third and ninth due to time bonuses gained during the stage. Power is leading the King of the Mountains classification.
How it unfolded
144 riders lined out in wet conditions for the opening stage of the FBD Insurance Rás. Starting in Tallaght, the first leg took them on a mainly flat route from there to Enniscorthy, covering 121 kilometres and two categorised climbs along the way.
The first of these, the category two ascent of the Embankment, started after just 1.2 kilometres of racing and these slopes plus an attack by Johannes Sickmuller (Germany Team Stevens) put some riders out the back very early on. Sickmuller was caught soon afterwards, after which Ciarán Power (Éireann Dan Morrissey), Lukasz Modzelewski, Bartlomiej Matysiak and Jaroslaw Welniak (all Poland Legia Bazylisek) took the KOM points at the summit. The prime line was also acting as a Hot Spot Sprint so the first three riders took bonuses of three, two and one seconds.
Next to attack was 2001 US under 23 champion Mike Friedman (USA TIAA-CREF), who launched an attack shortly after the top and quickly opened a lead of 15 seconds. Paídi O'Brien (Ireland Grant Thornton), Bartlomiej Matysiak (Poland Legia Bazylisek) and Tamas Lengyel (Norway Sparebanken Vest) set off in pursuit, but road and track rider Friedman's speed saw the 23 year old pull further and further ahead.
By Naas, 28 kilometres after the start, he had 1 minute and 15 seconds over the three chasers and 1 minute and 40 seconds on the main bunch. O'Brien, Matysiak and Tamas Lengyel were recaptured soon afterwards, while Friedman pressed on and took three seconds in time bonuses at the Hot Spot Sprint in Kilcullen (40 kilometres). Double FBD Ras champion Ciarán Power took second here, adding to what he collected in the first sprint, while Modzelewski did likewise by netting third.
After 1 hour of racing a tailwind-assisted Friedman had covered a very fast 48.3 kilometres and was 1 minute and 2 seconds clear. However, the main field were making inroads and after 50 kilometres of racing they had reduced his advantage to 54 seconds.
This lead continued to fall and approximately 8 kilometres before Castledermot (66 kilometres) he was caught. He had been clear for just over an hour and had picked up a hard-fought three bonus seconds, but also showed that he is one to watch this week.
The next King of the Mountains/Hot Spot Sprint combination came on the far side of Castledermot, where Morten Hegreberg (Norway Sparebanken Vest) took full points at the top of the category three climb. Power was second once again, while O'Brien took third ahead of Sickmuller. Martin Prazdnovsky (Norway Sparebanken Vest) went clear shortly afterwards and opened a lead of 20 seconds, but was recaptured after about fifteen minutes.
Vincent Gleeson (Kerry Earl of Desmond) then tried his luck but was soon hauled back. However a move by Martin Prazdnovsky (Norway Sparebanken Vest), Bartlomiej Matysiak (Poland Legia Bazylisek) and Tommy Evans (Dublin IRC Usher Insulations) worked out better, the trio going clear shortly after it was announced that the riders had covered 91.5 kilometres in the first two hours of racing.
With 25 kilometres to go the trio had 55 seconds and this increased to their maximum advantage of one minute by Bunclody. Five kilometres later the lead had dropped slightly, the riders being 54 seconds ahead of lone pursuer Evan Oliphant (Britain Recycling.co.uk), who made an unsuccessful attempt to get across by himself.
Seven others then made their move, Chris Newton and Rob Sharman (Britain Recycling.co.uk), Joe McDonnell (Australia FRF Couriers Caravel), Jehudi Schoonacker (Belgium M. Donnelly Sean Kelly), Brad Fairall (Canada Symmetrics), Morten Hegreberg (Norway Sparebanken Vest) and Dan Bowman (USA TIAA CREF) clipping away from the main bunch. They worked well together and closed up to the leaders with about eleven kilometres remaining.
Behind, warning signals were sounding for the other GC contenders. Newton has won the race twice, in 2003 and 2005, and it was playing with fire to allow him to get a gap on the first day. The Ireland Grant Thornton team came to the front, driving the pace up, and reducing the lead to 19 seconds with ten kilometres to go. With three kilometres remaining the break still had fifteen seconds, but the Éireann Dan Morrissey team of Ciarán Power joined forces with the Ireland riders and injected a little more pace.
A kilometre later, the break had just 150 metres lead. However the bunch stalled somewhat, enabling Sharman to bolt clear and make a dash for the line. Evans had something left in the tank, though, and he set off in pursuit, overhauling Sharman with about 600 metres remaining. He thundered up the main street and threw his arms skywards as he crossed the finish, sure he had done enough to win. However Newton was closing all the way to the line and got his front wheel fractionally ahead of Evans, who had eased back a moment too soon and thus lost out on the stage and the first yellow jersey of the race.
Two seconds later McDonnell led home Matysiak, Benjamin Hill (Germany Team Stevens), Hegreberg, Sharman, Joshua Marden, Cody Stevenson (both Australia FRF Couriers) and Schoonacker plus 94 others, the bunch catching the break in the sprint. However it was fractionally too late, as Newton and Evans had already flown and were scrapping it out for the win between them.
Photography
For a thumbnail gallery of these images, click here
Images by Shane Stokes
Results
1 Chris Newton (GBr) Recycling.co.uk               2.48.37
2 Tommy Evans (Irl) IRC Usher Insuls.                     
3 Joe McDonnell (Aus) FRF Couriers-Caravello          0.02
4 Bartlomiej Matysiak (Pol) Legia Bazylisek               
5 Benjamin Hill (Ger) Stevens                             
6 Morten Hegreberg (Nor) Sparebanken Vest                 
7 Robin Sharman (GBr) Recycling.co.uk                     
8 Joshua Marden (Aus) FRF Couriers-Caravello              
9 Cody Stevenson (Aus) FRF Couriers-Caravello             
10 Jehudi Schoonacker (Bel) M.Donnelly Sean Kelly         
11 Dan Bowman (USA) TIAA-CREF                             
12 Florian Schroder (Ger) Stevens                         
13 Przemyslaw Pietrzak (Pol) Legia Bazylisek              
14 Ciarán Power (Irl) Dan Morrissey                       
15 Brad Fairall (Can) Symmetrics                          
16 Kristian House (GBr) Recycling.co.uk                   
17 Tim Cassidy (Irl) M.Donnelly Sean Kelly                
18 Mike Friedman (USA) TIAA-CREF                          
19 Danny Pate (USA) TIAA-CREF                             
20 Morgan Fox (Irl) Murphy & Gunn/Newlyn Group            
21 Mehall Fitzgerald (Irl) MyHome.ie Cycleways            
22 Paidi O'Brien (Irl) Grant Thornton                     
23 Wayne Randle (GBr) Doncaster Stena Line                
24 Martin Prazdnovsky (Svk) Sparebanken Vest              
25 Fabian Brzezinski (Ger) Stevens                        
26 Robert Partridge (GBr) Recycling.co.uk                 
27 Kurt Bogaerts (Bel) M.Donnelly Sean Kelly              
28 Bryan Smith (USA) TIAA-CREF                            
29 Craig Sweetman (Irl) M. Donnelly                       
30 David O'Loughlin (Irl) Grant Thornton                  
31 Simon Kelly (Irl) Murphy & Gunn/Newlyn Group           
32 Brandon Crichton (Can) Symmetrics                      
33 Andrew Randell (Can) Symmetrics                        
34 John McCarthy (Irl) Earl Of Desmond                    
35 Gary McNulty (Irl) Dundrum Town Ctr.                   
36 Daniel Lynch (Irl) Murray Ford Develops.               
37 Ray Clarke (Irl) Dan Morrissey                         
38 Tamas Lengyel (Hun) Sparebanken Vest                   
39 Peter McDonald (Aus) FRF Couriers-Caravello            
40 Gavin Evans (GBr) Doncaster Stena Line                 
41 Alex Hagman (USA) Surrey Racing League                 
42 Bill Moore (Irl) M. Donnelly                           
43 Lucas Euser (USA) TIAA-CREF                            
44 Padraig Marrey (Irl) Earl Of Desmond                   
45 Tim Barry (Irl) Dan Morrissey                          
46 Daire McCaughley (Irl) Whs. All Systems                
47 John Dempsey (Irl) Murphy & Gunn/Newlyn Group          
48 Simon Saunders (GBr) Surrey Racing League              
49 Brian Kenneally (Irl) MyHome.ie Cycleways              
50 Martyn Irvine (Irl) Biznet Solutions                   
51 Vincent Gleeson (Irl) Earl Of Desmond                  
52 David Lane (Irl) Dundrum Town Ctr.                     
53 Sean Lacey (Irl) Earl Of Desmond                       
54 Johannes Sickmüller (Ger) Stevens                      
55 Josh James (Can) Endeavour Cycling                     
56 Christopher Belsham (GBr) JE James RT                  
57 Mark McLeavey (Irl) Eurocycles Eurobaby                
58 Aidan Crowley (Irl) MyHome.ie Cycleways                
59 John Lynch (Irl) Murphy Surveys                        
60 Dieter Droger (GBr) Doncaster Stena Line               
61 Daniel Duguid (GBr) Surrey Racing League               
62 Lukasz Modzelewski (Pol) Legia Bazylisek               
63 Jeff Sherstobitoff (Can) Symmetrics                    
64 Mick Steed (Irl) Murphy Surveys                        
65 Myles Crory (Irl) Cúchulainn Crystal                   
66 Michael Hennessey (Irl) Murray Ford Develops.          
67 Ryan Connor (Irl) Grant Thornton                       
68 Daire O'Sullivan (Irl) E. Loakman Remax                
69 Paul Hanna (Irl) Biznet Solutions                      
70 Mark Cassidy (Irl) M.Donnelly Sean Kelly               
71 Stephen McKenna (Irl) Biznet Solutions                 
72 Myles Kirby (Irl) Dundrum Town Ctr.                    
73 Kurt Anders Fostervold (Nor) Sparebanken Vest          
74 Stephen O'Sullivan (Irl) MyHome.ie Cycleways           
75 Michal Pawlyta (Pol) Legia Bazylisek                   
76 Bryan Keane (Irl) Whs. All Systems                     
77 Gary Crory (Irl) IRC Usher Insuls.                     
78 Noel Moloney (Irl) Eurocycles Eurobaby                 
79 Eoin Whelan (Irl) IRC Usher Insuls.                    
80 Colm Bracken (Irl) Murphy Surveys                      
81 Micheal Concannon (Irl) M.Donnelly Sean Kelly          
82 Martin O'Loughlin (Irl) Dan Morrissey                  
83 Emmett Murphy (Irl) Nat. Safety & Training             
84 Conor Murphy (Irl) Grant Thornton                      
85 Brian Taaffe (Irl) Whs. All Systems                    
86 Peter Herzig (Aus) FRF Couriers-Caravello              
87 Sean McGreevy (Irl) Cúchulainn Crystal                 
88 Llewellyn Byrne (GBr) JE James RT                      
89 Simon Whelan (Irl) Whs. All Systems                    
90 Peter O'Connor (Irl) M. Donnelly                       
91 Mike Harrison (GBr) JE James RT                        
92 Will Routley (Can) Symmetrics                          
93 Karl Dolan (Irl) Cúchulainn Crystal                    
94 Greg Swinard (Irl) IRC Usher Insuls.                   
95 Denis Lynch (Irl) Murray Ford Develops.                
96 Peter Hey (GBr) JE James RT                            
97 Toby Neave (GBr) Surrey Racing League                  
98 Michael Fitzgerald (Irl) Murray Ford Develops.         
99 Simon Mulvany (Irl) M. Donnelly                        
100 Roger Aiken (Irl) Grant Thornton                      
101 David Peelo (Irl) Murphy Surveys                      
102 Rory Wyley (Irl) Dan Morrissey                        
103 Adrian Crowley (Irl) Velotec.ie                       
104 Michael O'Reilly (Irl) Velotec.ie                     
105 John Mason (Irl) MyHome.ie Cycleways              0.37
106 Paul Vaughan (Irl) Biznet Solutions               0.44
107 Cormac O'Shea (Irl) E. Loakman Remax              0.47
108 Greg Reian (Can) Stevens                          0.51
109 Anthony O'Brien (Irl) Nat. Safety & Training          
110 Jaroslaw Welniak (Pol) Legia Bazylisek            0.54
111 Are Andresen (Nor) Sparebanken Vest                   
112 Tony Kemp (Irl) Nat. Safety & Training            1.01
113 Mathew Ward (Irl) IRC Usher Insuls.               1.09
114 Jaco Ehlers (RSA) Surrey Racing League            1.13
115 Richard Malone (Irl) E. Loakman Remax             1.22
116 John O'Shea (Irl) Murphy & Gunn/Newlyn Group      2.20
117 David Sachs (USA) Endeavour Cycling               2.25
118 Paul Healion (Irl) Murphy & Gunn/Newlyn Group     5.00
119 Evan Oliphant (GBr) Recycling.co.uk               5.03
120 Niall Brosnan (Irl) Earl Of Desmond               6.04
121 Seamus Kelly (Irl) E. Loakman Remax              11.01
122 David McLoughlin (Irl) Dundrum Town Ctr.         14.58
123 Graham Howard (USA) Endeavour Cycling            15.13
124 Jason O'Callaghan (Irl) Eurocycles Eurobaby           
125 John O'Brien (Irl) Murray Ford Develops.              
126 Will Byrne (Irl) Murphy Surveys                       
127 Frank O'Connor (Irl) M. Donnelly                      
128 Donal Byrne (Irl) Dundrum Town Ctr.                   
129 Eldon Looney (Irl) Nat. Safety & Training             
130 Mark Lovatt (GBr) Doncaster Stena Line           20.35
131 Ashley Brown (GBr) Doncaster Stena Line               
132 Matthew Melville (GBr) JE James RT                    
133 Keith Griffin (Irl) Velotec.ie                        
134 Kevin Lynch (Irl) Cúchulainn Crystal                  
135 Drew McKinley (Irl) Cúchulainn Crystal                
136 Isaiah Adams (USA) Endeavour Cycling             29.47
137 Brian Murphy (Irl) Nat. Safety & Training             
138 Brendan Kirk (Irl) Biznet Solutions                   
139 Gordon Tangney (Irl) Whs. All Systems                 
140 John-Paul Lyons (Irl) Eurocycles Eurobaby             
141 David Rawlins (Irl) Eurocycles Eurobaby               
142 Phil Maher (Irl) Velotec.ie                           
143 Frank Dunne (Irl) Velotec.ie                          
DNF F McCormack (Irl) E. Loakman Remax                    
 
Points
 
1 Chris Newton (GBr) Recycling.co.uk                    15 pts
2 Tommy Evans (Irl) IRC Usher Insuls.                   14
3 Joe McDonnell (Aus) FRF Couriers-Caravello            13
4 Bartlomiej Matysiak (Pol) Legia Bazylisek             12
5 Benjamin Hill (Ger) Stevens                           11
6 Morten Hegreberg (Nor) Sparebanken Vest               10
7 Robin Sharman (GBr) Recycling.co.uk                    9
8 Joshua Marden (Aus) FRF Couriers-Caravello             8
9 Cody Stevenson (Aus) FRF Couriers-Caravello            7
10 Jehudi Schoonacker (Bel) M.Donnelly Sean Kelly        6
11 Dan Bowman (USA) TIAA-CREF                            5
12 Florian Schroder (Ger) Stevens                        4
13 Przemyslaw Pietrzak (Pol) Legia Bazylisek             3
14 Ciarán Power (Irl) Dan Morrissey                      2
15 Brad Fairall (Can) Symmetrics                         1
 
Mountains
 
Embankment - Cat. 2
 
1 Ciarán Power (Irl) Dan Morrissey                      10 pts
2 Lukasz Modzelewski (Pol) Legia Bazylisek               8
3 Bartlomiej Matysiak (Pol) Legia Bazylisek              6
4 Jaroslaw Welniak (Pol) Legia Bazylisek                 4
 
Knocknacree - Cat. 3
 
1 Morten Hegreberg (Nor) Sparebanken Vest                5 pts
2 Ciarán Power (Irl) Dan Morrissey                       4
3 Paidi O'Brien (Irl) Grant Thornton                     3
4 Johannes Sickmüller (Ger) Stevens                      2
 
Sprints
 
Embankment
 
1 Ciarán Power (Irl) Dan Morrissey                       3 pts
2 Lukasz Modzelewski (Pol) Legia Bazylisek               2
3 Bartlomiej Matysiak (Pol) Legia Bazylisek              1
 
Kilcullen
 
1 Mike Friedman (USA) TIAA-CREF                          3 pts
2 Ciarán Power (Irl) Dan Morrissey                       2
3 Lukasz Modzelewski (Pol) Legia Bazylisek               1
 
Knocknacree
 
1 Morten Hegreberg (Nor) Sparebanken Vest                3 pts
2 Ciarán Power (Irl) Dan Morrissey                       2
3 Paidi O'Brien (Irl) Grant Thornton                     1
 
Cuchalainn Crystal County Rider
 
1 Tommy Evans (Irl) IRC Usher Insuls.              2.48.37
2 Mehall Fitzgerald (Irl) MyHome.ie Cycleways         0.02
3 Craig Sweetman (Irl) M. Donnelly                        
 
International Team
 
1 Recycling.co.uk                                  8.25.55
2 FRF Couriers-Caravello                              0.02
3 Stevens                                                 
4 TIAA-CREF                                               
5 M.Donnelly S.Kelly                                      
6 Sparebanken Vest                                        
7 Legia Bazylisek                                         
8 Symmetrics                                              
9 Dan Morrissey                                           
10 Murphy & Gunn                                          
11 Grant Thornton                                         
12 Doncaster Stena Line                                   
13 Surrey Racing League                                   
14 JE James RT                                            
15 Endeavour Cycling                                 17.36
 
County Team
 
1 IRC Usher Insuls.                                8.25.55
2 MyHome.ie Cycleways                                 0.02
3 Earl Of Desmond                                         
4 Dundrum Town Ctr.                                       
5 M. Donnelly                                             
6 Biznet Solutions                                        
7 Murray Ford Develops.                                   
8 Murphy Surveys                                          
9 Whs. All Systems                                        
10 Cúchulainn Crystal                                     
11 Nat. Safety & Training                             1.50
12 E. Loakman Remax                                   2.07
13 Eurocycles Eurobaby                               15.13
14 Velotec.ie                                        20.35
 
General classification after stage 1
 
1 Chris Newton (GBr) Recycling.co.uk               2.48.27
2 Tommy Evans (Irl) IRC Usher Insuls.                 0.04
3 Ciarán Power (Irl) Dan Morrissey                    0.05
4 Joe McDonnell (Aus) FRF Couriers-Caravello          0.08
5 Morten Hegreberg (Nor) Sparebanken Vest             0.09
6 Mike Friedman (USA) TIAA-CREF                           
7 Lukasz Modzelewski (Pol) Legia Bazylisek                
8 Bartlomiej Matysiak (Pol) Legia Bazylisek           0.11
9 Paidi O'Brien (Irl) Grant Thornton                      
10 Benjamin Hill (Ger) Stevens                        0.12
11 Robin Sharman (GBr) Recycling.co.uk                    
12 Joshua Marden (Aus) FRF Couriers-Caravello             
13 Cody Stevenson (Aus) FRF Couriers-Caravello            
14 Jehudi Schoonacker (Bel) M.Donnelly Sean Kelly         
15 Dan Bowman (USA) TIAA-CREF                             
16 Florian Schroder (Ger) Stevens                         
17 Przemyslaw Pietrzak (Pol) Legia Bazylisek              
18 Brad Fairall (Can) Symmetrics                          
19 Kristian House (GBr) Recycling.co.uk                   
20 Tim Cassidy (Irl) M.Donnelly Sean Kelly                
21 Danny Pate (USA) TIAA-CREF                             
22 Morgan Fox (Irl) Murphy & Gunn/Newlyn Group            
23 Mehall Fitzgerald (Irl) MyHome.ie Cycleways            
24 Wayne Randle (GBr) Doncaster Stena Line                
25 Martin Prazdnovsky (Svk) Sparebanken Vest              
26 Fabian Brzezinski (Ger) Stevens                        
27 Robert Partridge (GBr) Recycling.co.uk                 
28 Kurt Bogaerts (Bel) M.Donnelly Sean Kelly              
29 Bryan Smith (USA) TIAA-CREF                            
30 Craig Sweetman (Irl) M. Donnelly                       
31 David O'Loughlin (Irl) Grant Thornton                  
32 Simon Kelly (Irl) Murphy & Gunn/Newlyn Group           
33 Brandon Crichton (Can) Symmetrics                      
34 Andrew Randell (Can) Symmetrics                        
35 John McCarthy (Irl) Earl Of Desmond                    
36 Gary McNulty (Irl) Dundrum Town Ctr.                   
37 Daniel Lynch (Irl) Murray Ford Develops.               
38 Ray Clarke (Irl) Dan Morrissey                         
39 Tamas Lengyel (Hun) Sparebanken Vest                   
40 Peter McDonald (Aus) FRF Couriers-Caravello            
41 Gavin Evans (GBr) Doncaster Stena Line                 
42 Alex Hagman (USA) Surrey Racing League                 
43 Bill Moore (Irl) M. Donnelly                           
44 Lucas Euser (USA) TIAA-CREF                            
45 Padraig Marrey (Irl) Earl Of Desmond                   
46 Tim Barry (Irl) Dan Morrissey                          
47 Daire McCaughley (Irl) Whs. All Systems                
48 John Dempsey (Irl) Murphy & Gunn/Newlyn Group          
49 Simon Saunders (GBr) Surrey Racing League              
50 Brian Kenneally (Irl) MyHome.ie Cycleways              
51 Martyn Irvine (Irl) Biznet Solutions                   
52 Vincent Gleeson (Irl) Earl Of Desmond                  
53 David Lane (Irl) Dundrum Town Ctr.                     
54 Sean Lacey (Irl) Earl Of Desmond                       
55 Johannes Sickmüller (Ger) Stevens                      
56 Josh James (Can) Endeavour Cycling                     
57 Christopher Belsham (GBr) JE James RT                  
58 Mark McLeavey (Irl) Eurocycles Eurobaby                
59 Aidan Crowley (Irl) MyHome.ie Cycleways                
60 John Lynch (Irl) Murphy Surveys                        
61 Dieter Droger (GBr) Doncaster Stena Line               
62 Daniel Duguid (GBr) Surrey Racing League               
63 Jeff Sherstobitoff (Can) Symmetrics                    
64 Mick Steed (Irl) Murphy Surveys                        
65 Myles Crory (Irl) Cúchulainn Crystal                   
66 Michael Hennessey (Irl) Murray Ford Develops.          
67 Ryan Connor (Irl) Grant Thornton                       
68 Daire O'Sullivan (Irl) E. Loakman Remax                
69 Paul Hanna (Irl) Biznet Solutions                      
70 Mark Cassidy (Irl) M.Donnelly Sean Kelly               
71 Stephen McKenna (Irl) Biznet Solutions                 
72 Myles Kirby (Irl) Dundrum Town Ctr.                    
73 Kurt Anders Fostervold (Nor) Sparebanken Vest          
74 Stephen O'Sullivan (Irl) MyHome.ie Cycleways           
75 Michal Pawlyta (Pol) Legia Bazylisek                   
76 Bryan Keane (Irl) Whs. All Systems                     
77 Gary Crory (Irl) IRC Usher Insuls.                     
78 Noel Moloney (Irl) Eurocycles Eurobaby                 
79 Eoin Whelan (Irl) IRC Usher Insuls.                    
80 Colm Bracken (Irl) Murphy Surveys                      
81 Micheal Concannon (Irl) M.Donnelly Sean Kelly          
82 Martin O'Loughlin (Irl) Dan Morrissey                  
83 Emmett Murphy (Irl) Nat. Safety & Training             
84 Conor Murphy (Irl) Grant Thornton                      
85 Brian Taaffe (Irl) Whs. All Systems                    
86 Peter Herzig (Aus) FRF Couriers-Caravello              
87 Sean McGreevy (Irl) Cúchulainn Crystal                 
88 Llewellyn Byrne (GBr) JE James RT                      
89 Simon Whelan (Irl) Whs. All Systems                    
90 Peter O'Connor (Irl) M. Donnelly                       
91 Mike Harrison (GBr) JE James RT                        
92 Will Routley (Can) Symmetrics                          
93 Karl Dolan (Irl) Cúchulainn Crystal                    
94 Greg Swinard (Irl) IRC Usher Insuls.                   
95 Denis Lynch (Irl) Murray Ford Develops.                
96 Peter Hey (GBr) JE James RT                            
97 Toby Neave (GBr) Surrey Racing League                  
98 Michael Fitzgerald (Irl) Murray Ford Develops.         
99 Simon Mulvany (Irl) M. Donnelly                        
100 Roger Aiken (Irl) Grant Thornton                      
101 David Peelo (Irl) Murphy Surveys                      
102 Rory Wyley (Irl) Dan Morrissey                        
103 Adrian Crowley (Irl) Velotec.ie                       
103 Michael O'Reilly (Irl) Velotec.ie                     
105 John Mason (Irl) MyHome.ie Cycleways              0.47
106 Paul Vaughan (Irl) Biznet Solutions               0.54
107 Cormac O'Shea (Irl) E. Loakman Remax              0.57
108 Greg Reian (Can) Stevens                          1.01
109 Anthony O'Brien (Irl) Nat. Safety & Training          
110 Jaroslaw Welniak (Pol) Legia Bazylisek            1.04
111 Are Andresen (Nor) Sparebanken Vest                   
112 Tony Kemp (Irl) Nat. Safety & Training            1.11
113 Mathew Ward (Irl) IRC Usher Insuls.               1.19
114 Jaco Ehlers (RSA) Surrey Racing League            1.23
115 Richard Malone (Irl) E. Loakman Remax             1.32
116 John O'Shea (Irl) Murphy & Gunn/Newlyn Group      2.30
117 David Sachs (USA) Endeavour Cycling               2.35
118 Paul Healion (Irl) Murphy & Gunn/Newlyn Group     5.10
119 Evan Oliphant (GBr) Recycling.co.uk               5.13
120 Niall Brosnan (Irl) Earl Of Desmond               6.14
121 Seamus Kelly (Irl) E. Loakman Remax              11.11
122 David McLoughlin (Irl) Dundrum Town Ctr.         15.08
123 Graham Howard (USA) Endeavour Cycling            15.23
124 Jason O'Callaghan (Irl) Eurocycles Eurobaby           
125 John O'Brien (Irl) Murray Ford Develops.              
126 Will Byrne (Irl) Murphy Surveys                       
127 Frank O'Connor (Irl) M. Donnelly                      
128 Donal Byrne (Irl) Dundrum Town Ctr.                   
129 Eldon Looney (Irl) Nat. Safety & Training             
130 Mark Lovatt (GBr) Doncaster Stena Line                
131 Ashley Brown (GBr) Doncaster Stena Line               
132 Matthew Melville (GBr) JE James RT                    
133 Keith Griffin (Irl) Velotec.ie                        
134 Kevin Lynch (Irl) Cúchulainn Crystal                  
135 Drew McKinley (Irl) Cúchulainn Crystal                
136 Isaiah Adams (USA) Endeavour Cycling             29.57
137 Brian Murphy (Irl) Nat. Safety & Training             
138 Brendan Kirk (Irl) Biznet Solutions                   
139 Gordon Tangney (Irl) Whs. All Systems                 
140 John-Paul Lyons (Irl) Eurocycles Eurobaby             
141 David Rawlins (Irl) Eurocycles Eurobaby               
142 Phil Maher (Irl) Velotec.ie                           
143 Frank Dunne (Irl) Velotec.ie                          
 
Points classification
 
1 Chris Newton (GBr) Recycling.co.uk                    15 pts
2 Tommy Evans (Irl) IRC Usher Insuls.                   14
3 Joe McDonnell (Aus) FRF Couriers-Caravello            13
4 Bartlomiej Matysiak (Pol) Legia Bazylisek             12
5 Benjamin Hill (Ger) Stevens                           11
6 Morten Hegreberg (Nor) Sparebanken Vest               10
7 Robin Sharman (GBr) Recycling.co.uk                    9
8 Joshua Marden (Aus) FRF Couriers-Caravello             8
9 Cody Stevenson (Aus) FRF Couriers-Caravello            7
10 Jehudi Schoonacker (Bel) M.Donnelly Sean Kelly        6
11 Dan Bowman (USA) TIAA-CREF                            5
12 Florian Schroder (Ger) Stevens                        4
13 Przemyslaw Pietrzak (Pol) Legia Bazylisek             3
14 Ciarán Power (Irl) Dan Morrissey                      2
15 Brad Fairall (Can) Symmetrics                         1
 
Mountains classification
 
1 Ciarán Power (Irl) Dan Morrissey                      14 pts
2 Lukasz Modzelewski (Pol) Legia Bazylisek               8
3 Bartlomiej Matysiak (Pol) Legia Bazylisek              6
4 Morten Hegreberg (Nor) Sparebanken Vest                5
5 Jaroslaw Welniak (Pol) Legia Bazylisek                 4
6 Paidi O'Brien (Irl) Grant Thornton                     3
7 Johannes Sickmüller (Ger) Stevens                      2
 
Ben McKenna Trophy U23 Rider classification
 
1 Lukasz Modzelewski (Pol) Legia Bazylisek         2.48.36
2 Bartlomiej Matysiak (Pol) Legia Bazylisek           0.02
3 Paidi O'Brien (Irl) Grant Thornton                      
4 Benjamin Hill (Ger) Stevens                         0.03
5 Florian Schroder (Ger) Stevens                          
6 Przemyslaw Pietrzak (Pol) Legia Bazylisek               
7 Brad Fairall (Can) Symmetrics                           
8 Robert Partridge (GBr) Recycling.co.uk                  
9 Brandon Crichton (Can) Symmetrics                       
10 Martyn Irvine (Irl) Biznet Solutions                   
11 Josh James (Can) Endeavour Cycling                     
12 Ryan Connor (Irl) Grant Thornton                       
13 Paul Hanna (Irl) Biznet Solutions                      
14 Mark Cassidy (Irl) M.Donnelly Sean Kelly               
15 Micheal Concannon (Irl) M.Donnelly Sean Kelly          
16 Graham Howard (USA) Endeavour Cycling             15.14
17 David Rawlins (Irl) Eurocycles Eurobaby           29.48
 
CI Category 2 classification
 
1 John McCarthy (Irl) Earl Of Desmond              2.48.39
2 Gary McNulty (Irl) Dundrum Town Ctr.                    
3 Daire McCaughley (Irl) Whs. All Systems                 
4 Mark McLeavey (Irl) Eurocycles Eurobaby                 
5 Myles Kirby (Irl) Dundrum Town Ctr.                     
6 Noel Moloney (Irl) Eurocycles Eurobaby                  
7 Emmett Murphy (Irl) Nat. Safety & Training              
8 Simon Whelan (Irl) Whs. All Systems                     
9 Peter O'Connor (Irl) M. Donnelly                        
10 Adrian Crowley (Irl) Velotec.ie                        
11 Paul Vaughan (Irl) Biznet Solutions                0.42
12 Anthony O'Brien (Irl) Nat. Safety & Training       0.49
13 Tony Kemp (Irl) Nat. Safety & Training             0.59
14 Niall Brosnan (Irl) Earl Of Desmond                6.02
15 David McLoughlin (Irl) Dundrum Town Ctr.          14.56
16 Jason O'Callaghan (Irl) Eurocycles Eurobaby       15.11
17 Will Byrne (Irl) Murphy Surveys                        
18 Frank O'Connor (Irl) M. Donnelly                       
19 Eldon Looney (Irl) Nat. Safety & Training              
20 Keith Griffin (Irl) Velotec.ie                    20.33
21 Brian Murphy (Irl) Nat. Safety & Training         29.45
22 Brendan Kirk (Irl) Biznet Solutions                    
23 Gordon Tangney (Irl) Whs. All Systems                  
24 John-Paul Lyons (Irl) Eurocycles Eurobaby              
25 David Rawlins (Irl) Eurocycles Eurobaby                
26 Phil Maher (Irl) Velotec.ie                            
 
Cycleways County Rider classification
 
1 Tommy Evans (Irl) IRC Usher Insuls.              2.48.31
2 Mehall Fitzgerald (Irl) MyHome.ie Cycleways         0.08
3 Craig Sweetman (Irl) M. Donnelly                        
4 John McCarthy (Irl) Earl Of Desmond                     
5 Gary McNulty (Irl) Dundrum Town Ctr.                    
6 Daniel Lynch (Irl) Murray Ford Develops.                
7 Bill Moore (Irl) M. Donnelly                            
8 Padraig Marrey (Irl) Earl Of Desmond                    
9 Daire McCaughley (Irl) Whs. All Systems                 
10 Brian Kenneally (Irl) MyHome.ie Cycleways              
 
International Team classification
 
1 Recycling.co.uk                                  8.25.55
2 FRF Couriers-Caravello                              0.02
3 Stevens                                                 
4 TIAA-CREF                                               
5 M.Donnelly S.Kelly                                      
6 Sparebanken Vest                                        
7 Legia Bazylisek                                         
8 Symmetrics                                              
9 Dan Morrissey                                           
10 Murphy & Gunn                                          
11 Grant Thornton                                         
12 Doncaster Stena Line                                   
13 Surrey Racing League                                   
14 JE James RT                                            
15 Endeavour Cycling                                 17.36
 
County Team classification
 
1 IRC Usher Insuls.                                8.25.55
2 MyHome.ie Cycleways                                 0.02
3 Earl Of Desmond                                         
4 Dundrum Town Ctr.                                       
5 M. Donnelly                                             
6 Biznet Solutions                                        
7 Murray Ford Develops.                                   
8 Murphy Surveys                                          
9 Whs. All Systems                                        
10 Cúchulainn Crystal                                     
11 Nat. Safety & Training                             1.50
12 E. Loakman Remax                                   2.07
13 Eurocycles Eurobaby                               15.13
14 Velotec.ie                                        20.35


Courtesy of fbdinsuranceras.com