Paris-Roubaix Espoirs - 1.2
France, May 28, 2006
2005 Results Results Past winners
Veelers always on two wheels
By Jean-François Quénet in Roubaix
No problem for Tom Veelers
Photo ©: JF Quenet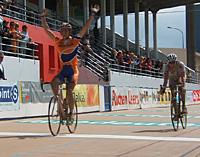 Rabobank started as defending champions with only four riders, due to the Tour of Belgium and a Dutch cup race at the same time, but dominated the under 23 version of Paris-Roubaix with only one man, Tom Veelers.
A breakaway went after no more than 20 kilometers with Jurgen François (CT Pollentier Lombarden), Fabien Baquet and Damien Robert (CC Nogent), Sébastien Turgot and Perrig Quéméneur (Vendée U), Pieter Vanspeybroeck (Beveren 2000), Kristoffer Nielsen (GLS), Martin Mortensen (VC Roubaix), Anthony Colin (ESEG Douai), Alexei Kolessov and Clément Lhotellerie (VC La Pomme), Christian Puricelli (Swiss national team), Arturs Ansons (VS Albi) and Veelers.
"It was early, the latter explained, but as the group was big, I had to be there. For the first hour I waited for another Rabobank to come across, but I was by myself all the time. I wasn't worried though. I was fortunate that I didn't have any crash or flat tyre."
U23 cyclo-cross French champion Clément Lhotellerie
Photo ©: JF Quenet

The front group split up a few times. But no one who had missed it managed to see the front of the race, although the different chasers have been noticed around about one minute behind. With 30km to go, a solo attack was launched by Frenchman Anthony Colin coached by the former pro Laurent Pillon whose only win was a team time trial with Mario Cipollini's MG-GB team in the 1993 Tour de France. He got himself a 30 seconds gap but was later overtaken by Veelers, Nielsen and Vanspeybroeck.
The Belgian got dropped within the last 10 kilometers and Veelers had no problem beating Nielsen in the final sprint. "I was very confident because I'm a good sprinter when it's hard and I knew that the Danish rider wasn't the usual sprinter in his GLS team", said the young Dutchman from Oud Marsum near the German border. Veelers, 21, had recently won three stages and GC at the Olympia Tour in Holland.
"I knew he was fast, 21 years old Nielsen said. But coming second is a very big result for me. After winning the king of the mountain jersey at the Giro delle Regioni, I prove to be an all rounder. Maybe it will attract some attention from Team CSC who had already signed two riders from our team, Matti Breschel and Martin Pedersen, I'd like to be the third one."
But maybe the most impressive rider of the day has been 19 years old Michael Schär, fourth in Roubaix. He wasn't a member of the early breakaway but he jumped from group to group and almost rejoined the top three.
French hope Yoann Offredo
Photo ©: JF Quenet

Photography
For a thumbnail gallery of these images, click here
Images by Jean-Francois Quenet
Results
1 Tom Veelers (Ned) Rabobank Continental                           4.32.36
2 Kristoffer Nielsen (Den) Team GLS Cycling                               
3 Pieter Vanspeybroeck (Bel) Beveren 2000                             0.11
4 Michael Schar (Swi) Swiss U23 Team                                  0.26
5 Martin Mortensen (Den) Velo Club De Roubaix Lille Metropole             
6 Arturs Ansons (Lat) Albi Velo Sport                                 0.32
7 Clément Lhotelllerie (Fra) V.C.La Pomme Marseille                   0.55
8 Anthony Colin (Fra) Eseg Douai                                          
9 Damien Robert (Fra) C.C.Nogent Sur Oise                             1.57
10 Alexei Kolessov (Kaz) V.C.La Pomme Marseille                           
11 Damien Gaudin (Fra) Vendee U                                       2.18
12 Matthias Vanhie (Bel) WC Soenens-Germond                               
13 Dries Van Der Ginst (Bel) V.Z.W.Cycling Team Pollentier Lombarden      
14 Sébastien Turgot (Fra) Vendee U                                    2.25
15 Styn Joseph (Bel) Beveren 2000                                     3.18
16 Tom Huyvaert (Bel) V.Z.W.Cycling Team Pollentier Lombarden             
17 Kevin Lalouette (Fra) C.C.Nogent Sur Oise                              
18 Romain Borgoo (Fra) Pole France Cycliste Wasquehal                     
19 Jean-Marc Bideau (Fra) Super Sport 35 - ACNC                           
20 John Murphy (USA) USA National Team                                4.09
21 Stijn Minne (Bel) Team Sean Kelly                                      
22 Nazareno Rossi (Swi) Swiss U23 Team                                4.15
23 Frederick Herpol (Bel) Wanadoo-Colba-Abm                           5.27
24 Ignas Konovalovas (Ltu) V.C.La Pomme Marseille                     5.37
25 Goeffrey Deresmes (Fra) Eseg Douai                                 6.40
26 Tony Huet (Fra) U.C.Chateauroux                                        
27 Stéphane Poulhies (Fra) Albi Velo Sport                            6.45
28 Kévyn Ista (Bel) Velo Club De Roubaix Lille Metropole              7.25
29 Ludovic Bret (Fra) Vendee U                                        7.36
30 Styn Neirynck (Bel) Beveren 2000                                       
31 Huub Duyn (Ned) Rabobank Continental                                   
32 David Deroo (Fra) Velo Club De Roubaix Lille Metropole            10.36
33 Thomas Riber-Sellebjerg (Den) Team GLS Cycling                         
34 Jérémy Honorez (Bel) Team Wallonie Espoirs                        11.07
35 Kim Borry (Bel) WC Soenens-Germond                                     
36 Yoann Offredo (Fra) Pole France Cycliste Wasquehal                     
37 Timothy Gudsell (NZl) Albi Velo Sport                                  
38 Christophe Masson (Fra) Pole France Cycliste Wasquehal                 
39 Samuel Mazzucchelli (Ita) U.C.Pregnana                                 
40 Jaspen Melis (Bel) Beveren 2000                                        
41 Rob Ruijgh (Ned) Rabobank Continental                                  
42 James Goossens (Bel) WC Soenens-Germond                           12.39
 
Outside time limit (hors delai)
 
HD Michal Ladosz (Pol) Velo Club De Roubaix Lille Metropole               
HD Nicolas Suzanne (Fra) U.S.Saint-Austreberthe-Pavilly-Barentin          
HD Vincent Laroy (Bel) Royal Pesant Club Liegois                          
HD Ruslan Sambris (Mda) V.C.La Pomme Marseille                            
HD Perrig Quemeneur (Fra) Vendee U                                        
HD Charles Philippe Mary (Fra) U.S.Saint-Austreberthe-Pavilly-Barentin    
HD Kobe Vanoverschelde (Bel) V.Z.W.Cycling Team Pollentier Lombarden      
HD Jonas Decouttere (Bel) V.Z.W.Cycling Team Pollentier Lombarden         
HD Gaetan Guernion (Fra) Super Sport 35 - ACNC                            
HD Bastien Delrot (Fra) Velo Club De Roubaix Lille Metropole              
HD Andrew Mc Quaid (Irl) Team Sean Kelly                                  
HD Gael Malacarne (Fra) Cotes D'Armor Cyclisme                            
HD Casper Eibye (Den) Team Kvickly Odder Espoirs                          
HD Kévin Cherruault (Fra) Nantes Atlantique-Team U                        
HD Florent Barle (Fra) Super Sport 35 - ACNC                              
HD Alexandre Bosquain (Fra) U.S.Saint-Austreberthe-Pavilly-Barentin       
HD Adelfred Jensen-Martin (Den) Team Kvickly Odder Espoirs                
HD Guillaume Malle (Fra) U.S.Saint-Austreberthe-Pavilly-Barentin          
HD Vincent Graczyk (Fra) U.C.Chateauroux                                  
HD Kristof Taillieu (Bel) WC Soenens-Germond                              
HD Jurgen Francois (Bel) V.Z.W.Cycling Team Pollentier Lombarden          
HD Kasper Jebjerg (Den) Team GLS Cycling                                  
HD Thomas Kristiansen (Den) Team GLS Cycling                              
HD Ciaran Kelly (Irl) Team Sean Kelly                                     
HD Alexandre Roger (Fra) U.C.Chateauroux                                  
HD Ricardo Van Der Velde (Ned) Rabobank Continental                       
HD Juan Van Heerden (RSA) Vendee U                                        
HD Alexander Chamon (Bel) WC Soenens-Germond                              


Past winners
2005 Dimitriy Kozontchuk (Rus) Rabobank  
2004 Koen De Kort (Ned) Rabobank TT3 
2003 Sergey Lagutin (Uzb)
2002 Mikhael Timochine (Rus) Zoccorinese Vellutex 
2001 Yaroslav Popovych (Ukr) Zoccorinese Vellutex
2000 Eric Baumann (Ger) Germany 

Past winners courtesy of Mario Stiehl, www.world-of-cycling.com