7th Classic Loire Atlantique - 1.2
France, March 17, 2006
2005 Results Results Past winners
Kolesnikov shoots them all
By Jean-François Quénet in La Haye-Fouassière
Mathieu Drujon,
Photo ©: JF Quenet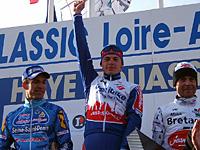 20 year-old Russian Sergeï Kolesnikov from Omnibike has won the 7th Classic Loire-Atlantique, following a long tradition of young riders revealed by race organisations in vineyards of Muscadet near Nantes.
Race promoter Jean-Luc Chaillot started the international junior stage race "Trophée des Provinces Françaises" in 1979. He hosted many youngsters who later became champions. He's the man George Hincapie gave his gloves to after winning Pro Tour event GP Ouest-France in Plouay last year in memory of some good old times. Chaillot is always proud to show photos of guys who came to his race as teenagers, like Michael Boogerd and Leon van Bon smiling together. He also recalls the green jersey winner in 1998 was no less than… Tom Boonen.
However, for different reasons he had to transform his race in a one day international event for Elites. In 2003, the Classic Loire-Atlantique became Thomas Voeckler's first pro win. The 2006 edition might be remembered again because the winner Sergeï Kolesnikov hailing from Krasnodar in the south of Russia seems to have a bright future ahead of him, although he doesn't express any ambition to become a road race champion yet.
"My next goal is the next Olympics on the track," he said. "I want to win the points race in Beijing." He'll have to make the team first, since the defending champion is his compatriot Mikhail Ignatiev! Kolesnikov is European champion for team pursuit, something he'll try to win again this year before riding the Tour de l'Avenir.
"Last year on the road I could hardly finish a race," he added. "I was very young. I can feel that I have improved a lot thanks to spending the whole winter training and racing on the Krylatskoe velodrome in Moscow." Since he was 16 he's been a member of the Moscow-based Omnibike team directed by Gleb Groysman. He already won the GP Pinel, an amateur race in France in February. Kolesnikov looks like a name to remember. It sounds like a famous and efficient weapon…
How it unfolded
The Jartazi team,
Photo ©: JF Quenet

Starting with head wind, the race was nervous. Sergeï Kolesnikov (Omnibike) was early in action and won the first mountain price but the first serious attack was launched by French amateurs Thierry David (VC La Pomme-Marseille) and Xavier Laureau (U Nantes-Atlantique). They stayed away for 25 kilometres with a maximum lead of 1'15.
As soon as they got caught at km 85, a group of 10 riders was formed in the front with Ivan Fanelli (Amore e Vita), Denis Robin and Lenaïc Olivier (Agritubel), Emilien-Benoît Bergès (Auber 93), Igor Abakoumov and Dimitri Muravyev (Jartazi), Charles Guilbert (Bretagne-Jean Floc'h), Eduard Vorganov and Alexander Khatuntsev (Omnibike), also Tarmo Raudsepp (U Nantes-Atlantique) who was the only amateur in that front group.
Successively, VC Roubaix, Team Vang from Japan and Vendée U chased hard and brought them back except from Fanelli and the Jartazi duo with Abakoumov and Muravyev. These three riders almost made it to the final circuit but they eventually got caught by a chasing group of 14 riders, where the Russians from Omnibike looked phenomenal and from which Noan Lelarge (Bretagne-Jean Floch') and Sergeï Kolesnikov (Omnibike) rode clear with 20km to go.
They attacked each other a few times but it came to a sprint between them. Lelarge thought he'd win and put his hands up as Kolesnikov used the speed he picked on the track to outsprint the former pro from Bonjour right on the line.
Photography
For a thumbnail gallery of these images, click here
Images by Jean-Francois Quenet
Images by Daniel Schamps
Results - 186 km
1 Sergeï Kolesnikov (Rus) Omnibike               4.24.10
2 Noan Lelarge (Fra) Bretagne-Jean Floc'h
3 Mathieu Drujon (Fra) Auber 93                     1.11
4 Alexey Schmidt (Rus) Omnibike
5 Igor Abakoumov (Bel) Jartazi
6 Gilles Canouet (Fra) Agritubel
7 Médéric Clain (Fra) VC Roubaix
8 Ivan Seledkov (Rus) Omnibike
9 Eduardo Gonzalo (Spa) Agritubel
10 Roy Curvers (Ned) Procomm-Van Hemert
11 Sébastien Duret (Fra) Bretagne-Jean Floc'h
12 Ivan Fanelli (Ita) Amore e Vita
13 Bert Scheirlinckx (Bel) Jartazi                  1.14
14 Dimitri Muravyev (Kaz) Jartazi                   1.16
15 Florian Morizot (Fra) Auber3 93                  1.17
16 Yuriy Trofimov (Rus) Omnibike                    1.19
17 David Lelay (Fra) Bretagne-Jean Floc'h           1.39
18 Samuel Plouhinec (Fra) Agritubel
19 David Perez (Spa) Atom
20 Benoît Sinner (Fra) Agritubel
21 Alain van Katwijk (Ned) Procomm-Van Hemert       1.51
22 Kieran Page (GB) AVC Aix
23 Cyrille Noël (Fra) Côtes d'Armor-Maître Jacques
24 Gideon De Jongh (Ned) Procomm-Van Hemert
25 Christopher Stevenson (Swe) Amore e Vita 
26 Chad Hartley (USA) TIAA-CREF                     3.00
27 Hans Dekkers (Ned) Agritubel
28 Xavier Laureau (Fra) U Nantes-Atlantique
29 Ruslan Sambris (Mol) VC La Pomme-Marseille
30 Robby Meul (Bel) Jartazi
31 Talor Tolleson (USA) TIAA-CREF
32 Takehiro Mizutani (Jap) Vang
33 Kimmo Kananen (Fin) Amore e Vita
34 Julien Mazet (Fra) Auber 93
35 Jarno van Mingeroet (Bel) Jartazi
36 Antonio Miguel Parra (Spa) Massi
37 Sébastien Turgot (Fra) Vendée U
38 Christophe Diguet (Fra) U Nantes-Atlantique
39 Perrig Quéméneur (Fra) Vendée U
40 Grzegorz Kwiatkowski (Pol) VC Roubaix
41 Saïd Haddou (Fra) Auber 93
42 John Nilsson (Swe) Auber 93
43 Stéphane Pétilleau (Fra) Bretagne-Jean Floc'h    3.13
44 Alexei Kolessov (Kaz) VC La Pomme-Marseille
45 Ivan Terenin (Rus) Omnibike
46 Jos Pronk (Ned) Procomm-Van Hemert               7.37
47 Mikel Elgezabal (Spa) Atom
48 Ben Johnson (Aus) Agritubel
49 Viatcheslav Vilkov (Rus) Omnibike                8.44
50 Piotr Zielinski (Pol) Bretagne-Jean Floc'h
51 Julien Belgy (Fra) Vendée U

Starters: 137
Classified: 51

Courtesy of Cyclismag.com and JF Quenet




Past winners
2005 Alberto Martinez (Spa)  Agritubel    
2004 Erki Pütsep (Est) Ag2r Prévoyance 
2003 Thomas Voeckler (Fra) Brioches La Boulangère
2002 Rune Jogert (Nor)