Recently on Cyclingnews.com
1st Coppa dei Laghi - 1.1
Italy, March 25, 2006
21 year-old beats the best
By Anthony Tan
Monia Baccaille (Saccarelli Emu Marsciano) wins the Coppa dei Laghi
Photo ©: Rodella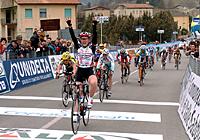 A 21 year-old former track sprinter from Umbria has taken her biggest career victory after winning the first edition of the Coppa dei Laghi. Monia Baccaille, who rides for the Saccarelli Emu Marsciano team, took advantage of a late regrouping and used both speed and power to beat her more experienced rivals Diana Ziliute (Safi Pasta Zara Manhattan) and Svetlana Bubnenkova (Fenix Colnago) to the line. Another Italian, Tatiana Guderzo (Top Girls Fassa Bortolo), finished fourth.
"My first win at last!" exclaimed Baccaille, who hails from the town of Marciano in the Regione Umbria and is only in her second year as a professional on the road. "I started the final sprint from a long way out - but that's just what I like."
"This definitely is a great win by Monia," said a gracious second placegetter Diana Ziliute.
The race began in SalÚ at 9.30am, with 102 riders from 13 teams and 21 different nationalities represented. The peloton remained together until roughly 30 kilometres to go in the 105 kilometre event, when four riders - Fabiana Luperini, Susanne Ljungskog, Mirjam Melchers Van Poppel and Svetlana Bubnenkova - attacked on the climb of Lodrino. By the crest of the climb (km 81), a chase group of eight were 35 seconds behind, including Nicole Bršndli, Andrea Graus, Edita Pucinskaite, Modesta Vzesniauskaite, Annette Beutler, Tatiana Guderzo, Cindy Pieters and Sharon Van Dromme.
On the descent, Luperini lost touch with the lead group while Melchers suffered an untimely puncture and was forced out of the picture. Ten kilometres from the finish, the two riders remaining from the original breakaway, Ljungskog and Bubnenkova, increased their advantage ever so slightly to a maximum 40 seconds, but the regrouping of the peloton with the first chase group put paid to their chances, leading to the pair's recapture just three kilometres from the finish in Idro.
In the sprint to the line, it was the ecstatic fresh face of Monia Baccaille (Saccarelli Emu Marsciano) who imposed her finishing speed on Diana Ziliute and a tiring Bubnenkova to earn her first professional career victory.
Results - 204 km

1 Monia Baccaille (Ita) Saccarelli Emu Marsciano            2.46.56 (37.740 km/h)
2 Diana Ziliute (Ltu) Safi Pasta Zara Manhattan                    
3 Svetlana Bubnenkova (Rus) Fenix Colnago                          
4 Tatiana Guderzo (Ita) Top Girls Fassa Bortolo                    
5 Sharon Van Dromme (Bel) Vlaanderen-Caprisonne-T Interim          
6 Mirjam Melchers Van Poppel (Ned) Buitenopoort-Flexpoint Team     
7 Annette Beutler (Swi) Elk Haus No                                
8 Luisa Tamanini (Ita) Safi Pasta Zara Manhattan                   
9 Susanne Ljungskog (Swe) Buitenopoort-Flexpoint Team              
10 Edita Pucinskaite (Ltu) Nobili Rubinetterie Menikini            
11 Modesta Vzesniauskaite (Ltu) A.S. Team F.R.W.                   
12 Loes Gunnewijk (Ned) Buitenopoort-Flexpoint Team                
13 Cindy Pieters (Bel) Vlaanderen-Caprisonne-T Interim             
14 Trine Hansen (Den) Bianchi Aliverti Kookai                      
15 Veronica Leal Balderas (Mex) Saccarelli Emu Marsciano           
16 Dorte Lohse Rasmussen (Den) Bianchi Aliverti Kookai             
17 Nicole Brandli (Swi) Bigla Cycling Team                         
18 Volha Hayeva (Blr) Bianchi Aliverti Kookai                      
19 Noemi Cantele (Ita) Bigla Cycling Team                          
20 Andrea Graus (Aut) Bigla Cycling Team                           
21 Patricia Schwager (Swi) Elk Haus No                             
22 Edwige Pitel (Fra) Bianchi Aliverti Kookai                      
23 Madeleine Sandig (Ger) Buitenopoort-Flexpoint Team          0.07
24 Fabiana Luperini (Ita) Top Girls Fassa Bortolo                  
25 Evelyn Garcia (ESa) Nobili Rubinetterie Menikini                
26 Zulfiya Zabirova (Kaz) Bigla Cycling Team                   0.10
27 Chiara Rozzini (Ita) Saccarelli Emu Marsciano               2.59
28 Clemida Fernandes Silva (Bra) SC Chirio Forno d'Asolo       3.04
29 Monica Holler (Swe) Bigla Cycling Team                          
30 Iturriagaechevarria M. Eneritz (Spa) Top Girls Fassa Bortolo    
31 Sigrid Corneo (Ita) Nobili Rubinetterie Menikini                
32 Karin Aune (Swe) Michela Fanini Record Rox                      
33 Miho Oki (Jpn) Nobili Rubinetterie Menikini                     
34 Linda Villumsen (Den) Buitenopoort-Flexpoint Team               
35 Maya Adamsen (Den) Fenix Colnago                                
36 Anna Zugno (Ita) Safi Pasta Zara Manhattan                      
37 Laure Werner (Bel) Vlaanderen-Caprisonne-T Interim              
38 Sofie Goor (Bel) Vlaanderen-Caprisonne-T Interim                
39 Lise Christensen (Den) Bianchi Aliverti Kookai                  
40 Olga Zabelinskaya (Rus) Fenix Colnago                           
41 Eloide Touffet (Fra) Nobili Rubinetterie Menikini               
42 Tanja Hennes (Ger) Buitenopoort-Flexpoint Team                  
43 Miyoko Karami (Jpn) Safi Pasta Zara Manhattan                   
44 Monika Furrer (Swi) Bigla Cycling Team                          
45 Rosane Kirch (Bra) Michela Fanini Record Rox                    
46 Martina Corazza TA A.S. Team F.R.W.                             
47 Marta Vilajosana Andreu (Spa) Nobili Rubinetterie Menikini      
48 Laura Morfin (Mex) SC Chirio Forno d'Asolo                      
49 Eva Lechner (Ita) Fenix Colnago                             6.09
50 Elena Andreeva (Rus) Bianchi Aliverti Kookai                    
51 Miek Vyncke (Bel) Vlaanderen-Caprisonne-T Interim               
52 Erika Vilunaite (Ltu) Bianchi Aliverti Kookai                   
53 Andrea Knecht (Swi) Bigla Cycling Team                          
54 Debby Mansveld (Ned) Vlaanderen-Caprisonne-T Interim            
55 Nina Ovcharenko (Ukr) A.S. Team F.R.W.                          
56 Mette Ficher Andersen (Den) Bianchi Aliverti Kookai             
57 Rombouts Sandra (Ned) Buitenopoort-Flexpoint Team               
58 Sabrina Bernardi (Ita) Top Girls Fassa Bortolo                  
59 Ombretta Ugolini (Ita) A.S. Team F.R.W.                         
60 Gessica Turato (Ita) SC Chirio Forno d'Asolo                    
61 Francesca Castrucci (Ita) Michela Fanini Record Rox             
62 Silvia Parietti (Ita) Safi Pasta Zara Manhattan                 
63 Claudia Marietta (Ita) Michela Fanini Record Rox                
64 Evy Van Damme (Bel) Vlaanderen-Caprisonne-T Interim         6.20
65 Loes Sels (Bel) Vlaanderen-Caprisonne-T Interim                 
66 Alessandra D'ettore (Ita) Saccarelli Emu Marsciano          7.45
67 Elena Stramoxsova (Rus) Fenix Colnago                       8.02
68 Leticia Gil Parra (Spa) Top Girls Fassa Bortolo                 
69 Jennifer Hohl (Swi) Bigla Cycling Team                          
70 Uenia Fernandes Da Silva (Bra) SC Chirio Forno d'Asolo          
71 Daniela Fusar Poli (Ita) Safi Pasta Zara Manhattan              
72 Veronica Andreasson (Swe) Safi Pasta Zara Manhattan             
73 Silvia Valsecchi (Ita) Nobili Rubinetterie Menikini             
74 Anna Dal Ferro (Ita) Top Girls Fassa Bortolo                    
75 Maria Fanucchi (Ita) Michela Fanini Record Rox                  
76 Oxana Kostenko (Rus) Nobili Rubinetterie Menikini               
77 Ketty Manfrin (Ita) A.S. Team F.R.W.                            
78 Isabella Wieser (Aut) Elk Haus No                               
79 Valeria Pintos (Arg) SC Chirio Forno d'Asolo                    
80 Katharina Blum (Ger) Elk Haus No                                
81 Katia Longhin (Ita) Top Girls Fassa Bortolo                     
82 Janildes Fernandes Silva (Bra) Michela Fanini Record Rox        
83 Lidia Arcangeli (Ita) Bigla Cycling Team                        
84 Sabrina Emmasi (Swi) Safi Pasta Zara Manhattan                  
85 Bettina Kuhn (Swi) Bigla Cycling Team                           
86 Francesca Tognali (Ita) Saccarelli Emu Marsciano                
87 Francesca Andina (Ita) Nobili Rubinetterie Menikini             
88 Ilaria Rinaldi (Ita) Michela Fanini Record Rox                  
89 Eleonora Soldo (Ita) SC Chirio Forno d'Asolo                    
90 Indra Januleviciute (Ltu) A.S. Team F.R.W.                      
91 Laura Pisaneschi (Ita) A.S. Team F.R.W.                         
92 Karin Ruso (Aut) Elk Haus No                                    
93 Alessandra Borchi (Ita) Nobili Rubinetterie Menikini            
94 Marianna Lorenzoni (Ita) SC Chirio Forno d'Asolo                
95 Lisa Bacchiavini (Ita) SC Chirio Forno d'Asolo                  
96 Aline Parsy (Fra) Fenix Colnago                                 
97 Maria Cazzola (Ita) Top Girls Fassa Bortolo                     
98 Karin Wieser (Aut) Elk Haus No                                  
99 Samantha Profumo (Ita) SC Chirio Forno d'Asolo                  
 
102 starters
99 finished