Recently on Cyclingnews.com
Tour de Nez - NE
USA, June 22-24, 2006
Main Page Results Overall standings Previous Stage
Stage 4 - June 24: Mighty Tour de Nez Criterium, 90 minutes
Gunn shoots to crit win; A Cruz to overall victory
By Kimberly Baldwin in Reno Nevada
Curtis Gunn
Photo ©: Veronika Lenzi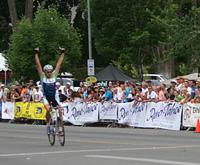 Successfulliving's Curtis Gunn outsprinted his breakaway companion, Christian Valenzuela of Monex to take the final stage win of the 2006 Tour de Nez. And a dramatic crash in the field sprint for 3rd place took out race leader Karl Menzies of Health Net presented by Maxxis and Jelly Belly's Alex Candelario.
Tonight's main attractions began at 5pm with the National Criterium Championships for Hand Cyclists. Eleven competitors lined up for the 30 minute race, including local favorite John Kirsch of Reno, bronze medallist in the 2002 World Championships, Matt Updike, 2002 World Champion Monica Bassio of Evergreen, Colorado, and the #1 world ranked hand cyclist Alejandro Albor. The competitors raced the same criterium course as the pro men would one hour later. It was a tough, technical course with an uphill section that wound around a few blocks and a tight downhill corner leading to a blazing fast finish. By the first time up the climb, Albor, Updike, and Oscar Sanchez had separated themselves from the rest of the field. By lap two, it was just Albor and Sanchez with Updike furiously chasing. And by lap 4, Albor was on his own and motoring. He put on an impressive display of strength as he powered up and over the climb each lap, showing the fans why he is currently ranked #1 in the world. The final podium was Albor, Sanchez, and Updike for the National Championship, finishing in the same order as they did in Friday evening's Truckee criterium.
Aaron Olson (Saunier Duval)
Photo ©: Veronika Lenzi

Next up was the pro men's race, a 90 minute criterium over the technical course. With the omnium points system, the final overall race leader was still to be determined. Karl Menzies of Health Net had no intentions of relinquishing his lead, but several men were still in the hunt, including Alex Candelario of Jelly Belly. Since yesterday's road race was weighted the heaviest in points, Candelario's 4th place result and intermediate sprint points had placed him in 3rd overall going into the criterium. Tony Cruz of Toyota-United was in second overall with teammates Wherry and Baldwin backing him up in 5th and 6th. The race was on!
Just four laps into the race, Christian Valenzuela of Monex attacked on the climb and got away solo. He rode alone for a few laps, slowly building up his lead. Gordon Macauley of Successfulliving tried unsuccessfully to bridge up to Valenzuela, and when the field chased him down, his teammate, Curtis Gunn, countered and motored away from the field. Gunn bridged up to Valenzuela and the two worked together to stay off the front. Said Gunn, "Our gap kept fluctuating from 8 seconds to 10 to 20, back down to 10. But even when the gap would start closing, we never stopped trying. We just dug harder."
Back in the field, Candelario dug deep and put in two really strong attacks, trying to shake Menzies and Cruz. But Health Net and Toyota-United were having none of it. Then with about 45 minutes to go in the race, the field came around the corner and a noticeable number of riders were missing. Soon after, riders started trickling in to the pit for mechanical help and a free lap. Wherry came running up the hill holding his bike. Apparentely, Cruz had caught the lip of a grate on the back side of the course and his wheel washed out from underneath him. Unfortunately, the men stacked up behind him. Said Wherry, " I wasn't hurt at all because I think I landed on Phil Zajicek, who had landed on Cruz. I was fine but my wheel was tacoed." Caught in the crash as well was Candelario and Andy Bajadali, who looked like he was really hurting. All the men who went down got a free lap and were back in the race, some a little worse for wear.
Chris Baldwin
Photo ©: Veronika Lenzi

It looked like Valenzuela and Gunn were going to pull it off as their gap to the field kept increasing in the final minutes of the race. On the final lap, Gunn came flying around the final downhill corner into the finish, already having gapped Valenzuela.
"He attacked me on the straight away section just before we hit the downhill," said Valenzuela. "The gap was too big and I just couldn't close it.
"This win is huge. It's the first NRC win for our team. It's my first big NRC win. I think the last time I won a race, it was a small local one," said an obviously excited Gunn. Judging by the way he rode today, it most likely will not be his last.
As the greatly narrowed-down field came flying around the final downhill corner for the field sprint for 3rd, there came the horrific sound of a tire blowing and bikes crashing. "I think Karl was about 4 bike lengths ahead of Alex going into the final corner," said Phil Zajicek of Navigators. "But he went in really hot." It seems that his tire blew and Menzies went crashing into the barriers. Candelario, who was on his wheel, had no where to go and went crashing down as well. Luckily neither one was seriously hurt, and both were eventually able to get back on their bikes, although Menzies was obviously very frustrated, shaking his head in anger as blood ran from his mouth.
Cruz was able to avoid the crash and came sprinting in to take 3rd place, a rushing field hot on his heals. With Cruz's finish, and Menzies and Candelario not placing, the overall omnium and race leader went to the Toyota-United rider. Unfortunately, due to Cruz' earlier crash, he had to immediately go to medical, and could not make the podium presentation. His children Alexi and Aidan proudly accepted their dad's overall award for him and held it for him until he could return to the podium.
Chris Wherry and Chris Baldwin
Photo ©: Veronika Lenzi

The best young rider jersey was awarded to Morgan Schmitt of Broadmark/ Hagens-Berman. Schmitt first earned the best young rider's jersey in the time trial and held it all the way through the race. This is the first best young rider jersey for the 21-year old Seattle-based espoir. "I had a hard time with the altitude here," said Schmitt. Yet despite not being acclimatized, Schmitt finished 24th in the time trial and 33rd in the road race, showing great promise for the future. After a hard day at the office, Christian Valenzuela of Monex earned himself the sprinter's jersey, and Chris Wherry of Toyota-United won the KOM jersey with his convincing win in yesterday's stage.
Photography
For a thumbnail gallery of these images, click here
Images by Veronika Lenzi
Results

1 Curtis Gunn (Successfulliving)                         50 pts
2 Christian Valenzuela (Monex)                           45
3 Tony Cruz (toyota-united pro cycling team)             41
4 Robbie King (Priority Health)                          38
5 Aaron Olson (Saunier Duval Pro Cycling Team)           36
6 Phil Zajicek (Navigators)                              32
7 Chris Baldwin (toyota-united pro cycling team)         30
8 Andrew Bajadali (Jelly Belly)                          28
9 Andy Jacques-Maynes (Cal Giant /Village Peddler)       24
10 Bernard Van Ulden (Webcor / Alto Velo)                26
11 Kyle Gritters (Health Net presented by Maxxis)        22
12 Chad Nikolz (Broadmark / Hagens-Berman)               20
13 Tommy Nankervis (Priority Health)                     18
14 Jason Klikna (BMC Racing Team)                        17
15 Jonny Sundt (AxleyUSA.com)                            16
16 Christian Kearney (RHVilla/Montano Velo)              15
17 Jonathan Baker (Vitamin Cottage Cycling Team)         14
18 Tom Zirbel (Priority Health)                          13
19 Scott Moninger (Health Net presented by Maxxis)       12
20 Chris Wherry (toyota-united pro cycling team)         11
21 Gordon McCauley (Successfulliving)                    10
22 James Mattis (Cal Giant /Village Peddler)              9
23 Glen Mitchel (Priority Health)                         8
24 Ryan Yee (Sucessfullliving)                            7
25 Devon Vigus (Monex)                                    6
26 Morgan Schmitt (Broadmark/Hagens- Berman)              5
27 Hayden Godfrey (Monex)                                 4
28 Whitey Debroux (Team Einstein's Cycling)               3
29 Garrett Peltonen (Health Net presented by Maxxis)      2
30 Omer Kem (AxleyUSA.com)                                1
31 Craig McCartney (Wild Oats / Al's Barbershop)           
32 Heath Blackgrove (toyota-united pro cycling)            
33 Daniel Ramsey (Successfulliving)                        
34 Jamiel Danesh (RH Villa.com/ Montano Velo)              
 
Final overall standings
 
1 Tony Cruz (toyota-united pro cycling team)            152 pts
2 Carl Menzies (Health Net presented by Maxxis)         124
3 Chris Baldwin (toyota-united pro cycling team)        119
4 Aaron Olson (Saunier Duval Pro Cycling Team)          118
5 Andrew Bajadali (Jelly Belly)                         115
6 Chris Wherry (toyota-united pro cycling team)         103
7 Phil Zajicek (Navigators)                             102
8 Tom Zirbel (Priority Health)                           99
9 Curtis Gunn (Successfulliving)                         96
10 Alex Candelario (Jelly Belly)                         96
11 Robbie King (Priority Health)                         86
12 Scott Moninger (Health Net presented by Maxxis)       86
13 Michael Carter (Team Einstein's Cycling)              75
14 Bernard Van Ulden (Webcor / Alto Velo)                70
15 Kyle Gritters (Health Net presented by Maxxis)        55
16 Tommy Nankervis (Priority Health)                     50
17 Gordon McCauley (Successfulliving)                    49
18 Christian Valenzuela (Monex)                          45
19 Mitch Moreman (Rocky Mtn Chocolate Factory)           40
20 Heath Blackgrove (toyota-united pro cycling team)     35
21 Roman Kilun (Health Net presented by Maxxis)          35
22 Jonny Sundt (AxleyUSA.com)                            32
23 Jonathan Baker (Vitamin Cottage Cycling Team)         32
24 Chad Nikolz (Broadmark / Hagens-Berman)               31
25 James Mattis (Cal Giant /Village Peddler)             31
26 Kyle Dixon (Bay Area Velo Girls)                      29
27 Omer Kem (AxleyUSA.com)                               27
28 Garrett Peltonen (Health Net presented by Maxxis)     25
29 Ken Hanson (BMC Racing Team)                          24
30 Andy Jacques-Maynes (Cal Giant /Village Peddler)      24
31 Jason Klikna (BMC Racing Team)                        17
32 Caleb Manion (Jelly Belly)                            17
33 John Hunt (Cal Giant /Village Peddler)                17
34 Brian Buchholz (WEBCOR/Alto Velo)                     15
35 Jamiel Danesh (RH Villa.com/ Montano Velo)            15
36 Christian Kearney (RHVilla/Montano Velo)              15
37 Morgan Schmitt (Broadmark/Hagens-Berman)              15
38 Randy Reichardt (Bang Salon/HART)                     13
39 Shane Peltonen (Eclipse Racing)                       12
40 Patrick Briggs (Cal Giant /Village Peddler)           12
41 Glen Mitchel (Priority Health)                        12
42 Michael Telega (Cal Giant /Village Peddler)            9
43 Chris Lieto (Cal Giant /Village Peddler)               9
44 Corey Collier (Rocky Mtn. Chocolate Factory)           8
45 Derik Archibald (AxleyUSA.com)                         7
46 Craig McCartney (Wild Oats / Al's Barbershop)          7
47 Ryan Yee (Sucessfullliving)                            7
48 Devon Vigus (Monex)                                    6
49 Todd Hennings (Pacific State Bank / Anderson Homes)    5
50 Daniel Ramsey (Successfulliving)                       5
51 Andres Gil (Pacific State Bank/Anderson Homes)         4
52 Hayden Godfrey (Monex)                                 4
53 Whitey Debroux (Team Einstein's Cycling)               3
54 Brian Kendall (Team Einstein's Cycling)                1
55 Doug Ollerenshaw (Health Net presented by Maxxis)      1
56 Kyle Barbary (BMC Racing Team)                         1