Boucles de la Mayenne - 2.2
France, June 16-19, 2006
Main Page Results Overall standings Previous Stage Next Stage
Stage 2 - June 17: Le Genest St Isle - Gorron, 184 km
The Japanese Jacky Durand takes lead on his idol's home soil
By Jean-François Quénet in Gorron
David Lelay wins the stage
Photo ©: Régis Garnier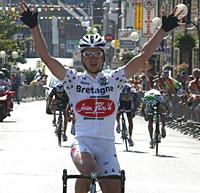 For the first time ever, a Japanese rider leads the Boucles de la Mayenne one day before the end. Koji Fukushima hasn't been afraid to go for a breakaway, escaping twice in the last two days. It's a nice lesson for the European riders who are maybe too used to calculating their efforts and saving energy for the next day or the next race.
Fukushima is a huge cycling star in Asia, and probably even more in Malaysia than in his own country, especially since he won a stage and wore the yellow jersey for eight days last year in Le Tour de Langkawi. But he's no stranger to France either. He used to ride for ES Aumale and VC Rouen in Normandy. The Japanese trade team he's been in for three years now, named Bridgestone-Anchor then Vang and now Yahoo! Japan under the direction of former pro Akira Asada, also has a long history of taking part in French pro and semi-pro races. Koji even came third in the Trophée des Grimpeurs with the big trade teams last year.
The youngest of the Fukushima brothers received the nickname of "the Japanese Jacky Durand" because of his numerous solo attacks at kilometer zero in Le Tour de Langkawi. "Some years ago at the Tour of Normandy he asked me to form a breakaway with him, but I explained to him that it's harder done than said," the real Jacky Durand recalled. The winner of the Tour of Flanders and Paris-Tours takes care of the guests in the Boucles de la Mayenne in the province where he was born and grew up.
At the start in Le Genest-St-Isle, Durand predicted a stage win by Shinishi Fukushima. It was a clever prediction. The Japanese veteran attacked with two other guys, then he insisted on his own and he was happy to see more riders coming across but when he realized that his younger brother was there as well, he yelled at him: "What are you doing here? You'll make our breakaway fail!"
The principal break
Photo ©: Régis Garnier

As Koji didn't want to drop back, Shinishi had no choice but ride flat out for his brother to take the yellow jersey. "It's thanks to Shinishi if I got it", Koji repeated a hundred times after kissing everyone, including the race speaker. Anywhere he goes, Koji is quite the showman.
However, he'll have another hard day at the office before celebrating a win. It's quite common at the Boucles de la Mayenne that changes on GC occur on the last day.
How it unfolded
After 30 kilometers, Kevin Lalouette (CC Nogent), Diego Genovesi (OTC Doors-Lauretana) and Shinishi Fukushima (Yahoo! Japan) quickly got 1:20 lead and it was up to the Regiostorm-Senges of race leader Markus Eichler to take care of the speed of the bunch. Not an easy job riding at 45km/h on very undulating in 29°C weather.
Fukushima was the only one of the three leaders to insist on staying away solo after 80km into the race. A few riders went across to him in two waves: Eduard Vorganov (Omnibike), David Le Lay (Bretagne-Jean Floc'h), Koji Fukushima (Yahoo! Japan), Denis Robin (Agritubel), Emmanuele Bindi (OTC Doors-Lauretana) and David Burgy (SCO Dijon). At km 120, Jonathan Dayus (Team U Nantes-Atlantique) joined the front group while the bunch was cruising more than three minutes behind.
Look, Jacky Durand
Photo ©: JF Quenet

Rather than Regiostorm, it was mostly the French national team and Jartazi leading the peloton, without success though. Koji Fukushima was the only member of the winning breakaway two days in a row, and that gave him the yellow jersey 34 seconds ahead of Eichler. The stage win went to Le Lay who avoided a sprint by going solo with 2 km to go.
Photography
For a thumbnail gallery of these images, click here
Images by Jean-Francois Quenet
Images by Régis Garnier/www.velofotopro.com
Results

1 David Le Lay (Fra) Groupe Sportif Bretagne-Jean Floc'h         4.15.47
2 Eduard Vorganov (Rus) Omnibike Dynamo Moscow                      0.02
3 Emanuele Bindi (Ita) OTC Doors-Lauretana                              
4 David Burgy (Fra) Sprinter Club Olympique Dijon                       
5 Denis Robin (Fra) Agritubel                                           
6 Johnathan Dayus (GBr) Team Nantes 44 Atlantique                       
7 Koji Fukushima (Jpn) Cycle Racing Team Vang                           
8 Shinichi Fukushima (Jpn) Cycle Racing Team Vang                   0.22
9 Benoit Sinner (Fra) Agritubel                                     1.04
10 Takashi Miyazawa (Jpn) Cycle Racing Team Vang                        
11 Ivan Fanelli (Ita) Amore & Vita-McDonald's                           
12 Stéphane Bonsergent (Fra) Groupe Sportif Bretagne-Jean Floc'h        
13 Romain Feillu (Fra) Frane Espoirs                                    
14 Sven Vanthourenhout (Bel) Rabobank Continental                       
15 Sébastien Turgot (Fra) Vendee U                                      
16 Alexey Shmidt (Rus) Omnibike Dynamo Moscow                           
17 Alessio Signego (Ita) OTC Doors-Lauretana                            
18 Jérémie Galland (Fra) CC Nogent sur Oise                             
19 Mikael Cherel (Fra) Frane Espoirs                                    
20 Robby Meul (Bel) Jartazi-7Mobile                                     
21 Martijn Maaskant (Ned) Rabobank Continental                          
22 Aivaras Baranauskas (Ltu) Agritubel                                  
23 Tim Cassidy (Irl) Sean Kelly Team                                    
24 Romain Fondard (Fra) VC Roubaix                                      
25 Franck Perque (Fra) CC Nogent sur Oise                               
26 Yohann Lucas (Fra) Team Nantes 44 Atlantique                         
27 Yukiya Arashiro (Jpn) Cycle Racing Team Vang                         
28 Alexey Bauer (Rus) Omnibike Dynamo Moscow                            
29 Hans Dekkers (Ned) Agritubel                                         
30 Alexandre Urbain (Fra) CC Nogent sur Oise                            
31 Ricardo Van Der Velde (Ned) Rabobank Continental                     
32 Kévin Cherruault (Fra) Team Nantes 44 Atlantique                     
33 Olivier Nari (Fra) Sprinter Club Olympique Dijon                     
34 Steven Tronet (Fra) VC Roubaix                                       
35 Jean-Luc Delpech (Fra) Groupe Sportif Bretagne-Jean Floc'h           
36 Markus Eichler (Ger) Team Regiostrom-Senges                          
37 Kristian House (GBr) Recycling.co.uk                                 
38 Malween Bodin (Fra) Pays de la Loire                                 
39 Vincent Freulon (Fra) Pays de la Loire                               
40 Christophe Masson (Fra) VC Roubaix                                   
41 Hanco Kachelhoffer (RSA) Team Konica Minolta                         
42 Peter Velits (Svk) Team Konica Minolta                               
43 Dominique David (Fra) Pays de la Loire                               
44 Nicolas Rousseau (Fra) Frane Espoirs                                 
45 Antoine Dalibard (Fra) Groupe Sportif Bretagne-Jean Floc'h           
46 Christopher Stevensen (Swe) Amore & Vita-McDonald's                  
47 Julien Foisnet (Fra) Pays de la Loire                                
48 Guillaume Garnier (Fra) Etoile Cycliste Mayennaise                   
49 Paidi O'Brien (Irl) Sean Kelly Team                                  
50 Olivier Grammaire (Fra) Sprinter Club Olympique Dijon                
51 Bart Aernouts (Bel) Rabobank Continental                             
52 Martin Velits (Svk) Team Konica Minolta                              
53 Alexandre Bousseau (Fra) Vendee U                                    
54 Mickaël Diguet (Fra) Pays de la Loire                                
55 Junya Sano (Jpn) Cycle Racing Team Vang                              
56 Hamish Haynes (GBr) Jartazi-7Mobile                                  
57 Perrig Quemeneur (Fra) Vendee U                                      
58 Andrey Klyuev (Rus) Omnibike Dynamo Moscow                           
59 David Deroo (Fra) VC Roubaix                                         
60 Maint Berkenbosch (Ned) Team Regiostrom-Senges                       
61 Médéric Clain (Fra) VC Roubaix                                       
62 Mickael Larpe (Fra) Frane Espoirs                                    
63 Matthieu Rompion (Fra) Vendee U                                      
64 Andrew Mc Quaid (Irl) Sean Kelly Team                                
65 Romain Mary (Fra) Sprinter Club Olympique Dijon                      
66 Yoann Foucher (Fra) Pays de la Loire                                 
67 Viacheslav Vilkov (Rus) Omnibike Dynamo Moscow                       
68 Travis Allen (RSA) Team Konica Minolta                               
69 Lénaic Olivier (Fra) Agritubel                                       
70 Johan Lindgren (Swe) Team Nantes 44 Atlantique                       
71 Cédric Herve (Fra) Groupe Sportif Bretagne-Jean Floc'h               
72 Evan Oliphant (GBr) Recycling.co.uk                                  
73 Aurélien Stehly (Fra) Sprinter Club Olympique Dijon                  
74 Nicolas Crosbie (Fra) Agritubel                                      
75 Stéphane Fouillet (Fra) Etoile Cycliste Mayennaise                   
76 Timothée Lefrancois (Fra) Team Nantes 44 Atlantique                  
77 Julien Belgy (Fra) Vendee U                                          
78 Yann Huguet (Fra) Frane Espoirs                                      
79 Jacques Van Rensburg (RSA) Team Konica Minolta                       
80 Christophe Diguet (Fra) Team Nantes 44 Atlantique                    
81 Vincent Cantero (Fra) CC Nogent sur Oise                             
82 Jehudi Schoonacker (Bel) Sean Kelly Team                             
83 Stéphane Ramond (Fra) Etoile Cycliste Mayennaise                     
84 Franck Charrier (Fra) CC Nogent sur Oise                             
85 Robert Partridge (GBr) Recycling.co.uk                               
86 Vasily Khatuntsev (Rus) Omnibike Dynamo Moscow                       
87 Paul Brousse (Fra) VC Roubaix                                        
88 Jamie Burrow (GBr) OTC Doors-Lauretana                               
89 Stéphane Poulhies (Fra) Frane Espoirs                                
90 Roman Luhovyy (Ukr) OTC Doors-Lauretana                              
91 Julien Fouchard (Fra) Etoile Cycliste Mayennaise                 1.54
92 Igor Abakoumov (Bel) Jartazi-7Mobile                             5.28
93 Kimmo Kananen (Fin) Amore & Vita-McDonald's                          
94 Peter Ronsse (Bel) Jartazi-7Mobile                                   
95 Elnathan Heizmann (Ger) Team Regiostrom-Senges                       
96 Konstantin Schubert (Ger) Team Regiostrom-Senges                     
97 Diego Genovesi (Ita) OTC Doors-Lauretana                         8.36
98 Jens Mouris (Ned) Team Regiostrom-Senges                             
99 Jarno Van Mingeroet (Bel) Jartazi-7Mobile                       10.45
 
Mountains
 
Juvigné - Km 34,7
 
1 Julien Belgy (Fra) Vendee U                                          6 pts
2 Eduard Vorganov (Rus) Omnibike Dynamo Moscow                         4
3 Aivaras Baranauskas (Ltu) Agritubel                                  2
4 Stéphane Fouillet (Fra) Etoile Cycliste Mayennaise                   1
 
Le Pomméor - Km 50,4
 
1 Diego Genovesi (Ita) OTC Doors-Lauretana                             6 pts
2 Shinichi Fukushima (Jpn) Cycle Racing Team Vang                      4
3 Kévin Lalouette (Fra) CC Nogent sur Oise                             2
4 Nicolas Crosbie (Fra) Agritubel                                      1
 
Côte Blanche - Km 126,4
 
1 David Le Lay (Fra) Groupe Sportif Bretagne-Jean Floc'h               6 pts
2 Eduard Vorganov (Rus) Omnibike Dynamo Moscow                         4
3 Shinichi Fukushima (Jpn) Cycle Racing Team Vang                      2
4 Koji Fukushima (Jpn) Cycle Racing Team Vang                          1
 
Côte Pierre Richard - Km 174,7
 
1 Eduard Vorganov (Rus) Omnibike Dynamo Moscow                         6 pts
2 Emanuele Bindi (Ita) OTC Doors-Lauretana                             4
3 David Le Lay (Fra) Groupe Sportif Bretagne-Jean Floc'h               2
4 Denis Robin (Fra) Agritubel                                          1
 
Hot spot sprints
 
Le Genest St Isle - Km 9
 
1 Andrey Klyuev (Rus) Omnibike Dynamo Moscow                           5 pts
2 Jens Mouris (Ned) Team Regiostrom-Senges                             3
3 Cédric Herve (Fra) Groupe Sportif Bretagne-Jean Floc'h               2
4 Ricardo Van Der Velde (Ned) Rabobank Continental                     1
 
Châtillon sur Colmont - Km 77,8
 
1 Shinichi Fukushima (Jpn) Cycle Racing Team Vang                      5 pts
2 Kévin Lalouette (Fra) CC Nogent sur Oise                             3
3 Diego Genovesi (Ita) OTC Doors-Lauretana                             2
4 Christophe Masson (Fra) VC Roubaix                                   1
 
Montaudin - Km 144,5
 
1 Eduard Vorganov (Rus) Omnibike Dynamo Moscow                         5 pts
2 Denis Robin (Fra) Agritubel                                          3
3 Johnathan Dayus (GBr) Team Nantes 44 Atlantique                      2
4 David Le Lay (Fra) Groupe Sportif Bretagne-Jean Floc'h               1
 
Gorron 1er passage - Km 161,2
 
1 Shinichi Fukushima (Jpn) Cycle Racing Team Vang                      5 pts
2 Koji Fukushima (Jpn) Cycle Racing Team Vang                          3
3 Eduard Vorganov (Rus) Omnibike Dynamo Moscow                         2
4 David Le Lay (Fra) Groupe Sportif Bretagne-Jean Floc'h               1
 
General classification after stage 2
 
1 Koji Fukushima (Jpn) Cycle Racing Team Vang                    8.57.28
2 Markus Eichler (Ger) Team Regiostrom-Senges                       0.34
3 Nicolas Rousseau (Fra) Frane Espoirs                              0.35
4 Franck Perque (Fra) CC Nogent sur Oise                            0.37
5 Benoit Sinner (Fra) Agritubel                                     0.41
6 Antoine Dalibard (Fra) Groupe Sportif Bretagne-Jean Floc'h        0.53
7 Bart Aernouts (Bel) Rabobank Continental                          0.55
8 Kristian House (GBr) Recycling.co.uk                              1.00
9 Maint Berkenbosch (Ned) Team Regiostrom-Senges                    1.02
10 Alexandre Bousseau (Fra) Vendee U                                    
11 Steven Tronet (Fra) VC Roubaix                                   1.07
12 Robby Meul (Bel) Jartazi-7Mobile                                 1.20
13 David Le Lay (Fra) Groupe Sportif Bretagne-Jean Floc'h           1.37
14 Johnathan Dayus (GBr) Team Nantes 44 Atlantique                  2.04
15 Emanuele Bindi (Ita) OTC Doors-Lauretana                         2.06
16 Eduard Vorganov (Rus) Omnibike Dynamo Moscow                     2.12
17 Denis Robin (Fra) Agritubel                                      2.16
18 Shinichi Fukushima (Jpn) Cycle Racing Team Vang                  2.54
19 Alexey Shmidt (Rus) Omnibike Dynamo Moscow                       3.01
20 Franck Charrier (Fra) CC Nogent sur Oise                         3.03
21 Peter Velits (Svk) Team Konica Minolta                           3.04
22 Aivaras Baranauskas (Ltu) Agritubel                                  
23 Nicolas Crosbie (Fra) Agritubel                                  3.06
24 Ricardo Van Der Velde (Ned) Rabobank Continental                 3.07
25 Martin Velits (Svk) Team Konica Minolta                              
26 Julien Belgy (Fra) Vendee U                                          
27 Perrig Quemeneur (Fra) Vendee U                                  3.08
28 Jean-Luc Delpech (Fra) Groupe Sportif Bretagne-Jean Floc'h       3.11
29 Ivan Fanelli (Ita) Amore & Vita-McDonald's                       3.13
30 Christophe Diguet (Fra) Team Nantes 44 Atlantique                    
31 Olivier Grammaire (Fra) Sprinter Club Olympique Dijon            3.14
32 Hanco Kachelhoffer (RSA) Team Konica Minolta                     3.15
33 Evan Oliphant (GBr) Recycling.co.uk                                  
34 Stéphane Bonsergent (Fra) Groupe Sportif Bretagne-Jean Floc'h    3.16
35 Yukiya Arashiro (Jpn) Cycle Racing Team Vang                     3.18
36 Yann Huguet (Fra) Frane Espoirs                                  3.20
37 Vasily Khatuntsev (Rus) Omnibike Dynamo Moscow                   3.23
38 Junya Sano (Jpn) Cycle Racing Team Vang                          3.29
39 Alessio Signego (Ita) OTC Doors-Lauretana                            
40 Paul Brousse (Fra) VC Roubaix                                    3.31
41 Sven Vanthourenhout (Bel) Rabobank Continental                   3.32
42 Robert Partridge (GBr) Recycling.co.uk                               
43 Christophe Masson (Fra) VC Roubaix                                   
44 Vincent Freulon (Fra) Pays de la Loire                           3.33
45 Vincent Cantero (Fra) CC Nogent sur Oise                         3.34
46 Aurélien Stehly (Fra) Sprinter Club Olympique Dijon                  
47 Hamish Haynes (GBr) Jartazi-7Mobile                              3.36
48 Lénaic Olivier (Fra) Agritubel                                   3.37
49 Mikael Cherel (Fra) Frane Espoirs                                    
50 David Deroo (Fra) VC Roubaix                                     3.40
51 Yohann Lucas (Fra) Team Nantes 44 Atlantique                         
52 Cédric Herve (Fra) Groupe Sportif Bretagne-Jean Floc'h           3.45
53 Alexandre Urbain (Fra) CC Nogent sur Oise                        3.46
54 Mickael Larpe (Fra) Frane Espoirs                                    
55 Médéric Clain (Fra) VC Roubaix                                       
56 Timothée Lefrancois (Fra) Team Nantes 44 Atlantique              3.47
57 Stéphane Fouillet (Fra) Etoile Cycliste Mayennaise               3.48
58 Jérémie Galland (Fra) CC Nogent sur Oise                         3.53
59 Viacheslav Vilkov (Rus) Omnibike Dynamo Moscow                   3.56
60 Andrey Klyuev (Rus) Omnibike Dynamo Moscow                       3.59
61 Takashi Miyazawa (Jpn) Cycle Racing Team Vang                    4.11
62 Romain Feillu (Fra) Frane Espoirs                                5.06
63 Konstantin Schubert (Ger) Team Regiostrom-Senges                 7.42
64 Elnathan Heizmann (Ger) Team Regiostrom-Senges                   7.45
65 Igor Abakoumov (Bel) Jartazi-7Mobile                             8.02
66 Sébastien Turgot (Fra) Vendee U                                  9.46
67 Jens Mouris (Ned) Team Regiostrom-Senges                        10.32
68 David Burgy (Fra) Sprinter Club Olympique Dijon                 15.38
69 Johan Lindgren (Swe) Team Nantes 44 Atlantique                  16.07
70 Stéphane Poulhies (Fra) Frane Espoirs                           16.22
71 Jehudi Schoonacker (Bel) Sean Kelly Team                        16.26
72 Matthieu Rompion (Fra) Vendee U                                 16.28
73 Paidi O'Brien (Irl) Sean Kelly Team                             16.34
74 Travis Allen (RSA) Team Konica Minolta                          16.35
75 Alexey Bauer (Rus) Omnibike Dynamo Moscow                            
76 Hans Dekkers (Ned) Agritubel                                    16.38
77 Romain Fondard (Fra) VC Roubaix                                 16.42
78 Jamie Burrow (GBr) OTC Doors-Lauretana                          16.43
79 Mickaël Diguet (Fra) Pays de la Loire                           16.44
80 Roman Luhovyy (Ukr) OTC Doors-Lauretana                         16.47
81 Yoann Foucher (Fra) Pays de la Loire                            16.48
82 Tim Cassidy (Irl) Sean Kelly Team                                    
83 Guillaume Garnier (Fra) Etoile Cycliste Mayennaise              16.50
84 Jacques Van Rensburg (RSA) Team Konica Minolta                       
85 Kévin Cherruault (Fra) Team Nantes 44 Atlantique                16.51
86 Malween Bodin (Fra) Pays de la Loire                            17.01
87 Stéphane Ramond (Fra) Etoile Cycliste Mayennaise                17.03
88 Julien Foisnet (Fra) Pays de la Loire                           17.04
89 Julien Fouchard (Fra) Etoile Cycliste Mayennaise                18.06
90 Martijn Maaskant (Ned) Rabobank Continental                     19.12
91 Olivier Nari (Fra) Sprinter Club Olympique Dijon                19.17
92 Christopher Stevensen (Swe) Amore & Vita-McDonald's             19.27
93 Dominique David (Fra) Pays de la Loire                          19.43
94 Romain Mary (Fra) Sprinter Club Olympique Dijon                 19.49
95 Andrew Mc Quaid (Irl) Sean Kelly Team                           19.54
96 Peter Ronsse (Bel) Jartazi-7Mobile                              20.50
97 Kimmo Kananen (Fin) Amore & Vita-McDonald's                     23.48
98 Diego Genovesi (Ita) OTC Doors-Lauretana                        23.56
99 Jarno Van Mingeroet (Bel) Jartazi-7Mobile                       25.59
 
Mountains classification
 
1 Nicolas Crosbie (Fra) Agritubel                                     20 pts
2 Franck Perque (Fra) CC Nogent sur Oise                              18
3 Eduard Vorganov (Rus) Omnibike Dynamo Moscow                        14
4 Maint Berkenbosch (Ned) Team Regiostrom-Senges                      10
5 David Le Lay (Fra) Groupe Sportif Bretagne-Jean Floc'h               8
6 Vasily Khatuntsev (Rus) Omnibike Dynamo Moscow                       7
7 Julien Belgy (Fra) Vendee U                                          6
8 Diego Genovesi (Ita) OTC Doors-Lauretana                             6
9 Shinichi Fukushima (Jpn) Cycle Racing Team Vang                      6
10 Antoine Dalibard (Fra) Groupe Sportif Bretagne-Jean Floc'h          5
11 Emanuele Bindi (Ita) OTC Doors-Lauretana                            4
12 Aivaras Baranauskas (Ltu) Agritubel                                 4
13 Bart Aernouts (Bel) Rabobank Continental                            2
14 Kristian House (GBr) Recycling.co.uk                                2
15 Robby Meul (Bel) Jartazi-7Mobile                                    2
16 Peter Velits (Svk) Team Konica Minolta                              2
17 Koji Fukushima (Jpn) Cycle Racing Team Vang                         1
18 Markus Eichler (Ger) Team Regiostrom-Senges                         1
19 Denis Robin (Fra) Agritubel                                         1
20 Stéphane Fouillet (Fra) Etoile Cycliste Mayennaise                  1
21 Andrey Klyuev (Rus) Omnibike Dynamo Moscow                          1
 
Espoirs classification
 
1 Benoit Sinner (Fra) Agritubel                                  8.58.09
2 Steven Tronet (Fra) VC Roubaix                                    0.26
3 Peter Velits (Svk) Team Konica Minolta                            2.23
4 Ricardo Van Der Velde (Ned) Rabobank Continental                  2.26
5 Martin Velits (Svk) Team Konica Minolta                               
6 Perrig Quemeneur (Fra) Vendee U                                   2.27
7 Hanco Kachelhoffer (RSA) Team Konica Minolta                      2.34
8 Yukiya Arashiro (Jpn) Cycle Racing Team Vang                      2.37
9 Yann Huguet (Fra) Frane Espoirs                                   2.39
10 Vasily Khatuntsev (Rus) Omnibike Dynamo Moscow                   2.42
11 Robert Partridge (GBr) Recycling.co.uk                           2.51
12 Christophe Masson (Fra) VC Roubaix                                   
13 Aurélien Stehly (Fra) Sprinter Club Olympique Dijon              2.53
14 Mikael Cherel (Fra) Frane Espoirs                                2.56
15 David Deroo (Fra) VC Roubaix                                     2.59
16 Yohann Lucas (Fra) Team Nantes 44 Atlantique                         
17 Mickael Larpe (Fra) Frane Espoirs                                3.05
18 Stéphane Fouillet (Fra) Etoile Cycliste Mayennaise               3.07
19 Viacheslav Vilkov (Rus) Omnibike Dynamo Moscow                   3.15
20 Andrey Klyuev (Rus) Omnibike Dynamo Moscow                       3.18
21 Romain Feillu (Fra) Frane Espoirs                                4.25
22 Sébastien Turgot (Fra) Vendee U                                  9.05
23 Johan Lindgren (Swe) Team Nantes 44 Atlantique                  15.26
24 Stéphane Poulhies (Fra) Frane Espoirs                           15.41
25 Matthieu Rompion (Fra) Vendee U                                 15.47
26 Paidi O'Brien (Irl) Sean Kelly Team                             15.53
27 Travis Allen (RSA) Team Konica Minolta                          15.54
28 Alexey Bauer (Rus) Omnibike Dynamo Moscow                            
29 Romain Fondard (Fra) VC Roubaix                                 16.01
30 Jacques Van Rensburg (RSA) Team Konica Minolta                  16.09
31 Kévin Cherruault (Fra) Team Nantes 44 Atlantique                16.10
32 Malween Bodin (Fra) Pays de la Loire                            16.20
33 Julien Fouchard (Fra) Etoile Cycliste Mayennaise                17.25
34 Andrew Mc Quaid (Irl) Sean Kelly Team                           19.13