19th Internationale Thüringen-Rundfahrt der Frauen - 2.1 (W)
Germany, July 18-23, 2006
Main Page Results Overall standings Next Stage
Prologue - July 18: Zeulenroda-Triebes ITT, 3.8 km
Soeder off to a good start for Univega
Amy Gillett remembered
By Kristy Scrymgeour
Christiane Soeder (Univega)
Photo ©: Florian Schaaf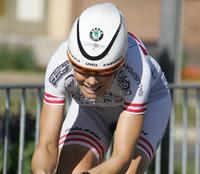 A month after being crowned both time trial and road race national champion of Austria, Christiane Soeder took out the prologue of Germany's tough Thüringen Rundfahrt yesterday afternoon with a time of 5.10.30 over 3.8km. The victory puts her in the yellow jersey going into stage one with a 4.95 second advantage over second place.
Thüringen traditionally starts with a short prologue in the town of Zeulenroda. Last year's prologue however, was cancelled when the Australian AIS team was hit by a car whilst preparing for the race. The accident caused the death of Amy Gillett, with her five teammates sustaining serious injuries. This year the prologue did take place, after which followed a concert organized by the town mayor (see today's news), with the proceeds going to the Amy Gillett Foundation. The foundation has been set up to create awareness for cyclists on the roads, support the next generation of cyclists and assist the recovery of Amy's teammates Alexis, Katie, Kate, Lorian and Louise.
Kate Nichols is the only one of the AIS girls involved in the accident to line up for this year's race. Nichols is back with the AIS team again and finished well only 30 seconds down on the winner.
The 3.8km was held on a fast technical course, the shortest course ever for this race. Soeder's win puts her Univega team in a very good position going into the first stage. With three of her teammates also finishing within the top seven in the prologue, the team will have more than one card to play as the race hots up.
Taking second place was 21 year old Linda Serup Villumsen (Buitenpoort- Flexpoint). The promising young rider from Denmark also recently won both the time trial and road race at her national championships and is going from strength to strength this season. Taking third place was the more experienced Henka Kufpernagel (German national team), who took the overall victory at Thüringen in 1999.
Tomorrow's stage one starts in Zeulenroda and travels 129.9 km to the town of Greiz. 89 riders will line up, including riders from 18 countries with 12 pro teams and four national teams taking part.
Photography
For a thumbnail gallery of these images, click here
Images by Florian Schaaf/www.cyclingpictures.de
Images by CJ Farquharson/WomensCycling.net
Results
1 Christiane Soeder (Aut) Univega                               5.10.30
2 Linda Villumsen (Den) Buitenpoort- Flexpoint                  0.04.59
3 Hanka Kupfernagel (Ger) German national team                  0.04.86
4 Nicole Cooke (GBr) Univega                                    0.06.53
5 Zulfia Zabirova (Kaz) Bigla                                   0.06.97
6 Karin Thürig (Swi) Univega                                    0.10.88
7 Priska Doppmann (Swi) Univega                                 0.12.06
8 Luisa Tamanini (Ita) Safi – Pasta Zara Manhatten              0.12.22
9 Trixi Worrack (Ger) Nürnberger Versicherung                   0.12.74
10 Diana Ziliute (Ltu) Safi – Pasta Zara Manhatten              0.12.85
11 Amber Neben (USA) Buitenpoort- Flexpoint                     0.13.47
12 Katherine Bates (Aus) Nürnberger Versicherung                0.13.73
13 Ina-Yoko Teutenberg (Ger) T-Mobile                           0.14.03
14 An Van Rie (Bel) Belgian national team                       0.14.05
15 Theresa Senff (Ger) AA Drink                                 0.14.44
16 Charlotte Becker (Ger) Fenixs – Colnago                      0.15.10
17 Edita Pucinskaite (Ltu) Nobili Rubinetterie Menkini Cogeas
18 Oenone Wood (Aus) Nürnberger Versicherung                    0.16.52
19 Madeleine Sandig (Ger) Buitenpoort- Flexpoint                0.16.89
20 Joanne Kiesanowski (NZl) Univega                             0.17.85
21 Annette Beutler (Swi) Buitenpoort- Flexpoint                 0.18.14
22 Lisa Brennauer (Ger) German national team                    0.20.33
23 Monica Holler (Swe) Bigla                                    0.20.57
24 Olivia Gollan (Aus) Nobili Rubinetterie Menkini Cogeas       0.21.08
25 Tina Liebig (Ger) Nürnberger Versicherung                    0.21.61
26 Kimberly Baldwin (USA) T-Mobile                              0.22.45
27 Kimberly Anderson (USA) T-Mobile                             0.22.96
28 Ivonne Kraft (Ger) Team Stuttgart                            0.24.51
29 Luise Keller (Ger) Buitenpoort- Flexpoint                    0.24.93
30 Natalie Bates (Aus) AA Drink                                 0.25.05
31 Elke Gebhardt (Ger) Team Euregio Egrensis                    0.25.09
32 Kirsten Wild (Ned) AA Drink                                  0.25.58
33 Angela Brodka (Ger) AA Drink                                 0.25.60
34 Monica Furrer (Swi) Bigla                                    0.27.00
35 Veronica Andreasson (Swe) Safi – Pasta Zara Manhatten        0.27.01
36 Daniela Pintarelli (Aut) Austrian national team              0.27.43
37 Fang Li Mei (Chn) Giant                                      0.28.00
38 Sandra Missbach (Ger) AA Drink                               0.28.69
39 Liane Bahler (Ger) Fenixs – Colnago                          0.29.22
40 Christina Becker (Ger) T-Mobile                              0.29.66
41 Jennifer Hohl (Swi) Bigla                                    0.29.80
42 Stephanie Gronow (Ger) Team Euregio Egrensis                 0.30.67
43 Kate Nichols (Aus) Australian national team                  0.30.84
44 Rosmarie Mayer (Ger) Team Stuttgart                          0.31.20
45 Marta Bastianelli (Ita) Safi – Pasta Zara Manhatten          0.31.30
46 Tanja Hennes (Ger) Buitenpoort- Flexpoint                    0.31.44
47 Monica Schachl (Aut) Austrian national team                  0.31.74
48 Ine Wannijn (Bel) Belgian national team                      0.31.76
49 Emma Rickards (Aus) Univega                                  0.31.81
50 Karen Steurs (Bel) Belgian national team                     0.31.94
51 Anke Wichmann (Ger) Nürnberger Versicherung                  0.32.15
52 Emanuela Azzini (Ita) Nobili Rubinetterie Menkini Cogeas     0.32.17
53 Claudia Stumpf (Ger) Team Stuttgart                          0.32.57
54 Romy Kasper (Ger) German national team                       0.32.83
55 Veronika Sprügl (Aut) Austrian national team                 0.32.91
56 Sigrid Corneo (Ita) Nobili Rubinetterie Menkini Cogeas       0.33.55
57 Rochelle Gilmore (Aus) Safi – Pasta Zara Manhatten           0.34.12
58 Jenny McPherson (Aus) Australian national team               0.34.14
59 Amy Moore (Can) T-Mobile                                     0.34.44
60 Susi Tosch (Ger) Team Euregio Egrensis                       0.35.61
61 Anna-Maria Beyer (Ger) Team Stuttgart                        0.36.47
62 Jocelyn Loane (Aus) Australian national team                 0.36.51
63 Denise Zuckermandel (Ger) German national team               0.36.72
64 Kathleen Sterckx (Bel) Belgian national team                 0.36.79
65 Catherine Delfosse (Bel) Belgian national team               0.37.52
66 Candice Sullivan (Aus) Australian national team              0.37.89
67 Kate Mercer (Aus) Australian national team                   0.38.22
68 Marta Vilajosana (Spa) Nobili Rubinetterie Menkini Cogeas    0.38.62
69 Magali Le Floch (Fra) T-Mobile                               0.40.54
70 Lisa Weissenseel (Ger) German national team                  0.40.96
71 Li Liu Yong (Chn) Giant                                      0.41.90
72 Andrea Knecht (Swi) Bigla                                    0.42.46
73 Regina Schleicher (Ger) Nürnberger Versicherung              0.44.14
74 Bernadette Schober (Aut) Austrian national team              0.46.69
75 Loes Sels (Bel) Belgian national team                        0.47.31
76 Amanda Spratt (Aus) Australian national team                 0.48.63
77 Katharina Blum (Ger) German national team                    0.50.01
78 Lang Meng (Chn) Giant                                        0.50.16
79 Corine Hierckens (Bel) AA Drink                              0.50.41
80 Gintare Gaivenyte (Ltu) Safi – Pasta Zara Manhatten          0.51.22
81 Ilaria Rinaldi (Ita) Fenixs – Colnago                        0.51.37
82 Stephanie Rechenbach (Ger) Team Euregio Egrensis             0.52.75
83 Yunmei Wu (Chn) Giant                                        0.54.56
84 Ying Ruan Xiong (Chn) Giant                                  0.55.28
85 Elenia Lazzaro (Ita) Fenixs – Colnago                        0.57.77
86 Claudia Seidel (Ger) Team Euregio Egrensis                   0.59.00
87 Caroline Humplik (Ger) Team Stuttgart                        0.59.44
88 Gina Haatz (Ger) Team Stuttgart                              1.03.97
89 Yanxia Jiang (Chn) Giant                                     1.05.52
DNF Elena Eifler (Ger) Fenixs – Colnago