Surfers Paradise Grand Prix - NE
Queensland, Australia, December 10, 2006
Back to back wins for Davitamon Lotto in Surfers Paradise Grand Prix
Glory for Gates amid crashes and controversy
By John Michael Flynn at Surfers Paradise
The four man breakaway
Photo ©: John Flynn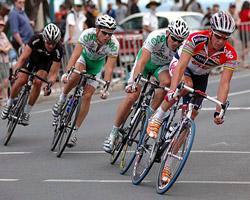 Davitamon Lotto's 'working dog' Nick Gates this afternoon stepped out of the shadow of his illustrious master Robbie McEwen to post a popular victory in race two of the Grand Prix Criterium Series on Queensland's Gold Coast.
Gates emerged the victor from an incident packed and controversial contest, which even saw the race stopped by commissaires to sort out the composition of the breakaway and the peloton, ten minutes out from the finish.
In the end, the result went almost to script. A Gold Coast based Davitamon Lotto cyclist won the race in a sprint finish against a rival from Unibet. But instead of the anticipated showdown between McEwen and Baden Cooke, it was Gates who came home too strong for Cooke's team-mate Matt Wilson.
"I'm rapt to have a win today, I spoke to Robbie through the week, I've been training pretty good," Gates said. "Robbie said why don't you have a go today, I said righto I'll ride for myself, it's great to have a win in front of a home crowd."
Unraveling the chain of events
The south-east trade winds were blowing off the Pacific Ocean and along the finishing straight at the backs of the riders on the Surfers Paradise Esplanade. It was shaping as a typically "beautiful one day - perfect the next" sort of afternoon on Queensland's Gold Coast. It was … at least for some.
In a field oozing with class and a front row of the grid where Valentino Rossi would not have looked entirely out of place, the feel was very much European. The site of Robbie McEwen, supported by Davitamon Lotto team-mates Gates and Vogels; Allan Davis, with Astana team-mates Aaron Kemps and Koen De Kort; Unibet's Baden Cooke, with Matt Wilson riding shotgun and Rabobank's Graeme Brown with the big man Matt Hayman in support - a lightning fast race was on the cards.
It was Cooke who, perhaps surprising, went hard early. The Unibet Sprinter, who has won one Tour de France Green jersey to McEwen's three, was working on a game plan to split up the field on the tight street circuit.
"I just tried to put the smack down early because the corners are so tight," Cooke told Cyclingnews when it was all over. "I stayed in the top five the whole way, that was definitely the place to be. Chaotic race."
Chaotic was perhaps the 'only' word to describe the chain of events which unfolded.
The race was marred by numerous crashes on the technical Surfers Paradise street circuit, but it was an incident ten minutes out from the finish which provided the talking point of the race - and a subject of debate, no doubt, for years to come.
Allan Davis hits the hammer.
Photo ©: John Flynn

A group of riders, including Graeme Browne and Allan Davis, was bridging across to the breakaway of Matt Wilson and Nick Gates when a crash occurred on an off-camber corner. The crashed riders took a lap out, as they are entitled to do under the race rules, and then re-joined the race with the breakaway group.
Riders in the main peloton protested the decision allowing the crashed riders to rejoin with the breakaway, and not the main peloton. Robbie McEwen was among the most vocal, urging on-course commissaires to sort the situation and "take some blokes out" of the breakaway group which contained his team-mate Nick Gates.
"As far as I could see, Gates and Wilson had just gone (up the road) and then Davis was trying to cross to it and crashed," McEwen told Cyclingnews in his version of events. "That caused a pretty big split, then everyone hesitated, then Phillips went across, then the last one across was Cooke."
"Then we went around and saw the group had doubled in size and we weren't sure how that all eventuated and why they (Davis and Browne - McEwen's Sprint rivals) were there. It didn't seem quite right."
Nick Gates also objected to the crashed riders hooking up with the breakaway group. "It always gets heated when something like that happens," Gates said.
"Brownie and Alby thought they should have been in the break and they probably would have been but they weren't there when the crash happened so officially they're not supposed to be in the breakaway. I was ropeable because we had been out there and forced the break, then these guys joined us, I was a bit annoyed, I wanted the race to be sorted out."
The alternative case
There was no disputing a crash involving Allan Davis occurred on the second corner of the circuit. The Sunshine Coast's Tony Mann was attempting to bridge across to the breakaway and was closer to the incident than McEwen when it occurred.
"Obviously the break was gone and then there was Alby [Davis], [Graeme] Brownie, myself and Matt [White] and we joined on just in the corner," Mann said. "Alby laid it down, which caused us to split up, nobody thought we were on the back of them but we were. We worked hard to get there and we all had to sit up, no-one was happy with that decision."
The decision by commissaires to stop the race briefly to sort out the composition was also a first for Olympic track Gold medalist, Rabobank's Graeme Brown.
"I guess it's understandable, they don't seem to think we were in the break, but at the end of the day we were," Brown said. "The commissaire's decision's final. I was on the wheel of Henk Vogels and the two of us got caught up, then just as we were getting on the break, Alby Davis went down."
What happened next
Glory for Gates
Photo ©: John Flynn

In the final wash-up, a breakaway group of four riders was left to contest the last ten minutes of the extended 1 hour and 5 minute criterium race and the prognosis looked good for Unibet with Matt Wilson and Baden Cooke in the mix against Nick Gates and the ever-present Jason Phillips.
With the peloton too far in arrears to send anyone across, only Tony Mann - now in no-Mann's land at the end of the chaos, was left with a lonely fight to catch the leaders. Gates, though, was enjoying a rare opportunity to show what he could do, and hit his rivals once again with a couple of laps to go. Wilson was the only rival able to respond, leaving Cooke and Jason Phillips to fight it out for third place.
The final sprint came down to a contest between Wilson and Gates - the former tipped to have the better sprint of the two. But it was Gates, who rode selflessly last week to steer Robbie McEwen to the National Criterium Championship, who triumphed.
"I looked around at the guys there and I thought my best chance is to get away with Matty [Wilson], Cookie won't chase and Bobby [Phillips] will have to close the gap himself," Gates said. "Matty was riding really strong. I knew if I went first in the sprint with the tailwind it'd be hard for him to come over me."
Champaigne spray
Photo ©: John Flynn

It was a popular win for Davitamon Lotto's working dog. His teammate and close friend Robbie McEwen brushing aside the chaotic events of the prior sixty minutes, to pay tribute to his faithful domestique. Today represented a rare role reversal, McEwen riding as the worker for Gates. "I'm just happy my team-mate got up, the rest doesn't interest me that much," a matter-of-fact McEwen said. "It's right and it's good when I can get a chance to pay one of my teammates back. I did a lot of hard work trying to keep things together when Nick wasn't in the front and when he did get there I'd try and slow it if I could and it's all worked out."
Tributes came, too, from another Davitamon Lotto teammate in Henk Vogels. Competing in his last race for Lotto before joining Toyota United, Vogels also found cause to celebrate. "Nicholas and myself are obviously the domestiques for Robbie all year and the team," Vogels told Cyclingnews. "Nice to finish off with a win, especially with Nick and great to go out on a winning note. I would have preferred Nick to win today than Robbie, that was the plan today either nick or I to get up in a move."
Disappointment, remained though, for Baden Cooke who, much as he did last year, rode competitively on the streets of Surfers Paradise, without enjoying the spoils. "We had two in the break, I did a lot early so I was pretty tired," the Unibet sprinter said. "When Gatesy went I thought it'd be a good match-up, normally I'd back Matty to beat Gatesy, but these early season races some guys have got better form than others."
There was some consolation meanwhile for Graeme Brown. Despite being ordered out of the race winning breakaway, the Rabobank sprinter was awarded the overall Grand Prix Series victory.
Carrigan makes it look easy
Sara Carrigan
Photo ©: John Flynn

Earlier in the day, Olympic road race champion Sara Carrigan made a stunning comeback to elite racing following her six month post Commonwealth Games study sabbatical. The native Gold Coaster rode away from the elite women's field in the finishing straight to score a well deserved hometown victory.
"A bit of an unknown for me coming into today, the amount of time I've had off the bike, four weeks back into training, I was a bit reluctant to race," Carrigan said. "If I'm going to pin the number on I want to give everything, not just roll around I want to be able to do something," Carrigan said.
Bridget Evans crossed the finish line in second place, with former National Club Road Champion Emma Mackie turning in another solid performance to finish third. But Carrigan spared the most praise for her close friend and long-time Queensland team-mate Lorian Graham, who not just held on, but attacked several times, in her second race back at elite level.
"Lorian had a great race she was chasing down a lot of stuff, she had a few attacks herself," Carrigan said. "For her to come back like she has, I have so much admiration for her."
Carrigan's focus now is on the National Road Race Championship in January, before she heads to Europe to fulfill a new professional contract. "I feel so good about that today," Sara said.
"Coming into that last corner there was about only 150 meters to go, myself as a pretty good cornerer, I knew if I attacked those last two corners there wouldn't be many people that would be able to hold my wheel."
Photography
For a thumbnail gallery of these images, click here
Images by John Flynn/Cyclingnews.com
Results
Elite Men

1 Nick Gates
2 Matt Wilson
3 Baden Cooke
4 Jason Phillips
5 Tony Mann
6 Graeme Brown
7 Jonathan Cantwell
8 Allan Davis
9 Henk Vogels
 
Elite Women

1 Sara Carrigan
2 Bridget Evans
3 Emma Mackie
4 Nikki Egyed
5 Jessy Byrnes
6 Lorian Graham
 
B Grade

1 Michael Jackson
2 Tarquin Wallace
3 Sam Penny

C Grade

1 Luke Gollschewski
2 Matthew Hamilton
3 Benjamin Jesberg
 
Corporate

1 Doug Curry
2 Stephen Newcomb
3 Jonathan eather