Tour of South China Sea - 2.2
Hong Kong, December 25-30, 2006
Main Page Results Overall standings Previous Stage
Stage 6 - December 30: Macau Stage, 92.2 km
Khatunstev signs off in style
Tour of South China Sea wrap up
By Steve Thomas in Coloane
Alexander Khatuntsev (Rus) Omnibike Dynamo Moscow - GC Winner
Photo ©: Greg Chang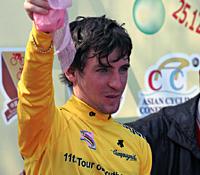 The earth literally moved in South China a few days ago; when Taiwan was hit by a major earthquake, damaging the sub marine cables and killing internet access in region, thwarting our attempts to post images from the 11th Tour of South China Sea, but it certainly didn't halt the racing.
As out first two stage reports show the powerful and smart riding Dynamo Moscow team started on a super high – with back to back stage wins from Andrey Klyulev and Konstantin Ponomarev, to say the least the team were happy with their initial tally, and over a bottle of celebratory wine team manager Gleb Groysman explained, "We still have chances, but the Hong Kong teams work so strongly together, and the last stage is hilly – I think it will be difficult for us to have a chance to win overall because it will all come down to that last day. The climb is not long, but they race up it many times, which will be tough."
The Hong Kong teams were combining well together, keeping the race intact and looking supreme in physical terms, but maybe they were playing into the hands of the more cunning and experienced Russians, as Asian Games Champion and pre-race favourite Kam Po Wong noted, "The riders are very young, they are strong and work well together, but [they] lack experience and make judgment mistakes, especially with their timing."
2nd overall, Wang Yip Tang (HKg)
Photo ©: Joey Wu

With plenty of flat racing things continued to work out for the track-strong Russians, with another stage win on stages 3. It was looking set to be a walk over for the Moscovits, until a bellow par Wong broke the reins to take a consolidated victory on stage 4, which was set to be the only stage that the Russians would not win, as Klyulev came home again the following day to take the penultimate and the last of the flat stages.
As the finally hilly day on Macau came around everything was up for grabs; with Hong Kong looking strong and set to take home yet another overall victory in this race. But with who? They had the cold ridden but leading Wong, last year's winner Wu, and at least two other riders with an outside chance to grabbing those vital few seconds on they final finishing climb.
Predictably the racing was tough, aggressive and fast, and Honk Kong was looking good, but it was not to be – it was once again a day for the Moscow boys, with Alexander Khatunstev coming home 37 seconds ahead of a shredded field, taking both the stage and the overall honours – signing off in style from the team, as two days later he will be donning the ProTour green and white strip of Unibet.
Photography
For a thumbnail gallery of these images, click here
Images by Greg Chang/PhotoSport International
Images by Joey Wu
Results

1 Alexander Khatuntsev (Rus) Omnibike Dynamo Moscow           2.11.25 (42.1 km/h)
2 Mitchell C. Chapman (Aus) Australian U23                       0.37
3 Wang Yip Tang (HKg) Pocari Sweat Hong Kong                         
4 Sergey Kolesnikov (Rus) Omnibike Dynamo Moscow                 0.40
5 Haijun Ma (Chn) China                                              
6 Alexey Shmidt (Rus) Omnibike Dynamo Moscow                     0.49
7 Peng Liu (Chn) Peoples' Liberation Army                        0.57
8 Fuyu Li (Chn) Marco Polo Cycling Team                          1.03
9 Chi Yin Leung (HKg) Marco Polo Cycling Team                    1.06
10 Kam Po Wong (HKg) Pocari Sweat Hong Kong                      1.07
11 Prajak Mahawong (Tha) Siam Bara Cycling                       1.08
12 Gangzhao Guo (Chn) Cyclist Club Racing Force                      
13 Jacob J. Nielsen (Den) Glud & Marstrand Horsens               1.10
14 Wenlong Zhang (Chn) Peoples' Liberation Army                  1.12
15 Rune Udby (Den) Glud & Marstrand Horsens                          
16 King Wai Cheung (HKg) Pocari Sweat Hong Kong                  1.14
17 Lei Sun (Chn) Hong Kong & Shanghai Sports Institute               
18 Tong Yu (Chn) Macau-beijing Selection                         1.17
19 Jared Bunde (USA) Champion System Sommerville Sports          1.19
20 Fumiya Azuhata (Jpn) Japan National Team                      1.23
21 Michael Berling (Den) Glud & Marstrand Horsens                1.25
22 Valery Valynin (Rus) Omnibike Dynamo Moscow                   1.27
23 Xu Fang (Chn) China                                           1.29
24 Wai Man Chau (HKg) Champion System Sommerville Sports         1.30
25 Yandong Xing (Chn) Marco Polo Cycling Team                    1.32
26 Makoto Iijima (Jpn) Japan National Team                           
27 Pengda Jiao (Chn) China                                       1.36
28 Li Zhang (Chn) Guangdong                                      1.39
29 Reona Sumi (Jpn) Japan National Team                          1.44
30 Rongxi Zou (Chn) China                                            
31 Bo Liu (Chn) Peoples' Liberation Army                         1.46
32 Christopher Y. Young (Aus) Australian U23                         
33 Morten Christiansen (Den) Glud & Marstrand Horsens                
34 Jamsran Ulzii-orshkih (Mgl) Marco Polo Cycling Team               
35 Kin San Wu (HKg) Pocari Sweat Hong Kong                       1.50
36 Gang Xu (Chn) Hong Kong & Shanghai Sports Institute           1.51
37 Yinhao Cui (Chn) Hong Kong & Shanghai Sports Institute            
38 Nederlof Lex (Ned) Cms-cycling.Tv                                 
39 Akyiyama Hisanori (Jpn) Cyclist Club Racing Force             1.54
40 Kai Tsun Lam (HKg) Pocari Sweat Hong Kong                     1.55
41 Stefan Steinweg (Ger) Zurich - Hirslanden - Vc                    
42 Konstantin Ponomarev (Rus) Omnibike Dynamo Moscow                 
43 Masahiko Mifune (Jpn) Cms-cycling.Tv                              
44 Shijie Yu (Chn) Peoples' Liberation Army                      2.01
45 Laurent Arn (Swi) Zurich - Hirslanden - Vc                    2.02
46 Yung Hua Cheng (Tpe) Team Ckt                                     
47 Fabian Krienbühl (Swi) Zurich - Hirslanden - Vc                   
48 Heng Wa Choi (Mac) Macau-beijing Selection                        
49 Stefan Rothe (Ger) Champion System Sommerville Sports         2.05
50 Ching Man Chung (HKg) Bici Racing                             2.07
51 Chun Hing Chan (HKg) Pocari Sweat Hong Kong                   2.10
52 Yu Hui Wei (Chn) Liaoning Team                                2.12
53 Ting Pong Lam (HKg) Bici Racing                               2.14
54 Yue Tu (Chn) Peoples' Liberation Army                         2.19
55 Thanawat Samana (Tha) Siam Bara Cycling                       2.24
56 Norihide Murayama. (Jpn) Japan National Team                  2.27
57 Sergey Kudentsov (Rus) Marco Polo Cycling Team                2.34
58 Zeyong Yuan (Chn) Peoples' Liberation Army                    2.38
59 Sommerville David (USA) Champion System Sommerville Sports    2.42
60 Sea Keong Loh (Mas) Marco Polo Cycling Team                   2.47
61 Long Jin (Chn) China                                          2.52
62 Keng Hsien Chen (Tpe) Team Ckt                                2.57
63 Yongsheng Yan (Chn) Hong Kong & Shanghai Sports Institute     3.31
64 Cheng Guang Yu (Chn) Liaoning Team                                
65 Po Hung Wu (Tpe) Team Ckt                                     3.35
66 Christian Rocha (Swi) Zurich - Hirslanden - Vc                3.47
67 Siu Wai Ko (HKg) Hong Kong & Shanghai Sports Institute            
68 Pornthep Pinkeaw (Tha) Siam Bara Cycling                      3.51
69 Andrey Klyuev (Rus) Omnibike Dynamo Moscow                    3.53
70 Usui Takamasa (Jpn) Cms-cycling.Tv                            3.57
71 Zhao Yu Zeng (Chn) Liaoning Team                              4.07
72 Korakogh Rittiman (Tha) Siam Bara Cycling                     4.24
73 Shuaijun Chang (Chn) Macau-beijing Selection                  4.46
74 Hsin Hua Huang (Tpe) Team Ckt                                 4.52
75 Song Gao (Chn) Liaoning Team                                  4.54
76 David John Tonk (GBr) Cms-cycling.Tv                          7.54
77 Qiang Zhang (Chn) Macau-beijing Selection                     7.55
78 David Jansen (Swi) Zurich - Hirslanden - Vc                   8.30
79 Jiajie Jang (Chn) Guangdong                                  10.09
80 Alexander A. Mattmann (Swi) Zurich - Hirslanden - Vc         10.24
81 King Man Tsui (HKg) Cyclist Club Racing Force                15.08
82 Xiang Dong (Chn) Guangdong                                   15.31
83 Man Yiu Cheung (HKg) Bici Racing                             18.47
84 Mun Po Choi (HKg) Cyclist Club Racing Force                  20.00
DNF Chak Shing Cheng (HKg) Hong Kong & Shanghai Sports Institute     
DNF Takaaki Ota (Jpn) Japan National Team                            
DNF Takumi Shirakawa (Jpn) Japan National Team                       
DNF Hsin Hsien Lee (Tpe) Team Ckt                                    
DNF Kuo Lung Liao (Tpe) Team Ckt                                     
DNF Thomas Bencivengo (USA) Champion System Sommerville Sports       
DNF Huikuo Zhu (Chn) Macau-beijing Selection                         
DNF Chung Yin Kwan (Mac) Macau-beijing Selection                     
DNF Luke Cridland (Aus) Australian U23                               
DNF Chung Yin Cheng (HKg) Cyclist Club Racing Force                  
DNF Shuhai Song (Chn) Guangdong                                      
DNF Que Zhong (Chn) Guangdong                                        
DNF Shing Lam Ip (HKg) Bici Racing                                   
DNF Lok Kei So (HKg) Bici Racing                                     
DNF Liang Zhang (Chn) China                                          
DNF Kam Fai Lau (HKg) Cms-cycling.Tv                                 
DNF Shi Qiang Sun (Chn) Liaoning Team                                
DNF Jing Wei Jiang (Chn) Liaoning Team                               
 
Sprint #1 - km 18
 
1 Thanawat Samana (Tha) Siam Bara Cycling                           5 pts
2 Andrey Klyuev (Rus) Omnibike Dynamo Moscow                        3
3 Masahiko Mifune (Jpn) Cms-cycling.Tv                              1
 
Sprint #2 - km 36
 
1 Masahiko Mifune (Jpn) Cms-cycling.Tv                              5 pts
2 Thanawat Samana (Tha) Siam Bara Cycling                           3
3 Andrey Klyuev (Rus) Omnibike Dynamo Moscow                        1
 
Sprint #3 - km 54
 
1 Reona Sumi (Jpn) Japan National Team                              5 pts
2 Jared Bunde (USA) Champion System Sommerville Sports              3
3 Thanawat Samana (Tha) Siam Bara Cycling                           1
 
Sprint #4 - km 72
 
1 Reona Sumi (Jpn) Japan National Team                              5 pts
2 Haijun Ma (Chn) China                                             3
3 Alexander Khatuntsev (Rus) Omnibike Dynamo Moscow                 1
 
Stage team classification
 
1 Omnibike Dynamo Moscow                                      6.35.44
2 Pocari Sweat Hong Kong                                         1.29
3 Marco Polo Cycling Team                                        2.12
4 China                                                          2.16
5 Glud & Marstrand Horsens                                       2.18
6 Peoples' Liberation Army                                       2.26
7 Japan National Team                                            3.10
8 Champion System Sommerville Sports                             3.25
9 Hong Kong & Shanghai Sports Institute                          3.27
10 Zurich - Hirslanden - Vc                                      4.30
11 Siam Bara Cycling                                             5.54
12 Cms-cycling.Tv                                                6.14
13 Macau-beijing Selection                                       6.36
14 Team Ckt                                                      7.05
15 Liaoning Team                                                 8.21
16 Cyclist Club Racing Force                                    16.41
17 Bici Racing                                                  21.39
18 Guangdong                                                    25.50
 
Final General classification
 
1 Alexander Khatuntsev (Rus) Omnibike Dynamo Moscow          12.10.10
2 Wang Yip Tang (HKg) Pocari Sweat Hong Kong                     0.42
3 Haijun Ma (Chn) China                                          1.02
4 Sergey Kolesnikov (Rus) Omnibike Dynamo Moscow                     
5 Alexey Shmidt (Rus) Omnibike Dynamo Moscow                     1.07
6 Prajak Mahawong (Tha) Siam Bara Cycling                        1.18
7 Peng Liu (Chn) Peoples' Liberation Army                        1.19
8 Jacob J. Nielsen (Den) Glud & Marstrand Horsens                1.23
9 King Wai Cheung (HKg) Pocari Sweat Hong Kong                   1.36
10 Tong Yu (Chn) Macau-beijing Selection                         1.39
11 Michael Berling (Den) Glud & Marstrand Horsens                1.47
12 Stefan Steinweg (Ger) Zurich - Hirslanden - Vc                1.54
13 Makoto Iijima (Jpn) Japan National Team                           
14 Jamsran Ulzii-orshkih (Mgl) Marco Polo Cycling Team           1.58
15 Rongxi Zou (Chn) China                                        2.06
16 Morten Christiansen (Den) Glud & Marstrand Horsens            2.08
17 Mitchell C. Chapman (Aus) Australian U23                      2.15
18 Masahiko Mifune (Jpn) Cms-cycling.Tv                          2.17
19 Kam Po Wong (HKg) Pocari Sweat Hong Kong                      2.35
20 Yue Tu (Chn) Peoples' Liberation Army                         2.41
21 Chi Yin Leung (HKg) Marco Polo Cycling Team                   2.46
22 Fuyu Li (Chn) Marco Polo Cycling Team                         2.47
23 Norihide Murayama. (Jpn) Japan National Team                  2.49
24 Rune Udby (Den) Glud & Marstrand Horsens                      2.56
25 Sergey Kudentsov (Rus) Marco Polo Cycling Team                    
26 Wenlong Zhang (Chn) Peoples' Liberation Army                      
27 Fumiya Azuhata (Jpn) Japan National Team                      3.07
28 Valery Valynin (Rus) Omnibike Dynamo Moscow                   3.11
29 Xu Fang (Chn) China                                           3.13
30 Wai Man Chau (HKg) Champion System Sommerville Sports         3.14
31 Pengda Jiao (Chn) China                                       3.20
32 Konstantin Ponomarev (Rus) Omnibike Dynamo Moscow             3.23
33 Li Zhang (Chn) Guangdong                                          
34 Reona Sumi (Jpn) Japan National Team                          3.28
35 Bo Liu (Chn) Peoples' Liberation Army                         3.30
36 Kin San Wu (HKg) Pocari Sweat Hong Kong                       3.34
37 Nederlof Lex (Ned) Cms-cycling.Tv                             3.35
38 Yinhao Cui (Chn) Hong Kong & Shanghai Sports Institute            
39 Gang Xu (Chn) Hong Kong & Shanghai Sports Institute               
40 Chun Hing Chan (HKg) Pocari Sweat Hong Kong                   3.52
41 Yu Hui Wei (Chn) Liaoning Team                                3.56
42 Thanawat Samana (Tha) Siam Bara Cycling                       4.08
43 Stefan Rothe (Ger) Champion System Sommerville Sports         4.22
44 Sommerville David (USA) Champion System Sommerville Sports    4.26
45 Long Jin (Chn) China                                          4.36
46 Sea Keong Loh (Mas) Marco Polo Cycling Team                   4.40
47 Keng Hsien Chen (Tpe) Team Ckt                                4.41
48 Andrey Klyuev (Rus) Omnibike Dynamo Moscow                    5.08
49 Cheng Guang Yu (Chn) Liaoning Team                            5.15
50 Po Hung Wu (Tpe) Team Ckt                                     5.19
51 Siu Wai Ko (HKg) Hong Kong & Shanghai Sports Institute        5.31
52 Kai Tsun Lam (HKg) Pocari Sweat Hong Kong                     5.49
53 Zhao Yu Zeng (Chn) Liaoning Team                              6.11
54 Gangzhao Guo (Chn) Cyclist Club Racing Force                  6.15
55 Jared Bunde (USA) Champion System Sommerville Sports          6.26
56 Christopher Y. Young (Aus) Australian U23                     7.06
57 Shijie Yu (Chn) Peoples' Liberation Army                      7.21
58 Yandong Xing (Chn) Marco Polo Cycling Team                    8.46
59 Fabian Krienbühl (Swi) Zurich - Hirslanden - Vc               9.16
60 Laurent Arn (Swi) Zurich - Hirslanden - Vc                        
61 Shuaijun Chang (Chn) Macau-beijing Selection                 10.13
62 David Jansen (Swi) Zurich - Hirslanden - Vc                  10.14
63 Christian Rocha (Swi) Zurich - Hirslanden - Vc               11.01
64 Zeyong Yuan (Chn) Peoples' Liberation Army                   11.04
65 Pornthep Pinkeaw (Tha) Siam Bara Cycling                     11.05
66 Alexander A. Mattmann (Swi) Zurich - Hirslanden - Vc         12.08
67 Song Gao (Chn) Liaoning Team                                      
68 Akyiyama Hisanori (Jpn) Cyclist Club Racing Force            12.31
69 Hsin Hua Huang (Tpe) Team Ckt                                12.44
70 Heng Wa Choi (Mac) Macau-beijing Selection                   12.52
71 Ching Man Chung (HKg) Bici Racing                            13.04
72 David John Tonk (GBr) Cms-cycling.Tv                         13.14
73 Lei Sun (Chn) Hong Kong & Shanghai Sports Institute          14.08
74 Usui Takamasa (Jpn) Cms-cycling.Tv                           17.53
75 Ting Pong Lam (HKg) Bici Racing                              19.33
76 Yung Hua Cheng (Tpe) Team Ckt                                21.02
77 Korakogh Rittiman (Tha) Siam Bara Cycling                    24.00
78 Jiajie Jang (Chn) Guangdong                                  27.20
79 Qiang Zhang (Chn) Macau-beijing Selection                    28.29
80 King Man Tsui (HKg) Cyclist Club Racing Force                36.25
81 Xiang Dong (Chn) Guangdong                                        
82 Yongsheng Yan (Chn) Hong Kong & Shanghai Sports Institute    39.01
83 Man Yiu Cheung (HKg) Bici Racing                             44.51
84 Mun Po Choi (HKg) Cyclist Club Racing Force                  55.36
 
Points classification
 
1 Andrey Klyuev (Rus) Omnibike Dynamo Moscow                       70 pts
2 Reona Sumi (Jpn) Japan National Team                             51
3 Masahiko Mifune (Jpn) Cms-cycling.Tv                             39
4 Alexey Shmidt (Rus) Omnibike Dynamo Moscow                       33
5 Alexander Khatuntsev (Rus) Omnibike Dynamo Moscow                28
6 Wang Yip Tang (HKg) Pocari Sweat Hong Kong                       26
7 Kam Po Wong (HKg) Pocari Sweat Hong Kong                         25
8 Sergey Kolesnikov (Rus) Omnibike Dynamo Moscow                   25
9 Konstantin Ponomarev (Rus) Omnibike Dynamo Moscow                24
10 Stefan Steinweg (Ger) Zurich - Hirslanden - Vc                  23
11 Haijun Ma (Chn) China                                           21
12 Christopher J. Jory (Aus) Australian U23                        16
13 Makoto Iijima (Jpn) Japan National Team                         13
14 Fuyu Li (Chn) Marco Polo Cycling Team                           13
15 Jamsran Ulzii-orshkih (Mgl) Marco Polo Cycling Team             13
16 Chi Yin Leung (HKg) Marco Polo Cycling Team                     12
17 Kai Tsun Lam (HKg) Pocari Sweat Hong Kong                       11
18 Jacob J. Nielsen (Den) Glud & Marstrand Horsens                 11
19 Morten Christiansen (Den) Glud & Marstrand Horsens              10
20 Prajak Mahawong (Tha) Siam Bara Cycling                         10
21 Mitchell C. Chapman (Aus) Australian U23                        10
22 Thanawat Samana (Tha) Siam Bara Cycling                          9
23 David John Tonk (GBr) Cms-cycling.Tv                             9
24 Stefan Rothe (Ger) Champion System Sommerville Sports            8
25 Peng Liu (Chn) Peoples' Liberation Army                          8
26 Chun Hing Chan (HKg) Pocari Sweat Hong Kong                      8
27 Rune Udby (Den) Glud & Marstrand Horsens                         8
28 Valery Valynin (Rus) Omnibike Dynamo Moscow                      5
29 Sergey Kudentsov (Rus) Marco Polo Cycling Team                   5
30 Norihide Murayama. (Jpn) Japan National Team                     4
31 Michael Berling (Den) Glud & Marstrand Horsens                   3
32 Jared Bunde (USA) Champion System Sommerville Sports             3
33 Luke Cridland (Aus) Australian U23                               3
34 Kim Marius K. Nielsen (Den) Glud & Marstrand Horsens             3
35 Nederlof Lex (Ned) Cms-cycling.Tv                                1
36 Long Jin (Chn) China                                             1
37 Keng Hsien Chen (Tpe) Team Ckt                                   1
38 Liang Zhang (Chn) China                                          1
 
Young rider classification
 
1 Alexander Khatuntsev (Rus) Omnibike Dynamo Moscow          12.10.10
2 Wang Yip Tang (HKg) Pocari Sweat Hong Kong                     0.42
3 Haijun Ma (Chn) China                                          1.02
4 Sergey Kolesnikov (Rus) Omnibike Dynamo Moscow                     
5 King Wai Cheung (HKg) Pocari Sweat Hong Kong                   1.36
6 Rongxi Zou (Chn) China                                         2.06
7 Mitchell C. Chapman (Aus) Australian U23                       2.15
8 Norihide Murayama. (Jpn) Japan National Team                   2.49
9 Wenlong Zhang (Chn) Peoples' Liberation Army                   2.56
10 Fumiya Azuhata (Jpn) Japan National Team                      3.07
 
Best Greater China rider classification
 
1 Wang Yip Tang (HKg) Pocari Sweat Hong Kong                 12.10.52
2 Haijun Ma (Chn) China                                          0.20
3 Peng Liu (Chn) Peoples' Liberation Army                        0.37
4 King Wai Cheung (HKg) Pocari Sweat Hong Kong                   0.54
5 Rongxi Zou (Chn) China                                         1.24
6 Kam Po Wong (HKg) Pocari Sweat Hong Kong                       1.53
7 Yue Tu (Chn) Peoples' Liberation Army                          1.59
8 Chi Yin Leung (HKg) Marco Polo Cycling Team                    2.04
9 Fuyu Li (Chn) Marco Polo Cycling Team                          2.05
10 Wenlong Zhang (Chn) Peoples' Liberation Army                  2.14
 
Team classification
 
1 Omnibike Dynamo Moscow                                     36.32.48
2 Pocari Sweat Hong Kong                                         1.35
3 Glud & Marstrand Horsens                                       2.26
4 Marco Polo Cycling Team                                        3.45
5 China                                                          3.55
6 Peoples' Liberation Army                                       4.05
7 Japan National Team                                            4.49
8 Hong Kong & Shanghai Sports Institute                          6.28
9 Zurich - Hirslanden - Vc                                       7.20
10 Champion System Sommerville Sports                            7.48
11 Siam Bara Cycling                                             8.49
12 Cms-cycling.Tv                                                9.15
13 Liaoning Team                                                12.44
14 Team Ckt                                                     16.58
15 Macau-beijing Selection                                      21.53
16 Cyclist Club Racing Force                                    44.51
17 Guangdong                                                    47.55
18 Bici Racing                                                1.14.48