Festival of Cycling Road Race - NE
Christchurch, New Zealand, December 2, 2006
Hayden Roulston climbing Evans Pass on his way to winning day one in Christchurch
Photo ©: www.cycle-photos.com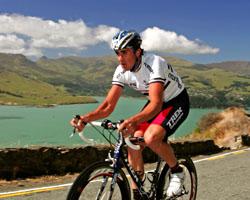 Champions dominate on day 1
Denmark's Linda Villumsen and Canterbury's own Hayden Roulston illustrated their world-class form with dominant wins on day one of Christchurch's Armstrong Peugeot Festival of Cycling. A record field of 1500 riders turned out in perfect conditions for the second annual festival. Today's first leg was a 75 kilometre race around the mountainous Lyttelton Harbour Bays. But Roulston and Villumsen made short work of the course and top class competition.
Roulston, who won silver on he track at the Melbourne Commonwealth Games, spent three days in bed before lining up for the ride this morning. But once the race was underway he showed no signs of anything other than wanting to get on with the job.
The early kilometres from McCormack's Bay through Cashmere to Halswell were a tactical affair as the star-studded field of Olympians, Commonwealth Games medalists and world champions sized one another up. Roulston was active on the front but once the race hit the Old Tai Tapu Road, after 25 km, it was a select threesome of national representative Marc Ryan (Timaru), Commonwealth Games bronze medallist Hayden Godfrey (ChCh) and Wellington champion Dan Waluszewski that shook things up.
This breakaway stayed away all the way up Gebbies Pass, with Ryan taking the King Of The Mountain sprint from Waluszewski. But behind them Roulston and Athens Olympian Heath Blackgrove (Waimate) hammered up and down Gebbies Pass to join the break at the 50 km mark. As they started the rolling hills through Lyttleton Harbour Commonwealth Games bronze medallist Gordon McCauley also bridged across, and with six riders working together the winner was destined to come from his bunch.
Over 1500 people took part in today's race
Photo ©: www.cycle-photos.com
Roulston, however, decided the he was going to be the winner and simply rode away. "He decided he wanted to go it alone and just took off," said Blackgrove after the race. "Gordon McCauley and I tried to stay close but he went again on Evans Pass."
Roulston attacked even harder up and down Evans Pass, clocking 95 km/hour on the descent in to Sumner, to open up a 70 second lead with just five kilometers remaining. Even a costly wrong turn just 1.5 km from the finish line couldn't deny him the win as he cruised across the line with arms out-stretched in 1 hour 55 minutes 03 seconds.
Roulston was pleased with his form after being bed ridden all week.
"I was feeling ok on Gebbies Pass and a few of us started catching the breakaway, so I decided it was time to go," he said. "I really hit it hard on Evans Pass because the run in down through Sumner is so fast I knew if I stayed away up Evans they'd have trouble pegging me back."
The battle for second place was much closer with Gordon McCauley edging out Heath Blackgrove. Just under a minute further back Commonwealth Games mountain biker Clinton Avery illustrated that he's just as at home on the road to out sprint the chase bunch.
Not too far behind them, however, came Denmark's Linda Villumsen. As expected of the current women's Tour de France champion, Villumsen dominated the woman's race, clocking 2.03.13. But the race for line honours turned to out to be unexpectedly close.
A sprint to the line claimed the Elite Women victory
Photo ©: www.cycle-photos.com

Villumsen illustrated her class by managing to hold on to the lead bunch for the first half of the race. Some of New Zealand's top men were suitably impressed with the 21-year-old woman riding beside them. When Villumsen won the 2005 European Time Trial title she was earmarked as a rising talent, but this year's win in the 2006 Route de France Feminine (the women's Tour de France) confirmed her as an international star.
In Christchurch she matched the top men for half of the Armstrong Peugeot Harbour Ride before slipping behind on the 5 km climb up Gebbies Pass. She was then forced to ride solo around the tough Lyttelton bays and over Evans Pass before being picked up by the second bunch with just 5 km to go.
In that bunch was well performed Wellingtonian Gina Waibl, who duly took the Tour de France champion on in the closing kilometres. Villumsen tucked in behind hoping to recover for a final sprint. Waibl led out over the final 200m and looked to have the measure of the Dane. But the experienced gained from racing the world's best on a weekly basis shone through as Villumsen flashed past in the final few metres to claim the win.
"That was a hard ride," said Villumsen at the finish line. "I was alone for 20k and I could see a bunch catching me and I just hoped there were no women in it."
Gina Waibl smiled ruefully on the finish line: "I'm from Christchurch originally so I know the course and I knew to save something for the hills. I could see we were catching Linda, but she was too fast in the sprint."
Villumsen and Waibl will get a rematch tomorrow in the Armstrong Peugeot City Criterium, a multi-lap race around Christchurch's Oxford Street café district. The Elite Men and Women are racing for the New Zealand Criterium title. Villumsen and Waibl face defending national criterium champion Marina Duvnjak, while Hayden Roulston faces a whose-who of New Zealand cycling.
Favourite for tomorrow's race is defending national criterium champion Hayden Godfrey. The Commonwealth Games bronze medallist finished 10th today but was saving himself for the criterium, a format where he is considered among the best in the world. Godfrey will be looking for his 14th national title tomorrow and will have the advantage of the services of his Subway Cycling Team, who will work exclusively to aid his criterium title defence. But riders like Hayden Roulston, Gordon McCauley and Olympians Heath Blackgrove and Tim Gudsell are hungry for their first national criterium title.
Photography
For a thumbnail gallery of these images, click here
Images by www.cycle-photos.com/www.cycle-photos.com
Results

Men Overall
 
1 Hayden Roulston Wigram    1.55.03
2 Gordon Mccauley (NZl)        0.53
3 Heath Blackgrove (NZl)           
4 Clinton Avery (NZl)          1.47
5 Logan Hutchings (NZl)            
6 Stephen Elden                1.49
7 Sam Bewley                   1.59
8 Joe Cooper (NZl)             2.03
9 Fraser Macmaster (NZl)       3.19
10 Hayden Godfrey (NZl)        3.36

Women Overall
 
1 Linda Villumsen (Den)     2.03.13
2 Gina Waibl (NZl)                 
3 Marina Duvnjak (NZl)         0.44
4 Tessa Smith (NZl)            5.30
5 Tracy Clark (NZl)            7.43
6 Angelique Armstrong (NZl)    9.20
7 Bronwen Frazer (NZl)         9.29
8 Yvette Hill-Willis (NZl)         
9 Kathryn Jones (NZl)         12.00
10 Tamara Boyd (NZl)          12.06