Cronulla International Grand Prix - NE
Sydney, NSW, Australia, December 17, 2006
Brown king of 'The Shire'
By Anthony Tan & Gerard Knapp in Cronulla, Sydney
The men's podium.
Photo ©: Anthony Tan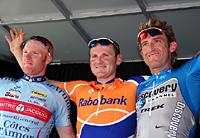 In picture perfect conditions, local lad Graeme Brown scored a popular win in the heart of Sydney's Sutherland Shire, outsprinting his breakaway companions on the Elouera beach foreshore.
"I stuffed my run a little bit actually, and was struggling with my gears a bit, but I got there in the end... that's the important part," mused Brown in typical laconic fashion.
"It's not often you get a race in your own backyard," he said. "It's a beautiful day, I wanted to impress the crowd... hopefully, this can give the sport a big lift with a local winner, and hopefully it's an annual event."
Decked to the nines in his bright Rabobank colours, the 27 year-old made the winning break of eight riders that included another Shire local, Matthew White from Discovery Channel, but more importantly, did not include his biggest sprint rival Robbie McEwen. Towards the end, White did try a number of times to escape, though inevitably, the race was destined for a sprint showdown between Brown and Eurobodalla Cycling Club's Joel Pearson, who rides for French amateur team Côtes d'Amour.
Nick Gates
Photo ©: Anthony Tan

In the home stretch, the fast finish of Pearson almost caused an upset, and it was only a massive bike-throw from Brown at the line that earned him the winner's title in the inaugural event. Rounding out the podium was White, who humorously admitted genetics didn't help him in sprint finish scenarios.
"I was never going to beat Brownie in a sprint," White said, smiling. "I kept trying to attack the last three laps, trying to split things up, but the boys were chasing me down. Ah, I'm happy to be on the podium with Brownie.
The winning break.
Photo ©: Anthony Tan

"We're knew that here with Robbie, the fastest sprinter in the world, we didn't want a sprint. Eventually the rubber band had to break, and we got away. Brownie wanted a sprint, and it's a lot easier for Brownie to beat me in a sprint than to beat Robbie, so we really had to make the race hard today."
In making the race hard for the others, however, White confessed it wasn't an easy ride himself: "It's a deceptive course; looks quite easy, and it was quite easy in the bunch, but as soon as you're attacking, it's quite windy down here."
Said 23 year-old South Coast rider Pearson, "I'm happy to get second to a rider like that [Brown]. "He's unbelievable. I had my brother in the front group as well, working for me, which was a bit of a delight. It's a shame we couldn't pull it off, but oh well... next time."
Due to team commitments in Europe, Brown added he will be missing next year's Tour Down Under, and will return to racing at the Tour of Qatar.
Kate's comeback almost complete
Kate Nichols
Photo ©: Anthony Tan

In the 18 lap women's event, it was another Sutherland Shire local who stole the show, with St George Cycling Club rider Kate Nichols winning in a four-up sprint. Second was Gold Coast rider Nikki Egyed, with Commonwealth Games champion Natalie Bates third.
"The crowd was unbelievable," said a bubbly Nichols, "cheering me on the whole way round the course. When you hear them cheering for you, you just feel like going for it."
Continued Nichols: "It's amazing to have such a wonderful field; we don't get the chance to race that much in the Sutherland Shire, and it's the home of Olympic and world champions, but the community never really gets a chance to be involved. I hope this race continues in the future."
Nichols presence on the start line was a welcome one, having being part of the in the horrific crash in Germany last year that claimed the life of team-mate and friend Amy Gillett. Aggressive from the get-go, Nichols was involved from the very first break to the very last, which finally saw Egyed, Natalie Bates, Sallyanne Cowman and herself clear of the peloton midway through the race. In the end, it was a comfortable sprint victory for Nichols, whose father Kevin, a former Olympic champion, finished third in the masters' race earlier that morning.
A jubilant winner.
Photo ©: Anthony Tan

"I was wondering if I made a bit of a mistake going so hard from the gun, but in the end, it turned out well as we ended up in a group of four, and we worked really well to the finish. I'm looking forward to next year, back overseas with the AIS squad, and it's great to finish off the year with a win."
Third-placed Natalie Bates said she reacted when she had seen Sallyanne Cowman, a St George club-mate of eventual winner Kate Nichols, join the leading rider. "I thought, 'this is pretty dangerous', so I'd better get on (the break). Bates worked with the other riders, while her sister, Katherine, could be seen in the bunch, partolling the front of the chasing peloton.
However, there was no plan at the beginning to join a break or attack a particular group of riders. "It was a bit too small a field to try anything like that, although it's always tempting to gang up on the Queenslanders!" In this case, the sole Queenslander in the break was Nikki Egyed, while Athens gold medalist and fellow Queenslander, Sara Carrigan, winner of an elite-level criterium last weekend, finished almost out of the money in 10th place.
Photography
For a thumbnail gallery of these images, click here
Images by Anthony Tan/Cyclingnews.com
Images by Gerard Knapp/Cyclingnews.com
Images by Stuart Baker
Images by Angelo Velardo/redfoxphotography.com.au
Results

Elite Men, 39 laps (38.7km)
 
1 Graeme Brown (Rabobank)                              53.16
2 Joel Pearson (Eurobodalla CC)               
3 Matthew White (Discovery Channel)
4 John Ebling (Hunter District)
5 Chris Jory (Port Macquarie CC)
6 Mitch Pearson (Eurobodalla CC)
7 Jose Rodriquez (Clarence St CC)
8 Peter McDonald (FRF Couriers)
9 Ben Kersten (St George CC)                            0.27
10 Cody Stevenson (FRF Couriers)
 
Women, 18 laps (24km)
 
1 Kate Nichols (St George CC)                          40.47
2 Nikki Egyed (CATS)                                              
3 Natalie Bates (Parramatta)
4 Sallyanne Cowman (St George)
5 Katherine Bates (Parramatta)                          0.22
6 Skye-Lee Armstrong (Parramatta)
7 Chloe Hosking (Canberra)
8 Hayley Brown (Western Australia)
9 Lauren Kitchen (Port Macquarie)\
10 Sara Carrigan (CATS)