Tour of Utah - NE
Utah, USA, August 7-12, 2006
Main Page Results Overall standings Previous Stage Next Stage
Stage 5 - August 11: Salt Lake City circuit race, 68 km
Baldwin gives Toyota United third Utah stage win
By Steve Medcroft in Salt Lake City, Utah
Health Net controlled the pack and kept their GC leader in yellow
Photo ©: Steve Medcroft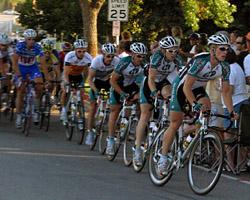 Chris Baldwin (Toyota United) put his time trial prowess to good use in the fifth stage of the Larry H. Miller Tour of Utah presented by Zions Bank on Friday. He flew ahead of fellow members of an eight-rider break that had lasted for three of the race's six, ten-kilometer circuits through downtown Salt Lake City; escaping on the long final straightaway to take the win ahead of Jakob Erker (Symmetrics Cycling) and Daniel Ramsey (Successfulliving.com).
The break was part of an effort to apply pressure to the team of yellow jersey wearer Jeff Louder (Health Net/Maxxis) and contained GC threat Dominique Perras (Kodakgallery.com/Sierra Nevada) and skilful U.S. pro peloton veteran Michael Creed (TIAA Cref). Health Net, with the help of Creed's TIAA Cref teammates, were able to control the gap and Louder retained the yellow jersey leading into Saturday's epic final stage.
Get a little bit louder now
"You put a hill like that in a short circuit like this and you're bound to have fireworks," Louder said about the 6.2-mile circuit which included 250 feet of elevation gain on three short climbs through residential downtown Salt Lake City. "But I think we handled the pressure really well. We let a group go up the road with no-one too dangerous and the boys kept it under control."
From a GC perspective, the most dangerous rider in the break was Kodakgallery.com/Sierra Nevada's Dominique Perras. "We knew we could give Perras a bit of time," Louder said. "And I had to do some work on the hills but other than that, everyone kept me out of the wind."
The one thing Health Net/Maxxis did not do during the 42-mile race was bring the break back and with Baldwin sitting in (not working because the team's GC rider, Chris Wherry, was in the main pack), the race offered an opportunity for a less-known racer to make his mark. Friends and former teammates Jakob Erker and Daniel Ramsey saw their opportunity for an elusive podium spot seemingly evaporate on the final lap.
"After yesterday's climb it was clear that we weren't going to get top five on GC," said 30 year-old Erker about his team's decision to try and get into any move that got off the front. "And since nobody remembers sixth, we wanted to get something going for (Andrew) Pinfold - because he's got some points for the points jersey. It just worked out that Cameron (Evans, also a Symmetrics teammate) and I covered a move that was the one that stayed away."
Daniel Ramsey
Photo ©: Steve Medcroft

28-year old Ramsey was in the break for a similar reason."We've been trying be aggressive all race - I've tried to get in or create a breakaway every day - but today was the first time I got into one."
The pair found a good mix of motivation in the break "There were a few guys motivated to keep it away," Erker said. "Especially Perras because he's trying to move up on GC." But Baldwin, who wasn't as as motivated to drive the break, sat in and rested. "Baldwin was super fresh the whole time. Creed and (Valeriy) Kobzarenko (Health Net/Maxxis) stopped working too (both teams had GC ambitions for other riders)."
"On the last lap, Baldwin attacked pretty hard and I got dropped a little bit," Ramsey, who lives in Ventura, California, said. "Then Jake got dropped and I rode to either catch the leaders or get sixth or seventh. Which would have been better than I expected."
"If it had been eight or nine of us coming down for the sprint, I was going to get ninth but when Ramsey and I caught on at the last corner, it was like a gift," Erker, who spends the off season in Portland, Oregon, said. "He motioned to me to keep going so I went over the top and was going for the green light but Baldwin came by me."
Were the two friends pleased with their podium results. "I'm pleased but you always want to win," Ramsey said. "But I'm glad I was third (he nudges Erker) because if I was second then I would have been the guy Baldwin beat (laughs)."
Health Net/Maxxis is in the best position to score the overall win in the Tour of Utah; with Louder and Scott Moninger in first and second on GC, it will be up to them to control any early breaks and deliver themselves to the bottom of Saturday's impressive final climb to the Snowbird Ski and Summer Resort in the lead group. From there, as Chris Baldwin said after stage three, "it will be man to man."
Photography
For a thumbnail gallery of these images, click here
Images by Steve Medcroft/Cyclingnews.com
Results
1 Chris Baldwin (USA) Toyota United                          1.17.24
2 Jacob Erker (Can) Symmetrics Cycling                              
6 Dominique Perras (Can) Kodakgallery.Com/Sierra Nevada             
8 Michael Creed (USA) Team Tiaa-Cref                            0.26
9 Sergey Lagutin (Uzb) Navigators Insurance                     0.55
10 Jeff Louder (USA) Health Net Presented By Maxxis                 
11 Cesar Grajales (Col) Navigators Insurance                        
12 Joshua Thornton (USA) Toyota United                              
13 Justin England (USA) Toyota United                               
14 Jesse Anthony (USA) Kodakgallery.Com/Sierra Nevada               
16 Jacob Rosenbarger (USA) BMC Racing                               
17 Chris Wherry (USA) Toyota United                                 
18 Neil Shirley (USA) KJZZ - Pro Composite Team                     
19 Calvin Allen (USA) Broadmark                                     
20 Blake Caldwell (USA) Team Tiaa-Cref                              
21 Clayton Barrows (USA) Team Einstein's Cycling                    
22 Scott Moninger (USA) Health Net Presented By Maxxis              
23 Thomas Peterson (USA) Team Tiaa-Cref                             
24 Jonathan Garcia (USA) Team Einstein's Cycling                    
25 Bryson Perry (USA) Team Successful Living                        
26 Tom Zirbel (USA) Priority Health                                 
27 Jacob Rytlewski (USA) Priority Health                            
28 Scott Nydam (USA) BMC Racing                                     
29 Chris Lieto (USA) California Giant Strawberries                  
30 John Hunt (USA) California Giant Strawberries                    
31 Stefano Barberi (Bra) Toyota United                              
32 Burke Swindlehurst (USA) Navigators Insurance                    
33 Andrew Randell (Can) Symmetrics Cycling                          
34 Mark Santurbane (USA) Broadmark                                  
35 David Rodriguez (USA) BMC Racing                                 
36 Cory Collier (USA) Team Einstein's Cycling                       
37 Jared Berger (USA) Vitamin Cottage                               
38 Owen Laine (USA) BMC Racing                                      
39 Phil Zajicek (USA) Navigators Insurance                          
40 Mike Dietrich (USA) Kodakgallery.Com/Sierra Nevada               
41 Glen Chadwick (Aus) Navigators Insurance                         
42 Chris Stockburger (USA) Toyota United                            
43 Christopher Jones (USA) KJZZ - Pro Composite Team                
44 Ian Ayers (USA) KJZZ - Pro Composite Team                        
45 Brian Sheedy (USA) Priority Health                               
46 Jason Donald (USA) Team Einstein's Cycling                       
47 Cameron Evans (Can) Symmetrics Cycling                           
48 Ryan Yee (USA) Team Successful Living                            
49 Eric Wohlberg (Can) Symmetrics Cycling                           
50 Curtis Gunn (USA) Team Successful Living                         
51 Brandon Crichton (Can) Symmetrics Cycling                        
52 Timmy Duggan (USA) Team Tiaa-Cref                                
54 David Robinson (USA) Kodakgallery.Com/Sierra Nevada              
55 Matt Cooke (USA) KJZZ - Pro Composite Team                   1.07
56 Ryan Hamity (USA) Team Einstein's Cycling                    1.33
57 Craig Mccartney (USA) Vitamin Cottage                            
58 Dave Harward (USA) Team 101.9 The End                        1.43
59 Daniel Wilson (USA) Sienna Dev/Goble Knee Clinic                 
60 Douglas Ollerenshaw (USA) Health Net Presented By Maxxis         
61 Kirk O'Bee (USA) Health Net Presented By Maxxis              2.01
62 Max Jenkins (USA) California Giant Strawberries              2.06
63 Omar Kem (USA) Priority Health                                   
64 Jesse Gordon (USA) Team 101.9 The End                        2.56
65 Charles Coyle (USA) Vitamin Cottage                          3.47
66 Adam Curry (USA) Broadmark                                       
67 Ken Hanson (USA) BMC Racing                                      
68 Andrew Pinfold (Can) Symmetrics Cycling                          
69 Michael Friedman (USA) Team Tiaa-Cref                            
70 Michael Sayers (USA) Health Net Presented By Maxxis              
71 Skyler Bingham (USA) Team 101.9 The End                      4.17
OTL Glen Mitchell (NZl) Priority Health                         6.08
OTL Mitchell Moreman (USA) Vitamin Cottage                      7.16
OTL Eric Pardyjak (USA) Team 101.9 The End                      7.52
OTL James Mattis (USA) California Giant Strawberries                
OTL Ryan Barrett (USA) Sienna Dev/Goble Knee Clinic                 
OTL Chris Brennan (USA) Vitamin Cottage                             
OTL Mike Telega (USA) California Giant Strawberries             9.52
OTL Kirk Eck (USA) Sienna Dev/Goble Knee Clinic                11.55
OTL Sandy Perrins (USA) Sienna Dev/Goble Knee Clinic                
OTL Kevin Rowe (USA) California Giant Strawberries             15.07
DNF Alexi Martinez (USA) Team Successful Living                     
DNF Joby Siciliano (USA) Team Einstein's Cycling                    
DNF Zachary Grabowski (USA) KJZZ - Pro Composite Team               
 
General classification after stage five
 
1 Jeff Louder (USA) Health Net Presented By Maxxis          11.26.53
2 Scott Moninger (USA) Health Net Presented By Maxxis           0.02
3 Glen Chadwick (Aus) Navigators Insurance                      0.23
4 Burke Swindlehurst (USA) Navigators Insurance                 0.52
5 Chris Wherry (USA) Toyota United                              0.57
6 Dominique Perras (Can) Kodakgallery.Com/Sierra Nevada         1.45
7 Cesar Grajales (Col) Navigators Insurance                     1.52
8 Sergey Lagutin (Uzb) Navigators Insurance                     2.06
9 David Rodriguez (USA) BMC Racing                              2.46
10 Jonathan Garcia (USA) Team Einstein's Cycling                2.49
11 Blake Caldwell (USA) Team Tiaa-Cref                          3.02
12 Scott Nydam (USA) BMC Racing                                 3.19
13 Thomas Peterson (USA) Team Tiaa-Cref                         3.34
14 Tom Zirbel (USA) Priority Health                             3.47
15 Brian Sheedy (USA) Priority Health                           5.46
16 Jesse Anthony (USA) Kodakgallery.Com/Sierra Nevada           6.01
17 Chris Lieto (USA) California Giant Strawberries              6.25
18 Valeriy Kobzarenko (Ukr) Navigators Insurance                6.26
19 Neil Shirley (USA) KJZZ - Pro Composite Team                 6.31
20 Stefano Barberi (Bra) Toyota United                          6.43
21 Eric Wohlberg (Can) Symmetrics Cycling                       7.03
22 Jason Donald (USA) Team Einstein's Cycling                   7.14
23 Michael Creed (USA) Team Tiaa-Cref                           7.15
24 Phil Zajicek (USA) Navigators Insurance                      7.24
25 Cory Collier (USA) Team Einstein's Cycling                   7.38
26 Ryan Yee (USA) Team Successful Living                        7.54
27 John Hunt (USA) California Giant Strawberries                8.14
28 Brandon Crichton (Can) Symmetrics Cycling                    8.39
29 Steven Cozza (USA) Team Tiaa-Cref                            8.44
30 Jacob Erker (Can) Symmetrics Cycling                         8.57
31 Jacob Rosenbarger (USA) BMC Racing                          11.09
32 Owen Laine (USA) BMC Racing                                 11.36
33 Mark Santurbane (USA) Broadmark                             11.45
34 Calvin Allen (USA) Broadmark                                12.36
35 Nathan Miller (USA) BMC Racing                              13.43
36 Andrew Bajadali (USA) KJZZ - Pro Composite Team             14.03
37 Michael Friedman (USA) Team Tiaa-Cref                       14.40
38 Timmy Duggan (USA) Team Tiaa-Cref                           15.23
39 Michael Sayers (USA) Health Net Presented By Maxxis         15.49
40 Mike Dietrich (USA) Kodakgallery.Com/Sierra Nevada          16.51
41 Jacob Rytlewski (USA) Priority Health                       16.52
42 Daniel Wilson (USA) Sienna Dev/Goble Knee Clinic            17.10
43 Jared Berger (USA) Vitamin Cottage                          17.47
44 Chris Baldwin (USA) Toyota United                           17.50
45 Cameron Evans (Can) Symmetrics Cycling                      18.00
46 Bryson Perry (USA) Team Successful Living                   18.01
47 Douglas Ollerenshaw (USA) Health Net Presented By Maxxis    18.12
48 Dave Harward (USA) Team 101.9 The End                       18.41
49 Ian Ayers (USA) KJZZ - Pro Composite Team                   19.46
50 David Robinson (USA) Kodakgallery.Com/Sierra Nevada         20.39
51 Justin England (USA) Toyota United                          21.23
52 Matt Cooke (USA) KJZZ - Pro Composite Team                  21.29
53 Chris Stockburger (USA) Toyota United                       21.44
54 Christopher Jones (USA) KJZZ - Pro Composite Team           22.05
55 Max Jenkins (USA) California Giant Strawberries             22.08
56 Scott Zwizanski (USA) Kodakgallery.Com/Sierra Nevada        22.46
57 Clayton Barrows (USA) Team Einstein's Cycling               23.35
58 Joshua Thornton (USA) Toyota United                         23.38
59 Daniel Ramsey (USA) Team Successful Living                  26.50
60 Jesse Gordon (USA) Team 101.9 The End                            
61 Ryan Hamity (USA) Team Einstein's Cycling                   26.52
62 Curtis Gunn (USA) Team Successful Living                    28.07
63 Kirk O'Bee (USA) Health Net Presented By Maxxis                  
64 Ken Hanson (USA) BMC Racing                                 28.26
65 Omar Kem (USA) Priority Health                              28.53
66 Andrew Randell (Can) Symmetrics Cycling                     29.18
67 Craig Mccartney (USA) Vitamin Cottage                       29.35
68 Andrew Pinfold (Can) Symmetrics Cycling                     30.50
69 Charles Coyle (USA) Vitamin Cottage                         32.10
70 Skyler Bingham (USA) Team 101.9 The End                     35.29
71 Adam Curry (USA) Broadmark                                  37.21
 
Sprints classification
 
1 Sergey Lagutin (Uzb) Navigators Insurance                       27 pts
2 Michael Sayers (USA) Health Net Presented By Maxxis             19
3 Chris Wherry (USA) Toyota United                                19
4 Jeff Louder (USA) Health Net Presented By Maxxis                19
5 Andrew Pinfold (Can) Symmetrics Cycling                         19
6 Dominique Perras (Can) Kodakgallery.Com/Sierra Nevada           18
7 Chris Baldwin (USA) Toyota United                               18
8 Michael Friedman (USA) Team Tiaa-Cref                           17
9 Jacob Erker (Can) Symmetrics Cycling                            15
10 Daniel Ramsey (USA) Team Successful Living                     14
11 Ryan Yee (USA) Team Successful Living                          13
12 Jesse Anthony (USA) Kodakgallery.Com/Sierra Nevada             12
13 Nathan Miller (USA) BMC Racing                                  9
14 Cesar Grajales (Col) Navigators Insurance                       7
15 Ken Hanson (USA) BMC Racing                                     7
16 Valeriy Kobzarenko (Ukr) Navigators Insurance                   6
17 Clayton Barrows (USA) Team Einstein's Cycling                   6
18 Neil Shirley (USA) KJZZ - Pro Composite Team                    6
19 Andrew Bajadali (USA) KJZZ - Pro Composite Team                 6
20 Phil Zajicek (USA) Navigators Insurance                         5
21 Timmy Duggan (USA) Team Tiaa-Cref                               5
22 Scott Moninger (USA) Health Net Presented By Maxxis             4
23 Cameron Evans (Can) Symmetrics Cycling                          3
24 Michael Creed (USA) Team Tiaa-Cref                              3
25 Joshua Thornton (USA) Toyota United                             3
26 Burke Swindlehurst (USA) Navigators Insurance                   2
27 Brandon Crichton (Can) Symmetrics Cycling                       1
28 Jacob Rytlewski (USA) Priority Health                           1
29 Thomas Peterson (USA) Team Tiaa-Cref                            1
 
Mountains classification
 
1 Scott Moninger (USA) Health Net Presented By Maxxis             15 pts
2 Glen Chadwick (Aus) Navigators Insurance                        12
3 Jeff Louder (USA) Health Net Presented By Maxxis                10
4 Burke Swindlehurst (USA) Navigators Insurance                    7
5 Dominique Perras (Can) Kodakgallery.Com/Sierra Nevada            6
6 Valeriy Kobzarenko (Ukr) Navigators Insurance                    6
7 Cesar Grajales (Col) Navigators Insurance                        6
8 Jonathan Garcia (USA) Team Einstein's Cycling                    5
9 Jesse Anthony (USA) Kodakgallery.Com/Sierra Nevada               4
10 Chris Baldwin (USA) Toyota United                               4
11 David Rodriguez (USA) BMC Racing                                4
12 Phil Zajicek (USA) Navigators Insurance                         3
13 Nathan Miller (USA) BMC Racing                                  3
14 Clayton Barrows (USA) Team Einstein's Cycling                   3
15 Chris Wherry (USA) Toyota United                                2
16 Scott Nydam (USA) BMC Racing                                    2
17 Neil Shirley (USA) KJZZ - Pro Composite Team                    2
18 Andrew Bajadali (USA) KJZZ - Pro Composite Team                 2
19 Kirk O'Bee (USA) Health Net Presented By Maxxis                 1
20 James Mattis (USA) California Giant Strawberries                1
 
Teams classification
 
1 Navigators                                                34.22.20
2 BMC Racing                                                    6.49
3 TIAA CREF                                                     9.35
4 Health Net                                                   12.12
5 Team Einstein's Cycling                                      14.30
6 Kodakgallery.com/Sierra Nevada                               20.48
7 Symmetrics Cycling                                           21.47
8 CA Giant/Village Peddler                                     22.08
9 Toyota United                                                24.11
10 Priority Health                                             24.45
11 KJZZ - Composite Team                                       33.34
12 Successfulliving.com                                        41.15
13 Vitamin Cottage                                             46.59
14 Team End (Utah Allstars)                                    59.36
15 Broadmark/Hagens-Berman                                   1.00.01
16 Sienna Dev't/Goble Knee                                   1.17.49