Roswell criterium - NE
Roswell, GA, USA, April 30, 2006
Fraser, Van Gilder Finish the Job in Roswell
By Mark Zalewski, North American Editor
The winners
Photo ©: Trish Albert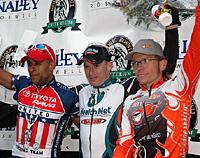 After a week of coming so close in two important sprint finishes -- stage 6 of the Tour de Georgia and the Athens Twilight Criterium -- Gord Fraser (Health Net-Maxxis) finally sealed the deal with a sprint win in the Roswell Criterium. "It was good to pay the team back with a win," Fraser said. "Today was fast because it had a lot of primes."
It was also fast because a four-man break containing some heavy hitters somehow managed to sneak away and stay out for more than forty minutes. The break consisted of Tour de Georgia stage 6 winner J. J. Haedo (Toyota-United,) Viktor Rapinski (Colavita-Sutter Home,) Alex Candelario (Jelly Belly) and the winner of Saturday's Athens Twilight race Vassili Davidenko (Navigators Insurance.) "That was a pretty incredible composition for a break!" said Fraser.
"I was the sole American representing!" joked Candelario after the race. "We got away with 45 to go in the race. We never got a huge gap, but the teams were not back there. Everyone thought we would stay away. We were riding fast, like 50kph."
Health Net and Priority Health
Photo ©: Trish Albert

Fellow break rider J.J. Haedo also saw the fast speeds on his computer after bridging to the break. "I jumped across and then different teams got together to try to chase. But it took 40 minutes to bring us back!"
JJ Haedo (Toyota-United)
Photo ©: Trish Albert

Eventually teams like Health Net-Maxxis did rally the troops and kept the break from gaining more time. "Richard England tried to jump across by himself and his team turned it off. So then it was just us and Jittery Joe's to chase."
"We lost a lot of time in the last laps," Candelario said. "We started sitting up a little when they were close, but we shouldn't have let up because I think we would have made it. We were caught with a lap to go!"
The break riders then tried there best to help other teammates in the field sprint. "We tried to set Ivan up -- the team works hard for me, so I like to return the favour," Haedo said. The Toyota-United train was a good spot for the veteran Fraser who followed Ivan Dominguez's wheel all the way to the line. "I ended up keying off of Ivan Dominguez because I thought J.J. would be tired after being in the break all day. Ivan led it out and I just had to stay on his wheel. I felt Davidenko on my right but I was able to hold the wheel and come around."
J.J. Haedo is still trying to readjust back to the American style of racing after a week of the Tour de Georgia. "It's a lot different than Tour de Georgia where there is a lot of respect between the riders," he explained. "Yesterday was scary with guys cutting corners all the time. The first lap made me nervous!"
Laura Van Gilder (TEAm Lipton)
Photo ©: Trish Albert

The women's race also saw a break form early in the race. But unlike the men, the women kept it going and Laura Van Gilder (Team Lipton) shook enough branches to take the win out of the the break. Breaks were the theme of the day, with attacks coming early. A big break even formed with all of the major teams represented. "A lot of people going for the money," explained Victory Brewing's Brenda Lyons. "It was pretty aggressive especially after racing last night. There were some aggresive moves, and finally a move with all the team's represented but not the right riders. Then the counter stuck with Tina Pic and Laura Van Gilder."
Along with Van Gilder (Team Lipton) and her former teammate Tina Pic (Colavita-Cooking Light), Laura Yoisten (Victory Brewing,) Kelly Benjamin (Diet Cheerwine) and Catherine Powers away from the field. Not long after, another group bridged containing Brenda Lyons (Victory Brewing,) Lara Kropesch (Team Lipton) and Kelly Holster. This group stayed away and the former teammates, Pic and Van Gilder battled for the sprint.
Photography
For a thumbnail gallery of these images, click here
Images by Trish Albert/www.southeasterncycling.com
Images by Bill Parsons/www.sceniccityvelo.com
Results
Men
 
1 Gord Fraser (Health Net-Maxxis)
2 Ivan Dominguez (Toyota-United)
3 Jeff Hopkins (Jittery Joe's-Zero Gravity)
4 Brice Jones (Jelly Belly) 
 
Women
 
1 Laura van Gilder (Team Lipton)
2 Tina Pic (Colavita/Cooking Light)
3 Kelly Benjamin (Diet Cheerwine)
4 Brenda Lyons (Victory Brewing)
5 Laura Yoisten (Victory Brewing)
6 Catherine Powers 
7 Candace Blickem (Aaron's)
8 Lara Kropesch (Team Lipton)
9 Kele Murdin (VeloBella)
10 Audrey Lemieux