Novilon Internationale Damesronde van Drenthe - 2.1 (W)
Netherlands, April 7-9, 2006
Main Page Results Overall standings Previous Stage Next Stage
Stage 2 - April 8: Hoogeveen - Hoogeveen, 128.4 km
Local girl takes over the lead
By Kristy Scrymgeour
Loes Markerink (@Work Cycling Team)
Photo ©: Kristy Scrymgeour/CN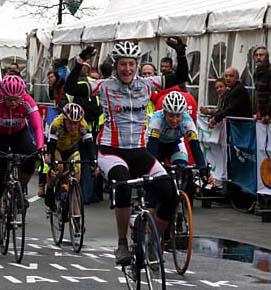 After an epic day on the bike for the women, it was Loes Markerink (@Work Cycling Team) who took the victory, sprinting out of a lead group of 17 riders in the town of Hoogeveen. Markerink's win puts her in the leader's jersey going into the third and final stage.
Only two kilometers into the neutral zone of the race, the rain started to fall setting the scene for what was to come. The rain, the strong wind, the cold and the cobbles, not to mention the extremely narrow roads would make this race one to remember. A couple of kilometers later, wearer of the yellow jersey, Ina Yoko Teutenberg (T-Mobile) crashed on a cobbled roundabout, the neutral section not yet over.
It was only 10km later the riders reached the first KOM of the day. A steep 500m climb up a man-made garbage hill. By the top Annette Beutler (Elk Haus) and Linda Villumsen (Buitenpoort-Flexpoint) had a gap on the field and a small group of five riders were edging away from the rest of the bunch. By the bottom of the descent a group of ten riders had formed a solid breakaway. Also in the group were Trixi Worrack and Eva Lutz (Nurnberger), Sarah Duster (Univega), Debbie Mansveld (Vlaanderen), and Roxanne Knetemann (AA Drink).
At the 20km mark the break had 45 seconds on a chase group of two riders, Angela Brodtka (AA Drink) and Janildes Fernandes Silva (Michela Fanini), with the bunch at a minute. Christine Becker (T-Mobile) attacked out of the bunch to bridge to the chase group and eventually the front group was ten riders with a growing lead on the field.
A tough cobbled section split the whole bunch along the way but the smaller groups got back together save another group of seven riders who eventually caught the front group after 50km of racing. In this group was eventual race winner Markerink.
From here riders still had 80km to race including two more times up the garbage hill. This time from the other side which is steeper and as narrow as a goat track. A couple of girls were forced to walk up parts of the hill. The last time over the hill came only 10km from the finish. Again it was Villumsen who forced the pace and had a gap at the top with only Kirsten Wild able to hold her wheel. The pair rode away together increasing their lead. The rest of the break chased the pair were caught with not long to go before the finish. More attacks went but at the finish it was a bunch sprint with Markerink taking the win over Duster and Becker, the main peloton finishing over eight minutes down.
Markerink has four seconds on Duster going into tomorrow's stage.
Photography
For a thumbnail gallery of these images, click here
Images by Kristy Scrymgeour/Cyclingnews
Images by CJ Farquharson/WomensCycling.net
Results
1 Loes Markerink (Ned) @Work Cycling Team                          3.30.31
2 Sarah Duester (Ger) Univega Pro Cycling Team                            
3 Christina Becker (Ger) T-Mobile Professional Cycling                    
4 Loes Gunnewijk (Ned) Buitenpoort-Flexpoint Team                         
5 Debby Mansveld (Ned) Vlaanderen-Caprisonne-T Interim                    
6 Kirsten Wild (Ned) AA-Drink Cycling Team                                
7 Trixi Worrack (Ger) Equipe Nürnberger Versicherung                      
8 An Van Rie (Bel) Lotto-Belisol Ladiesteam                               
9 Janildes Fernandes Silva (Bra) S.C. Michela Fanini Record Rox           
10 Irene Van Den Broek (Ned) Therme Skin Care                             
11 Roxanne Knetemann (Ned) AA-Drink Cycling Team                          
12 Zulfia Zabirova (Kaz) Bigla Cycling Team                               
13 Linda Villumsen (Den) Buitenpoort-Flexpoint Team                   1.36
14 Vera Koedooder (Ned) Buitenpoort-Flexpoint Team                    2.16
15 Angela Brodtka (Ger) AA-Drink Cycling Team                         3.21
16 Bertine Spijkerman (Ned) Therme Skin Care                          8.13
17 Moniek Rotmensen (Ned) Vrienden Van Het Platteland                     
18 Kostenko Oxana (Rus) Nobili Rubinetterie Menikini Cogeas               
19 Ellen Van Dijk (Ned) Vrienden Van Het Platteland                       
20 Loes Sels (Bel) Vlaanderen-Caprisonne-T Interim                        
21 Charlotte Becker (Ger) German National Team                            
22 Svetlana Bubnenkova (Rus) Fenixs-Colnago                               
23 Marije Profijt (Ned) Therme Skin Care                                  
24 Christine Mos (Ned) Team DSB Bank                                      
25 Elisabeth Braam (Ned) Regio Noord-Oost                                 
26 Josephine Groenveld (Ned) AA-Drink Cycling Team                        
27 Janneke Vos (Ned) Therme Skin Care                                     
28 Eva Lechner (Ita) Fenixs-Colnago                                       
29 Iris Slappendel (Ned) Vrienden Van Het Platteland                      
30 Tanja Hennes (Ger) Buitenpoort-Flexpoint Team                          
31 Olivia Gollan (Aus) Nobili Rubinetterie Menikini Cogeas                
32 Mirjam Melchers-Van Poppel (Ned) Buitenpoort-Flexpoint Team            
33 Marianne Vos (Ned) Team DSB Bank                                       
34 Judith Arndt (Ger) T-Mobile Professional Cycling                       
35 Sandra Rombouts (Ned) Buitenpoort-Flexpoint Team                       
36 Madeleine Sandig (Ger) Buitenpoort-Flexpoint Team                      
37 Evelyn Garcia (ESa) Nobili Rubinetterie Menikini Cogeas                
38 Claudia Hecht (Ger) Equipe Nürnberger Versicherung                     
39 Noemi Cantele (Ita) Bigla Cycling Team                                 
40 Jolanda Cools Van Dongen (Ned) @Work Cycling Team                  8.41
41 Arenda Grimberg (Ned) Regio West                                       
42 Debby Van De Berg (Ned) @Work Cycling Team                             
43 Sharon Van Essen (Ned) Vrienden Van Het Platteland                     
44 Andrea Bosman (Ned) @Work Cycling Team                                 
45 Ine Wannijn (Bel) Vlaanderen-Caprisonne-T Interim                      
46 Aukje De Koning (Ned) Therme Skin Care                                 
47 Kristy Miggels (Ned) Therme Skin Care                                  
48 Areke Hassink (Ned) @Work Cycling Team                             9.15
49 Rasa Leleivyte (Ltu) Lithuanian National Team                      9.43
50 Edita Unguryte (Ltu) Lithuanian National Team                          
51 Bettina Kuhn (Swi) Bigla Cycling Team                              9.45
52 Edita Janeliunaite (Ltu) Lithuanian National Team                      
53 Yan Xia Jiang (Chn) Giant Pro Cycling                                  
54 Grace Verbeke (Bel) Lotto-Belisol Ladiesteam                           
55 Lang Meng (Chn) Giant Pro Cycling                                      
56 Kathleen Stercks (Bel) Merida Ladies Cycling Team-Wv Eemland           
57 Karin Aune (Swe) S.C. Michela Fanini Record Rox                        
58 Inge Velthuis (Ned) Merida Ladies Cycling Team-Wv Eemland              
59 Mariëlle Kerste (Ned) Merida Ladies Cycling Team-Wv Eemland            
60 Roberta Pilkauskaite (Ltu) Lithuanian National Team                    
61 Joukje Braam (Ned) Regio Noord-Oost                                    
62 Josune Murillo (Spa) Bizkaia Panda Software-Durango                    
63 Lidia Arcangeli (Ita) Bigla Cycling Team                               
64 Eefje Ottevanger (Ned) Regio Zuid                                      
65 Marlen Jöhrend (Ger) German National Team                              
66 Miho Oki (Jpn) Nobili Rubinetterie Menikini Cogeas                     
67 Monika Furrer (Swi) Bigla Cycling Team                                 
68 Joanne Kiesanowski (NZl) Univega Pro Cycling Team                      
69 Ibele Caroline (Ger) Team Euregio Egrensis                             
70 Patricia Schwager (Swi) Elk Haus Nö                                    
71 Anke Wichmann (Ger) Equipe Nürnberger Versicherung                     
72 Lianne Bahler (Ned) Therme Skin Care                                   
73 Oenone Wood (Aus) Equipe Nürnberger Versicherung                       
74 Francesca Castucci (Ita) S.C. Michela Fanini Record Rox                
75 Franziska Roethlin (Swi) Univega Pro Cycling Team                      
76 Claudia Häusler (Ger) Equipe Nürnberger Versicherung                   
77 Amy Moore (Can) T-Mobile Professional Cycling                          
78 Sabine Fischer (Ger) German National Team                              
79 Emma Rickards (Aus) Univega Pro Cycling Team                           
80 Urte Juodvazkyte (Ltu) Lithuanian National Team                        
81 Eva Lutz (Ger) Equipe Nürnberger Versicherung                          
82 Marlijn Binnendijk (Ned) AA-Drink Cycling Team                         
83 Ina Yoko Teutenberg (Ger) T-Mobile Professional Cycling            9.53
84 Amber Neben (USA) Buitenpoort-Flexpoint Team                           
85 Regina Schleicher (Ger) Equipe Nürnberger Versicherung                 
86 Silvia Valsecchi (Ita) Nobili Rubinetterie Menikini Cogeas             
87 Sandra Missbach (Ger) AA-Drink Cycling Team                            
88 Esther Kortekaas (Ned) Regio Zuid                                 11.25
89 Sissy Van Alebeek (Ned) Regio West                                11.40
90 Nienke Stenekes (Ned) Regio Noord-Oost                            13.37
91 Ludivine Henrion (Bel) Lotto-Belisol Ladiesteam                        
92 Emma Johansson (Swe) Bizkaia Panda Software-Durango               13.44
DNF Suzanne De Goede (Ned) AA-Drink Cycling Team                          
DNF Corine Hierckens (Bel) AA-Drink Cycling Team                          
DNF Tetyana Palchynska (Ukr) A.S. Team F.R.W                              
DNF Indre Januleviciute (Ltu) A.S. Team F.R.W                             
DNF Kettj Manfrin (Ita) A.S. Team F.R.W                                   
DNF Nina Ovcharenko (Ukr) A.S. Team F.R.W                                 
DNF Laura Pisaneschi (Ita) A.S. Team F.R.W                                
DNF Modesta Vzesniauskaite (Ltu) A.S. Team F.R.W                          
DNF Ombretta Ugolini (Ita) A.S. Team F.R.W                                
DNF Minke Van Dongen (Ned) @Work Cycling Team                             
DNF Judith Helmink (Ned) @Work Cycling Team                               
DNF Liesbeth Bakker (Ned) @Work Cycling Team                              
DNF Fabienne Sandig (Ger) Team Euregio Egrensis                           
DNF Heike Schramm (Ger) Team Euregio Egrensis                             
DNF Doreen Weise (Ger) Team Euregio Egrensis                              
DNF Annika Grüber (Ger) Team Euregio Egrensis                             
DNF Claudia Seidel (Ger) Team Euregio Egrensis                            
DNF Nicole Brändli (Swi) Bigla Cycling Team                               
DNF Monica Holler (Swe) Bigla Cycling Team                                
DNF Andrea Knecht (Swi) Bigla Cycling Team                                
DNF Eyelien Bekkering (Ned) Team DSB Bank                                 
DNF Esther Pennings (Ned) Team DSB Bank                                   
DNF Linn Torp (Nor) Team DSB Bank                                         
DNF Annette Beutler (Swi) Elk Haus Nö                                     
DNF Katharina Blum (Ger) Elk Haus Nö                                      
DNF Karin Ruso (Aut) Elk Haus Nö                                          
DNF Tina Liebig (Ger) Equipe Nürnberger Versicherung                      
DNF Elena Stramoysova (Rus) Fenixs-Colnago                                
DNF Elena Eifler (Ger) Fenixs-Colnago                                     
DNF Johanna Buick (NZl) Fenixs-Colnago                                    
DNF Imke Hartogs (Ned) Merida Ladies Cycling Team-Wv Eemland              
DNF Mirella Ehrin (Swe) Merida Ladies Cycling Team-Wv Eemland             
DNF Frederika Van Der Wiel (Ned) Merida Ladies Cycling Team-Wv Eemland    
DNF Claudia Witteveen (Ned) Merida Ladies Cycling Team-Wv Eemland         
DNF Jessica Glasbergen (Ned) Merida Ladies Cycling Team-Wv Eemland        
DNF Yun Mei Wu (Chn) Giant Pro Cycling                                    
DNF Min Gao (Chn) Giant Pro Cycling                                       
DNF Julia Claus (Ger) German National Team                                
DNF Virginia Hennig (Ger) German National Team                            
DNF Bianca Knöpfle (Ger) German National Team                             
DNF Elke Gebhardt (Ger) German National Team                              
DNF Nina Köhn (Ger) German National Team                                  
DNF Ausrine Trebaite (Ltu) Lithuanian National Team                       
DNF Sigrid Corneo (Ita) Nobili Rubinetterie Menikini Cogeas               
DNF Marta Vilaiosana (Spa) Nobili Rubinetterie Menikini Cogeas            
DNF Azzini Emanuela (Ita) Nobili Rubinetterie Menikini Cogeas             
DNF Cristina Alcalde (Spa) Bizkaia Panda Software-Durango                 
DNF Arantzazu Azpirov (Spa) Bizkaia Panda Software-Durango                
DNF Maitane Telletxea (Spa) Bizkaia Panda Software-Durango                
DNF Naiara Telletxea (Spa) Bizkaia Panda Software-Durango                 
DNF Eva Heijmans (Ned) Regio Noord-Oost                                   
DNF Karin Knol (Ned) Regio Noord-Oost                                     
DNF Marit Palland (Ned) Regio Noord-Oost                                  
DNF Denise Van Beers (Ned) Regio West                                     
DNF Njisk Nauta (Ned) Regio West                                          
DNF Gabrielle Ebskamp (Ned) Regio West                                    
DNF Gabrielle Rovers (Ned) Regio Zuid                                     
DNF Marieke Verhoeven (Ned) Regio Zuid                                    
DNF Malgorzata Wysocha (Pol) S.C. Michela Fanini Record Rox               
DNF Ilaria Rinaldi (Ita) S.C. Michela Fanini Record Rox                   
DNF Rosanne Kirch (Bra) S.C. Michela Fanini Record Rox                    
DNF Claire Baxter (Aus) Lotto-Belisol Ladiesteam                          
DNF Katty Watt (Aus) Lotto-Belisol Ladiesteam                             
DNF Christiane Soeder (Aut) Univega Pro Cycling Team                      
DNF Evy Van Damme (Bel) Vlaanderen-Caprisonne-T Interim                   
DNF Sharon Van Dromme (Bel) Vlaanderen-Caprisonne-T Interim               
DNF Laure Werner (Bel) Vlaanderen-Caprisonne-T Interim                    
DNF Janne Brok (Ned) Vrienden Van Het Platteland                          
DNF Heide De Voogd (Ned) Vrienden Van Het Platteland                      
DNF Monique Verstraten (Ned) Vrienden Van Het Platteland                  
DNS Daniëlle Bekkering (Ned) Team DSB Bank                                
DNS Chantal Beltman (Ned) Vrienden Van Het Platteland                     
 
Climbs
 
Climb 1
1 Annette Beutler (Swi) Elk Haus Nö                                      5 pts
2 Linda Villumsen (Den) Buitenpoort-Flexpoint Team                       3
3 Sarah Duester (Ger) Univega Pro Cycling Team                           1
 
Climb 2
1 An Van Rie (Bel) Lotto-Belisol Ladiesteam                              5 pts
2 Sarah Duester (Ger) Univega Pro Cycling Team                           3
3 Linda Villumsen (Den) Buitenpoort-Flexpoint Team                       1
 
Climb 3
1 Linda Villumsen (Den) Buitenpoort-Flexpoint Team                       5 pts
2 Kirsten Wild (Ned) AA-Drink Cycling Team                               3
3 Sarah Duester (Ger) Univega Pro Cycling Team                           1
 
Sprints
 
Sprint 1
1 Debby Mansveld (Ned) Vlaanderen-Caprisonne-T Interim                   5 pts
2 Linda Villumsen (Den) Buitenpoort-Flexpoint Team                       3
3 Trixi Worrack (Ger) Equipe Nürnberger Versicherung                     1
 
Sprint 2
1 Debby Mansveld (Ned) Vlaanderen-Caprisonne-T Interim                   5 pts
2 Trixi Worrack (Ger) Equipe Nürnberger Versicherung                     3
3 Eva Lutz (Ger) Equipe Nürnberger Versicherung                          1
 
Sprint 3
1 Debby Mansveld (Ned) Vlaanderen-Caprisonne-T Interim                   5 pts
2 Angela Brodtka (Ger) AA-Drink Cycling Team                             3
3 Linda Villumsen (Den) Buitenpoort-Flexpoint Team                       1
 
Sprint 4
1 Kirsten Wild (Ned) AA-Drink Cycling Team                               5 pts
2 Debby Mansveld (Ned) Vlaanderen-Caprisonne-T Interim                   3
3 Vera Koedooder (Ned) Buitenpoort-Flexpoint Team                        1
 
Sprint 5
1 Debby Mansveld (Ned) Vlaanderen-Caprisonne-T Interim                   5 pts
2 Vera Koedooder (Ned) Buitenpoort-Flexpoint Team                        3
3 Eva Lutz (Ger) Equipe Nürnberger Versicherung                          1
 
Teams
 
1 AA-Drink Cycling Team                                           10.34.54
2 Buitenpoort-Flexpoint Team                                          0.31
3 Therme Skincare                                                    13.05
4 Vlaanderen Caprisonne T Interim                                    13.33
5 @WORK CYCLING TEAM                                                 14.01
6 Bigla Cycling Team                                                 14.37
7 T-Mobile Professional Cyling                                            
8 Equipe Nürnberger Versicherung                                          
9 S.C. Michela Fanini Record Box                                     16.09
10 Univega Pro Cycling Team                                               
11 Lotto-Belisol Ladiesteam                                          20.01
12 Vrienden Van Het Platteland                                       21.18
13 Nobili Rubinetterie Menikini Cogeas                                    
14 German National Team                                              24.22
15 Lithuanian National Team                                          25.50
16 Merida Ladies Cycling Team-Wv Eemland                             25.54
17 Regio Noord-Oost                                                  28.14
 
General classification after stage 2
 
1 Loes Markerink (Ned) @Work Cycling Team                          5.27.18
2 Sarah Duester (Ger) Univega Pro Cycling Team                        0.04
3 Debby Mansveld (Ned) Vlaanderen-Caprisonne-T Interim                0.07
4 Trixi Worrack (Ger) Equipe Nürnberger Versicherung                  0.09
5 Loes Gunnewijk (Ned) Buitenpoort-Flexpoint Team                     0.10
6 Kirsten Wild (Ned) AA-Drink Cycling Team                                
7 Irene Van Den Broek (Ned) Therme Skin Care                              
8 Zulfia Zabirova (Kaz) Bigla Cycling Team                                
9 Janildes Fernandes Silva (Bra) S.C. Michela Fanini Record Rox           
10 Roxanne Knetemann (Ned) AA-Drink Cycling Team                          
11 Christina Becker (Ger) T-Mobile Professional Cycling               1.09
12 An Van Rie (Bel) Lotto-Belisol Ladiesteam                          1.13
13 Linda Villumsen (Den) Buitenpoort-Flexpoint Team                   1.44
14 Vera Koedooder (Ned) Buitenpoort-Flexpoint Team                    3.29
15 Angela Brodtka (Ger) AA-Drink Cycling Team                         3.31
16 Moniek Rotmensen (Ned) Vrienden Van Het Platteland                 8.23
17 Marije Profijt (Ned) Therme Skin Care                                  
18 Josephine Groenveld (Ned) AA-Drink Cycling Team                        
19 Mirjam Melchers-Van Poppel (Ned) Buitenpoort-Flexpoint Team            
20 Elisabeth Braam (Ned) Regio Noord-Oost                                 
21 Tanja Hennes (Ger) Buitenpoort-Flexpoint Team                          
22 Judith Arndt (Ger) T-Mobile Professional Cycling                       
23 Sandra Rombouts (Ned) Buitenpoort-Flexpoint Team                       
24 Madeleine Sandig (Ger) Buitenpoort-Flexpoint Team                      
25 Debby Van De Berg (Ned) @Work Cycling Team                         8.51
26 Jolanda Cools Van Dongen (Ned) @Work Cycling Team                      
27 Sharon Van Essen (Ned) Vrienden Van Het Platteland                     
28 Kristy Miggels (Ned) Therme Skin Care                                  
29 Andrea Bosman (Ned) @Work Cycling Team                                 
30 Charlotte Becker (Ger) German National Team                        9.26
31 Janneke Vos (Ned) Therme Skin Care                                     
32 Ellen Van Dijk (Ned) Vrienden Van Het Platteland                       
33 Kostenko Oxana (Rus) Nobili Rubinetterie Menikini Cogeas               
34 Bertine Spijkerman (Ned) Therme Skin Care                              
35 Olivia Gollan (Aus) Nobili Rubinetterie Menikini Cogeas                
36 Noemi Cantele (Ita) Bigla Cycling Team                                 
37 Claudia Hecht (Ger) Equipe Nürnberger Versicherung                     
38 Arenda Grimberg (Ned) Regio West                                   9.54
39 Joanne Kiesanowski (NZl) Univega Pro Cycling Team                  9.55
40 Miho Oki (Jpn) Nobili Rubinetterie Menikini Cogeas                     
41 Francesca Castucci (Ita) S.C. Michela Fanini Record Rox                
42 Marlen Jöhrend (Ger) German National Team                              
43 Eva Lutz (Ger) Equipe Nürnberger Versicherung                          
44 Ina Yoko Teutenberg (Ger) T-Mobile Professional Cycling           10.03
45 Regina Schleicher (Ger) Equipe Nürnberger Versicherung                 
46 Sandra Missbach (Ger) AA-Drink Cycling Team                            
47 Marianne Vos (Ned) Team DSB Bank                                  10.10
48 Iris Slappendel (Ned) Vrienden Van Het Platteland                 10.14
49 Evelyn Garcia (ESa) Nobili Rubinetterie Menikini Cogeas                
50 Loes Sels (Bel) Vlaanderen-Caprisonne-T Interim                   10.20
51 Rasa Leleivyte (Ltu) Lithuanian National Team                     10.56
52 Lang Meng (Chn) Giant Pro Cycling                                 10.58
53 Karin Aune (Swe) S.C. Michela Fanini Record Rox                        
54 Grace Verbeke (Bel) Lotto-Belisol Ladiesteam                           
55 Inge Velthuis (Ned) Merida Ladies Cycling Team-Wv Eemland              
56 Oenone Wood (Aus) Equipe Nürnberger Versicherung                       
57 Emma Rickards (Aus) Univega Pro Cycling Team                           
58 Amy Moore (Can) T-Mobile Professional Cycling                          
59 Bettina Kuhn (Swi) Bigla Cycling Team                             11.05
60 Claudia Häusler (Ger) Equipe Nürnberger Versicherung                   
61 Amber Neben (USA) Buitenpoort-Flexpoint Team                      11.06
62 Svetlana Bubnenkova (Rus) Fenixs-Colnago                          11.17
63 Eva Lechner (Ita) Fenixs-Colnago                                       
64 Edita Unguryte (Ltu) Lithuanian National Team                     11.40
65 Christine Mos (Ned) Team DSB Bank                                      
66 Yan Xia Jiang (Chn) Giant Pro Cycling                             11.42
67 Ine Wannijn (Bel) Vlaanderen-Caprisonne-T Interim                 11.45
68 Kathleen Stercks (Bel) Merida Ladies Cycling Team-Wv Eemland      11.46
69 Lidia Arcangeli (Ita) Bigla Cycling Team                               
70 Monika Furrer (Swi) Bigla Cycling Team                                 
71 Patricia Schwager (Swi) Elk Haus Nö                                    
72 Sabine Fischer (Ger) German National Team                              
73 Urte Juodvazkyte (Ltu) Lithuanian National Team                        
74 Sissy Van Alebeek (Ned) Regio West                                11.50
75 Silvia Valsecchi (Ita) Nobili Rubinetterie Menikini Cogeas        12.00
76 Aukje De Koning (Ned) Therme Skin Care                            12.14
77 Areke Hassink (Ned) @Work Cycling Team                            12.48
78 Edita Janeliunaite (Ltu) Lithuanian National Team                 12.49
79 Roberta Pilkauskaite (Ltu) Lithuanian National Team                    
80 Mariëlle Kerste (Ned) Merida Ladies Cycling Team-Wv Eemland       13.12
81 Josune Murillo (Spa) Bizkaia Panda Software-Durango                    
82 Joukje Braam (Ned) Regio Noord-Oost                                    
83 Eefje Ottevanger (Ned) Regio Zuid                                      
84 Lianne Bahler (Ned) Therme Skin Care                                   
85 Ibele Caroline (Ger) Team Euregio Egrensis                        13.18
86 Marlijn Binnendijk (Ned) AA-Drink Cycling Team                         
87 Esther Kortekaas (Ned) Regio Zuid                                 14.52
88 Emma Johansson (Swe) Bizkaia Panda Software-Durango               14.57
89 Ludivine Henrion (Bel) Lotto-Belisol Ladiesteam                   15.44
90 Nienke Stenekes (Ned) Regio Noord-Oost                            17.04
91 Franziska Roethlin (Swi) Univega Pro Cycling Team                 17.13
92 Anke Wichmann (Ger) Equipe Nürnberger Versicherung                17.43
 
Climbs classification
 
1 Linda Villumsen (Den) Buitenpoort-Flexpoint Team                      19 pts
2 Sarah Duester (Ger) Univega Pro Cycling Team                           5
3 An Van Rie (Bel) Lotto-Belisol Ladiesteam                              5
4 Kirsten Wild (Ned) AA-Drink Cycling Team                               3
5 Emma Rickards (Aus) Univega Pro Cycling Team                           3
6 Ina Yoko Teutenberg (Ger) T-Mobile Professional Cycling                3
7 Angela Brodtka (Ger) AA-Drink Cycling Team                             1
8 Marianne Vos (Ned) Team DSB Bank                                       1
 
Sprints classification
 
1 Debby Mansveld (Ned) Vlaanderen-Caprisonne-T Interim                  23 pts
2 Vera Koedooder (Ned) Buitenpoort-Flexpoint Team                        9
3 Kirsten Wild (Ned) AA-Drink Cycling Team                               8
4 Trixi Worrack (Ger) Equipe Nürnberger Versicherung                     7
5 Sharon Van Essen (Ned) Vrienden Van Het Platteland                     6
6 Ellen Van Dijk (Ned) Vrienden Van Het Platteland                       5
7 Ina Yoko Teutenberg (Ger) T-Mobile Professional Cycling                5
8 Linda Villumsen (Den) Buitenpoort-Flexpoint Team                       4
9 Angela Brodtka (Ger) AA-Drink Cycling Team                             3
10 Josephine Groenveld (Ned) AA-Drink Cycling Team                       3
11 Iris Slappendel (Ned) Vrienden Van Het Platteland                     3
12 Eva Lutz (Ger) Equipe Nürnberger Versicherung                         2
13 Sarah Duester (Ger) Univega Pro Cycling Team                          1
 
Young rider classification
 
1 Loes Markerink (Ned) @Work Cycling Team                          5.27.18
2 Roxanne Knetemann (Ned) AA-Drink Cycling Team                       0.10
3 Linda Villumsen (Den) Buitenpoort-Flexpoint Team                    1.44
4 Vera Koedooder (Ned) Buitenpoort-Flexpoint Team                     3.29
5 Moniek Rotmensen (Ned) Vrienden Van Het Platteland                  8.23
6 Marije Profijt (Ned) Therme Skin Care                                   
7 Elisabeth Braam (Ned) Regio Noord-Oost                                  
8 Madeleine Sandig (Ger) Buitenpoort-Flexpoint Team                       
9 Charlotte Becker (Ger) German National Team                         9.26
10 Ellen Van Dijk (Ned) Vrienden Van Het Platteland                       
11 Claudia Hecht (Ger) Equipe Nürnberger Versicherung                     
12 Marlen Jöhrend (Ger) German National Team                          9.55
13 Marianne Vos (Ned) Team DSB Bank                                  10.10
14 Iris Slappendel (Ned) Vrienden Van Het Platteland                 10.14
15 Loes Sels (Bel) Vlaanderen-Caprisonne-T Interim                   10.20
16 Rasa Leleivyte (Ltu) Lithuanian National Team                     10.56
17 Lang Meng (Chn) Giant Pro Cycling                                 10.58
18 Grace Verbeke (Bel) Lotto-Belisol Ladiesteam                           
19 Claudia Häusler (Ger) Equipe Nürnberger Versicherung              11.05
20 Eva Lechner (Ita) Fenixs-Colnago                                  11.17
21 Edita Unguryte (Ltu) Lithuanian National Team                     11.40
22 Monika Furrer (Swi) Bigla Cycling Team                            11.46
23 Patricia Schwager (Swi) Elk Haus Nö                                    
24 Sabine Fischer (Ger) German National Team                              
25 Urte Juodvazkyte (Ltu) Lithuanian National Team                        
26 Edita Janeliunaite (Ltu) Lithuanian National Team                 12.49
27 Roberta Pilkauskaite (Ltu) Lithuanian National Team                    
28 Mariëlle Kerste (Ned) Merida Ladies Cycling Team-Wv Eemland       13.12
29 Joukje Braam (Ned) Regio Noord-Oost                                    
30 Ibele Caroline (Ger) Team Euregio Egrensis                        13.18
31 Marlijn Binnendijk (Ned) AA-Drink Cycling Team                         
32 Esther Kortekaas (Ned) Regio Zuid                                 14.52
33 Emma Johansson (Swe) Bizkaia Panda Software-Durango               14.57
34 Ludivine Henrion (Bel) Lotto-Belisol Ladiesteam                   15.44
35 Nienke Stenekes (Ned) Regio Noord-Oost                            17.04
 
Teams classification
 
1 AA-Drink Cycling Team                                           16.25.45
2 Buitenpoort-Flexpoint Team                                          0.31
3 Therme Skincare                                                    13.05
4 @WORK CYCLING TEAM                                                 14.01
5 Equipe Nürnberger Versicherung                                     14.37
6 Vlaanderen Caprisonne T Interim                                    15.39
7 T-Mobile Professional Cyling                                       15.40
8 S.C. Michela Fanini Record Box                                     16.09
9 Bigla Cycling Team                                                 16.43
10 Univega Pro Cycling Team                                          17.12
11 Nobili Rubinetterie Menikini Cogeas                               21.18
12 Vrienden Van Het Platteland                                       22.21
13 Lotto-Belisol Ladiesteam                                          23.10
14 German National Team                                              26.28
15 Merida Ladies Cycling Team-Wv Eemland                             29.51
16 Lithuanian National Team                                          30.31
17 Regio Noord-Oost                                                  33.40