3rd Garrett Lemire Memorial GP - NE
Ojai, CA, USA, April 2, 2006
Targetraining doubles-up as Ojai pretty for Pic
Alejandro Acton (Targetraining) wins
Photo ©: Steve Cohen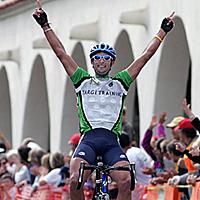 An early race breakaway ended up deciding the third annual Garrett Lemire Memorial Grand Prix, with Targetraining using their two-rider advantage to send Alejandro Acton across the line first in a solo attack on the final lap of the one-mile course.
Acton's teammate Frank Pipp finished third with Jackson Stewart (Kodakgallery.com/Sierra Nevada) taking second again. "I'm disappointed to lose again, but this is the first time I've had two NRC second-places in a month and I'm stronger than I've ever been," said Stewart.
The break had an inauspicious start, materializing more as a rolling gap than an actual attack. "First there was a little bit of a separation started by Garrett Peltonen of Health Net," said Frank Pipp (Targetraining). "I was in that, but then three others came across including Alejandro. From there it was work, work work. It was like a Superweek crit, it was awesome!"
This group contained Toyota-United's Mariano Friedick and Heath Blackgrove, Health Net-Maxxis' Tim Johnson and Garrett Peltonen, Targetraining's Frank Pipp and Alejandro Acton, Jelly Belly's Caleb Mannion and local amateur Karl Bordine (Labor Power).
The field kept the break manageable over the majority of the race, but could not shut it down when it counted. "The most we ever got out to was about thirty seconds," explained Pipp. "With about five to go the attacks started, then about three to go we were in a good position as a United and Health Net rider dropped off. Then we just took turns attacking and Alejandro timed it awesome."
This is the first NRC win for the young Targetraining team, coming after the recent invitation to race in the Tour de Georgia. "It's a great confidence builder for all the new guys on the team," said Pipp. "We're glad we stayed out here for this race."
It's all Tina Pic
Photo ©: Steve Cohen

Tina Pic has continued her good run so far in 2006 with another victory in the women's race after her Colavita-Cooking Light team kept the four-time national criterium champ well protected, neutralizing much of the race before she delivered the win in a bunch sprint. "We were trying to hold it together a bit, and neutralizing the field," said Pic. "Victory Brewing had a pretty good train going, but then Sarah Tillotson came up and drove it, with Dotsie driving it up the hill at the end."
Staying close to Pic was Victory Brewing's Laura Yoisten, who held on for second in front of defending chmap Laura Van Gilder (TEAm Lipton.) "We tried to take control, and the girls did really good," Yoisten explained. "It was a little sketchy in the last lap, but we held it together. Coming through with 500 meters to go [Pic and I] both jumped at the same time --she got a little gap at the last corner, and it's only 100 meters from there to finish so whoever it through that turn first is going to win."
With a difficult 1 mile circuit and winds keeping breakaway attempts to a minimum, Sima Trapp, Sarah Tillotson, Brooke Ourada and Audrey Lemieux did the lion's share of the early work for the winning team, and with two laps to go the Victory Brewing train came blazing to the front in hopes of setting up their fast finisher Laura Yoisten.
The women's podium
Photo ©: Jim Williams

They drove the pace until the final time up the back stretch climb when Colavita Cooking Light's climber Dotsie Bausch accelerated, derailing the Victory Train. Bausch blasted over the climb with Laura Van Gilder (Lipton), Pic, and Yoisten, who had switched tracks, in tow. When Bausch pulled off it left Van Gilder to lead out, with Pic and Yoisten launching their sprints from opposite sides. In the end Pic crossed the line first with a few bike lengths to spare with Laura Yoisten second and Van Gilder in third. "Yeah, you have to be around the turn in first," said Pic. "I could feel the field attacking presence so I knew I just had to go."
Pic and the rest of the women's peloton race next at Sea Otter - a race Pic likes but is a little less excited with the news that the race will be five laps longer. "[Sea Otter] is going to be tough because they added on five laps for us. And that hill is always tough," she said.
Photography
For a thumbnail gallery of these images, click here
Images by Steve Cohen/www.sportshooter.com/STEVEC
Images by Jim Williams/Colavita Cooking Light
Images by Mitch Friedman/www.mitchophoto.com
Results

Men
 
1 Alejandro Acton (Targetraining)                     
2 Jackson Stewart (Kodakgallery.com/Sierra Nevada)    
3 Frank Pipp (Targetraining)                          


Women

1 Tina Pic (Colavita Cooking Light)    
2 Laura Yoisten (Victory Brewing)      
3 Laura Van Gilder (Lipton)            
4 Lisa Sweeney (CPT-Colnago)           
5 Lauren Franges (Victory Brewing)     

Past winners
2005 Harm Jansen (Ned)         Laura Van Gilder (USA)
2004 Harm Jansen (Ned)         Suzanne Sonye (USA)