Athens Twilight Criterium - NE
Athens, GA, USA, April 29, 2006
2005 Results Results Past winners
Davidenko shocks field to repeat Twilight win
By E. Andra Whitworth in Athens, Georgia
Vassili Davidenko of Navigators
Photo ©: Doug Gravino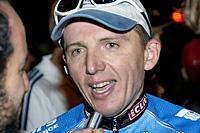 In the end, it was Vassili Davidenko of Navigators Insurance who foiled the Toyota-United Pro Cycling and Jelly Belly sprint trains to defend his 2005 Athens Twilight victory with a world-class sprint that nobody saw coming.
"It was a surprise and a disappointment for us," said Tim Johnson, who rode in support of Health Net teammate, Gord Fraser. "It was a big surprise. It's Gord's last Twilight and he really wanted to win tonight."
For Fraser, who placed third, it meant narrowly missing the Twilight record of three wins, which has been his goal since his second Twilight victory in 2002. Now, the onus of winning a record third Twilight title falls to a reluctant Davidenko, only the third person in the race's 27-year history to hold two titles.
In Davidenko's post-race interview, he said he kept looking for chances to break like he did last year, when he soloed out front for about 15 laps before cruising in for the win. This year, however, he says that situation was not an option.
"I kept trying to break, but it was impossible because the race was so fast. Everyone was so fast. My legs felt really good, but everyone was so fast I couldn't use them to get away. So I just sat back and waited for a win," said Davidenko, whose strategy could not have worked better in the 2006 edition.
This high-speed single file race started with a huge crash on turn three, sending riders to the wheel pit in droves only one lap into the race.
An early crash
Photo ©: Doug Gravino

The crash played into Toyota-United Pro Cycling's hands as they were the ones hanging in at the front afterwards and played a leading part throughout the duration of a race marked by unrelenting attacks off the front that kept the peloton moving at full speeds at an average of 1:15 minutes per lap. Riders were able to rejoin the back of the race, only to fall to an unforgiving attrition rate that claimed well over half of the riders before the race's end.
The race showed constant movement, with Toyota-United Pro, Colavita Olive Oil-Sutter Home, Kodakgalley.com/Sierra Nevada, Jittery Joe's, AEG-Toshiba-JetNetwork, Jelly Belly and Targetraining attacking constantly off the front. Davidenko and Fraser conserved their spots in second and third throughout much of the race, while J.J. Haedo played a more conservative game in the peloton.
With 13 laps to go, Colavita Olive Oil-Sutter Home took the initiative to go to the front and form their sprint train, with the aim of pushing Viktor Rapinski over the line into first place. Jelly Belly began their formation soon after, but by the final laps, Colavita had been pushed out by Toyota-United Pro Cycling, leaving Toyota and Jelly Belly the likely candidates for a win.
1st place Vassili Davidenko (Navigators),
Photo ©: Doug Gravino

But luck and surprise always plays a role at Athens Twilight, and Davidenko had both of those by the bucketful to seemingly come from nowhere to take the win in a vicious sprint that left J.J. Haedo and Gord Fraser in his tracks.
In women's racing, it was Jenn McRae riding for Conex Train who outdid the best women sprinters in the country for her second time on the top of the podium, having won her first Twilight title in 1998. "It was amazing to repeat," says McRae, who, wearing a good-luck necklace made by one of her children, called this her "comeback win."
"I've been out for awhile and had two kids. I got back into riding to keep Mom happy and it turns out my sprint is still there," said the cyclist who turned in the race's fastest lap time at 1:16.
"Towards the end, it was the kind of sprinter's game I like," she added. "I'm always a contender in terms of a sprint, but I knew in this race I'd have to take control rather than wait for things to happen."
Jen McRae of Conex Train
Photo ©: Doug Gravino

Other riders echoed McRae, saying it was an aggressive race from start to finish.
"It was a really aggressive race. We had to react to everything. No other teams wanted it to come down to a sprint, so they were always trying to keep it moving and attacking off the front," said Iona Wynter-Parks. "It was one of the most aggressive races I've been in."
Second-place Tina Pic commented, "It was a hard race. The corners always seem narrow and we had to chase everything that went. I was stunned by Jenn's move, it was brilliant."
Photography
For a thumbnail gallery of these images, click here
Images by Doug Gravino/www.southeasterncycling.com
Images by Herbert Krabel/www.litespeed.com
Results
Pro Men

1 Vassili Davidenko (Navigators)
2 J.J Haedo (Toyota-United Pro Cycling)
3 Gord Fraser (Health Net)
4 Brice Jones (Jelly Belly)
5 Viktor Rapinski (Colavita Olive Oil-Sutter Home Wines)
6 Trent Wilson (Jittery Joe's)
7 Richard England (Priority Health)
8 Ivan Dominguez (Toyota-United Pro Cycling)
9 Jackson Stewart (Kodakgallery-Sierra Nevada)
10 Tony Cruz (Toyota United Pro Cycling)
11 Edward King (Priority Health)
12 Alex Candelario (Jelly Belly)
13 Siro Campanagaro (Navigators)
14 Andrew Crater (Wheel and Sprocket)
15 Jeff Hopkins (Jittery Joe's)
16 Frank Pipp (Targetraining)
17 Kyle Wamsley
18 Patrick Dunaway (California Giant STrawberries)
19 Mark Hekman (Abercrombie and Fitch)
20 Rudy Robaina (VMG)
21 Robbie King (PRiority Health)
22 Jason Snow (Cycle Science)
23 Scott Zwizanski (Kodakgallery.com/Sierra Nevada)
24 Kyle Gritters (Health Net)
25 Oscar Henao
26 Victor Laza (AEG-Toshiba-JetNetwork)
27 Colavita Rider
28 Shawn Willard (Wheel and Sprocket)
29 Tommy Nankervis (Priority Health)
30 Glen Mitchell (Priority Health)
31 Jeffrey Schroelin (Mesa Cycles)
32 Matty Rice (Jelly Belly)
33 Unidentified rider
34 Frank Travieso (AEG-Toshiba-JetNetwork)
35 Austin King (Jittery Joe's)
36 Ryan Barnett (Caico Cycling)
37 Chad Nikolz
38 Gordon McCauley
39 Scott Edge (NERAC)
40 Kiel Reijnen
41 Mariano Friedick (Toyota-United Pro Cycling)
42 Christian Valenzuela
43 Joshua Carter (Mesa Cycles)
44 Marc Anderson (Jittery Joe's)
45 Bobby Lea (Toyota-United Pro Cycling)
46 Peter Hatton (Jittery Joe's)
47 Chad Thompson (Abercrombie and Fitch)
48 Caleb Manion (Jelly Belly)
49 DAve McCook (Jelly Belly)
50 Jesse Anthony (Kodakgallery.com/Sierra Nevada)
 
Women's 1/2/3
 
1 Jenn McCrae (Conex Train)
2 Tina Pic (Colavita Cooking Lite)
3 Shannon Hutchison (Aaron's Furniture)
4 Kelly Benjamin (Diet Cheerwine)
5 Gina Grain (Colavita Cooking Lite)
6 Brenda Lyons (Victory Brewing)
7 Laura Yosten (Victory Brewing)
8 Christina DeKraay (TEam Fuji)
9 Mackenzie Dickey (Aaron's)
10 Victory Brewing rider
11 Lara Kropesch (TEam Lipton)
12 Laura Bowles (Victory Brewing)
13 Unidentified
14 Taitt SAto (McGuire RAcing)
15 Unidentified
16 Katherine Caroll (Victory Brewing)
17 Jenny Trew (Team Kenda Tire)
18 Kathleen Billington (Connecticut)
19 Laura Van Gilder (TEam Lipton)
20 Candace Blickem (Aaron's)
21 Tracy Sproule (Aaron's)
22 Iona Wynter-Parks (Colavita Cooking Lite)
23 Courtney Brown (McGuire Racing)
24 Robin Farina (Kenda Tire)
25 Kele Murdin (VeloBella)
26 Catherine Power
27 Holli Steelman (Diet Cheerwine)
28 Grace Fleury (Team Lipton)
29 Tara Ross (Victory Brewing)
30 Lee Anne Asbury (Aaron's)
31 Sue Palmer Komar (Colavita Cooking Lite)
32 Kathryn Clark (Fuji)
33 Rachel Heal (Victory Brewing)
34 Julie Grainger (Aaron's)
35 Elizabeth Morse Hill (Fuji)
36 Samantha Schneider (Endeavour)
37 Kim Sawyer (Travel Girl)
38 Tamyra Barnard (Kenda Tire)
39 Unidentified
40 Brook O'Conner (Hub Racing)
41 Clora Beard (Diet Cheerwine)
42 Monique Hein (Lees-McCrae College)
43 Unidentified
44 Marley Shipps ()
45 Elizabeth Gentner (Blowheels)
46 Rachel Gunn (Diet Cheerwine)
47 Cathy Connell (Reality Bikes)

Past winners

Men
 
2005 Vassili Davidenko (Rus) Navigators
2004 Brice Jones (USA) Health Net
2003 Dan Schmatz (USA) 7UP-Maxxis
2002 Gord Fraser (Can) Mercury
2000 Gord Fraser (Can) Mercury
 
Women
 
2005 Shannon Hutchinson (USA) L5Flyers
2004 Tina Mayolo-Pic (USA) Genesis Scuba
2003 Candice Blickem (Genesis Scuba-FFCC)
2002 Ina Teutenberg (Ger) Saturn
2000 Sarah Ulmer (NZl) Elita