Victorian Open Road Cycling Championships - NE
Victoria, Australia, September 30-October 2, 2005
Main Page Results Overall standings Next Stage
Stage 1 - September 30: Men's and Women's Criterium Championships
Finning and James claim crit titles
By Rod Morris in Mansfield
Sean Finning
Photo ©: Shane Goss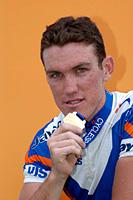 Australian Institute of Sport ace, Sean Finning confirmed his standing in cycling today, when he won the Victorian Open Criterium Championship in Mansfield. Finning (20) was a dominant player in the small but elite field, which raced hard over the 30 km distance to determine the title. Preparing for next week's Herald Sun Tour and the upcoming Moscow round of the World Cup track event, Finning was in a mean mood from start to finish, crossing the line ahead of Canberra's Michael Tolhurst and his Jayco VIS teammate Bradley Norton.
"I've had a busy schedule this season and the next few months will be just as busy, so its nice to get a win under my belt," Finning said. "It gives me a lot of confidence for the weeks to come."
Earlier in the day, petite Carnegie rider, Briana James won her first State title, when she beat Jessica Berry (Bendigo) and Rahna Demarte (Hawthorn) in the Women's Criterium.
Finning jumped out of the blocks extremely early in the men's race, forming a small group with Tolhurst and Warragul's David Salton. That trio shared the first three intermediate sprints, which carried a cash bonus, before they were caught by a further six riders.
The increased pack destroyed any hopes the peloton - which included pre-race favourites, David McKenzie, Simon Clarke and Tommy Nankervis - had of reeling them in. At one stage, the time gap had raced out 37 seconds and on a tight 1 km circuit with riders in full view of each other, the task in front of the peloton was getting too big.
Michael Tolhurst
Photo ©: Shane Goss

The lead bunch now included Andrew Naylor (Blackburn) Bradley Norton (Shepparton) Patrick Shaw (Ballarat) Peter Milostic (NSW) Aaron Salisbury (Carnegie) and Adam Murchie (Footscray) as well as the three original escapees. All eight riders worked well together, completely shutting down any potential challengers from the chasing peloton, and interest centred on which rider would claim the ultimate prize instead of if or when the bunch would catch up.
At five laps to go, Finning and Tolhurst broke clear of their fellow leaders and opened a small gap of 11 seconds, which they were able to maintain till the finish.
Finning based himself in Italy earlier this season before he and fellow AIS riders contested the Tour of China. Back in Australia, Finning raced in the Tattersall's Cup series which included three five day tours in Gippsland, Tasmania and the Murray River region. Next week, he will line up in the 54th Herald Sun Tour, forming an eight man AIS team with Peter Dawson, Ashley Hutchinson, Mark Jamieson, Stephen Wooldridge, Matthew Goss, Mathew Rex and one other - yet to be announced - rider.
From there, Finning will swap his road bike for his track machine as he contests the World Cup in Russia, racing in the points score, madison and teams pursuit events. A winner of 14 junior and two senior national track or road championships, including the 2004 Australian Madison and this year's Points Score titles, Finning is quickly gaining a reputation as one of the country's best all round cyclists.
Sean Finning
Photo ©: Shane Goss

Finning said he planned to race hard in the criterium, but was surprised the effect it had on other riders. "Some of the other guys asked me before the race about my plans and I said was going to go hard very early, but it still caught a few out," he said. "Luckily the ones came with me worked just as hard, so it was good to have a solid race with everyone working towards the same goal."
Tolhurst admitted he was surprised to take second place. "I drove down from Canberra at 5 o'clock this morning and wasn't really motivated for the criterium, because I was centring more on the time trial and Sunday's road race," he said.
Finning also claimed honours in the corresponding sprint category, which was fuelled by points from 11 intermediate sprints. After 10 of those sprints, any one of four riders could have won the title, but Finning picked up two points which was enough to warrant victory.
Briana James
Photo ©: Shane Goss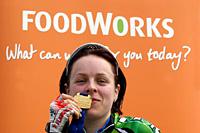 The women's race only attracted 13 starters, but there was still plenty of interest, particularly watching the race tactics of eventual winner Briana James and Hawthorn's Claire Baxter. James and Baxter controlled the intermediate sprints, winning nine of the 11 between them. James backed off however on the last two sprints, in an attempt to preserve some energy for the final laps.
"Winning the championship was my number one aim over and above the intermediate sprints, although the rivalry was enjoyable while it lasted," James said.
A member of the powerful Carnegie Caulfield Cycling Club, James has only been racing seriously for three years. In her first State criterium championship in 2003, she failed to finish the first lap and last year improved to finish fourth. Her 2005 performance however will win high praise from her coach Glen Hutchinson.
An arts student at Melbourne University, James is jugging studying with cycling. "At the moment, I'm probably concentrating more on bike riding than my school work, but when I get results like this I can see its all been worthwhile," she said.
The women's criterium
Photo ©: Shane Goss

James intends to ride in the Women's Tour of Geelong in January, whilst she is also preparing for the upcoming Australian track season. "I'm still not sure whether I enjoy track or road racing more, but winning events like these makes the road pretty enjoyable," she added.
Claire Baxter went on to win the sprint title, but could do no better than fourth in the final sprint for overall honours. Bendigo's Jessica Berry was an impressive second behind James while track star Rahna Demarte claimed third.
The Victorian Open Road Championships continue over the weekend with individual time trials on tomorrow and men's and women's road races over 142 and 95 km respectively on Sunday.
Photography
For a thumbnail gallery of these images, click here
Images by Shane Goss/www.licoricegallery.com
Results
Victorian Open Men's Criterium Championship

1 Sean Finning (Castlemaine)      43.14
2 Michael Tolhurst (Canberra) 
3 Bradley Norton (Shepparton)      0.11
4 Peter Milostic (NSW) 
5 Patrick Shaw (Ballarat)          0.14
6 Aaron Salisbury (Carnegie) 
7 Adam Murchie (Footscray)         0.17
8 Andrew Naylor (Blackburn)        0.34
9 Tommy Nankervis (Carnegie)       0.39
10 Adrian Salter (Footscray) 
11 Mitchell Docker (Brunswick) 
12 Rhys Pollock (NSW) 
13 Simon Clarke (Carnegie) 
14 David Salton (Warragul)         1.14
DNF David McKenzie
DNF Nathan Wise
DNF Andrew Hanigan
DNF Scott Brown
DNF Cameron Carlyle
DNF Jai Crawford
DNF Julian Dutton
DNF Scott Jensen
DNF Steve Martin
DNF Jason Pastor
DNF Stephen Rossendell
DNF Chris Taplin
DNF Marcus Wettenhall
DNS Matthew Lloyd
DNF Daniel Thorsen
DNF Nick Culvenor
DNF Alistair Farley
 
Sprint King

1 Sean Finning (Castlemaine)          13 pts
2 Patrick Shaw (Ballarat)             12
3 Andrew Naylor (Blackburn)           12
4 David Salton (Warragul)             11
5 Michael Tolhurst (Canberra)         11
6 Bradley Norton (Shepparton)          3
7 Peter Milostic (NSW)                 3
8 Aaron Salisbury (Carnegie)           1
 
Victorian Open Women's Criterium Championship

1 Briana James (Carnegie)          51.55
2 Jessica Berry (Bendigo)
3 Rahna Demarte (Northcote)
4 Claire Baxter (Hawthorn)
5 Vicki Eustace (ACT)
6 Deborah Fagg (NSW)
7 Nicole Whitburn (Warragul)
8 Gemma Goyne (Carnegie)
9 Laura Bortolozzi (NSW)
10 Monique Hanley (Warragul)
11 Maryam Rogers (Carnegie)         0.17
DNF Clare Vlahopoulos
DNF Andrea Bishop
DNS Sarah White
 
Sprint Queen

1 Claire Baxter (Hawthorn)            24 pts
2 Briana James (Carnegie)             20
3 Monique Hanley (Warragul)            5
4 Vicki Eustace (ACT)                  4
5 Nicole Whitburn (Warragul)           4
6 Laura Bortolozzi (NSW)               4
7 Deborah Fagg (NSW)                   2
8 Rahna Demarte (Northcote)            1
9 Maryam Rogers (Carnegie)             1
10 Gemma Goyne (Carnegie)              1