Univest GP Criterium - NE
Doylestown, Pennsylvania, USA, September 19, 2005
2004 Results Results Univest GP
Friedman wins Univest crit in three-up finale
Mike Friedman out sprints Chad Hartley and Dave Clinger for the win.
Photo ©: Gene Viera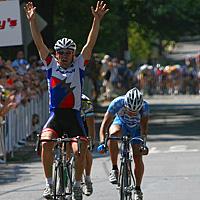 23-year-old Pennsylvania native Mike Friedman (Northwest Mortgage/Fuji) won the second of the weekend's pro races at the Univesty GP, beating last year's winner Chad Hartley (TIAA-CREF) and Californian David Clinger (Helen's RPM) to claim victory.
Racing was animated from the start, with a breakaway of four establishing a 30-second lead early on in the race. Fuelled by the aggressive riding of the Advantage Benefits-Endeavor team, Frank Pipp (Advantage Benefits - Endeavor) teammate Garrett Peltonen - who put in a powerful mid race effort to bridge from the field to the break - Scott Zwizanski (Kodak Gallery/Sierra Nevada) and young rider classification leader Dan Bowman (TIAA-CREF) worked smoothly to establish a dangerous time gap. After four more riders closed the distance to the original four, 23-year old Wouter Mol (Holland) single handedly brought the powerful group back into the 150-rider field.
With yesterday's top three place getters - Herdia, Tardaguila, and Brumble - all active as they tried to secure the overall Univest Grand Prix Omnium title, the decisive move left the field with just three laps to go.
"I was trying to set up my teammate Bobby Lea for the overall Omnium," said Friedman. "He had a good day yesterday and I was just giving him an early lead-out and wound up with a gap. When Chad and [David] Clinger came across, we went for it."
When asked if his goal was to turn professional after this performance, Friedman replied, "our team's goal is 2008. We are primarily a track team and we want to represent the US at the Beijing Olympics".
By finishing 7th in the Doylestown Criterium, Alvaro Tradaguila of Uruguay (UPMC-ACT) claimed the 2005 Univest Grand Prix overall Omnium title, with Amos Brumble second and Melito Heredia rounding out the top-three. Frank Pipp (Advantage Benefits - Endeavor) amassed enough sprint points from his efforts on the front to win the Leidy's Premium Pork Products Best Sprinter, inheriting the classification lead from his teammate Karl Menzies.
Photography
For a thumbnail gallery of these images, click here
Images by Gene Viera
Results
1 Mike Friedman (USA) Northwestern Mortgage/FUJI             1.37.22
2 Chad Hartley (USA) TIAA-CREF                                      
3 Dave Clinger (USA) Helen's RPM                                    
4 Garrett Peltonen (USA) Advantage Benefits-Endeavour           0.08
5 Gregor Willwohl (Ger) Germany/Etta Mae's Antiques             0.10
6 Karl Menzies (Aus) Advantage Benefits-Endeavour               0.11
7 Alvaro Tardaguila (Uru) UPMC-ACT                                  
8 Karl Bordine (USA) Helen's RPM                                    
9 Pete Lopinto (USA) Kodak Gallery/Sierra Nevada                    
10 Wojciech Kalemba (Pol) Poland/Doylestown Hospital                
11 Philipp Ketzge (Ger) Germany/Etta Mae's Antiques                 
12 Amos Brumble (USA) CCB/Volkswagen/Time                           
13 Ward Solar (USA) Team Cobblestone                                
14 Renaud Pioline (Fra) France/Alderfer Auction Company             
15 Shawn Willard (USA) Serbia/Aerospace Engineering             0.12
16 Patrick Walsh (USA) CCB/Volkswagen/Time                          
17 Jeremie Galland (Fra) France/Alderfer Auction Company            
18 Roel De Vries (Ned) Holland/Yum Yum Bake Shops-Wolf              
19 Tom Peterson (USA) Broadmark Capital                             
20 Jenning Huizenga (Ned) Holland/Yum Yum Bake Shops-Wolf           
21 Lisban Quintero (Col) GS Mengoni                                 
22 Maikel Paas (Ned) Holland/Yum Yum Bake Shops-Wolf            0.13
23 Tadeusz Korzeniewski (Pol) Poland/Doylestown Hospital            
24 Pleasure Jackson (USA) Broadmark Capital                         
25 Christoph Herby (USA) Snow Valley                                
26 Melicto Heredia (Dom) GS Gotham/Toga                             
27 Jackson Stewart (USA) Kodak Gallery/Sierra Nevada            0.14
28 Jared Babik (USA) Meredith Group/GPOA                            
29 Michael Cody (USA) Fiordifrutta/Speciality RT                0.15
30 Damon Parke (USA) Louis Garneau                                  
31 Wendy Cruz (Dom) UPMC-ACT                                        
32 Rudy Robaina (USA) Cycling Center                                
33 Troy Critchlow (USA) Broadmark Capital                           
34 Ryan Dewald (USA) Snow Valley                                    
35 Matt Cooke (USA) LSV/Kelly Benefit Strategies                    
36 Dan Bowman (USA) TIAA-CREF                                       
37 Adam Carr (USA) Cycling Center                                   
38 Zach Bolian (USA) Tri-State Velo                             0.16
39 Craig Dodson (USA) Team Cobblestone                              
40 Maxime Vives (Can) National SG/Espoirs Laval                     
41 Hayden Brooks (Aus) AG Edwards-Roswell Velo                      
42 Blake Caldwell (USA) TIAA-CREF                               0.17
43 Sebastien Boulangue (Fra) France/Alderfer Auction Company    0.18
44 Sonke Thiel (Ger) Century Road Club Association                  
45 Neal Stansbury (USA) Tri-State Velo                          0.19
46 Mike Lange (USA) TIAA-CREF                                       
47 Chris Jones (USA) Century Road Club Association                  
48 Ryan Fleming (USA) Park City Cycling Academy                     
49 Eddy Hilger (USA) Advantage Benefits-Endeavour                   
50 Jason Baer (USA) Louis Garneau                                   
51 Peter Morse (Can) Century Road Club Association              0.20
52 Frank Pipp (USA) Advantage Benefits-Endeavour                    
53 Edward Brignole (USA) LSV/Kelly Benefit Strategies           0.21
54 Roselvert Marte (Dom) GS Mengoni                             0.22
55 Scott Zwizanski (USA) Kodak Gallery/Sierra Nevada            0.23
56 Todd Yezefski (USA) TIAA-CREF                                0.24
57 Eugene Boronow (USA) GS Mengoni                                  
58 Matthew White (USA) Fiordifrutta/Speciality RT                   
59 Jason Bremer (USA) GS Mengoni                                0.26
60 Charly Vives (Can) National SG/Espoirs Laval                     
61 Bill Short (USA) Northwestern Mortgage/FUJI                      
62 Gerardo Castro (Uru) Team Cobblestone                        0.38
63 Bobby Lea (USA) Northwestern Mortgage/FUJI                   0.40
64 Wouter Mol (Ned) Holland/Yum Yum Bake Shops-Wolf             0.47
65 Mateo Sasso (Uru) UPMC-ACT                                   0.49
66 Jame Carney (USA) Northwestern Mortgage/FUJI                     
67 Harm Jansen (USA) Helen's RPM                                1.17
68 Dominique Perras (Can) Kodak Gallery/Sierra Nevada           1.42