Recently on Cyclingnews.com
53rd International UNIQA Classic - 2.1
Austria, May 2-5, 2005
Main Page Results Overall standings Previous Stage Next Stage
Stage 1 - May 3: St. Pölten - Traismauer, 185km
First Brazilian victory by Fischer
The sprint
Photo ©: Marketa Navratilova/Cor Vos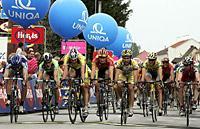 Naturino-Sapore Di Mare rider Murillo Fischer has won the first stage if the Uniqa-Classic from St. Pölten to Traismauer in a bunch sprint, making it the first Brazilian victory in the Austrian stage race ever. Werner Riebenbauer from the local Team Apo Sport Wiesbauer Linz got second, and Liquigas-Bianchi's Enrico Gasparotto placed third. In GC, Ondreij Sosenka finished in the bunch to keep his lead by three seconds over Fischer.
How it unfolded
Acqua e Sapone
Photo ©: Marketa Navratilova/Cor Vos

Early in the stage, Florian Stadler (Team Ed' Systems ZVVZ) and Michael Pichler (Resch & Frisch) jumped and succeeded to break away, leading by 30 seconds after 15 km. Ondreij Sosenka's team, Acqua & Sapone, decided to let them go, and as the pair passed the first GPM of the stage, the peloton was already eight minutes behind. Just before the top of the climb however, Stadler had dropped his break partner and continued on by himself - only to get caught by two chasers, Hans Peter Obwaller (Sava) and Przemyslav Niemec (Miche) with 70 km to go. These two then continued up front, as Stadler had no more strength left and was swallowed by the main bunch of about 40 riders soon after.
Obwaller and Niemec held their pace but couldn't put a significant distance between them and the chasing bunch. With 50 km to go, their lead was only 1.30, as the Italian teams Liquigas-Bianchi and Aqua & Sapone reacted. A few more attacks just before the stage finish in Traismauer by Uwe Hardter (Lamonta) and Martin Fischerlehner (Resch & Frisch) didn't make a difference: the sprinters got into position, the field driving hard. Finally, a fotofinish had to decide upon the winner, as Austrian Werner Riebenbauer was beaten only by a hair, with stage victory being attributed to Murillo.
Photography
For a thumbnail gallery of these images, click here
Images by Marketa Navratilova/Cor Vos/www.corvospro.com
Results
1 Murilo Fischer (Bra) Naturino-Sapore di Mare          4.46.20
2 Werner Riebenbauer (Aut) Team Apo Sport Linz                 
3 Enrico Gasparotto (Ita) Liquigas-Bianchi                     
4 Artur Krzeszowiec (Pol) Amore & Vita-Beretta-Polska          
5 Elia Rigotto (Ita) Domina Vacanze                            
6 Jochen Summer (Aut) Elk Haus-Simplon                         
7 Borut Bozic (Slo) Perutnina Ptuj                             
8 Jukka Vastaranta (Fin) Rabobank                              
9 Steffen Weigold (Ger) Team Lamonta                           
10 Matej Stare (Slo) Perutnina Ptuj                            
11 Enrico Griggoli (Ita) Domina Vacanze                        
12 Rene Weissinger (Ger) Volksbank Leingruber Ideal            
13 Maurizio Carta (Ita) Miche                                  
14 Alessandro Bertuola (Ita) Naturino-Sapore di Mare           
15 Petr Herman (Cze) Team Apo Sport Linz                       
16 Mitja Mahoric (Slo) Perutnina Ptuj                          
17 Stefan Cohnen (Ned) Team Lamonta                            
18 Pasquale Muto (Ita) Miche                                   
19 Aleksand Kuschynski (Blr) Amore & Vita-Beretta-Polska       
20 Massimilian Gentili (Ita) Naturino-Sapore di Mare           
21 Paul Kasis (Aut) Sky Plastic-Kruschitz                
22 Uros Silar (Slo) Sava                                       
23 Harald Totschnig (Aut) Elk Haus-Simplon                     
24 Wolfgang Murer (Aut) Elk Haus-Simplon                  10.08
25 Rinaldo Nocentini (Ita) Acqua & Sapone-Adria Mobil      0.00
26 Vasili Anastopoulos (Gre) Volksbank Leingruber Ideal        
27 Slawomir Kohut (Pol) Miche                                  
28 Bram De Groot (Ned) Rabobank                                
29 Stefan Rucker (Aut) Elk Haus-Simplon                        
30 Gerhard Trampusch (Aut) Akud Arnolds Sicherheit             
31 Andreas Dietziker (Swi) Ed' System-Zvvz                     
32 Rok Jerse (Slo) Sava                                        
33 Patrick Riedesser (Aut) Team Apo Sport Linz                 
34 Harald Morscher (Aut) Volksbank Leingruber Ideal            
35 Hrovje Miholjevic (Cro) Perutnina Ptuj                      
36 Klaus Steinkeller (Aut) Arbö Resch & Frisch Eybl            
37 Mickael Buffaz (Fra) Agritubel                              
38 Benoit Salmon (Fra) Agritubel                               
39 Paul Crake (Aus) Corratec-Graz-Cyl                          
40 Jindrich Vana (Cze) Ed' System-Zvvz                         
41 Gilles Conquet (Fra) Agritubel                              
42 Massimo Amichetti (Ita) Miche                               
43 Przemyslaw Niemec (Pol) Miche                               
44 Jörg Ludewig (Ger) Domina Vacanze                           
45 Jonas Ljungblad (Swe) Amore & Vita-Beretta-Polska           
46 Timo Scholz (Ger) Akud Arnolds Sicherheit                   
47 Giovanni Visconti (Ita) Domina Vacanze                      
48 Devis Miorin (Ita) Liquigas-Bianchi                         
49 Adam Hansen (Aus) Elk Haus-Simplon                          
50 Mariano De Fino (Uru) Naturino-Sapore di Mare               
51 Thomas Liese (Ger) Akud Arnolds Sicherheit                  
52 Ondreij Sosenka (Cze) Acqua & Sapone-Adria Mobil            
53 Gregor Gazvoda (Slo) Perutnina Ptuj                         
54 Uwe Hardter (Ger) Team Lamonta                              
55 Gianluca Sironi (Ita) Liquigas-Bianchi                      
56 Andriy Grivko (Ukr) Domina Vacanze                          
57 Cédric Coutouly (Fra) Agritubel                             
58 Maarten Den Bakker (Ned) Rabobank                           
59 Robert Nagy (Svk) Sky Plastic-Kruschitz                     
60 Maurizio Vandelli (Ita) Arbö Resch & Frisch Eybl            
61 Marti Fischerlehner (Aut) Arbö Resch & Frisch Eybl          
62 Boris Premuzic (Slo) Sava                                   
63 Domenico Passuello (Ita) Amore & Vita-Beretta-Polska        
64 Walter Bonca (Slo) Sava                                     
65 Pascal Hungerbühler (Swi) Volksbank Leingruber Ideal        
66 Nicolas Crosbie (Fra) Agritubel                             
67 Christoph Koch (Ger) Team Lamonta                           
68 Ronald Mutsaars (Ned) Rabobank                              
69 Seweryn Kohut (Pol) Miche                                   
70 Matej Mugerli (Slo) Liquigas-Bianchi                        
71 Kamil Vrana (Cze) Ed' System-Zvvz                           
72 Florian Stalder (Swi) Ed' System-Zvvz                       
73 Jan Barta (Cze) Elk Haus-Simplon                            
74 Leonardo Moser (Ita) Acqua & Sapone-Adria Mobil             
75 Jure Golcer (Slo) Acqua & Sapone-Adria Mobil                
76 Kyrylo Pospyeyev (Ukr) Acqua & Sapone-Adria Mobil           
77 Martin Mares (Cze) Ed' System-Zvvz                          
78 Fraser Macmaster (NZl) Volksbank Leingruber Ideal           
79 Christian Pömer (Aut) Team Apo Sport Linz                   
80 Jan Boven (Ned) Rabobank                                    
81 Hans-Peter Obwaller (Aut) Sava                              
82 Dainius Kairelis (Ltu) Amore & Vita-Beretta-Polska          
83 Marco Righetto (Ita) Liquigas-Bianchi                       
84 Kjell Carlström (Fin) Liquigas-Bianchi                      
85 Mariano Piccoli (Ita) Acqua & Sapone-Adria Mobil        0.12
86 Alexander Gut (Ger) Team Lamonta                       10.08
87 Siegfried Bauer (Aut) Corratec-Graz-Cyl                     
88 Michael Knopf (Aut) Sava                                    
89 Josef Soukup (Cze) Ed' System-Zvvz                          
90 Kimmo Kananen (Fin) Amore & Vita-Beretta-Polska             
91 Samuel Farhun (Ger) Arbö Resch & Frisch Eybl                
92 Christian Lener (Aut) Team Apo Sport Linz                   
93 Michael Pichler (Aut) Arbö Resch & Frisch Eybl              
94 Christian Bonfanti (Ita) Domina Vacanze                     
95 David Pavilcek (Cze) Sky Plastic-Kruschitz                  
96 Mario De Sarraga (Spa) Naturino-Sapore di Mare              
97 Filippo Simeoni (Ita) Naturino-Sapore di Mare               
98 Udo Müller (Ger) Akud Arnolds Sicherheit               23.07
99 Florian Moser (Aut) Corratec-Graz-Cyl                       
100 Werner Faltheiner (Aut) Corratec-Graz-Cyl             25.32
101 Gregor Gut (Swi) Volksbank Leingruber Ideal                
102 Friedrich Berein (Aut) Team Apo Sport Linz                 
103 Andreas Legler (Aut) Sky Plastic-Kruschitz                 
104 Michael Neuweg (Aut) Arbö Resch & Frisch Eybl              
DNF Bostjan Mervar (Slo) Perutnina Ptuj                        
DNF Marco Düchting (Ger) Akud Arnolds Sicherheit               
DNF Christop Kerschbaum (Aut) Sky Plastic-Kruschitz            
DNF Hanno Hofmeister (Aut) Sky Plastic-Kruschitz               
DNF Christi Groszschedl (Aut) Corratec-Graz-Cyl                
DNS Lubor Tesar (Cze) Akud Arnolds Sicherheit                  
 
Points
 
1 Murilo Fischer (Bra) Naturino-Sapore di Mare               15 pts
2 Werner Riebenbauer (Aut) Team Apo Sport Linz               12
3 Enrico Gasparotto (Ita) Liquigas-Bianchi                   10
4 Artur Krzeszowiec (Pol) Amore & Vita-Beretta-Polska         8
5 Elia Rigotto (Ita) Domina Vacanze                           7
6 Jochen Summer (Aut) Elk Haus-Simplon                        6
7 Borut Bozic (Slo) Perutnina Ptuj                            5
8 Jukka Vastaranta (Fin) Rabobank                             4
9 Steffen Weigold (Ger) Team Lamonta                          3
10 Matej Stare (Slo) Perutnina Ptuj                           2
 
Mountains
 
Climb 1 - Cat. 3, km 44,0
 
1 Florian Stalder (Swi) Ed' System-Zvvz                       4 pts
2 Michael Pichler (Aut) Arbö Resch & Frisch Eybl              2
3 Przemyslaw Niemec (Pol) Miche                               1
  
Climb 2 - Cat. 2, km 74,54
 
1 Florian Stalder (Swi) Ed' System-Zvvz                       6 pts
2 Przemyslaw Niemec (Pol) Miche                               4
3 Hans-Peter Obwaller (Aut) Sava                              3
4 Paul Crake (Aus) Corratec-Graz-Cyl                          2
5 Rinaldo Nocentini (Ita) Acqua & Sapone-Adria Mobil          1
 
Sprints
 
Sprint 1 - km 59,0
 
1 Florian Stalder (Swi) Ed' System-Zvvz                       4 pts
2 Michael Pichler (Aut) Arbö Resch & Frisch Eybl              2
3 Przemyslaw Niemec (Pol) Miche                               1
  
Sprint 2 - km 101,0
 
1 Florian Stalder (Swi) Ed' System-Zvvz                       4 pts
2 Hans-Peter Obwaller (Aut) Sava                              2
3 Przemyslaw Niemec (Pol) Miche                               1
  
Sprint 3 - km 143,0
 
1 Hans-Peter Obwaller (Aut) Sava                              4 pts
2 Przemyslaw Niemec (Pol) Miche                               2
3 Enrico Gasparotto (Ita) Liquigas-Bianchi                    1
 
Teams 
 
1 Perutnina Ptuj                                       14.19.00
2 Naturino-Sapore di Mare                                      
3 Team Apo Sport Linz                                          
4 Miche                                                        
5 Elk Haus-Simplon                                             
6 Domina Vacanze                                               
7 Amore & Vita-Beretta-Polska                                  
8 Volksbank Leingruber Ideal                                   
9 Team Lamonta                                                 
10 Rabobank                                                    
11 Liquigas-Bianchi                                            
12 Sava                                                        
13 Agritubel                                                   
14 Akud Arnolds Sicherheit                                     
15 Ed' System-Zvvz                                             
16 Acqua & Sapone-Adria Mobil                                  
17 Arbö Resch & Frisch Eybl                                    
 
General classification after stage 1
 
1 Ondreij Sosenka (Cze) Acqua & Sapone-Adria Mobil      4.56.27
2 Murilo Fischer (Bra) Naturino-Sapore di Mare             0.03
3 Enrico Gasparotto (Ita) Liquigas-Bianchi                 0.05
4 Thomas Liese (Ger) Akud Arnolds Sicherheit               0.09
5 Andriy Grivko (Ukr) Domina Vacanze                       0.10
6 Giovanni Visconti (Ita) Domina Vacanze                       
7 Bram De Groot (Ned) Rabobank                             0.16
8 Jukka Vastaranta (Fin) Rabobank                          0.17
9 Andreas Dietziker (Swi) Ed' System-Zvvz                  0.20
10 Przemyslaw Niemec (Pol) Miche                           0.21
11 Werner Riebenbauer (Aut) Team Apo Sport Linz            0.22
12 Slawomir Kohut (Pol) Miche                              0.24
13 Adam Hansen (Aus) Elk Haus-Simplon                      0.25
14 Mitja Mahoric (Slo) Perutnina Ptuj                          
15 Matej Stare (Slo) Perutnina Ptuj                        0.26
16 Pascal Hungerbühler (Swi) Volksbank Leingruber Ideal    0.27
17 Patrick Riedesser (Aut) Team Apo Sport Linz                 
18 Gianluca Sironi (Ita) Liquigas-Bianchi                  0.28
19 Jochen Summer (Aut) Elk Haus-Simplon                    0.29
20 Ronald Mutsaars (Ned) Rabobank                              
21 Hans-Peter Obwaller (Aut) Sava                          0.31
22 Timo Scholz (Ger) Akud Arnolds Sicherheit               0.32
23 Fraser Macmaster (NZl) Volksbank Leingruber Ideal           
24 Kyrylo Pospyeyev (Ukr) Acqua & Sapone-Adria Mobil           
25 Matej Mugerli (Slo) Liquigas-Bianchi                        
26 Rene Weissinger (Ger) Volksbank Leingruber Ideal        0.33
27 Elia Rigotto (Ita) Domina Vacanze                           
28 Florian Stalder (Swi) Ed' System-Zvvz                       
29 Stefan Rucker (Aut) Elk Haus-Simplon                        
30 Jonas Ljungblad (Swe) Amore & Vita-Beretta-Polska           
31 Maurizio Carta (Ita) Miche                              0.34
32 Gerhard Trampusch (Aut) Akud Arnolds Sicherheit             
33 Gregor Gazvoda (Slo) Perutnina Ptuj                     0.35
34 Kjell Carlström (Fin) Liquigas-Bianchi                      
35 Massimo Amichetti (Ita) Miche                               
36 Jörg Ludewig (Ger) Domina Vacanze                           
37 Rinaldo Nocentini (Ita) Acqua & Sapone-Adria Mobil      0.36
38 Jure Golcer (Slo) Acqua & Sapone-Adria Mobil                
39 Jan Barta (Cze) Elk Haus-Simplon                            
40 Jan Boven (Ned) Rabobank                                    
41 Walter Bonca (Slo) Sava                                 0.38
42 Christian Pömer (Aut) Team Apo Sport Linz               0.39
43 Gilles Conquet (Fra) Agritubel                          0.40
44 Benoit Salmon (Fra) Agritubel                               
45 Maarten Den Bakker (Ned) Rabobank                           
46 Harald Totschnig (Aut) Elk Haus-Simplon                     
47 Alessandro Bertuola (Ita) Naturino-Sapore di Mare       0.41
48 Steffen Weigold (Ger) Team Lamonta                          
49 Christoph Koch (Ger) Team Lamonta                           
50 Seweryn Kohut (Pol) Miche                                   
51 Aleksand Kuschynski (Blr) Amore & Vita-Beretta-Polska       
52 Harald Morscher (Aut) Volksbank Leingruber Ideal        0.43
53 Massimilian Gentili (Ita) Naturino-Sapore di Mare       0.44
54 Devis Miorin (Ita) Liquigas-Bianchi                         
55 Uros Silar (Slo) Sava                                   0.45
56 Robert Nagy (Svk) Sky Plastic-Kruschitz                 0.46
57 Mariano De Fino (Uru) Naturino-Sapore di Mare               
58 Stefan Cohnen (Ned) Team Lamonta                        0.48
59 Leonardo Moser (Ita) Acqua & Sapone-Adria Mobil         0.49
60 Enrico Griggoli (Ita) Domina Vacanze                        
61 Mickael Buffaz (Fra) Agritubel                          0.50
62 Borut Bozic (Slo) Perutnina Ptuj                            
63 Hrovje Miholjevic (Cro) Perutnina Ptuj                  0.51
64 Rok Jerse (Slo) Sava                                    0.53
65 Cédric Coutouly (Fra) Agritubel                             
66 Boris Premuzic (Slo) Sava                               0.54
67 Jindrich Vana (Cze) Ed' System-Zvvz                     0.55
68 Pasquale Muto (Ita) Miche                                   
69 Marti Fischerlehner (Aut) Arbö Resch & Frisch Eybl          
70 Nicolas Crosbie (Fra) Agritubel                         1.00
71 Marco Righetto (Ita) Liquigas-Bianchi                   1.02
72 Kamil Vrana (Cze) Ed' System-Zvvz                       1.03
73 Mariano Piccoli (Ita) Acqua & Sapone-Adria Mobil        1.04
74 Dainius Kairelis (Ltu) Amore & Vita-Beretta-Polska      1.06
75 Vasili Anastopoulos (Gre) Volksbank Leingruber Ideal    1.09
76 Paul Kasis (Aut) Sky Plastic-Kruschitz                
77 Martin Mares (Cze) Ed' System-Zvvz                      1.11
78 Uwe Hardter (Ger) Team Lamonta                          1.12
79 Klaus Steinkeller (Aut) Arbö Resch & Frisch Eybl        1.15
80 Paul Crake (Aus) Corratec-Graz-Cyl                          
81 Petr Herman (Cze) Team Apo Sport Linz                   1.17
82 Domenico Passuello (Ita) Amore & Vita-Beretta-Polska    1.21
83 Artur Krzeszowiec (Pol) Amore & Vita-Beretta-Polska     1.22
84 Maurizio Vandelli (Ita) Arbö Resch & Frisch Eybl        1.24
85 Filippo Simeoni (Ita) Naturino-Sapore di Mare          10.23
86 Siegfried Bauer (Aut) Corratec-Graz-Cyl                10.57
87 Wolfgang Murer (Aut) Elk Haus-Simplon                       
88 Christian Bonfanti (Ita) Domina Vacanze                     
89 Alexander Gut (Ger) Team Lamonta                       10.59
90 Michael Knopf (Aut) Sava                               11.12
91 Mario De Sarraga (Spa) Naturino-Sapore di Mare         11.17
92 Josef Soukup (Cze) Ed' System-Zvvz                     11.19
93 David Pavilcek (Cze) Sky Plastic-Kruschitz             11.22
94 Kimmo Kananen (Fin) Amore & Vita-Beretta-Polska        11.23
95 Samuel Farhun (Ger) Arbö Resch & Frisch Eybl           11.29
96 Michael Pichler (Aut) Arbö Resch & Frisch Eybl         11.30
97 Christian Lener (Aut) Team Apo Sport Linz                   
98 Udo Müller (Ger) Akud Arnolds Sicherheit               24.10
99 Florian Moser (Aut) Corratec-Graz-Cyl                  24.21
100 Friedrich Berein (Aut) Team Apo Sport Linz            25.54
101 Werner Faltheiner (Aut) Corratec-Graz-Cyl             26.47
102 Gregor Gut (Swi) Volksbank Leingruber Ideal           26.54
103 Andreas Legler (Aut) Sky Plastic-Kruschitz            27.18
104 Michael Neuweg (Aut) Arbö Resch & Frisch Eybl         27.34
 
Points classification
 
1 Murilo Fischer (Bra) Naturino-Sapore di Mare               15 pts
2 Enrico Gasparotto (Ita) Liquigas-Bianchi                   12
3 Werner Riebenbauer (Aut) Team Apo Sport Linz               12
4 Ondreij Sosenka (Cze) Acqua & Sapone-Adria Mobil            8
5 Artur Krzeszowiec (Pol) Amore & Vita-Beretta-Polska         8
6 Elia Rigotto (Ita) Domina Vacanze                           7
7 Thomas Liese (Ger) Akud Arnolds Sicherheit                  6
8 Jochen Summer (Aut) Elk Haus-Simplon                        6
9 Borut Bozic (Slo) Perutnina Ptuj                            5
10 Andriy Grivko (Ukr) Domina Vacanze                         4
11 Jukka Vastaranta (Fin) Rabobank                            4
12 Giovanni Visconti (Ita) Domina Vacanze                     3
13 Steffen Weigold (Ger) Team Lamonta                         3
14 Matej Stare (Slo) Perutnina Ptuj                           2
 
Mountains classification
 
1 Florian Stalder (Swi) Ed' System-Zvvz                      10 pts
2 Przemyslaw Niemec (Pol) Miche                               5
3 Hans-Peter Obwaller (Aut) Sava                              3
4 Paul Crake (Aus) Corratec-Graz-Cyl                          2
5 Michael Pichler (Aut) Arbö Resch & Frisch Eybl              2
6 Rinaldo Nocentini (Ita) Acqua & Sapone-Adria Mobil          1
 
Sprints classification
 
1 Florian Stalder (Swi) Ed' System-Zvvz                       8 pts
2 Hans-Peter Obwaller (Aut) Sava                              6
3 Przemyslaw Niemec (Pol) Miche                               4
4 Michael Pichler (Aut) Arbö Resch & Frisch Eybl              2
5 Enrico Gasparotto (Ita) Liquigas-Bianchi                    1