9th Tour of Japan - 2.2
Japan, May 15-22, 2005
Main Page Results Overall standings Next Stage
Stage 1 - May 15: Senboku Circuit Sakai City (Osaka), 140.8km
Wonderful success for young Australian
By Miwako Sasaki in Osaka
Australian Mathew Goss (left)
Photo ©: Miwako Sasaki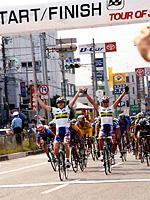 Australian Mathew Goss won the first stage of the 9th Tour of Japan in Osaka, getting the better of a 1-2 finish with his teammate Nicholas Sanderson in a bunch sprint.
94 riders started the stage under blue skies, and it was a very hot day. The first stage was 11 laps of a flat 12.8km circuit, and there were many attacks in the early part of the race. Luca Celli (Team Barloworld) was particularly aggressive, but the peloton didn't allow any early breakaway.
Finally, seven riders got away from the peloton at four laps to go, including last year's winner Shinichi Fukushima (Team Bridgestone), Gian Paolo Cheula (Team Barloworld), and Kam Po Wong (Purapharm). The breakaway had 50 seconds lead, but the Australian Team worked hard at the front of the peloton and caught them in the final kilometres.
Goss passed the last corner in second or third wheel at 350m to go, but he was the strongest of the bunch, finishing first and holding up his arms with Sanderson. The young Australian is only 18 years old and it was the second race for him in the senior ranks after he rode Giro delle Regioni in Italy (April 25-May 1).
Small Japanese spectators
Photo ©: Miwako Sasaki

At the press conference, Goss thanked the Australian National Team who brought him to Japan and worked hard for him today. Goss also took the green leader's jersey and the blue points jersey, and he was the only rider who was celebrated at the protocol ceremony today, because the sprint competition doesn't exist this year, as the race has become very hilly.
Australian Team report
By Brian Stephens, Australian U23 Team Manager
Today's first stage of the Tour of Japan, held in Osaka, ended with a 1-2 victory for the AIS Mapei Aqua Australian team. Matt Goss took his first international win since leaving the junior ranks and Nic Sanderson rattled home to take second. In a great team effort, the boys mowed down a seven-rider break over the last of 11 laps of a 12 km course. They caught the escapers with 3km remaining and forced the pace until the sprint. Another three Australians are here riding for Indonesian team, Wismilak. They are Dave McKenzie, Phil Thuaux and Chris Bradford. Matt Also leads the points classification.
Photography
For a thumbnail gallery of these images, click here
Images by Miwako Sasaki/Cyclingnews.com
Results
1 Mathew Goss (Aus) Australian National Team             3.01.58
2 Nicholas Sanderson (Aus) Australian National Team             
3 Assan Bazayev (Kaz) Cycling Team Capec                        
4 Matteo Carrara (Ita) Team Barloworld-Valsir                   
5 Makoto Iijima (Jpn) Sumita Ravanello Pearl Izumi              
6 Takashi Miyazawa (Jpn) Team Bridgestone Anchor                
7 Masahiko Mifune (Jpn) Miyata-Subaru                           
8 Takeaki Ayabe (Jpn) Miyata-Subaru                             
9 Jacques Fullard (RSA) Team Konica Minolta                     
10 Ngai Ching Wong (HKg) Purapharm                              
11 Kaoru Ouchi (Jpn) Shimano-Memory Corp                        
12 Taiji Nishitani (Jpn) Aisan-Ind Racing Team                  
13 Kaoru Obata (Jpn) Nalsima Friend                             
14 Matnur Matnur (Ina) Wismilak International Team              
15 Chun Hing Chan (HKg) Purapharm                               
16 Bernard Luzon (Phi) Casino Filipino-Pro Cycling Team         
17 Wang Yip Tang (HKg) Purapharm                                
18 Ken Hashikawa (Jpn) Kinan CCD                                
19 Paolo Longoborghini (Ita) Team Barloworld-Valsir             
20 Eugen Wacker (Kgz) Cycling Team Capec                        
21 Ikki Yoneyama (Jpn) Sumita Ravanello Pearl Izumi             
22 Alexandr Dyachenko (Kaz) Cycling Team Capec                  
23 Kin San Wu (HKg) Purapharm                                   
24 Christopher Sutton (Aus) Australian National Team            
25 Kai Tsun Lam (HKg) Purapharm                                 
26 Andrey Mizurov (Kaz) Cycling Team Capec                      
27 Manabu Hirose (Jpn) Kinan CCD                                
28 Makoto Nakamura (Jpn) Kinan CCD                              
29 Kuei Hsiang Peng (Jpn) Kinan CCD                             
30 Akira Kakinuma (Jpn) Miyata-Subaru                           
31 Tomas Martinez (Phi) Casino Filipino-Pro Cycling Team        
32 Merculio Ramos (Phi) Casino Filipino-Pro Cycling Team        
33 Kazuyuki Manabe (Jpn) Team Nippo                             
34 Fredrik Johansson (RSA) Team Konica Minolta                  
35 David Mckenzie (Aus) Wismilak International Team             
36 Koji Fukushima (Jpn) Team Bridgestone Anchor                 
37 John-Lee Augustyn (RSA) Team Konica Minolta                  
38 Hidenori Nodera (Jpn) Shimano-Memory Corp                    
39 Masamichi Yamamoto (Jpn) Shimano-Memory Corp                 
40 George Schoonraad (RSA) Team Konica Minolta                  
41 Yasuhiro Yamamoto (Jpn) Team Nippo                           
42 Victor Espiritu (Phi) Casino Filipino-Pro Cycling Team       
43 Yoshiyuki Abe (Jpn) Shimano-Memory Corp                      
44 Atsushi Takano (Jpn) Miyata-Subaru                           
45 Ronald Gorantes (Phi) Casino Filipino-Pro Cycling Team       
46 Hideo Yoshida (Jpn) Nalsima Friend                           
47 David Plaza (Spa) Team Barloworld-Valsir                     
48 Christopher Bradford (Aus) Wismilak International Team       
49 James Perry (RSA) Team Konica Minolta                        
50 Phillip Thuaux (Aus) Wismilak International Team             
51 Luca Celli (Ita) Team Barloworld-Valsir                      
52 Yoshimasa Hirose (Jpn) Shimano-Memory Corp                   
53 Shinichi Fukushima (Jpn) Team Bridgestone Anchor             
54 Yuyu Nakamoto (Jpn) Sumita Ravanello Pearl Izumi             
55 Miyataka Shimizu (Jpn) Team Bridgestone Anchor               
56 Takuya Nishimura (Jpn) Miyata-Subaru                         
57 Kairat Baigudinov (Kaz) Cycling Team Capec                   
58 Gian Paolo Cheula (Ita) Team Barloworld-Valsir               
59 Satoshi Hirose (Jpn) Aisan-Ind Racing Team                   
60 Mitsuteru Tanaka (Jpn) Aisan-Ind Racing Team                 
61 Takumi Beppu (Jpn) Aisan-Ind Racing Team                     
62 Felix Rafael Cardenas Ravalo (Col) Team Barloworld-Valsir    
63 Joel Calderon (Phi) Casino Filipino-Pro Cycling Team         
64 Kazuhiro Mori (Jpn) Aisan-Ind Racing Team                    
65 Tomoya Kano (Jpn) Shimano-Memory Corp                        
66 Kazuya Okazaki (Jpn) Team Nippo                              
67 Daisuke Hioki (Jpn) Kinan CCD                                
68 Taiki Kawasaki (Jpn) Nakagawa As K'design                    
69 Yasutaka Tashiro (Jpn) Team Bridgestone Anchor               
70 Yasuhiro Nito (Jpn) Nalsima Friend                           
71 Wawan Setyobudi (Ina) Wismilak International Team            
72 Hiroyuki Ogita (Jpn) Nakagawa As K'design                    
73 Koki Shimbo (Jpn) Aisan-Ind Racing Team                      
74 Shinichi Amagasa (Jpn) Sumita Ravanello Pearl Izumi          
75 Tonton Susanto (Ina) Wismilak International Team             
76 Viktor Shestakov (Kaz) Cycling Team Capec                    
77 Kam Po Wong (HKg) Purapharm                                  
78 Simon Clarke (Aus) Australian National Team                  
79 Mathew Rex (Aus) Australian National Team                    
80 James Meadley (Aus) Australian National Team                 
81 Yoshiaki Sudo (Jpn) Nalsima Friend                           
82 Yoshinori Iino (Jpn) Sumita Ravanello Pearl Izumi            
83 Kyoshi Miura (Jpn) Kinan CCD                             0.20
84 Kojiro Nakagawa (Jpn) Miyata-Subaru                          
85 Junya Sano (Jpn) Team Bridgestone Anchor                10.00
86 Kenji Tsuzuki (Jpn) Nakagawa As K'design                     
88 Masashi Fujita (Jpn) Nakagawa As K'design               20.00
89 Toshiyuki Tsuji (Jpn) Nakagawa As K'design                   
90 Yuji Osabe (Jpn) Nalsima Friend                              
91 Katsunosuke Ikeda (Jpn) Nalsima Friend                       
92 Yoshihisa Kimura (Jpn) Sumita Ravanello Pearl Izumi          
93 Takashi Kanda (Jpn) Nakagawa As K'design                     
 
General classification after stage 1
 
1 Mathew Goss (Aus) Australian National Team             3.01.58
2 Nicholas Sanderson (Aus) Australian National Team             
3 Assan Bazayev (Kaz) Cycling Team Capec                        
4 Matteo Carrara (Ita) Team Barloworld-Valsir                   
5 Makoto Iijima (Jpn) Sumita Ravanello Pearl Izumi              
6 Takashi Miyazawa (Jpn) Team Bridgestone Anchor                
7 Masahiko Mifune (Jpn) Miyata-Subaru                           
8 Takeaki Ayabe (Jpn) Miyata-Subaru                             
9 Jacques Fullard (RSA) Team Konica Minolta                     
10 Ngai Ching Wong (HKg) Purapharm                              
11 Kaoru Ouchi (Jpn) Shimano-Memory Corp                        
12 Taiji Nishitani (Jpn) Aisan-Ind Racing Team                  
13 Kaoru Obata (Jpn) Nalsima Friend                             
14 Matnur Matnur (Ina) Wismilak International Team              
15 Chun Hing Chan (HKg) Purapharm                               
16 Bernard Luzon (Phi) Casino Filipino-Pro Cycling Team         
17 Wang Yip Tang (HKg) Purapharm                                
18 Ken Hashikawa (Jpn) Kinan CCD                                
19 Paolo Longoborghini (Ita) Team Barloworld-Valsir             
20 Eugen Wacker (Kgz) Cycling Team Capec                        
21 Ikki Yoneyama (Jpn) Sumita Ravanello Pearl Izumi             
22 Alexandr Dyachenko (Kaz) Cycling Team Capec                  
23 Kin San Wu (HKg) Purapharm                                   
24 Christopher Sutton (Aus) Australian National Team            
25 Kai Tsun Lam (HKg) Purapharm                                 
26 Andrey Mizurov (Kaz) Cycling Team Capec                      
27 Manabu Hirose (Jpn) Kinan CCD                                
28 Makoto Nakamura (Jpn) Kinan CCD                              
29 Kuei Hsiang Peng (Jpn) Kinan CCD                             
30 Akira Kakinuma (Jpn) Miyata-Subaru                           
31 Tomas Martinez (Phi) Casino Filipino-Pro Cycling Team        
32 Merculio Ramos (Phi) Casino Filipino-Pro Cycling Team        
33 Kazuyuki Manabe (Jpn) Team Nippo                             
34 Fredrik Johansson (RSA) Team Konica Minolta                  
35 David Mckenzie (Aus) Wismilak International Team             
36 Koji Fukushima (Jpn) Team Bridgestone Anchor                 
37 John-Lee Augustyn (RSA) Team Konica Minolta                  
38 Hidenori Nodera (Jpn) Shimano-Memory Corp                    
39 Masamichi Yamamoto (Jpn) Shimano-Memory Corp                 
40 George Schoonraad (RSA) Team Konica Minolta                  
41 Yasuhiro Yamamoto (Jpn) Team Nippo                           
42 Victor Espiritu (Phi) Casino Filipino-Pro Cycling Team       
43 Yoshiyuki Abe (Jpn) Shimano-Memory Corp                      
44 Atsushi Takano (Jpn) Miyata-Subaru                           
45 Ronald Gorantes (Phi) Casino Filipino-Pro Cycling Team       
46 Hideo Yoshida (Jpn) Nalsima Friend                           
47 David Plaza (Spa) Team Barloworld-Valsir                     
48 Christopher Bradford (Aus) Wismilak International Team       
49 James Perry (RSA) Team Konica Minolta                        
50 Phillip Thuaux (Aus) Wismilak International Team             
51 Luca Celli (Ita) Team Barloworld-Valsir                      
52 Yoshimasa Hirose (Jpn) Shimano-Memory Corp                   
53 Shinichi Fukushima (Jpn) Team Bridgestone Anchor             
54 Yuyu Nakamoto (Jpn) Sumita Ravanello Pearl Izumi             
55 Miyataka Shimizu (Jpn) Team Bridgestone Anchor               
56 Takuya Nishimura (Jpn) Miyata-Subaru                         
57 Kairat Baigudinov (Kaz) Cycling Team Capec                   
58 Gian Paolo Cheula (Ita) Team Barloworld-Valsir               
59 Satoshi Hirose (Jpn) Aisan-Ind Racing Team                   
60 Mitsuteru Tanaka (Jpn) Aisan-Ind Racing Team                 
61 Takumi Beppu (Jpn) Aisan-Ind Racing Team                     
62 Felix Rafael Cardenas Ravalo (Col) Team Barloworld-Valsir    
63 Joel Calderon (Phi) Casino Filipino-Pro Cycling Team         
64 Kazuhiro Mori (Jpn) Aisan-Ind Racing Team                    
65 Tomoya Kano (Jpn) Shimano-Memory Corp                        
66 Kazuya Okazaki (Jpn) Team Nippo                              
67 Daisuke Hioki (Jpn) Kinan CCD                                
68 Taiki Kawasaki (Jpn) Nakagawa As K'design                    
69 Yasutaka Tashiro (Jpn) Team Bridgestone Anchor               
70 Yasuhiro Nito (Jpn) Nalsima Friend                           
71 Wawan Setyobudi (Ina) Wismilak International Team            
72 Hiroyuki Ogita (Jpn) Nakagawa As K'design                    
73 Koki Shimbo (Jpn) Aisan-Ind Racing Team                      
74 Shinichi Amagasa (Jpn) Sumita Ravanello Pearl Izumi          
75 Tonton Susanto (Ina) Wismilak International Team             
76 Viktor Shestakov (Kaz) Cycling Team Capec                    
77 Kam Po Wong (HKg) Purapharm                                  
78 Simon Clarke (Aus) Australian National Team                  
79 Mathew Rex (Aus) Australian National Team                    
80 James Meadley (Aus) Australian National Team                 
81 Yoshiaki Sudo (Jpn) Nalsima Friend                           
82 Yoshinori Iino (Jpn) Sumita Ravanello Pearl Izumi            
83 Kyoshi Miura (Jpn) Kinan CCD                             0.20
84 Kojiro Nakagawa (Jpn) Miyata-Subaru                          
85 Junya Sano (Jpn) Team Bridgestone Anchor                10.00
86 Kenji Tsuzuki (Jpn) Nakagawa As K'design                     
88 Masashi Fujita (Jpn) Nakagawa As K'design               20.00
89 Toshiyuki Tsuji (Jpn) Nakagawa As K'design                   
90 Yuji Osabe (Jpn) Nalsima Friend                              
91 Katsunosuke Ikeda (Jpn) Nalsima Friend                       
92 Yoshihisa Kimura (Jpn) Sumita Ravanello Pearl Izumi          
93 Takashi Kanda (Jpn) Nakagawa As K'design                     
 
Points classification
 
1 Mathew Goss (Aus) Australian National Team                  15 pts
2 Takeaki Ayabe (Jpn) Miyata-Subaru                           14
3 Nicholas Sanderson (Aus) Australian National Team           12
4 Assan Bazayev (Kaz) Cycling Team Capec                      10
5 Christopher Sutton (Aus) Australian National Team            8
6 Matteo Carrara (Ita) Team Barloworld-Valsir                  8
7 Ikki Yoneyama (Jpn) Sumita Ravanello Pearl Izumi             7
8 Masahiko Mifune (Jpn) Miyata-Subaru                          6
9 Makoto Iijima (Jpn) Sumita Ravanello Pearl Izumi             6
10 Takashi Miyazawa (Jpn) Team Bridgestone Anchor              5
11 Shinichi Fukushima (Jpn) Team Bridgestone Anchor            2
12 Jacques Fullard (RSA) Team Konica Minolta                   2
13 Ngai Ching Wong (HKg) Purapharm                             1
 
Teams classification
 
1 Australian National Team                               9.05.54
2 Purapharm                                                     
3 Cycling Team Capec                                            
4 Miyata-Subaru                                                 
5 Team Barloworld-Valsir                                        
6 Kinan CCD                                                     
7 Casino Filipino-Pro Cycling Team                              
8 Team Konica Minolta                                           
9 Sumita Ravanello Pearl Izumi                                  
10 Shimano-Memory Corp                                          
11 Team Bridgestone Anchor                                      
12 Wismilak International Team                                  
13 Nalsima Friend                                               
14 Aisan-Ind Racing Team                                        
15 Team Nippo                                                   
16 Nakagawa As K'design                                    10.00