Excel Sports Boulder Stage Race - NE
USA, May 13-15, 2005
Main Page Results Overall standings Previous Stage Next Stage
Stage 2 - May 14: Boulder-Roubaix Road Race, 68km/122.4km
Anderson & Espostio take stage 2
By Rob Karman
Paul Esposti (HART Racing)
Photo ©: Rob Karman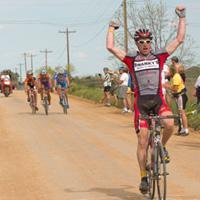 Day 2 of the Excel Sports Boulder stage race would prove to be decisive for many competitors as the course offered no where to hide. 8.5 miles of mostly dirt roads on a classic course that was once part of the National Racing Calendar in the late 90's.
In the Women's Pro-1-2 race it would appear to have been a simple race of attrition by looking at the results, but there was plenty of drama as race leader and former world time trial champ Mari Holden (T-Mobile) slid both wheels and almost went down in the final turn. A spectacular save meant she kept her skin and her race lead as she could have easily lost a chunk of time with it being over 3km to the finish. For 2nd place GC rider and 2000 MTB Olympian Ann Trombley (ExcelSports.com) the drama happened much earlier when she flatted on lap two and lost contact with the group while trying to make it to the next pit. Luck was on her side as team mate Maatje Benassi gave her the wheel off her own bike and with it gave away the 3rd spot in GC that she held going into the day. A furious chase by Trombley for a lap and half saw her regain the lead group with a lot of energy left out on the road. In the end it was Kim Anderson (Colavita Olive Oil - Cooking Light) who out sprinted Holden for the stage win. Her 2nd place gave Holden a small time bonus to extend her lead.
The Pro-1-2 men's race ended in a bit of confusion. On the second of the 9 laps, powerhouse sprinters Chuck Coyle (Vittamin Cottage) and Dan Schmatz (SeaSilver) went on the attack and built a small advantage. They were joined shortly by Ian McGreggor (TIAA-CREF) and then marathon MTB racer Mike Janelle (Tokyo Joe's). Schmatz flatted and went back to the pack leaving a lead group of three. This trio would gain almost two minutes on the field at one point before being brought back to within 40 seconds with 2 laps to go. At this point the field engaged in some negative racing and while the rest sorted out who should chase, Paul Esposti (HART Racing) and Chris Brennen (Monsoon) set off to try and bridge up to the leaders.
Race leader Mari Holden (T-Mobile)
Photo ©: Rob Karman

With just over one lap to go the lead trio caught a group of lapped riders through the feed zone and the confusion began. These lapped riders contained a few of Esposti's team mates and when Esposti caught and passed the leaders on the final straight away they thought he was a lapped rider and ignored him only to watch in disbelief as he raised his arms in the air only meters in front of them at the finish.
Despite missing out on the possibility of a stage win, Janelle moved into the leaders jersey while stage 1 winner Chris Baldwin (Navigators) flatted on the last descent and lost more than two minutes.
Photography
For a thumbnail gallery of these images, click here
Images by Rob Karman/www.excelsportsboulder.com
Results
Women 1/2/3
 
1 Kim Anderson (T-Mobile)                    2.00.20
2 Mari Holden (T-Mobile)                            
3 Catherine Powers (TDS-Schwalbe)                   
4 Ann Trombley (Excel Sports)                       
5 Irene Mercer (Tamarack)                           
6 Lara Kroepsch (T-Mobile)                          
7 Marisa Asplund (Ford - Basis Cycling)             
8 Brooke Ourada (T-Mobile)                          
9 Kristen Downs (Tokyo Joe's)                       
10 Kerry Barnholt (Subaru-Gary Fisher)              
11 Gretchen Reeves                                  
12 Shannon Tupa                                 0.16
13 Jennifer Yaeso                                   
14 Mary Schuette                                    
15 Julie Emmerman                                   
16 Jacqueline Wood                              0.29
17 Stephanie Swan                               0.38
18 Anne Lannan                                  1.04
19 Becca Blay                                   1.52
20 Maegan Daigler                               4.12
21 Kristi Lewis                                     
22 Noel Weddle                                  4.56
23 Lauren Heilig                                    
24 Syrae Weikle                                 6.16
25 Ellen Hall                                   8.00
26 Heather Szabo                                9.10
27 Maatje Benassi                               9.25
28 Lindsay Gosslee                              9.48
29 Trish Heisdorffer                           10.24
30 Jilayne Lovejoy                             11.19
31 Patricia Palmer                             11.26
32 Patsy Shaffer                               12.20
33 Robin Fitzpatrick                           12.24
34 Beth Fisk                                   13.03
35 Cristina Begy                               14.37
36 Kristine Church                             15.20
37 Danielle Haulman                            18.21
38 Shannon Edson                                    
39 Megan Melamed                               18.24
40 Alexandra Kendall                           26.27
41 Leah Reeve                                  44.52
DNF Nikki Raspa                                     
 
Men Pro/1/2
 
1 Paul Esposti (Haul'n Ass)                  3.07.27
2 Chuck Coyle (Vitamin Cottage)                 0.03
3 Ian Macgregor (TIAA-CREF)                         
4 Mike Janelle (Tokyo Joe's)                        
5 Chris Brennan (Team Reo Grande)               0.17
6 Sheldon Deeny (TIAA-CREF)                     0.59
7 Jonathan Baker (Vitamin Cottage)                  
8 Michael Lange (TIAA-CREF)                         
9 Andrew Bajadali (Vitamin Cottage)                 
10 Joe Cooper (Louisville Velo Cl)              1.04
11 Mitch Westall                                1.09
12 Jeff Wardell                                     
13 Scott Nydam                                  1.41
14 Jonathan Massie                                  
15 Peter Loponto                                    
16 Nick Ranno                                       
17 Frank Overton                                    
18 Chris Baldwin                                2.21
19 Patrick Brown                                2.33
20 Jeffrey Hartmann                             4.20
21 Jeffrey Dickinson                            4.27
22 Max Clauson                                  5.05
23 Mitch Moreman                                5.49
24 Jon Tarkington                               6.01
25 Jeff Smith                                   6.34
26 Michael Larsen                               8.23
27 Joseph Pinkerton                             8.58
28 Jesse Gordon                                     
29 Don Powell                                  12.45
30 John Seehafer                               14.18
31 Dan Porter                                  15.26
32 Kevin Nicol                                      
33 Colby Pearee                                     
34 Zachary Davies                              16.18
35 Eric Schwartz                               17.46
36 Dirk Friel                                  19.23
37 Jon Stierwalt                                    
38 Todd Hageman                                     
39 Nick Marten                                      
40 Eric Pardyjak                                    
41 Mark Schwab                                      
42 Michael Schilling                                
43 Christian Johnson                                
44 Brent Dickinson                                  
45 Barkley Robinson                                 
46 Joel Charles                                     
47 Peter Horn                                       
48 Logan Garey                                      
49 Joseph Saperstein                                
50 Grayson Pointer                                  
51 Joby Siciliano                                   
52 Seth Hansley                                     
53 Eddy Gragus                                 19.37
54 Bill Masterson                              20.11
55 Jeff Hartman                                24.56
56 Ryan Fleming                                     
57 Brian Krombein                                   
58 Matson Tew                                  25.05
59 Chad Hartley                                25.07
60 David Robinson                              25.11
61 Michael Schmidt                             25.21
62 Tom Zirbel                                  26.09
63 Ned Overend                                 26.55
64 Kelly Ruddick                                    
65 Jonathan Garcia                             30.47
66 Chad Taylor                                      
67 Josh Barnett                                     
68 Chad Moore                                       
69 Alex Robels                                      
70 Michael Scherer                                  
71 Lew Perna                                   31.03
72 Matthew Hall                                31.11
73 Evan Ruzanski                                    
74 Nicholas Stevens                            33.04
75 Daimeon Shawks                              33.26
76 Christian Mccarthy                          35.18
77 Jon Baddley                                 35.51
78 Aaron Brown                                 36.30
79 Michael Hubbard                             37.44
80 Micaelh Thompson                                 
81 Joseph Rudman                               42.08
82 Randy Reichardt                             48.44
83 Brian Hutchsion                             50.39
DNF John Verheul                                    
DNF Michael Sutter                                  
DNF Mike Wilk                                       
DNF Brian Bruggeman                                 
DNF Michael Nunez                                   
DNF Brian Fuentes                                   
DNF Jeff Vibert                                     
DNF Jay Henry                                       
DNF Ryan Hamity                                     
DNF Derek Strong                                    
DNF Eric Reber                                      
DNF Stuart Gillespie                                
DNF Philip Zajeck                                   
DNF Dan Schmatz                                     
DNF Paul Whyman                                     
DNF Jason Donald                                    
DSQ Timmy Duggan                                    
 
General classification after stage 2
 
Women 1/2/3
 
1 Mari Holden (T-Mobile)                     2.18.42
2 Ann Trombley (Excel Sports)                   1.06
3 Brooke Ourada (T-Mobile)                      1.24
4 Kerry Barnholt (Subaru-Gary Fisher)           1.35
5 Gretchen Reeves (Rocky Mountain)              1.50
6 Kim Anderson (T-Mobile)                       1.52
7 Irene Mercer (Tamarack)                       1.53
8 Marisa Asplund (Ford - Basis Cycling)         2.03
9 Lara Kroepsch (T-Mobile)                      2.28
10 Julie Emmerman                               2.58
11 Stephanie Swan                               3.03
12 Jennifer Yaeso                               3.07
13 Kristen Downs                                3.12
14 Shannon Tupa                                 3.16
15 Mary Schuette                                3.25
16 Jacqueline Wood                              3.40
17 Catherine Powers                             3.49
18 Anne Lannan                                  3.50
19 Becca Blay                                   4.57
20 Maegan Daigler                               7.03
21 Lauren Heilig                                8.12
22 Kristi Lewis                                 8.37
23 Noel Weddle                                  9.25
24 Syrae Weikle                                10.22
25 Maatje Benassi                              10.40
26 Ellen Hall                                  11.44
27 Heather Szabo                               13.09
28 Trish Heisdorffer                           13.32
29 Jilayne Lovejoy                             14.22
30 Patricia Palmer                             15.08
31 Beth Fisk                                   16.10
32 Patsy Shaffer                               16.13
33 Robin Fitzpatrick                           17.35
34 Lindsay Gosslee                             18.45
35 Kristine Church                             20.36
36 Cristina Begy                               21.14
37 Danielle Haulman                            22.04
38 Shannon Edson                               22.36
39 Megan Melamed                               22.54
 
Men Pro/1/2
 
1 Mike Janelle (Tokyo Joe's)                 3.24.42
2 Chris Brennan (Team Reo Grande)               0.04
3 Ian Macgregor (TIAA-CREF)                     0.05
4 Andrew Bajadali (Vitamin Cottage)             0.14
5 Chuck Coyle (Vitamin Cottage)                 0.19
6 Paul Esposti (Haul'n Ass)                     0.29
7 Michael Lange (TIAA-CREF)                     0.31
8 Frank Overton (GS Ciao)                       0.46
9 Chris Baldwin (Navigators)                    0.48
10 Jonathan Baker (Vitamin Cottage)             0.52
11 Sheldon Deeny                                0.58
12 Jeff Wardell                                 2.06
13 Peter Loponto                                2.09
14 Patrick Brown                                2.15
15 Nick Ranno                                   2.18
16 Mitch Westall                                2.32
17 Joe Cooper                                   2.44
18 Scott Nydam                                  2.52
19 Jonathan Massie                              3.01
20 Jeffrey Hartmann                             3.31
21 Max Clauson                                  5.11
22 Jeffrey Dickinson                            5.51
23 Jon Tarkington                                   
24 Mitch Moreman                                5.57
25 Jeff Smith                                   7.33
26 Michael Larsen                               7.47
27 Jesse Gordon                                 9.20
28 Joseph Pinkerton                            10.14
29 Don Powell                                  13.17
30 Colby Pearee                                14.34
31 John Seehafer                               15.25
32 Kevin Nicol                                 15.29
33 Dan Porter                                  15.54
34 Zachary Davies                              17.42
35 Eric Schwartz                               18.38
36 Dirk Friel                                  19.40
37 Grayson Pointer                             19.43
38 Eddy Gragus                                 19.46
39 Mark Schwab                                 19.55
40 Nick Marten                                 19.57
41 Jon Stierwalt                               19.58
42 Joseph Saperstein                           20.13
43 Joel Charles                                20.17
44 Peter Horn                                  20.27
45 Michael Schilling                           20.29
46 Eric Pardyjak                               20.30
47 Barkley Robinson                            20.48
48 Seth Hansley                                21.04
49 Christian Johnson                           21.06
50 Joby Siciliano                              21.11
51 Todd Hageman                                21.19
52 Bill Masterson                              21.23
53 Logan Garey                                 21.53
54 Brent Dickinson                             22.05
55 David Robinson                              24.51
56 Chad Hartley                                25.14
57 Tom Zirbel                                  26.02
58 Matson Tew                                       
59 Jeff Hartman                                26.12
60 Ryan Fleming                                26.16
61 Brian Krombein                              26.20
62 Michael Schmidt                             27.03
63 Ned Overend                                      
64 Kelly Ruddick                               27.41
65 Jonathan Garcia                             31.15
66 Evan Ruzanski                               31.27
67 Chad Moore                                  31.37
68 Michael Scherer                             32.15
69 Josh Barnett                                32.28
70 Chad Taylor                                 32.33
71 Alex Robels                                 32.35
72 Lew Perna                                   32.44
73 Nicholas Stevens                            34.36
74 Matthew Hall                                35.06
75 Christian Mccarthy                          35.46
76 Daimeon Shawks                              36.28
77 Aaron Brown                                 37.40
78 Jon Baddley                                 37.51
79 Micaelh Thompson                            38.22
80 Michael Hubbard                             40.59
81 Joseph Rudman                               44.22
82 Randy Reichardt                             50.17
83 Brian Hutchsion                             51.21