Tour de L'Aude Feminin - 2.1
France, May 13-22, 2005
Main Page Results Overall standings Previous Stage Next Stage
Stage 7 - May 20: Arques-Quillan, 115 km
Martissova leads trio home
By Kristy Scrymgeour with additional reporting from Marion Clignet
Amber Neben (Buitenpoort Flexpoint)
Photo ©: Philippe Volle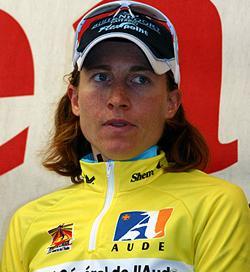 Youlia Martissova (Mixed P.M.B. Fenixs) came out on top of Tour de L'Aude's seventh stage today, in a brave move that saw her away with two others for the majority of the race. The very tough stage saw big splits in the bunch and some very disappointing time losses for some of the race favourites.
Starting on the winding mountainous back roads of Arques, the action was on from the gun, forced by the fact that riders faced an intermediate sprint only six kilometres into the race. Even before the sprint, an enthusiastic rider form Team Pruneaux D'agen was on the attack. Elodie Touffet managed to gain a quick 35" on the field before getting reeled back in just in time for Joanne Kiesanowski (Nobili Rubinetterie) to win the sprint. Ten kilometers later as the first cat 1 climb of the day started, another French rider, Beatrice Thomas (French National Team) attacked gaining 40" on the peloton. Amira Raminez (Spanish National Team) made her move half way up the climb, bridging the gap to Thomas and flying right past her to have a solo lead of 1'05" at the base of the second Cat 1 climb, twelve kilometers later. Seeing a perfect opportunity to celebrate her 23rd birthday, another French National team member, Marina Jaunatre attacked and was joined by Martissova. The pair worked well together, eventually catching the leader, forming a breakaway group of three.
With Jaunatre the highest on GC out of the trio, over four minutes down the peleton seemed content to recuperate some from yesterday's efforts until the final climb, when at the base, the Flexpoint and Univega riders put the pressure on. The field shattered into three groups plus a few stragglers. but the break of three stayed away. With ten kilometres to go the gap to the break was down to 1'50" and falling with the front group containing most of the GC riders chasing hard. Yellow jersey Karen Thurig (Mixed Univega Pct/Ar) was involved in a crash but managed to get back on, however lost time again before the finish and lost her leaders jersey.
Marina Jaunatre (French National Team)
Photo ©: Philippe Volle

The break came into the finish in Quillan with 41" to spare and Martissova took the sprint from birthday girl Jaunatre and Ramirez. Anita Valen (Vlaanderen Capri Sonne) took the bunch sprint out of the first chase group, which consisted of sixteen riders. Another minute back was Thurig. Amber Neben (Buitenpoort Flexpoint) finished in that bunch to take the overall tour lead, with her US National Team rider Kristin Armstrong and Christine Soeder (Mixed Univega Pct/Ar) each moving up a couple of places in GC into second and third place respectively.
Tomorrow's stage is a very short 5.6km individual time trial in Port La Nouvelle, which will act as a rest day only for some, before the very difficult deciding stage on Sunday to finish off the tour.
Photography
For a thumbnail gallery of these images, click here
Images by Philip Volle/http://velopalmares.free.fr
Results
1 Youlia Martissova (Rus) Mixed P.M.B. Fenixs            3.31.38
2 Marina Jaunatre (Fra) French National Team                    
3 Anna Ramirez (Spa) Spanish National Team                      
4 Anita Valen (Nor) Vlaanderen Capri Sonne                  0.41
5 Svetlana Boubnenkova (Rus) Mixed P.M.B. Fenixs                
6 Modesta Vzesniauskaite (Ltu) Nobili Rubinetterie              
7 Dorte Rasmussen (Den) Team S.A.T.S.                           
8 Theresa Senff (Ger) Van Bemmelen Aa Drink                     
9 Mirjam Melchers (Ned) Buitenpoort Flexpoint                   
10 Amber Neben (USA) Buitenpoort Flexpoint                      
11 Edita Pucinskaite (Ltu) Nobili Rubinetterie                  
12 Christiane Soeder (Aut) Mixed Univega Pct/Ar                 
13 Trixi Worrack (Ger) Nurnberger Versicherung                  
14 Erinne Willock (Can) Canadian National Team                  
15 Kristin Armstrong (USA) USA National Team                    
16 Madeleine Sandig (Ger) German National Team                  
17 Luise Keller (Ger) German National Team                      
18 Lyne Bessette (Can) Canadian National Team                   
19 Sabine Spitz (Ger) German National Team                      
20 Kimberly Baldwin (USA) USA National Team                 0.48
21 Karin Thürig (Swi) Mixed Univega Pct/Ar                  1.35
22 Loes Gunnewijk (Ned) Mixed Vrienden-Therme                   
23 Sofie Goor (Bel) Vlaanderen Capri Sonne                      
24 Edwige Pitel (Fra) Mixed Univega Pct/Ar                      
25 Sereina Traschsel (Swi) Mixed Univega Pct/Ar             5.40
26 Priska Doppmann (Swi) Mixed Univega Pct/Ar                   
27 Magali Le Floch (Fra) French National Team                   
28 Tatiana Shishkova (Mda) Mixed P.M.B. Fenixs              5.43
29 Elisabeth Chevanne-Brunel (Fra) Team Pruneaux D'agen         
30 Sarah Grab (Swi) Mixed Univega Pct/Ar                        
31 Tatiana Antoshina (Rus) Russian National Team                
32 An Van Rie (Bel) Belgian National Team                       
33 Melissa Holt (NZl) Team S.A.T.S.                             
34 Oenone Wood (Aus) Nurnberger Versicherung                    
35 Toni Bradshaw (Nzl) New Zealand National Team                
36 Lorian Graham (Aus) Australian National Team                 
37 Kori Seehafer (USA) USA National Team                        
38 Felicia Greer (Can) Canadian National Team                   
39 Sandrine Marcuz (Fra) Team S.A.T.S.                          
40 Sara Carrigan (Aus) Van Bemmelen Aa Drink                    
41 Tina Liebig (Ger) Nurnberger Versicherung                    
42 Sandra Missbach (Ger) Van Bemmelen Aa Drink                  
43 Natacha Maes (Bel) Belgian National Team                 9.32
44 Katheryn Curi (USA) USA National Team                   10.16
45 Meredith Miller (USA) Team S.A.T.S.                          
46 Daphny Van Den Brand (Ned) Van Bemmelen Aa Drink             
47 Lada Kozlikova (Cze) Buitenpoort Flexpoint                   
48 Laure Werner (Bel) Vlaanderen Capri Sonne                    
49 Emma Davies (GBr) Vlaanderen Capri Sonne                     
50 Eneritz Iturriaga (Spa) Spanish National Team                
51 Tina Mayolo (USA) USA National Team                          
52 Leticia Gil Parra (Spa) Spanish National Team                
53 Anna Henestrosa (Spa) Spanish National Team                  
54 Robyn Wong (Nzl) New Zealand National Team                   
55 Sandra Rombouts (Ned) Buitenpoort Flexpoint                  
56 Michelle Kiesanowski (Nzl) New Zealand National Team         
57 Amy Gillett (Aus) Australian National Team                   
58 Olivia Gollan (Aus) Nurnberger Versicherung                  
59 Joanne Kiesanowski (NZl) Nobili Rubinetterie                 
60 Linda Serup (Den) Buitenpoort Flexpoint                      
61 Alexandra Le Henaff (Fra) Team Pruneaux D'agen               
62 Charlotte Becker (Ger) German National Team                  
63 Johanna Buick (Nzl) New Zealand National Team                
64 Adrie Visser (Ned) Van Bemmelen Aa Drink                     
65 Sharon Van Essen (Ned) Mixed Vrienden-Therme                 
66 Anke Wichmann (Ger) Nurnberger Versicherung                  
67 Claudia Stumpf (Ger) Nurnberger Versicherung                 
68 Elodie Touffet (Fra) Team Pruneaux D'agen                    
69 Emanuela Azzini (Ita) Nobili Rubinetterie               12.44
70 Kim Schoonbaert (Bel) Belgian National Team                  
71 Alicia Palop Rubio (Spa) Spanish National Team               
72 Béatrice Thomas (Fra) French National Team                   
73 Tammara Boyd (Nzl) New Zealand National Team                 
74 Apollinaria Bakova (Rus) Russian National Team          13.15
75 Katleen Vermeiren (Bel) Belgian National Team           14.06
76 Debby Mansveld (Ned) Vlaanderen Capri Sonne                  
77 Louise Yaxley (Aus) Australian National Team            14.09
78 Larissa Kleinmann (Ger) German National Team                 
79 Magalie Finot (Fra) French National Team                17.00
80 Delphine Guille (Fra) French National Team                   
81 Sarah Düster (Ger) German National Team                 19.50
82 Leigh Hobson (Can) Canadian National Team                    
83 Lien Verhaeghe (Bel) Belgian National Team                   
84 Janneke Vos (Ned) Mixed Vrienden-Therme                      
85 Sylvie Riedle (Fra) Team Pruneaux D'agen                     
86 Rachel Heal (GBr) Team S.A.T.S.                              
87 Tiina Nieminen (Fra) Team Pruneaux D'agen                    
88 Emma Rickards (Aus) Australian National Team                 
DNF Ine Wannijn (Bel) Vlaanderen Capri Sonne                    
DNF Trine Hansen (Den) Team S.A.T.S.                            
DNF Chantal Beltman (Ned) Mixed Vrienden-Therme                 
DNS Natalie Bates (Aus) Van Bemmelen Aa Drink                   
DNS Dalemarie Tye (Nzl) New Zealand National Team               
 
General classification after stage 7
 
1 Amber Neben (USA) Buitenpoort Flexpoint               19.26.00
2 Kristin Armstrong (USA) USA National Team                 0.13
3 Christiane Soeder (Aut) Mixed Univega Pct/Ar              0.16
4 Karin Thürig (Swi) Mixed Univega Pct/Ar                   0.18
5 Lyne Bessette (Can) Canadian National Team                0.29
6 Mirjam Melchers (Ned) Buitenpoort Flexpoint               0.36
7 Anita Valen (Nor) Vlaanderen Capri Sonne                  0.42
8 Loes Gunnewijk (Ned) Mixed Vrienden-Therme                0.56
9 Trixi Worrack (Ger) Nurnberger Versicherung               1.24
10 Kimberly Baldwin (USA) USA National Team                 1.30
11 Madeleine Sandig (Ger) German National Team              2.05
12 Sabine Spitz (Ger) German National Team                  2.08
13 Theresa Senff (Ger) Van Bemmelen Aa Drink                2.09
14 Erinne Willock (Can) Canadian National Team              2.13
15 Svetlana Boubnenkova (Rus) Mixed P.M.B. Fenixs           2.36
16 Edita Pucinskaite (Ltu) Nobili Rubinetterie              2.38
17 Marina Jaunatre (Fra) French National Team               2.50
18 Luise Keller (Ger) German National Team                  2.56
19 Dorte Rasmussen (Den) Team S.A.T.S.                      3.18
20 Edwige Pitel (Fra) Mixed Univega Pct/Ar                  3.25
21 Modesta Vzesniauskaite (Ltu) Nobili Rubinetterie         4.04
22 Youlia Martissova (Rus) Mixed P.M.B. Fenixs              4.46
23 Oenone Wood (Aus) Nurnberger Versicherung                5.26
24 Sara Carrigan (Aus) Van Bemmelen Aa Drink                6.50
25 Priska Doppmann (Swi) Mixed Univega Pct/Ar               7.21
26 Kori Seehafer (USA) USA National Team                    8.42
27 Magali Le Floch (Fra) French National Team               9.51
28 Lorian Graham (Aus) Australian National Team             9.55
29 Sofie Goor (Bel) Vlaanderen Capri Sonne                 10.12
30 Toni Bradshaw (Nzl) New Zealand National Team           10.57
31 Tina Liebig (Ger) Nurnberger Versicherung               11.28
32 Sarah Grab (Swi) Mixed Univega Pct/Ar                   11.43
33 Tatiana Shishkova (Mda) Mixed P.M.B. Fenixs             12.14
34 Adrie Visser (Ned) Van Bemmelen Aa Drink                12.19
35 Sandrine Marcuz (Fra) Team S.A.T.S.                     12.31
36 Linda Serup (Den) Buitenpoort Flexpoint                 13.07
37 Tatiana Antoshina (Rus) Russian National Team           14.09
38 Eneritz Iturriaga (Spa) Spanish National Team           14.12
39 Felicia Greer (Can) Canadian National Team              15.40
40 Emma Davies (GBr) Vlaanderen Capri Sonne                16.51
41 Tina Mayolo (USA) USA National Team                     16.58
42 Anke Wichmann (Ger) Nurnberger Versicherung             17.55
43 Joanne Kiesanowski (NZl) Nobili Rubinetterie            19.14
44 Daphny Van Den Brand (Ned) Van Bemmelen Aa Drink        19.50
45 Lada Kozlikova (Cze) Buitenpoort Flexpoint              21.55
46 Katheryn Curi (USA) USA National Team                   21.56
47 Alexandra Le Henaff (Fra) Team Pruneaux D'agen          22.05
48 Sandra Missbach (Ger) Van Bemmelen Aa Drink             22.09
49 Laure Werner (Bel) Vlaanderen Capri Sonne               23.11
50 Melissa Holt (NZl) Team S.A.T.S.                             
51 Robyn Wong (Nzl) New Zealand National Team              25.49
52 Sereina Traschsel (Swi) Mixed Univega Pct/Ar            26.10
53 Sandra Rombouts (Ned) Buitenpoort Flexpoint             27.36
54 Sylvie Riedle (Fra) Team Pruneaux D'agen                27.38
55 Amy Gillett (Aus) Australian National Team              27.39
56 Magalie Finot (Fra) French National Team                27.41
57 Michelle Kiesanowski (Nzl) New Zealand National Team    27.56
58 Emma Rickards (Aus) Australian National Team            28.21
59 Anna Ramirez (Spa) Spanish National Team                28.35
60 Johanna Buick (Nzl) New Zealand National Team           30.35
61 Claudia Stumpf (Ger) Nurnberger Versicherung            30.57
62 Olivia Gollan (Aus) Nurnberger Versicherung             31.43
63 Natacha Maes (Bel) Belgian National Team                32.35
64 Meredith Miller (USA) Team S.A.T.S.                     33.07
65 Tammara Boyd (Nzl) New Zealand National Team            34.20
66 Larissa Kleinmann (Ger) German National Team            34.39
67 Leigh Hobson (Can) Canadian National Team               35.11
68 Béatrice Thomas (Fra) French National Team              37.24
69 An Van Rie (Bel) Belgian National Team                  38.02
70 Charlotte Becker (Ger) German National Team             42.45
71 Elodie Touffet (Fra) Team Pruneaux D'agen               43.05
72 Elisabeth Chevanne-Brunel (Fra) Team Pruneaux D'agen    44.06
73 Sharon Van Essen (Ned) Mixed Vrienden-Therme            44.09
74 Rachel Heal (GBr) Team S.A.T.S.                         45.35
75 Apollinaria Bakova (Rus) Russian National Team          48.01
76 Leticia Gil Parra (Spa) Spanish National Team           49.26
77 Sarah Düster (Ger) German National Team                 51.53
78 Delphine Guille (Fra) French National Team              53.12
79 Kim Schoonbaert (Bel) Belgian National Team             54.04
80 Debby Mansveld (Ned) Vlaanderen Capri Sonne             56.12
81 Alicia Palop Rubio (Spa) Spanish National Team          56.48
82 Emanuela Azzini (Ita) Nobili Rubinetterie               56.57
83 Anna Henestrosa (Spa) Spanish National Team             57.45
84 Louise Yaxley (Aus) Australian National Team            58.24
85 Katleen Vermeiren (Bel) Belgian National Team         1.06.36
86 Tiina Nieminen (Fra) Team Pruneaux D'agen             1.15.25
87 Janneke Vos (Ned) Mixed Vrienden-Therme               1.18.57
88 Lien Verhaeghe (Bel) Belgian National Team            1.30.35
 
Points classification
 
1 Oenone Wood (Aus) Nurnberger Versicherung                  165 pts
2 Dorte Rasmussen (Den) Team S.A.T.S.                        108
3 Anita Valen (Nor) Vlaanderen Capri Sonne                   106
4 Svetlana Boubnenkova (Rus) Mixed P.M.B. Fenixs              98
5 Joanne Kiesanowski (NZl) Nobili Rubinetterie                96
6 Mirjam Melchers (Ned) Buitenpoort Flexpoint                 84
7 Loes Gunnewijk (Ned) Mixed Vrienden-Therme                  83
8 Marina Jaunatre (Fra) French National Team                  83
9 Youlia Martissova (Rus) Mixed P.M.B. Fenixs                 81
10 Christiane Soeder (Aut) Mixed Univega Pct/Ar               62
11 Kristin Armstrong (USA) USA National Team                  61
12 Modesta Vzesniauskaite (Ltu) Nobili Rubinetterie           59
13 Karin Thürig (Swi) Mixed Univega Pct/Ar                    54
14 Amber Neben (USA) Buitenpoort Flexpoint                    53
15 Sarah Düster (Ger) German National Team                    53
16 Sara Carrigan (Aus) Van Bemmelen Aa Drink                  52
17 Magali Le Floch (Fra) French National Team                 49
18 Lyne Bessette (Can) Canadian National Team                 46
19 Tina Mayolo (USA) USA National Team                        41
20 Eneritz Iturriaga (Spa) Spanish National Team              39
21 Trixi Worrack (Ger) Nurnberger Versicherung                34
22 Lorian Graham (Aus) Australian National Team               33
23 Theresa Senff (Ger) Van Bemmelen Aa Drink                  31
24 Emma Davies (GBr) Vlaanderen Capri Sonne                   30
25 Anna Ramirez (Spa) Spanish National Team                   30
26 Madeleine Sandig (Ger) German National Team                28
27 Melissa Holt (NZl) Team S.A.T.S.                           26
28 Tammara Boyd (Nzl) New Zealand National Team               24
29 An Van Rie (Bel) Belgian National Team                     23
30 Edita Pucinskaite (Ltu) Nobili Rubinetterie                22
31 Priska Doppmann (Swi) Mixed Univega Pct/Ar                 21
32 Sandra Missbach (Ger) Van Bemmelen Aa Drink                20
33 Sylvie Riedle (Fra) Team Pruneaux D'agen                   20
34 Amy Gillett (Aus) Australian National Team                 20
35 Kori Seehafer (USA) USA National Team                      18
36 Charlotte Becker (Ger) German National Team                16
37 Kimberly Baldwin (USA) USA National Team                   15
38 Debby Mansveld (Ned) Vlaanderen Capri Sonne                14
39 Erinne Willock (Can) Canadian National Team                13
40 Alexandra Le Henaff (Fra) Team Pruneaux D'agen             11
41 Larissa Kleinmann (Ger) German National Team               11
42 Sabine Spitz (Ger) German National Team                    10
43 Luise Keller (Ger) German National Team                    10
44 Edwige Pitel (Fra) Mixed Univega Pct/Ar                    10
45 Adrie Visser (Ned) Van Bemmelen Aa Drink                   10
46 Emma Rickards (Aus) Australian National Team                9
47 Tatiana Antoshina (Rus) Russian National Team               3
48 Toni Bradshaw (Nzl) New Zealand National Team               2
49 Laure Werner (Bel) Vlaanderen Capri Sonne                   2
50 Linda Serup (Den) Buitenpoort Flexpoint                     1
 
Mountains classification
 
1 Svetlana Boubnenkova (Rus) Mixed P.M.B. Fenixs              37 pts
2 Lyne Bessette (Can) Canadian National Team                  22
3 Theresa Senff (Ger) Van Bemmelen Aa Drink                   22
4 Anna Ramirez (Spa) Spanish National Team                    20
5 Marina Jaunatre (Fra) French National Team                  15
6 Oenone Wood (Aus) Nurnberger Versicherung                   14
7 Youlia Martissova (Rus) Mixed P.M.B. Fenixs                 11
8 Modesta Vzesniauskaite (Ltu) Nobili Rubinetterie             8
9 Amber Neben (USA) Buitenpoort Flexpoint                      7
10 Anita Valen (Nor) Vlaanderen Capri Sonne                    6
11 An Van Rie (Bel) Belgian National Team                      5
12 Trixi Worrack (Ger) Nurnberger Versicherung                 4
13 Sara Carrigan (Aus) Van Bemmelen Aa Drink                   3
14 Edwige Pitel (Fra) Mixed Univega Pct/Ar                     3
15 Kristin Armstrong (USA) USA National Team                   3
16 Mirjam Melchers (Ned) Buitenpoort Flexpoint                 2
17 Dorte Rasmussen (Den) Team S.A.T.S.                         1
18 Loes Gunnewijk (Ned) Mixed Vrienden-Therme                  1
 
Sprints classification
 
1 Joanne Kiesanowski (NZl) Nobili Rubinetterie                35 pts
2 Youlia Martissova (Rus) Mixed P.M.B. Fenixs                 27
3 Oenone Wood (Aus) Nurnberger Versicherung                   15
4 Delphine Guille (Fra) French National Team                  10
5 Tina Mayolo (USA) USA National Team                          9
6 Lyne Bessette (Can) Canadian National Team                   8
7 Sara Carrigan (Aus) Van Bemmelen Aa Drink                    6
8 Svetlana Boubnenkova (Rus) Mixed P.M.B. Fenixs               6
9 Leticia Gil Parra (Spa) Spanish National Team                6
10 Sarah Düster (Ger) German National Team                     5
11 Anita Valen (Nor) Vlaanderen Capri Sonne                    5
12 Magali Le Floch (Fra) French National Team                  4
13 Anna Ramirez (Spa) Spanish National Team                    3
14 Marina Jaunatre (Fra) French National Team                  2
15 Claudia Stumpf (Ger) Nurnberger Versicherung                2
16 Sharon Van Essen (Ned) Mixed Vrienden-Therme                2
17 Adrie Visser (Ned) Van Bemmelen Aa Drink                    2
18 Melissa Holt (NZl) Team S.A.T.S.                            2
19 Modesta Vzesniauskaite (Ltu) Nobili Rubinetterie            1
20 Kori Seehafer (USA) USA National Team                       1
21 Loes Gunnewijk (Ned) Mixed Vrienden-Therme                  1
22 Elodie Touffet (Fra) Team Pruneaux D'agen                   1
23 Emma Davies (GBr) Vlaanderen Capri Sonne                    1
 
Young rider classification
 
1 Madeleine Sandig (Ger) German National Team           19.28.05
2 Theresa Senff (Ger) Van Bemmelen Aa Drink                 0.04
3 Marina Jaunatre (Fra) French National Team                0.45
4 Luise Keller (Ger) German National Team                   0.51
5 Modesta Vzesniauskaite (Ltu) Nobili Rubinetterie          1.59
6 Adrie Visser (Ned) Van Bemmelen Aa Drink                 10.14
7 Linda Serup (Den) Buitenpoort Flexpoint                  11.02
8 Tatiana Antoshina (Rus) Russian National Team            12.04
9 Claudia Stumpf (Ger) Nurnberger Versicherung             28.52
10 Charlotte Becker (Ger) German National Team             40.40
11 Leticia Gil Parra (Spa) Spanish National Team           47.21
12 Sarah Düster (Ger) German National Team                 49.48
13 Kim Schoonbaert (Bel) Belgian National Team             51.59
14 Alicia Palop Rubio (Spa) Spanish National Team          54.43
15 Lien Verhaeghe (Bel) Belgian National Team            1.28.30
 
Teams classification
 
1 Mixed Univega Pct/Ar                                  58.21.32
2 German National Team                                      3.19
3 USA National Team                                         6.53
4 Buitenpoort Flexpoint                                     8.58
5 Canadian National Team                                   11.51
6 Van Bemmelen Aa Drink                                    13.08
7 Nurnberger Versicherung                                  15.16
8 Mixed P.M.B. Fenixs                                      16.27
9 Team S.A.T.S.                                            19.34
10 Nobili Rubinetterie                                     21.02
11 Vlaanderen Capri Sonne                                  23.08
12 French National Team                                    29.14
13 New Zealand National Team                               43.21
14 Australian National Team                                49.31
15 Team Pruneaux D'agen                                    59.28
16 Mixed Vrienden-Therme                                 1.05.19
17 Spanish National Team                                 1.22.15
18 Belgian National Team                                 1.59.10