Redlands Classic - 2.2
California, USA, March 31-April 3, 2005
Main Page Results Previous Stage Next Stage
Stage 2 - April 2: Criterium , 90/60 minutes
Haedo takes Redlands Classic Criterium to deliver second NRC win for '05
By Eddie Monnier
Juan Jose Haedo (Colavita Olive Oil) celebrates at the line
Photo ©: Rob Karman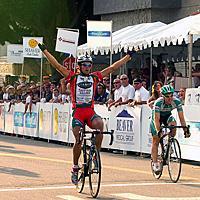 Juan Jose (JJ) Haedo (Colavita Olive Oil/Sutter Home) scored his second NRC win of the season by claiming the Beaver Medical Group Downtown Criterium, stage two of the PoolGel Redlands Classic. Team Seasilver was the most active on the day and put three riders in the top ten.
The Redlands Classic criterium is known as one of the toughest in the United States. The flat stage presents riders with a challenging 10-turn course through downtown Redlands. With many legs still smarting from the previous day's gruelling Oak Glen Road Race, powering out of the 135-degree first turn would further sap what little leg strength remained.
How it unfolded
On a tough course like this, each additional rider in the field adds to the accordion effect that punishes the riders at every turn. With 49 riders not finishing the tough first stage and another nine missing the time cut which had been almost doubled to 18% by the merciful officials, the 197-rider field was reduced by almost a quarter, to 148, not discounting any additional riders that didn't start. One of those was HealthNet key man John Lieswyn, who was too sick to continue, resulting in his first stage race DNF since 1991.
GC leader Chris Wherry (HealthNet pb Maxxis)
Photo ©: Rob Karman

Always a danger man, Danny Pate (Jelly Belly PoolGel) went on the attack early. Sitting 1:20 behind race leader Chris Wherry (Health Net pb Maxxus), the sixth-placed rider on GC wasn't to be left entirely unattended. With Gord Fraser still ill and John Lieswyn too sick to continue, HealthNet only had to prevent Pate from establishing a significant lead. But since Pate is a former U23 time trial world champion and can go it alone better than most, HealthNet chased at tempo to keep him in check. Eventually, neo pro Curtis Gunn (Seasilver) bridged solo to Pate, and this caused a reaction from the field. The two were reabsorbed a short while later.
With just over a third of the 90-minute race remaining, Brice Jones (Jelly Belly PoolGel) launched an attack that Jason Bausch (Seasilver) bridged, with Garrett Peltonen (Advantage Benefits Endeavour) in tow. None of these riders was a threat on GC, so Health Net and Jittery Joe's-Kalahari were under no pressure to bring it back. The onus to chase fell on the teams with fast finishers who were gunning for a stage win. Webcor stepped up and led the chase to set up Charles Dionne, but the breakaway trio held onto a 20 second advantage.
Sensing this break could go the distance, Aaron Olsen (Colavita Olive Oil/Sutter Home) made an effort to get across with just over a dozen laps remaining. Olsen made it halfway but couldn't complete the bridge. With just seven laps remaining, Jason Bausch had to go to the pit for a wheel change - he told cyclingnews, "Unfortunately, I broke a spoke with seven laps to go and I think that might have hurt us a bit. We were working really well together."
Danny Pate (Jelly Belly-Pool Gel)
Photo ©: Rob Karman

Without representation in the break, the Colavita team took up a furious chase to put fast man JJ Haedo into contention for the stage win - the Argentinean sprinter had already scored a win and a second place in NRC races this season. The team brought the break down to about ten seconds; sensing they might be caught, Jones attacked his two breakaway companions on the last lap. Peltonen and Bausch covered the move and the trio resumed working together as they desperately worked to salvage a podium finish for their efforts.
With a man up the road, Seasilver's Kyle Gritters and sprinter Dan Schmatz had the difficult task of fighting for position without contributing to the chase. Colavita's Mark McCormick must have had plenty of his sponsor's pasta for breakfast, because he put in a huge effort on the last lap to catch the trio after the last turn, not even 100 metres from the finish line. Charles Dionne of Webcor was right there too, and launched the sprint. Haedo proved too powerful and rewarded his team's perfectly timed efforts with the stage win. Dionne finished second. Jones remarkably held onto third place for the final spot on the podium. Peltonen was fourth and teammate Karl Menzies completed the top five.
Stage winner Juan Jose Haedo (Colavita Olive Oil)
Photo ©: Rob Karman
Seasilver closed the day with three riders in the top ten. Director Steve Hegg told cyclingnews, " The team finally came around and rode close to its potential, in the mix all the time...three riders in the top ten. It's a great morale booster."
In spite of a relatively easy day today for Health Net, it suffered another scare today when Mike Jones suffered a mishap which cost him a large amount of time, and he finished almost four minutes down on the stage, but will continue to help defend Wherry's lead. The team is very deep, but it's reduced and battered squad will have its hands full on Sunday during the Shave Auto Center Sunset Road Race (142km). Health Net is comprised of consummate professionals and will make the most of its situation. Sunday's stage finishes in downtown Redlands again, but all the action will take part on a tough circuit outside of town that features plenty of climbing. The stage is always packed with attacks as lower-placed riders on GC look to seize an opportunity to shine, which can play to Health Net's advantage. Trailing by just seven seconds, Trent Lowe (Jittery Joe's-Kalahari) will be looking for his opportunity to steal the overall. It should make for an exciting finale to this tough man's race.
Women's report - By Jim Williams
Ina Teutenberg (T-Mobile) launches an attack
Photo ©: Mitch Clinton

Today racers took to the streets of Downtown Redlands to contest the Beaver Medical criterium. Firstly, a quick update on yesterday's Oak Glen Stage Race: in the break of six that got away, Victory Brewing's Amy Moore was present, not Vello Bello's Elizabeth Begosh. Moore's work was instrumental and allowed for the break to stay away and gain as much time on the filed as it did before the final climb.
Today's race was fast from the gun as battle lines were drawn, with each team trying to protect their positions leading into tomorrow's Sunset Road race. T-Mobile and Webcor wanted to establish a break so the midway time bonus could be won by non GC riders, protecting the team leader's position in the overall.
In the first sprint for points, Quark's Laura Van Gilder took the points over Lara Kroepsch of T-mobile, both of whom were away in a break. The filed sprint was won by Quark's Green jersey-clad Helen Kelly. As the second sprint approached the field was together and Ina Teutenberg of T-Mobile came around the corner first, taking the three second bonus and the points; she then put her head down and powered away. Quark's Annette Beutler took second and the two second bonus, moving her within a second of Kim Baldwin and seven of the yellow jersey, worn by Christine Thorburn of Webcor.
Ina Teutenberg (T-Mobile) in triumphant celebration
Photo ©: Rob Karman

As Teutenberg was blasting off the front Andrea Ratkovic of the Bicycle Store was able to respond and get up to Teutenberg's wheel, and the two were away for good. In the end the great German sprinter was able to drop Ratkovic on the last lap and finished with her arms raised high as she not only won the day but pulled the sprinter's jersey over her head for the points she earned on the road. Quark's Tina Pic was able to win the filed sprint for third to round out the podium, while Thorburn and her teammates were able to rest for what will sure to be an exciting finish to the Redlands Classic.
Jim Williams is Team Manager for Quark Cycling Team
Photography
For a thumbnail gallery of these images, click here
Images by Mitch Clinton/www.clintonphoto.com
Images by

Images by Russ and Nancy Wright/www.abbiorca.com
Images by Steve Cohen
Results
Men

1 Juan Jose Haedo (Arg) Colavita/Sutter Home               1.29.41
2 Charles Dionne (Can) Webcor Builders                            
3 Brice Jones (USA) Jelly Belly - Pool Gel                        
4 Garrett Peltonen (USA) Advantage Benefits/Endeavour         0.04
5 Karl Menzies (Aus) Advantage Benefits/Endeavour                 
6 Jason Bausch (USA) Team Seasilver                               
7 Kyle Gritters (USA) Team Seasilver                              
8 Dan Schmatz (USA) Team Seasilver                                
9 Jackson Stewart (USA) Kodak gallery/Sierra Nevada               
10 Gordon Fraser (Can) Health Net pb Maxxis                       
11 Stephen Tilford (USA) California Giant-Village Peddlar         
12 Jeff Hopkins (Aus) Jittery Joe's/Kalahari                      
13 Neil Shirley (USA) Team Seasilver                              
14 Chris Wherry (USA) Health Net pb Maxxis                        
15 Andrew Pinfold (Can) Symmetrics                                
16 Chris Frederick (USA) Aerospace Enginering                     
17 David Clinger (USA) Webcor Builders                            
18 Jason Van Marle (USA) Healthy Choice/Goble Knee                
19 Nathon Miller (USA) Team Monex                                 
20 Ivan Stevic (SCG) Aerospace Enginering                         
21 Danny Pate (USA) Jelly Belly - Pool Gel                        
22 Jake Erker (Can) Symmetrics                                    
23 Matt Dubberly (USA) McGuire-Langdale                           
24 Eric Saunders (USA) McGuire-Langdale                           
25 Aaron Olson (USA) Colavita/Sutter Home                         
26 Edward King (USA) Louis Garneau/Sakonnet/Mercy Fitness         
27 Jermy Powers (Aus) Jelly Belly - Pool Gel                      
28 David Richter (USA) Subway                                     
29 Jonathan Baker (USA) Vitamin Cottage                           
30 Liam Kileen (GBr) California Giant-Village Peddlar             
31 Scott Moninger (USA) Health Net pb Maxxis                      
32 Eric Wohlberg (Can) Symmetrics                                 
33 Geoff Rapaport (USA) McGuire-Langdale                          
34 Dave McCook (USA) Jelly Belly - Pool Gel                       
35 Ben Jacques-Maynes (USA) Kodak gallery/Sierra Nevada           
36 Marco Rios (Mex) Kahala LaGrange                               
37 Jean-Sebastiaen Maheu (Can) Canadian national                  
38 Richard England (Aus) Advantage Benefits/Endeavour             
39 Roman Kilun (Uzb) McGuire-Langdale                             
40 Curtis Gunn (USA) Team Seasilver                               
41 Doug Ollerenshaw (USA) Health Net pb Maxxis                    
42 Marsh Cooper (Can) Symmetrics                                  
43 John Hunt (USA) California Giant-Village Peddlar               
44 Tim Johnson (USA) Jittery Joe's/Kalahari                       
45 Chris Foster (USA) Jittery Joe's/Kalahari                      
46 Ben Brooks (Aus) Jelly Belly - Pool Gel                        
47 Trent Lowe (Aus) Jittery Joe's/Kalahari                        
48 Cameron Hughes (Aus) Subway                                    
49 Matty Rice (Aus) Jelly Belly - Pool Gel                        
50 Andrew Bajadali (USA) Vitamin Cottage                          
51 James Mattis (USA) Webcor Builders                             
52 Tyler Wren (USA) Colavita/Sutter Home                          
53 Daniel Holt (USA) Healthy Choice/Goble Knee                    
54 Mike Sayers (USA) Health Net pb Maxxis                         
55 Marc Anderson (USA) Texas Roadhouse                            
56 Bradley Fairall (Can) Canadian national                        
57 Robbie King (USA) Louis Garneau/Sakonnet/Mercy Fitness         
58 Todd Herriott (USA) Colavita/Sutter Home                       
59 Todd Cornelius (USA) Subway                                    
60 Brian Jensen (USA) California Giant-Village Peddlar            
61 Frank Pipp (USA) Advantage Benefits/Endeavour                  
62 Michael Hernandez (USA) Team Spine                             
63 Christian Meier (Can) Symmetrics                               
64 Pat Dunaway (USA) McGuire-Langdale                             
65 Anthony Colby (USA) Texas Roadhouse                            
66 Nick Reistad (USA) Advantage Benefits/Endeavour                
67 Kirk Albers (USA) Jelly Belly - Pool Gel                       
68 Dave Harward (USA) Healthy Choice/Goble Knee                   
69 Ben Haldeman (USA) Webcor Builders                             
70 Scott Zwizanski (USA) Kodak gallery/Sierra Nevada              
71 Dominique Perras (Can) Kodak gallery/Sierra Nevada             
72 Chris Jones (USA) Team Spine                                   
73 Victor Ayala (Mex) Kahala LaGrange                             
74 Carlos Vargas (USA) Team Monex                                 
75 Evan Elken (USA) Jittery Joe's/Kalahari                        
76 Justin England (USA) Health Net pb Maxxis                      
77 Phil Abbott (Can) Canadian national                            
78 Svein Tuft (Can) Symmetrics                                    
79 Mike Wilk (USA) Vitamin Cottage                                
80 Dustin MacBurnie (Can) Canadian national                       
81 Stuart Gillespie (USA) Team TIAA-CREF                          
82 Gustavo Artacho (USA) Colavita/Sutter Home                     
83 Josh Dillon (USA) Louis Garneau/Sakonnet/Mercy Fitness         
84 Andrew Edwards (USA) Vitamin Cottage                           
85 Brian Sheedy (USA) Advantage Benefits/Endeavour                
86 Derek Wilkerson (USA) Colavita/Sutter Home                     
87 Johnny Sundt (USA) Jittery Joe's/Kalahari                      
88 Mike Zagorski (GBr) Texas Roadhouse                            
89 Stefano Barberi (USA) Team TIAA-CREF                           
90 Lance Doherty (USA) Team Spine                                 
91 Michael Lange (USA) Team TIAA-CREF                             
92 Luke Stockwell (Aus) Texas Roadhouse                           
93 Andy Guptill (USA) Louis Garneau/Sakonnet/Mercy Fitness        
94 Chad Beyer (USA) Vitamin Cottage                               
95 Burke Swindlehurst (USA) Team Seasilver                        
96 Chris Greene (USA) California Giant-Village Peddlar            
97 Chris Walker (USA) PaulTracy.com                               
98 Jon Tarkington (USA) Vitamin Cottage                           
99 Cameron Brenneman (USA) Kahala LaGrange                        
100 Davide Frattini (USA) Colavita/Sutter Home                    
101 Mark McCormack (USA) Colavita/Sutter Home                     
102 Hugh Moran (USA) Aerospace Enginering                         
103 Chris Brennan (USA) Vitamin Cottage                           
104 Louie Amelburu (USA) PaulTracy.com                            
105 Bernard van Ulden (USA) Webcor Builders                       
106 Eugene Boronow (USA) Team Six                                 
107 Marc Colland (USA) Webcor Builders                            
108 Jake Rytlewski (USA) Advantage Benefits/Endeavour             
109 Zach Walker (USA) McGuire-Langdale                        0.55
110 Craig Wilcox (USA) Jittery Joe's/Kalahari                 0.58
111 Ian MacGregor (USA) Team TIAA-CREF                            
112 Godfrey Hayden (NZl) Kodak gallery/Sierra Nevada              
113 Nick Waite (USA) USA national                                 
114 Cory Lange (Can) Symmetrics                                   
115 Ryan Roth (Can) Canadian national                             
116 Omer Kem (USA) Subway                                     1.06
117 Lucas Euser (USA) Webcor Builders                         1.10
118 Mark Yap (USA) Healthy Choice/Goble Knee                      
119 Thad Dulin (USA) Jittery Joe's/Kalahari                       
120 Alan Obye (USA) USA national                              1.22
121 Jesse Gordon (USA) Healthy Choice/Goble Knee              1.38
122 Glen Mitchell (USA) Kodak gallery/Sierra Nevada           1.42
123 Mathew Moon (USA) Louis Garneau/Sakonnet/Mercy Fitness    1.55
124 Chris McDonald (USA) Team Spine                           2.02
125 Ryan Trebon (USA) Aerospace Enginering                    2.12
126 Mike Jones (USA) Health Net pb Maxxis                     3.51
127 Sid Taberly (Aus) California Giant-Village Peddlar            
128 Cheechi Giancarlo (USA) Team Monex                        4.03
129 Glenn Fant (USA) Team Monex                               8.09

General Classification after Stage 2

1 Chris Wherry (USA) Health Net pb Maxxis                   6.18.51
2 Trent Lowe (Aus) Jittery Joe's/Kalahari                      0.07
3 Liam Kileen (GBr) California Giant-Village Peddlar           0.31
4 Ben Brooks (Aus) Jelly Belly - Pool Gel                      1.00
5 Eric Wohlberg (Can) Symmetrics                               1.22
6 Danny Pate (USA) Jelly Belly - Pool Gel                      1.23
7 Cameron Brenneman (USA) Kahala LaGrange                      1.45
8 Scott Moninger (USA) Health Net pb Maxxis                    1.47
9 John Hunt (USA) California Giant-Village Peddlar             1.55
10 Andrew Bajadali (USA) Vitamin Cottage                       1.59
11 Anthony Colby (USA) Texas Roadhouse                         2.15
12 Cameron Hughes (Aus) Subway                                 2.17
13 Jake Erker (Can) Symmetrics                                 2.21
14 James Mattis (USA) Webcor Builders                          3.02
15 Aaron Olson (USA) Colavita/Sutter Home                      3.04
16 Karl Menzies (Aus) Advantage Benefits/Endeavour             3.10
17 Jonathan Baker (USA) Vitamin Cottage                        3.29
18 Josh Dillon (USA) Louis Garneau/Sakonnet/Mercy Fitness      3.36
19 Hugh Moran (USA) Aerospace Enginering                       3.39
20 Dustin MacBurnie (Can) Canadian national                    3.44
21 Tyler Wren (USA) Colavita/Sutter Home                       3.47
22 Luke Stockwell (Aus) Texas Roadhouse                        4.04
23 Ivan Stevic (SCG) Aerospace Enginering                      4.08
24 Todd Herriott (USA) Colavita/Sutter Home                    4.13
25 Marco Rios (Mex) Kahala LaGrange                            4.14
26 Dominique Perras (Can) Kodak gallery/Sierra Nevada          4.16
27 Andy Guptill (USA) Louis Garneau/Sakonnet/Mercy Fitness     4.23
28 Brian Sheedy (USA) Advantage Benefits/Endeavour             4.27
29 Roman Kilun (Uzb) McGuire-Langdale                          4.50
30 Edward King (USA) Louis Garneau/Sakonnet/Mercy Fitness      5.19
31 Chad Beyer (USA) Vitamin Cottage                            5.21
32 Carlos Vargas (USA) Team Monex                              5.24
33 Jean-Sebastiaen Maheu (Can) Canadian national               5.29
34 Jake Rytlewski (USA) Advantage Benefits/Endeavour           5.45
35 Jon Tarkington (USA) Vitamin Cottage                        5.49
36 Ben Haldeman (USA) Webcor Builders                          5.54
37 Burke Swindlehurst (USA) Team Seasilver                     6.11
38 Glen Mitchell (USA) Kodak gallery/Sierra Nevada             6.14
39 Matt Dubberly (USA) McGuire-Langdale                        6.21
40 Matty Rice (Aus) Jelly Belly - Pool Gel                     6.24
41 Jason Bausch (USA) Team Seasilver                           6.30
42 Brian Jensen (USA) California Giant-Village Peddlar         6.35
43 Chris Brennan (USA) Vitamin Cottage                             
44 Robbie King (USA) Louis Garneau/Sakonnet/Mercy Fitness      6.37
45 Lucas Euser (USA) Webcor Builders                           6.53
46 Geoff Rapaport (USA) McGuire-Langdale                       6.56
47 Davide Frattini (USA) Colavita/Sutter Home                  7.03
48 Richard England (Aus) Advantage Benefits/Endeavour          7.09
49 Bradley Fairall (Can) Canadian national                     7.15
50 Chris Walker (USA) PaulTracy.com                            7.36
51 Jason Van Marle (USA) Healthy Choice/Goble Knee             7.38
52 Christian Meier (Can) Symmetrics                            7.44
53 Stephen Tilford (USA) California Giant-Village Peddlar      7.50
54 Stefano Barberi (USA) Team TIAA-CREF                        8.14
55 Neil Shirley (USA) Team Seasilver                           8.21
56 Andrew Edwards (USA) Vitamin Cottage                        8.36
57 Curtis Gunn (USA) Team Seasilver                            8.41
58 Charles Dionne (Can) Webcor Builders                        9.00
59 Ben Jacques-Maynes (USA) Kodak gallery/Sierra Nevada        9.13
60 Michael Lange (USA) Team TIAA-CREF                          9.21
61 Gustavo Artacho (USA) Colavita/Sutter Home                  9.28
62 Svein Tuft (Can) Symmetrics                                10.54
63 Mark McCormack (USA) Colavita/Sutter Home                  10.58
64 Tim Johnson (USA) Jittery Joe's/Kalahari                   11.06
65 Justin England (USA) Health Net pb Maxxis                       
66 Garrett Peltonen (USA) Advantage Benefits/Endeavour        11.18
67 Cheechi Giancarlo (USA) Team Monex                         11.19
68 Derek Wilkerson (USA) Colavita/Sutter Home                 11.20
69 Juan Jose Haedo (Arg) Colavita/Sutter Home                      
70 Chris Jones (USA) Team Spine                               11.33
71 Doug Ollerenshaw (USA) Health Net pb Maxxis                11.50
72 Johnny Sundt (USA) Jittery Joe's/Kalahari                  12.01
73 Chris McDonald (USA) Team Spine                            12.29
74 Ryan Roth (Can) Canadian national                          12.31
75 Mike Zagorski (GBr) Texas Roadhouse                        12.35
76 Frank Pipp (USA) Advantage Benefits/Endeavour              13.01
77 Marc Anderson (USA) Texas Roadhouse                        13.32
78 Phil Abbott (Can) Canadian national                        13.54
79 David Clinger (USA) Webcor Builders                        13.55
80 Nick Waite (USA) USA national                              13.59
81 Ian MacGregor (USA) Team TIAA-CREF                         14.34
82 Nathon Miller (USA) Team Monex                             14.50
83 Lance Doherty (USA) Team Spine                             15.00
84 Ryan Trebon (USA) Aerospace Enginering                     16.02
85 Brice Jones (USA) Jelly Belly - Pool Gel                   16.03
86 Kyle Gritters (USA) Team Seasilver                         16.19
87 Marc Colland (USA) Webcor Builders                         16.34
88 Eric Saunders (USA) McGuire-Langdale                       16.38
89 Todd Cornelius (USA) Subway                                16.41
90 Stuart Gillespie (USA) Team TIAA-CREF                           
91 Mike Sayers (USA) Health Net pb Maxxis                     16.54
92 Andrew Pinfold (Can) Symmetrics                            17.00
93 Dan Schmatz (USA) Team Seasilver                           17.03
94 Evan Elken (USA) Jittery Joe's/Kalahari                    17.13
95 Louie Amelburu (USA) PaulTracy.com                         17.15
96 Thad Dulin (USA) Jittery Joe's/Kalahari                    17.34
97 Mike Wilk (USA) Vitamin Cottage                            17.37
98 Jeff Hopkins (Aus) Jittery Joe's/Kalahari                  17.51
99 Cory Lange (Can) Symmetrics                                18.02
100 Omer Kem (USA) Subway                                     18.04
101 Nick Reistad (USA) Advantage Benefits/Endeavour           18.54
102 Kirk Albers (USA) Jelly Belly - Pool Gel                  19.16
103 Chris Greene (USA) California Giant-Village Peddlar       19.51
104 Marsh Cooper (Can) Symmetrics                             20.03
105 Daniel Holt (USA) Healthy Choice/Goble Knee               20.13
106 Jackson Stewart (USA) Kodak gallery/Sierra Nevada         20.39
107 Godfrey Hayden (NZl) Kodak gallery/Sierra Nevada          21.33
108 David Richter (USA) Subway                                23.35
109 Dave Harward (USA) Healthy Choice/Goble Knee              23.38
110 Victor Ayala (Mex) Kahala LaGrange                        25.15
111 Jesse Gordon (USA) Healthy Choice/Goble Knee              26.21
112 Chris Foster (USA) Jittery Joe's/Kalahari                 26.23
113 Pat Dunaway (USA) McGuire-Langdale                        26.37
114 Sid Taberly (Aus) California Giant-Village Peddlar        26.43
115 Mike Jones (USA) Health Net pb Maxxis                     26.53
116 Eugene Boronow (USA) Team Six                             27.38
117 Jermy Powers (Aus) Jelly Belly - Pool Gel                 28.19
118 Zach Walker (USA) McGuire-Langdale                        29.43
119 Bernard van Ulden (USA) Webcor Builders                   32.30
120 Glenn Fant (USA) Team Monex                               34.10
121 Scott Zwizanski (USA) Kodak gallery/Sierra Nevada         36.17
122 Gordon Fraser (Can) Health Net pb Maxxis                  37.06
123 Craig Wilcox (USA) Jittery Joe's/Kalahari                 37.16
124 Mathew Moon (USA) Louis Garneau/Sakonnet/Mercy Fitness    38.43
125 Michael Hernandez (USA) Team Spine                        39.53
126 Chris Frederick (USA) Aerospace Enginering                44.38
127 Alan Obye (USA) USA national                              46.30
128 Dave McCook (USA) Jelly Belly - Pool Gel                  49.02
129 Mark Yap (USA) Healthy Choice/Goble Knee                  50.59

Women

1 Ina Yoko Teutenberg (USA) T-Mobile            59.44
2 Andrea Ratkovic (USA) The Bicycle Store        0.05
3 Tina Pic (USA) Quark                           1.18
4 Gina Grain (Can) Victory Brewing                   
5 Annette Beutler (Swi) Quark                        
6 Laura Yoisten (Can) Diet Cheerwine                 
7 Nicole L. Freedman (USA) Ford - Basis              
8 Lara Kroepsch (USA) T-Mobile                       
9 Belem Guerrero Mendez (Mex) Mexican national       
10 Amy Moore (Can) Victory Brewing                   
11 Sherri Stedje (USA) The Bicycle Store             
12 Mari Holder (USA) T-Mobile                        
13 Kori Seehafer (USA) T-Mobile                      
14 Elizabeth Fisk (USA) Vitamin Cottage              
15 Kimberly Baldwin (USA) T-Mobile                   
16 Elizabeth Begosh (USA) Velo Bella                 
17 Erinne Willock (Can) Webcor Builders              
18 Liza Rachetto (USA) Subway                        
19 Sima Trapp (USA) Subway                           
20 Christine Thorburn (USA) Webcor Builders          
21 Brenda Lyons (USA) Velo Bella                     
22 Kristin Armstrong (USA) T-Mobile                  
23 Chrissy Ruiter (USA) Ford - Basis                 
24 Grace Fleury (USA) Quark                          
25 Sara Bresnick-Zocchi (USA) Ford                   
26 Kimberly Anderson (USA) Colavita/Cooking Light    
27 Catherine Malone (USA) Webcor Builders            
28 Kristen LaSasso (USA) CRCA/Team Lipton            
29 Laura Van Gilder (USA) Quark                      
30 Audrey Lemieux (Can) Quark                        
31 Katheryn Curi (USA) Webcor Builders               
32 Genevieve Jeanson (Can) The Bicycle Store         
33 Catherine Walberg (USA) Velo Girls                
34 Felicia Greer (Can) Webcor Builders               
35 Sandy Espeseth (Can) Victory Brewing              
36 Rhonda Stickle (Can) Diet Cheerwine               
37 Kele J. Hulser (USA) Ford - Basis                 
38 Sue Palmer-Komar (Can) Colavita/Cooking Light     
39 Darcie Murphy (USA) Velo Girls                    
40 Catherine Power (USA) TDS                         
41 Kelly Benjemin (USA) The Bicycle Store            
42 Gabriela Gonzalez-Ferrat (Mex) Velo Bella         
43 Julia Whiteside (USA) Paramount Racing            
44 Lauren Franges (USA) Victory Brewing              
45 Lynn Gaggioli (USA) Monex                         
46 Leigh Hobson (Can) Diet Cheerwine                 
47 Katerina Hanusova (Cze) Vitamin Cottage           
48 Christine Peick (Den) Monex                       
49 Helen Kelly (Aus) Quark                           
50 Stefanie Graeter (USA) Webcor Builders            
51 Megan Esmonde (USA) Colavita/Cooking Light        
52 Anna Milkowski (USA) CRCA/Team Lipton             
53 Megan Elliott (USA) Ford                          
54 Kate Sherwin (USA) Victory Brewing                
55 Penny Avril (GBr) Touchstone Climbing             
56 Renee Eastman (USA) Vitamin Cottage               
57 Nichole Wangsgard (USA) Subway                    
58 Melodie Metzger (USA) Velo Bella                  
59 Kelli Emmett (USA) Ford                           
60 Suzanne Weldon (USA) Subway                       
61 Carla Figueroa (USA) Paramount Racing             
62 Dotsie Cowden (USA) Colavita/Cooking Light        
63 Jill McLaughlin (USA) Exte Ondo                   
64 Jennifer Chapman (USA) Velo Bella                 
65 Alisha Lion (USA) Ford - Basis                    
66 Maureen Devlin (USA) Touchstone Climbing          
67 Shawn Heidlen (USA) TDS                           
68 Melinda Johnson (USA) Paramount Racing            
69 Dara Marks-Marino (USA) Ford                      
70 Rebecca Larson (USA) Colavita/Cooking Light       
71 Crystal Yap (USA) Subway                          
72 Melissa Sanborn (USA) Subway                      
73 Karen Dodge (USA) Exte Ondo                   1.44
74 Nicole Demars (USA) Victory Brewing           1.59
75 Zoe Owers (USA) CRCA/Team Lipton              2.26
76 Sarah Bamberger (USA) Touchstone Climbing     2.29
77 Juliane Mortello (USA) Monex                  3.22
78 Betsy Galenti (USA) Paramount Racing              
79 Sharon Allpress (USA) Vitamin Cottage             
80 Tara Ross (Can) Diet Cheerwine                    
81 Beverly Harper (GBr) Touchstone Climbing          
82 Allyson Brandt (USA) Monex                        
83 Lauren Gaffney (USA) Ford      

General Classification after Stage 2

1 Christine Thorburn (USA) Webcor Builders        5.26.17
2 Kimberly Baldwin (USA) T-Mobile                    0.06
3 Annette Beutler (Swi) Quark                        0.07
4 Erinne Willock (Can) Webcor Builders               0.45
5 Kristin Armstrong (USA) T-Mobile                   0.56
6 Tina Pic (USA) Quark                               1.36
7 Katheryn Curi (USA) Webcor Builders                2.23
8 Chrissy Ruiter (USA) Ford - Basis                  2.25
9 Genevieve Jeanson (Can) The Bicycle Store          2.29
10 Kimberly Anderson (USA) Colavita/Cooking Light    2.37
11 Dotsie Cowden (USA) Colavita/Cooking Light        2.48
12 Christine Peick (Den) Monex                       3.13
13 Amy Moore (Can) Victory Brewing                   3.18
14 Mari Holder (USA) T-Mobile                        3.37
15 Lynn Gaggioli (USA) Monex                         3.40
16 Sue Palmer-Komar (Can) Colavita/Cooking Light     3.50
17 Kelli Emmett (USA) Ford                           3.51
18 Penny Avril (GBr) Touchstone Climbing             4.01
19 Andrea Ratkovic (USA) The Bicycle Store           4.48
20 Dara Marks-Marino (USA) Ford                      5.02
21 Kori Seehafer (USA) T-Mobile                      5.21
22 Leigh Hobson (Can) Diet Cheerwine                 6.33
23 Grace Fleury (USA) Quark                          7.19
24 Sara Bresnick-Zocchi (USA) Ford                   7.22
25 Rebecca Larson (USA) Colavita/Cooking Light       7.25
26 Kristen LaSasso (USA) CRCA/Team Lipton            7.34
27 Belem Guerrero Mendez (Mex) Mexican national      7.37
28 Suzanne Weldon (USA) Subway                       7.50
29 Felicia Greer (Can) Webcor Builders               8.28
30 Gabriela Gonzalez-Ferrat (Mex) Velo Bella         8.36
31 Sima Trapp (USA) Subway                           9.16
32 Lara Kroepsch (USA) T-Mobile                     10.06
33 Darcie Murphy (USA) Velo Girls                   10.19
34 Stefanie Graeter (USA) Webcor Builders           10.53
35 Karen Dodge (USA) Exte Ondo                      10.58
36 Kele J. Hulser (USA) Ford - Basis                11.09
37 Katerina Hanusova (Cze) Vitamin Cottage          11.16
38 Anna Milkowski (USA) CRCA/Team Lipton            11.37
39 Nichole Wangsgard (USA) Subway                   11.53
40 Jennifer Chapman (USA) Velo Bella                12.14
41 Catherine Power (USA) TDS                        12.18
42 Maureen Devlin (USA) Touchstone Climbing         12.23
43 Laura Van Gilder (USA) Quark                     12.57
44 Helen Kelly (Aus) Quark                          13.16
45 Megan Esmonde (USA) Colavita/Cooking Light       13.20
46 Beverly Harper (GBr) Touchstone Climbing         13.28
47 Audrey Lemieux (Can) Quark                       13.37
48 Laura Yoisten (Can) Diet Cheerwine               13.38
49 Gina Grain (Can) Victory Brewing                 13.42
50 Melodie Metzger (USA) Velo Bella                 13.53
51 Brenda Lyons (USA) Velo Bella                    14.01
52 Melissa Sanborn (USA) Subway                     14.06
53 Kate Sherwin (USA) Victory Brewing               14.26
54 Jill McLaughlin (USA) Exte Ondo                  15.03
55 Shawn Heidlen (USA) TDS                          15.10
56 Renee Eastman (USA) Vitamin Cottage              15.20
57 Ina Yoko Teutenberg (USA) T-Mobile               15.31
58 Julia Whiteside (USA) Paramount Racing           15.33
59 Crystal Yap (USA) Subway                         15.49
60 Lauren Gaffney (USA) Ford                        15.54
61 Lauren Franges (USA) Victory Brewing             15.58
62 Betsy Galenti (USA) Paramount Racing             16.57
63 Carla Figueroa (USA) Paramount Racing            17.06
64 Sandy Espeseth (Can) Victory Brewing             17.18
65 Juliane Mortello (USA) Monex                     17.34
66 Zoe Owers (USA) CRCA/Team Lipton                 17.47
67 Nicole Demars (USA) Victory Brewing              18.16
68 Alisha Lion (USA) Ford - Basis                   18.42
69 Sherri Stedje (USA) The Bicycle Store            18.54
70 Nicole L. Freedman (USA) Ford - Basis            19.22
71 Sarah Bamberger (USA) Touchstone Climbing        20.33
72 Tara Ross (Can) Diet Cheerwine                   22.40
73 Elizabeth Begosh (USA) Velo Bella                23.27
74 Liza Rachetto (USA) Subway                       23.42
75 Melinda Johnson (USA) Paramount Racing           25.42
76 Catherine Walberg (USA) Velo Girls               27.02
77 Allyson Brandt (USA) Monex                       28.45
78 Kelly Benjemin (USA) The Bicycle Store           30.00
79 Sharon Allpress (USA) Vitamin Cottage            31.01
80 Elizabeth Fisk (USA) Vitamin Cottage             34.28
81 Rhonda Stickle (Can) Diet Cheerwine              35.12
82 Catherine Malone (USA) Webcor Builders           36.03
83 Megan Elliott (USA) Ford                         36.43