Boucles de la Mayenne - 2.2
France, June 16-19, 2005
Main Page Results Overall standings Previous Stage
Stage 4 - June 19: Ernee - Laval, 166 km
Russian roulette for Ag2r
By Jean-François Quénet in Laval
Stéphane Bonsergent (CC Nogent Sur Oise) takes the win
Photo ©: Régis Garnier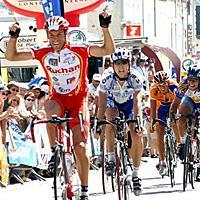 Ag2r was in a perfect position to win the Boucles de la Mayenne with three riders in top four at the start of the last stage, the yellow jersey being on the shoulders of Christophe Riblon. They had ridden so well for two days, showing everyone what a real professional team was about. "I had decided to play my cards but I didn't think I could win this race," eventual winner Aleksandr Kuchinsky said.
The Belarusian had entered a 38 man breakaway after an accident affected Ag2r. When he crashed, Saturday morning's stage winner Laurent Mangel didn't think he was injured but he chased for 12 kilometres with a broken collarbone before giving up. There was a bit of a chaos with team's radios not working properly when the break went, then Riblon wasn't looking too good and his team-mate Mark Scanlon suffered the heat: 35°!
As Ag2r was chasing with Ludovic Turpin, they were left with Lloyd Mondory alone in the break, led for many kilometres by only one man : Dainus Kairelis who was Kuchinsky's only domestique, since Amore e Vita started with just four riders. Timothée Lefrançois of U Nantes-Atlantique broke clear from the front group, then his partner Christophe Diguet looked like going for the stage win on the final circuit, another local rider Antoine Dalibard (Bretagne-Jean Floc'h) also gave it a try with one lap to go. But it ended up in a bunch sprint with Stéphane Bonsergent winning just like at the Tour of Normandy and the Ruban Granitier Breton, the Boucles de la Mayenne being the third international 2.2 stage races in the North west of France.
"This is my first win this year," Kuchinsky said. "But I didn't even want to come to this race. Then I came for preparation for my National championship next week and I found the right condition through the race. Yesterday, I felt strong already, but I didn't want to win the morning stage, because I wouldn't have been able to defend the lead, I preferred to let Ag2r do it. They have wanted to get all the jerseys, but at the end, I was better than them in the hills."
On the same day, Ag2r also lost the Route du Sud where Sylvain Calzati was leading, while Amore e Vita claimed another success with Jonas Ljungblad winning the Swedish road title.
Photography
For a thumbnail gallery of these images, click here
Images by Jean-Francois Quenet
Images by Régis Garnier/www.velofotopro.fr.st
Results
1 Stéphane Bonsergent (Fra) Nogent              3.49.58
2 Benjamin Johnson (Aus) Agritubel                     
3 Alvaras Baranauskas (Ltu) Roubaix                    
4 Mathieu Drujon (Fra) Nantes                          
5 Sven Vanthourenhout (Bel) Rabobank                   
6 Mikhail Timochine (Rus) Moscou                       
7 Lloyd Mondory (Fra) AG2r Prevoyance                  
8 Renaud Dion (Fra) RAGT Semences                  0.05
9 Remco Van Der Ven (Ned) Rabobank                     
10 Charles Guilbert (Fra) Bretagne-Jean Floc'h         
11 Vincent Jerome (Fra) Vendee U                       
12 Tom De Meyer (Ned) Fondas                           
13 Vincent Freulon (Fra) Pays De La Loire              
14 Fabien Rey (Fra) Aix                                
15 Aurélien Passeron (Fra) Aix                         
16 Manuele Spadi (Ita) Ceramica                        
17 John Gadret (Bel) Jartazi                           
18 Stephano Boggia (Ita) Ceramica                      
19 Gaylord Cumont (Fra) Val D'oise                 0.06
20 Noan Lelarge (Fra) Bretagne-Jean Floc'h             
21 Andrey Pchelkin (Rus) Moscou                        
22 Mickaël Buffaz (Fra) Agritubel                      
23 David Danion (Fra) Pays De La Loire                 
24 Mickaël Diguet (Fra) Pays De La Loire           0.08
25 Aleksandr Kuschynski (Blr) Amore e Vita                     
26 Thijs Zonneveld (Ned) Aix                           
27 Norbert Poels (Ned) Fondas                          
28 Olivier Martinez (Fra) Aix                          
29 Stéphane Barthe (Fra) Val D'oise                0.13
30 Mathieu Heijboer (Ned) Rabobank                 0.15
31 Sébastien Duret (Fra) Bretagne-Jean Floc'h          
32 Timothée Lefrancois (Fra) Nantes                0.26
33 Vladislav Borisov (Rus) Moscou                  0.28
34 Krysztof Szczawinski (Pol) Ceramica             0.36
35 Jonathan Dayus (Gbr) Nantes                         
36 Sven Nijs (Bel) Rabobank                        0.41
37 Dainus Kairelis (Ltu) Amor                      0.46
38 Antoine Dalibard (Fra) Bretagne-Jean Floc'h     0.49
39 Christophe Diguet (Fra) Nantes                      
40 Kirill Golubev (Rus) Ceramica                   5.53
41 Julien Foisnet (Fra) Pays De La Loire          10.42
42 Kévin Lalouette (Fra) Nogent                        
43 Maarten Mandemakers (Ned) Fondas                    
44 Alexandre Urbain (Fra) Nogent                       
45 Michael Schweizer (Ger) Com-Net                     
46 Markus Eichler (Ger) Com-Net                        
47 Olivier Kaisen (Bel) RAGT Semences                  
48 Kieran Page (Gbr) Aix                               
49 Saulius Ruskys (Ltu) Agritubel                      
50 Lex Nederlof (Ned) Fondas                           
51 Stefan Wijnands (Bel) Jartazi                       
52 Thom Van Dulmen (Ned) Rabobank                      
53 Nicolas Crosbie (Fra) Agritubel                     
54 Mateusz Mroz (Pol) Amor                             
55 René Schild (Ger) Com-Net                           
56 Mickaël Barbier (Fra) EC Mayennaise                 
57 Hervé Arcade (Fra) Vendee U                    11.02
58 Alexandre Bousseau (Fra) Vendee U                   
59 Tony Leroux (Fra) EC Mayennaise                     
60 Jérôme Bouchet (Fra) Roubaix                        
61 Guillaume Blot (Fra) Roubaix                        
62 Fabio Boccialoni (Ita) Ceramica                     
63 Bart Wellens (Bel) Fidea                            
64 Alexandre Usov (Blr) AG2r Prevoyance                
65 Christophe Riblon (Fra) AG2r Prevoyance             
66 Erwin Vervecken (Bel) Fidea                         
67 Domenico Quagliarella (Ita) Ceramica                
68 Jan Verstraeten (Bel) Fidea                         
69 Anthony Graffin (Fra) Pays De La Loire              
DNF Luc Delpech Jean (Fra) Bretagne-Jean Floc'h        
DNF Vincent Cantero (Fra) Bretagne-Jean Floc'h         
DNF Linas Balciunas (Ltu) Agritubel                    
DNF Lenaïc Olivier (Fra) Agritubel                     
DNF Robert Retschke (Ger) Com-Net                      
DNF Hans Dekkers (Ned) Rabobank                        
DNF Mikhial Mikheev (Rus) Moscou                       
DNF Evgeny Sokolov (Rus) Moscou                        
DNF Ivan Terenine (Rus) Moscou                         
DNF Vincent Templier (Fra) Val D'oise                  
DNF Frédéric Mille (Fra) Val D'oise                    
DNF Paulo Da Cunha (Fra) Val D'oise                    
DNF Georges Toussaint (Fra) Val D'oise                 
DNF Alexandre Pichot (Fra) Vendee U                    
DNF Benoit Genauzeau (Fra) Vendee U                    
DNF Mattieu Rompion (Fra) Vendee U                     
DNF Romain Paillard (Fra) Nantes                       
DNF Franck Charrier (Fra) Nogent                       
DNF Raphaël Devienne (Fra) Nogent                      
DNF Romain Fondard (Fra) Roubaix                       
DNF David Tanner (Aus) Roubaix                         
DNF Jean Zen (Fra) Roubaix                             
DNF Daniel Lloyd (Gbr) Flanders                        
DNF Laurent Mangel (Fra) AG2r Prevoyance               
DNF Ludovic Turpin (Fra) AG2r Prevoyance               
DNF Marc Scanlon (Ire) AG2r Prevoyance                 
DNF Eddy Seigneur (Fra) RAGT Semences                  
DNF Roman Luhovyy (Ukr) RAGT Semences                  
DNF Yoann Le Boulanger (Fra) RAGT Semences             
DNF Kévin Ista (Bel) RAGT Semences                     
DNF François Lavaleur (Fra) EC Mayennaise              
DNF Frédéric Lhuissier (Fra) EC Mayennaise             
DNF Tomasz Kloczko (Pol) Amor                          
DNF Raynold Smith (Rsa) Fondas                         
DNF Jorrit Walgien (Ned) Fondas                        
DNF Mickaël Hacques (Fra) Pays De La Loire             
DNF Franck Champeymont (Fra) Aix                       
DNF Igor Abakoumov (Rus) Jartazi                       
DNF Denis Kostyuk (Ukr) Jartazi                        
DNF Michael Blanchy (Bel) Jartazi                      
DNF Maxim Rudenko (Ukr) Jartazi                        
DNF Kevin Pauwels (Bel) Fidea                          
 
Final general classification
 
1 Aleksandr Kuschynski (Blr) Amore e Vita      12.13.14
2 Andrey Pchelkin (Rus) Moscou                     0.13
3 Stephano Boggia (Ita) Ceramica                   0.14
4 John Gadret (Bel) Jartazi                        0.16
5 Noan Lelarge (Fra) Bretagne-Jean Floc'h              
6 Lloyd Mondory (Fra) AG2r Prevoyance              0.28
7 Gaylord Cumont (Fra) Val D'oise                  0.29
8 Mikhail Timochine (Rus) Moscou                   0.33
9 Olivier Martinez (Fra) Aix                       0.37
10 Renaud Dion (Fra) RAGT Semences                     
11 Alvaras Baranauskas (Ltu) Roubaix               2.54
12 Dainus Kairelis (Ltu) Amor                      4.24
13 Christophe Riblon (Fra) AG2r Prevoyance         9.19
14 Saulius Ruskys (Ltu) Agritubel                 11.09
15 Kieran Page (Gbr) Aix                          11.19
16 Hervé Arcade (Fra) Vendee U                    11.51
17 Markus Eichler (Ger) Com-Net                   13.51
18 Mickaël Buffaz (Fra) Agritubel                 13.59
19 Jérôme Bouchet (Fra) Roubaix                   14.12
20 Charles Guilbert (Fra) Bretagne-Jean Floc'h    14.36
21 Aurélien Passeron (Fra) Aix                    14.44
22 Mathieu Drujon (Fra) Nantes                    14.51
23 Stéphane Bonsergent (Fra) Nogent               14.59
24 Vladislav Borisov (Rus) Moscou                 15.06
25 Krysztof Szczawinski (Pol) Ceramica            15.32
26 Mathieu Heijboer (Ned) Rabobank                16.48
27 Remco Van Der Ven (Ned) Rabobank               16.49
28 Stéphane Barthe (Fra) Val D'oise               16.55
29 Norbert Poels (Ned) Fondas                     17.06
30 Sven Vanthourenhout (Bel) Rabobank             17.13
31 Sébastien Duret (Fra) Bretagne-Jean Floc'h     17.19
32 Benjamin Johnson (Aus) Agritubel               17.25
33 Tom De Meyer (Ned) Fondas                      17.26
34 Vincent Freulon (Fra) Pays De La Loire         17.36
35 Mickaël Diguet (Fra) Pays De La Loire          17.38
36 Vincent Jerome (Fra) Vendee U                  17.39
37 David Danion (Fra) Pays De La Loire                 
38 Jonathan Dayus (Gbr) Nantes                    17.43
39 Timothée Lefrancois (Fra) Nantes               17.45
40 Thijs Zonneveld (Ned) Aix                      17.49
41 Antoine Dalibard (Fra) Bretagne-Jean Floc'h    17.54
42 Manuele Spadi (Ita) Ceramica                   17.55
43 Christophe Diguet (Fra) Nantes                 17.59
44 Fabien Rey (Fra) Aix                           18.00
45 Sven Nijs (Bel) Rabobank                       20.25
46 Julien Foisnet (Fra) Pays De La Loire          22.40
47 Kirill Golubev (Rus) Ceramica                  22.59
48 Maarten Mandemakers (Ned) Fondas               23.06
49 Thom Van Dulmen (Ned) Rabobank                 27.32
50 Olivier Kaisen (Bel) RAGT Semences             27.35
51 Stefan Wijnands (Bel) Jartazi                  27.46
52 Kévin Lalouette (Fra) Nogent                   27.48
53 Alexandre Usov (Blr) AG2r Prevoyance           27.50
54 Mateusz Mroz (Pol) Amor                        27.56
55 René Schild (Ger) Com-Net                      27.57
56 Nicolas Crosbie (Fra) Agritubel                28.01
57 Alexandre Urbain (Fra) Nogent                  28.05
58 Erwin Vervecken (Bel) Fidea                    28.07
59 Mickaël Barbier (Fra) EC Mayennaise            28.13
60 Fabio Boccialoni (Ita) Ceramica                     
61 Domenico Quagliarella (Ita) Ceramica           28.15
62 Jan Verstraeten (Bel) Fidea                    28.29
63 Alexandre Bousseau (Fra) Vendee U              28.30
64 Tony Leroux (Fra) EC Mayennaise                     
65 Lex Nederlof (Ned) Fondas                      28.34
66 Bart Wellens (Bel) Fidea                            
67 Guillaume Blot (Fra) Roubaix                   28.38
68 Anthony Graffin (Fra) Pays De La Loire         28.47
69 Michael Schweizer (Ger) Com-Net                34.03
 
Points classification
 
1 Stéphane Bonsergent (Fra) Nogent                   50 pts
2 Lloyd Mondory (Fra) AG2r Prevoyance                36
3 Mathieu Drujon (Fra) Nantes                        34
4 Charles Guilbert (Fra) Bretagne-Jean Floc'h        31
5 Alexandre Usov (Blr) AG2r Prevoyance               25
6 Aleksandr Kuschynski (Blr) Amor                    20
7 Mikhail Timochine (Rus) Moscou                     20
8 Vladislav Borisov (Rus) Moscou                     24
9 Benjamin Johnson (Aus) Agritubel                   20
10 Alvaras Baranauskas (Ltu) Roubaix                 19
11 Christophe Riblon (Fra) AG2r Prevoyance           19
12 Vincent Jerome (Fra) Vendee U                     19
13 Krysztof Szczawinski (Pol) Ceramica               17
14 Remco Van Der Ven (Ned) Rabobank                  15
15 Gaylord Cumont (Fra) Val D'oise                   14
16 Mickaël Buffaz (Fra) Agritubel                    18
17 Renaud Dion (Fra) RAGT Semences                   12
18 Sven Vanthourenhout (Bel) Rabobank                12
19 Aurélien Passeron (Fra) Aix                       11
20 Mathieu Heijboer (Ned) Rabobank                   10
21 Bart Wellens (Bel) Fidea                          10
22 John Gadret (Bel) Jartazi                          9
23 Stéphane Barthe (Fra) Val D'oise                   9
24 Andrey Pchelkin (Rus) Moscou                       8
25 Stephano Boggia (Ita) Ceramica                     8
26 Noan Lelarge (Fra) Bretagne-Jean Floc'h            6
27 Saulius Ruskys (Ltu) Agritubel                     6
28 Guillaume Blot (Fra) Roubaix                       6
29 Tom De Meyer (Ned) Fondas                          4
30 Vincent Freulon (Fra) Pays De La Loire             3
31 Thom Van Dulmen (Ned) Rabobank                     3
32 Fabien Rey (Fra) Aix                               2
33 Jan Verstraeten (Bel) Fidea                        1
 
Mountains classification
 
1 Mickaël Buffaz (Fra) Agritubel                     36 pts
2 John Gadret (Bel) Jartazi                          30
3 Mikhail Timochine (Rus) Moscou                      7
4 Timothée Lefrancois (Fra) Nantes                    7
5 Noan Lelarge (Fra) Bretagne-Jean Floc'h             7
6 Aurélien Passeron (Fra) Aix                         6
7 Krysztof Szczawinski (Pol) Ceramica                 6
8 Christophe Diguet (Fra) Nantes                      6
9 Charles Guilbert (Fra) Bretagne-Jean Floc'h         5
10 Sébastien Duret (Fra) Bretagne-Jean Floc'h         4
11 Julien Foisnet (Fra) Pays De La Loire              4
12 Vladislav Borisov (Rus) Moscou                     3
13 Antoine Dalibard (Fra) Bretagne-Jean Floc'h        3
14 Saulius Ruskys (Ltu) Agritubel                     2
15 Mathieu Drujon (Fra) Nantes                        2
16 Michael Schweizer (Ger) Com-Net                    2
17 Aleksandr Kuschynski (Blr) Amor                    1
18 Stephano Boggia (Ita) Ceramica                     1
19 Mathieu Heijboer (Ned) Rabobank                    1
20 Vincent Freulon (Fra) Pays De La Loire             1
 
Sprints classification
 
1 Hervé Arcade (Fra) Vendee U                        21 pts
2 Michael Schweizer (Ger) Com-Net                    16
3 Sébastien Duret (Fra) Bretagne-Jean Floc'h         10
4 Mikhail Timochine (Rus) Moscou                     10
5 Krysztof Szczawinski (Pol) Ceramica                10
6 Aleksandr Kuschynski (Blr) Amor                     7
7 Christophe Diguet (Fra) Nantes                      6
8 Mathieu Drujon (Fra) Nantes                         5
9 Mathieu Heijboer (Ned) Rabobank                     5
10 Aurélien Passeron (Fra) Aix                        5
11 Stéphane Bonsergent (Fra) Nogent                   4
12 Dainus Kairelis (Ltu) Amor                         3
13 Markus Eichler (Ger) Com-Net                       3
14 Vladislav Borisov (Rus) Moscou                     3
15 Remco Van Der Ven (Ned) Rabobank                   3
16 Timothée Lefrancois (Fra) Nantes                   3
17 John Gadret (Bel) Jartazi                          3
18 Andrey Pchelkin (Rus) Moscou                       2
19 Benjamin Johnson (Aus) Agritubel                   2
20 Olivier Martinez (Fra) Aix                         1
21 Charles Guilbert (Fra) Bretagne-Jean Floc'h        1
22 Vincent Jerome (Fra) Vendee U                      1
23 Sven Nijs (Bel) Rabobank                           1
24 Kirill Golubev (Rus) Ceramica                      1
25 Thom Van Dulmen (Ned) Rabobank                     1
26 Alexandre Usov (Blr) AG2r Prevoyance               1
 
U23 classification
 
1 Kieran Page (Gbr) Aix                        12.24.33
2 Aurélien Passeron (Fra) Aix                      3.25
3 Mathieu Drujon (Fra) Nantes                      3.32
4 Norbert Poels (Ned) Fondas                       5.47
5 Benjamin Johnson (Aus) Agritubel                 6.06
6 Vincent Jerome (Fra) Vendee U                    6.20
7 Antoine Dalibard (Fra) Bretagne-Jean Floc'h      6.35
8 Maarten Mandemakers (Ned) Fondas                11.47
9 Olivier Kaisen (Bel) RAGT Semences              16.16
10 Kévin Lalouette (Fra) Nogent                   16.29
11 René Schild (Ger) Com-Net                      16.38
12 Alexandre Bousseau (Fra) Vendee U              17.11
13 Guillaume Blot (Fra) Roubaix                   17.19
14 Michael Schweizer (Ger) Com-Net                22.44
 
Amateurs classification
 
1 Gaylord Cumont (Fra) Val D'oise              12.13.43
2 Olivier Martinez (Fra) Aix                       0.08
3 Alvaras Baranauskas (Ltu) Roubaix                2.25
4 Kieran Page (Gbr) Aix                           10.50
5 Hervé Arcade (Fra) Vendee U                     11.22
6 Jérôme Bouchet (Fra) Roubaix                    13.43
7 Aurélien Passeron (Fra) Aix                     14.15
8 Mathieu Drujon (Fra) Nantes                     14.22
9 Stéphane Bonsergent (Fra) Nogent                14.30
10 Stéphane Barthe (Fra) Val D'oise               16.26
11 Vincent Freulon (Fra) Pays De La Loire         17.07
12 Mickaël Diguet (Fra) Pays De La Loire          17.09
13 Vincent Jerome (Fra) Vendee U                  17.10
14 David Danion (Fra) Pays De La Loire                 
15 Jonathan Dayus (Gbr) Nantes                    17.14
16 Timothée Lefrancois (Fra) Nantes               17.16
17 Thijs Zonneveld (Ned) Aix                      17.20
18 Christophe Diguet (Fra) Nantes                 17.30
19 Fabien Rey (Fra) Aix                           17.31
20 Julien Foisnet (Fra) Pays De La Loire          22.11
21 Kévin Lalouette (Fra) Nogent                   27.19
22 Alexandre Urbain (Fra) Nogent                  27.36
23 Mickaël Barbier (Fra) EC Mayennaise            27.44
24 Alexandre Bousseau (Fra) Vendee U              28.01
25 Tony Leroux (Fra) EC Mayennaise                     
26 Guillaume Blot (Fra) Roubaix                   28.09
27 Anthony Graffin (Fra) Pays De La Loire         28.18
 
Teams classification
 
1 Omnibike Dynamo Moscow                       36.49.32
2 Bretagne Jean Floc'H                             5.48
3 Avc Aix En Provence                              6.11
4 Amore & Vita - Beretta - Polska                  8.44
5 Ag2R Prevoyance                                 10.15
6 Ceramica Flaminia                               22.57
7 Rabobank                                        23.58
8 Agritubel                                       32.17
9 Velo Club De Roubaix                            35.23
10 Comite Pays De La Loire                        37.25
11 Team U Nantes Atlantique                       40.20
12 Fondas Imabo Doorisol Team                     47.12
13 Vendee U                                       47.50
14 Team Comnet - Senges                           58.21
15 Cc Nogent Sur Oise                           1.01.03
16 Fidea Cycling Team                           1.15.07

Courtesy of velomania.net