US Elite Championships - CN
Park City, UT, USA, June 21-27, 2005
Main Page Results Previous Race Next Race
Race 5 - June 22: Elite Women/U23 Women RR, 123km
Curi against the odds
By Kristy Scrymgeour
Katheryn Curi (Webcor)
Photo: © Epic Images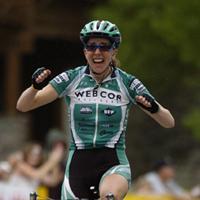 Not only was Katheryn Curi on a team that lacked in numbers compared to the dominant T-Mobile team in today's race but this last year has been what she calls "the year of resiliency" for the up and coming rider from Danville, California. In October of 2004 she broke her collarbone, then broke it again k it again in February, the same month that her mother died. And just a month ago her father had a heart attack. Today's win for Curi was a "dream come true," with the support from her team and coach over the last challenging months paying off.
Altitude was one of the big concerns for many of the riders going into today's National Road Race Championship. With Deer Valley, Utah situated at 7200 feet, riders from sea level are definitely at a disadvantage. The course starts high and drops down into the canyons behind Park City, where riders completed three laps of a relatively flat 24.1-mile loop before climbing back out over two long climbs to the finish.
By the first mid race loop a break of six riders had formed, opening up a convincing gap on the field. In the group were Sarah Uhl (Quark), Cat Malone (Webcor), Lara Kroepsch (T-Mobile), Kate Hulser (Ford Basis), Anna Milkowski (Lipton) and Mara Abbott (Sports Garage). The break worked well together and by the second lap the gap had over 1'40" on the field and was looking dangerous. T-Mobile had Kroepsch in the break but was not happy with the situation, as their one advantage of having numbers in the field was not being utilized. They set tempo in the field and gradually reduced the gap. It was getting close by base of the final climb and Kristin Armstrong started the attacks. She split the field taking four others with her: Christine Thorburn (Webcor), Kate Sherwin (Victory Brewing), Amber Neben (Buitenpoort Flexipoint), and Lynn Gaggioli (Monex). Bridging across was Grace Fleury (Quark) taking Curi with her. Just as Fleury and Curi reached the chase group at the top of the first climb, the original break was caught and Curi made her move.
T-Mobile lead the bunch up the first climb
Photo ©: Kristy Scrymgeour

"I could see Kimberly [Baldwin] falling back a bit and I knew that the Quark riders were suffering, so I went with Grace and when we got their the break was getting caught so I attacked," Curi explained.
She attacked up the left hand side, leaving the other main contenders looking at each other. By the bottom of the descent she had a minute on the rest of the break. Gaggioli and Neben started to chase but had no help from the rest of the group and Curi's lead kept increasing. Armstrong tried to attack, as did Sherwin, but all attempts failed and the cat and mouse game continued. Curi powered home to take her first ever National Title and the chase group was caught by the peloton with a few kilometers to go. Gaggioli managed to take the bunch sprint for second place, with Tina Pic (Quark) taking third.
Curi was ecstatic as she crossed the line, the only thing she could say for a while being, "Oh, my God." A very excited team joined her for a big team hug shortly after as celebrations continued. "I just want to thank my team," said Curi. "This is the best team. The staff, the riders and the sponsors are all so great. I couldn't have gotten through the last year without my team and my coach [Laura Sharmeda]."
Curi looked back on the final part of the race saying that her main focus was her power output. "I kept looking at my SRM trying to make sure I kept my power steady. I felt really good. I got a little worried when I went under the underpass because I realized that I still had a long way to go, but I just kept focusing on my SRM."
Anna Milkowski (Team Lipton)
Photo ©: Kristy Scrymgeour
Curi's win earns her automatic selection in the US National Team for the World Championships in Spain. "It was a goal to win today," she said. "But I also knew that I'd have to work really hard to do it."
Cyclingnews caught up with Armstrong whose T-Mobile team had a disappointing day. "Honestly, I wouldn't say it was one of our strongest tactical races," she said. "Today we let people watch us race. We didn't particularly like the break so we set the tempo at the front to bring it back and then started to attack. When Katheryn got away, nobody would chase and the bunch caught us. You know when that happens there isn't a lot of communication in the field and a lot of riders didn't know that Curi was up the road, so all of a sudden she had 1'30" on us.
"One thing I will say," added Armstrong, "is that if a T-Mobile rider wasn't going to win, it's nice that it was Katheryn who won. She is a well-respected rider and wasn't really one of the favourites. It's great that an up and coming rider won today. We've had a lot of success this year, so now we just have to move on and get ready for Cascade."
Within the same race, the U23 category was also being fought out. At the end of the day, it was Lauren Franges (Victory Brewing) winning another U23 National title. She took eighth place overall in the elite race, placing her on top out of the U23 riders. Staphanie Graeter (Webcor) took second place with Mara Abbott (Sports Garage) coming in for third after being in the early break.
Elite Women's podium
Photo ©: Kristy Scrymgeour
Photography
For a thumbnail gallery of these images, click here
Images by Kristy Scrymgeour/Cyclingnews.com
Images by www.epicimages.us
Images by Kristy Scrymgeour/Cyclingnews.com
Results
1 Katheryn Curi (Webcor Builders Elite Cycling T)         3.26.03
2 Lynn Gaggioli (Monex)                                      0.39
3 Tina Pic (Quark Cycling Team)                              0.40
4 Christine Thorburn (Webcor Builders Elite Cycling T)       0.41
5 Amber Neben (Buitenpoort/Flexpoint)                        0.44
6 Rebecca Larson (Colavita/Cooking Light)                    0.45
7 Megan Elliott (Bianchi/Grand Performance)                  0.46
8 Lauren Franges (Victory Brewing)                               
9 Kristin Sanders (JC Investors Cycling Team)                    
10 Meredith Miller (Team S.A.T.S)                            0.47
11 Grace Fleury (Quark Cycling Team)                             
12 Erin Mirabella (Bicycle Johns Seroious Cycling)           0.48
13 Sarah Tilllotson (ABD Cycling Team)                       0.49
14 Kristen Lasasso (Team Lipton)                                 
15 Laura Van Gilder (Quark Cycling Team)                     0.50
16 Dotsie Cowden (Colavita/Cooking Light)                    0.52
17 Kristin Armstrong (T Mobile)                              0.53
18 Kate Sherwin (Victory Brewing)                            0.54
19 Alisha Little (Ford Basis)                                    
20 Susan Haywood (Unattached)                                0.55
21 Kimberly Baldwin (T Mobile)                               0.58
22 Stefanie Graeter (Webcor Buliders)                        1.04
23 Kori Schafer (T Mobile)                                   1.44
24 Mara Abbott (Sports Garage)                               2.05
25 Cat Malone (Webcor Builders Elite Cycling T)              2.19
26 Irene Mercer (Tamarack Resort)                            2.51
27 Marisa Asplund (Colorado Premier Training)                    
28 Marie Holden (T Mobile)                                   3.08
29 Chrissy Ruiter (Ford Basis)                               3.18
30 Kristin Johnson (Ford Basis)                              3.22
31 Sima Trapp (Subway Pro Cycling Team)                          
32 Nichole Wangsgard (Subway Pro Cycling Team)               3.23
33 Molly Hummel (Team Dean)                                      
34 Katherine Lambden (Team Lipton)                           3.24
35 Laura Howat (Utah Premier)                                4.15
36 Catherine Powers (La Grange)                              4.17
37 Starr Falk (Lgbrc/Easton/Specialized)                     4.18
38 Megan Monroe (Colo Preimier Training)                     4.27
39 Erin Alders (Tamarack Resort)                             4.33
40 Merrill Sapp (Landis/Trek/Vw)                             5.00
41 Katharine Carroll (Ford Basis)                            5.02
42 Liza Rachetto (Team Lipton)                               5.03
43 Darcie Murphy (Ogden One/Heartstrings)                    6.20
44 Anna Milkowski (Team Lipton)                              8.46
45 Beverley Harper (Touchstone)                                  
46 Sarah Uhl (Quark Cycling Team)                           10.37
47 Traci Carroll (Team Rubicon)                             11.16
48 Nisie Van De Kamp (Heartstrings/Ogden One)               11.18
49 Rebecca Much (T Mobile)                                       
50 Candice Blickem (Quark Cycling Team)                     11.19
51 Brooke Ourada (T Mobile)                                      
52 Karen Dodge (Heartstrings/Ogden One)                     11.20
53 J Kele Hulser (Ford Basis)                                    
54 Leah Tingley (Team U.S. Armed Forces)                         
55 Kim Boester (Webcor Builders Cycling Team)               16.28
56 Lara Kroepsch (T Mobile)                                 19.55
57 Maegan Daigler (Colorado Premier Training)               39.20
 
Under 23 women
 
1 Lauren Franges (Victory Brewing)                        3.26.49
2 Stefanie Graeter (Webcor Buliders)                         0.18
3 Mara Abbott (Sports Garage)                                1.19
4 Molly Hummel (Team Dean)                                   2.37
5 Sarah Uhl (Quark Cycling Team)                             9.51
6 Traci Carroll (Team Rubicon)                              10.30
7 Rebecca Much (T Mobile)                                   10.32