US Elite Championships - CN
Park City, UT, USA, June 21-27, 2005
Main Page Results Previous Race
Race 10 - June 27: U23 Men TT, 34km
Cozza earns world's berth with strong ride
By Andy Lee, USA Cycling
Steven Cozza (USA U-23 National Team)
Photo ©: Beth Seliga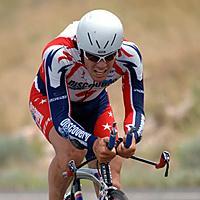 A determined Steven Cozza (USA U-23 National Team) was rewarded for his efforts and dedication this afternoon with a win in the U23 time trial at Antelope Island. The 20-year-old Cozza not only earned his first national title with his commanding win, but he also rode his way onto the 2005 World Championship squad.
The 67 riders departed in one-minute intervals onto the 34km course that ran alongside the Great Salt Lake. Cozza and fellow U23 phenomenon Tyler Farrar (Health Net pb Maxxis) were the last men out of the gate, and it was obvious from the get-go that Cozza had what it took to post the winning time.
The unwavering 20-year-old fought a strong headwind and powered his way along the winding road to the turn-around point. On the way back, he showed his strength by passing several riders who had started before him. With a winning time of 45 minutes and 44 seconds, Cozza was the only one in the 67-rider field to break the 46 minute mark.
Brent Bookwalter (Advantage Benefits/Endeavour) posted the second fastest time of 46:12 to earn the silver medal while Blake Caldwell (Team TIAA-CREF) claimed third place. Tyler Farrar, who won a silver medal in the U23 road race on Saturday, posted the fourth fastest time this afternoon. Justin Morgan (Broadmark Capital) rounded out the podium in fifth place.
Photography
For a thumbnail gallery of these images, click here
Images by Beth Seliga/

Results
1 Steven Cozza (USA U-23 National Team)                     45.43.50
2 Brent Bookwalter (Advantage Benefits/Endeavour)            0.29.30
3 Blake Caldwell (Team TIAA-CREF)                            0.47.00
4 Tyler Farrar (Health Net pb Maxxis)                        0.58.70
5 Justin Morgan (Broadmark Capital)                          1.19.15
6 Zak Grabowski (Team TIAA-CREF)                             1.21.04
7 Alex Welch (Mercy)                                         1.32.72
8 Bobby Lea (Northwestern Morgage)                           1.48.32
9 Taylor Tolleson (Unattached)                               1.56.40
10 Nicholas Reistad (Advantage Benefits/Endeavour)           1.56.83
11 Craig Lewis (Team TIAA-CREF)                              2.11.62
12 Sam Johnson (Whitman College)                             2.12.78
13 Patrick McGlynn (Team Veloworx Racing)                    2.14.17
14 Zach Bolian (Krystal/SCV)                                 2.39.78
15 J-Carl Grant Williams (Unattached)                        2.48.63
16 Nathan Mitchell (Team TIAA-CREF)                          2.56.61
17 Morgan Schmitt (Broadmark Capital)                        2.58.29
18 Sean Van Horn (Broadmark Capital)                         3.01.92
19 Sterling Magnell (Monex)                                  3.05.35
20 Zach Taylor (Team TIAA-CREF)                              3.14.12
21 Chad Beyer (Team TIAA-CREF)                               3.14.29
22 Bradley Viera (Team Snow Valley)                          3.29.60
23 Daniel Neyens (Broadmark Capital)                         3.33.56
24 Jeremy Powers (Jelly Belly)                               3.34.72
25 Daniel Harm (Recycled Cyles Racing Team)                  3.45.57
26 Christopher Kuhl (CRCA/Sakonnet Technology)               4.03.34
27 Mike Schmidt (Park City Cycling Academy)                  4.10.55
28 Mike Lange (Team TIAA-CREF)                               4.17.07
29 Guillaume Nelessen (Northwestern Morgage)                 4.19.71
30 Aaron Pool (Trek VW)                                      4.24.38
31 Troy Wells (Easton/Kona/SRA/CCA)                          4.32.00
32 Adrian Hegyvary (Recycled Cyles Racing Team)              4.37.27
33 Bennet Van Der Genugten (Honeystinger/Spinergy Wheels)    4.42.29
34 David Guttenplan (AG Edwards)                             4.46.46
35 Nicholas Clayville (Broadmark Capital)                    5.05.78
36 Max Spirin (McGuire Cycling)                              5.07.06
37 Phillip Gaimon (University Of Florida Cycling)            5.08.20
38 Stu Gillespie (Team TIAA-CREF)                            5.21.79
39 Christoph Herby (Snow Valley pb Seal-On)                  5.22.28
40 Shawn Rosenthal (Unattached)                              5.24.89
41 Norman Bryner (Unattached)                                5.27.94
42 Jered Gruber (Locos Cyling)                               5.29.97
43 Edward Burress (Cane Creek Cycling Components)            5.46.86
44 Allen Krughoff (GS Ciao/Al's Barbershop)                  6.03.69
45 Joshua Smith (Centurytel/VRAD)                            6.05.20
46 Chris Decker (NCVC/Edge Technologies)                     6.07.02
47 Johnny Hayes (CRCA/Sakonnet Technology)                   6.08.14
48 Eric Losak (Veloworx Racing)                              6.19.68
49 Andrew Daane (AG Edwards)                                 6.40.56
50 Christopher Allison (Camp Highland)                       6.53.28
51 Alvin Stewart (Blue Rain)                                 8.01.95
52 Matthew Hall (Centurytel/VRAD)                            8.08.45
53 Taylor Kneuven (Broadmark)                               10.37.09
54 David Robinson (Team TIAA-CREF)                          12.18.32