Recently on Cyclingnews.com
18th Int. Thüringen-Rundfahrt der Frauen - 2.1 (W)
Germany, July 19-24, 2005
2004 results Stage List Preview Start List Past winners
The Stages
Thüringen Rundfahrt overshadowed by tragedy
A wooden cross and flowers
Photo ©: AFP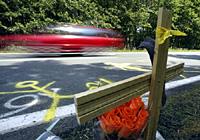 The 18th edition of the Thüringen Rundfahrt der Frauen, which was due to start on Tuesday, July 19 with a 17 km time trial in Zeulenroda, has been set back by one day due to a tragedy that struck the Australian women's team on Monday. The team was riding along the Landstrasse between Zeulenroda and Auma (Kreis Greiz), reconnoitering the course of the opening time trial. A car driven by an 18-year woman skidded off the right hand side of the road and overcorrected getting back onto the tarmac. It crossed into the lane where the team was riding, hitting all six riders. Of the six, Amy Gillett died at the scene, while Katie Brown, Lorian Graham, Kate Nichols, Alexis Rhodes and Louise Yaxley were taken to various hospitals in for treatment . Rhodes and Yaxley are still in a critical, but stable condition.
The first stage of the race was cancelled, and a memorial service was held instead at Zuenleroda's Market Place. The service was attended by local government and German Cycling Federation representatives, representatives of the International Cycling Union and all the riders and team staff of the Tour. Australia's Ambassador to Germany, Pamela Fayle, read a tribute to Amy on behalf of Cycling Australia's board, staff and members, and several Australian cyclists including Olympic gold medallist, Sara Carrigan, world ranked number one, Oenone Wood, and Amy's close friend Natalie Bates paid tribute to their friend and teammate. Australians Rochelle Gilmore, Emma Rickards, Olivia Gollan and Kate Bates also attended. At the conclusion of the service the cyclists on their bicycles followed by a convoy of mourners travelled to where the acccident happened and amidst prayers and tears, floral tributes were laid at the site next to a simple wooden cross bearing Amy's name.
On Wednesday, it was decided that stage 2 between Zeulenroda and Greiz would be ridden under neutral conditions by the field, with the seven remaining Australian riders in the race crossing the line first, a little way ahead of the peloton. It was a symbolic gesture that was also performed by the Motorola team in the Tour de France 10 years ago, after Fabio Casartelli died on a descent during Stage 15 on July 18, 1995. The next day, the stage between Tarbes and Pau was neutralised and the six remaining members of the Motorola squad led the pack into the finish.
The first racing stage of this year's Thüringen-Rundfahrt will be on Thursday, between Greiz and Gera.
See also:
Amy Gillett dead after crash in Germany
Unprecedented carnage in Germany
Amy Gillett: Tributes, Part 1,
More tributes to Amy Gillett, 1976-2005
Start list
Equipe Nürnberger Versicherung          Buitenpoort-Flexpoint Team
 
1 Judith Arndt (Ger)                    11 Mirjam Melchers van Poppel (Ned)
2 Tina Liebig (Ger)                     12 Susanne Ljungskog (Swe)
3 Regina Schleicher (Ger)               13 Tanja Hennes (Ger)
4 Olivia Gollan (Aus)                   14 Amber Neben (USA)
5 Oenone Wood (Aus)                     15 Linda Serul (Den)
6 Trixi Worrack (Ger)                   16 Luise Keller (Ger)
 
Nobili Rubinetterie-Menikini Cogeas     Vlaanderen-Capri Sonne-T Interim
 
21 Modesta Vzesniauskaite (Ltu)         31 Anita Valen (Nor)
22 Edita Pucinskaitei (Ltu)             32 Emma Davies (GBr)
23 Joanne Kiesanowski  (NZl)            33 Debby Mansveld (Ned)
24 Daniela Fusar Poli (Ita)             34 Laura Werner (Bel)
25 Anna Gusmini (Ita)                   35 Sharon Van Dromme (Bel)
26 Emanuela Brigati (Ita)               36 Sofie Goor  (Bel)
 
Univega Pro Cycling Team                Safi-Pasta Zara Manhattan
 
41 Priska Doppmann (Swi)                51 Anna Zugno (Ita)
42 Christiane Soeder (Aut)              52 Zita Urbonaite (Ltu)
43 Barbara Lancioni (Ita)               53 Miyoko Karami (Jpn)
44 Sarah Grab (Swi)                     54 Guiseppina Grassi (Ita)
45 Sereina Trachsel (Swi)               55 Rochelle Gilmore (Aus)
46 Emma Rickards (Aus)                  56 Gunn- Rita Dahle (Nor)
 
Van Bemmelen-AA Drink                   Euregio Egrensis-Kraftstoff plus
 
61 Angela Brodtka (Ger)                 71 Madeleine Sandig  (Ger)
62 Theresa Senff (Ger)                  72 Claudia Hecht  (Ger)
63 Sandra Missbach (Ger)                73 Heike Schramm (Ger)
64 Sara Carrigan (Aus)                  74 Eva Lutz (Ger)
65 Josephine Groenveld (Ned)            75 Caroline Noll (Ger)
66 Natalie Bates (Aus)                  76 Fabienne Sandig (Ger)
 
Red Bull-Stadtwerke Frankfurt           German National Team
 
91 Christina Becker (Ger)               101 Sabine Fischer (Ger)
92 Stephanie Gronow (Ger)               102 Bianca Knöpfle (Ger)
93 Sarah Düster (Ger)                   103 Claudia Stumpf (Ger)
94 Susanne Beyer (Ger)                  104 Marlen Jöhrend (Ger)
95 Katja Polzin (Ger)                   105 Alexandra Sontheimer (Ger)
96 Kathy Watt (Aus)                     106 Caroline Ibele (Ger)
 
Belgian National Team                   Toyota Motor Company
 
111 Corine Hierckens (Bel)              121 Birgit Hollmann (Ger)
112 Inge van den Broeck (Bel)           122 Nicole Kampeter (Ger)
113 Karen Steurs (Bel)                  123 Birgit Söllner (Ger)
114 Grace Verbeke (Bel)                 124 Susanne Juranek (Ger)
115 Kathy Ingels (Bel)                  125 Virginia Henning (Ger)
116 Lien Beyen (Bel)                    126 Julia Claus (Ger)
 
Elk Haus Team                           Team Stuttgart
 
131 Monica Holler (Swe)                 141 Katharina Blum (Ger)
132 Andrea Graus (Aut)                  142 Caroline Humplik (Ger)
133 Christine Müller (Ger)              143 Johanna Stephan (Ger)
134 Patricia Hempel (Ger)               144 Desiree Schuler (Ger)
135 Andrea Edmeier (Ger)                145 Larissa Kleinmann (Ger)
136 Isabelle Wieser (Aut)               146 Alexandra Nöhles (Ger)


Past winners
2004 Zoulfia Zabirova (Rus) Let's go Finland
2003 Valentina Polkhanova (Rus) Velodames Colnago
2002 Zoulfia Zabriova (Rus) Power-Plate-BIK
2001 Mirjam Melchers (Ned) Acca Due O-HP-Lorena Camicie
2000 Valentina Karpenko (Rus) Radteam Kupfernagel
1999 Hanka Kupfernagel (Ger) The Greenery Hawk Team
1998 Edita Pucinskaite (Ltu) Team l'tur Raleigh
1997 Alessandra Cappellotto (Ita) RG l'tur Thüringen
1996 Ina-Yoko Teutenberg (Ger) German National Team
1995 Laura Charameda (USA) USA National Team
1994 Alison Dunlop (USA) USA National Team
1993 Lenka Ilavska (Svk) Slovakian National Team
1992 Alena Barillova (Czs) Czechoslovakian National Team
1989 Vanesa von Dijk (Ned) Netherlands National Team
1988 Tea Vikstedt Nymann (Fin) Finland National Team
1987 Petra Rossner (Ger) SC DHfK Leipzig
1986 Hanna Chmelarova (Czs) Czechoslovakian National Team
 
Past winners by Mario Stiehl, www.world-of-cycling.com