International Cycling Classic - Superweek - NE
USA, July 8 -24, 2005
Main Page Results Overall standings Previous Stage Next Stage
Stage 6 - July 13 : Saturn Whitnall Park Road Race, Hales Corners, WI, 75/60km
Fast Superweek course provides intense action
By Mark Zalewski in Hales Corner, WI
Juan Jose Haedo (Colavita/Sutter Home)
Photo ©: Mark Zalewski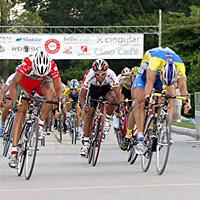 International trio tops men's race
Today's circuit race around the Boerner Botanical Gardens in Milwaukee's south suburbs featured a super-fast course that prevented any breaks from going. A major part of that prevention was the Advantage Benefits/Endeavour team led by sprint leader Frank Pipp. With three laps to go, the team assembled on the front to bring a three-man break back and to set-up Australian Karl Menzies. However, the team worked too well and brought the break back a little early, leaving Menzies to deal with a field sprint. Coming from the outside spoiling the local team's show was Argentinian sprinter Juan Jose Haedo (Colavita/Sutter Home), beating Menzies with a well-timed a bike throw.
"Whoa man, that was so fast -- it had to be one of the fastest races of the year!" Haedo told Cyclingnews after the race. "Menzies went far from the last corner -- he tried to move across so I used a track move to find a gap."
In a repeat from yesterday's sprint for second place, Haedo was able to pip Menzies on the line, though not after a hard effort from Menzies. "I went into the last corner about fourth and just hit it from the bottom [of the climb,]" Menzies explained. "I tried to go as inside as possible but [Haedo] got me with a bike throw."
Nonetheless, the Advantage Benefits/Endeavour team showed their ability to take control thanks to a wealth of riders in their arsenal. Team leader Frank Pipp says to look for the team on Friday as the team competes in their sponsor's title race -- The Schlitz Park Endeavour Challenge.
Magen Long
Photo ©: Mark Zalewski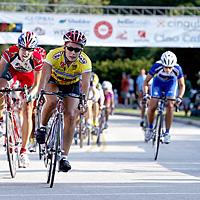 Long gets a little help from her friends
Series leader Magen Long (OBRU/The Bicycle Store) has worried all week that she and her only teammate, sprint leader Kelly Benjamin, would not be able to defend their leads with other teams and riders focusing so much on attacking them. Thankfully for Long and Benjamin, the calvary arrived -- in the form of veteran racer Sherri Stedje. With two teammates able to rotate chasing down any break, Long was able to sit comfortably in what she calls the 'sprinter's lounge' all day until the field sprint, which she powered away with ahead of Dotsie Cowden (Colavita/ Cooking Light) and Catherine Powers (TDS Schwalbe.)
"It was so much better because I had another teammate!" said a relieved Long after the race. "With Sherri here it is much easier -- we each had an extra rest." Second place Dotsie Cowden was content to ride in the pack today after a tough rain-soaked stage yesterday. "I thought I had a chance attacking on the hill -- that's how I won last year."
Even though all of the breaks had been brought back with two laps remaining, a confident rider from New Zealand with nothing to lose boldly hung an attack out for a time. Riding for the New Zealand development squad, Jo Ryder took a page from her triathalon background and tried to time trial to the end. "Since we are a development squad our manager said we should try anything." Even though her attack didn't work, the women's races are clearly stepping up as they head into the final four races of their series.
Caleb Fairly (Hot Tubes)
Photo ©: Mark Zalewski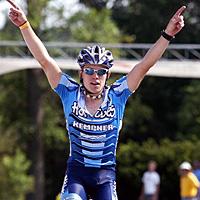 Junior men jockey for world's spots
Caleb Fairly (Hot Tubes) rode away from his two-man breakaway to slide into the overall lead in the selection series for the Junior World Championships Team headed to Austria next month. Fairly rode for much of the 100km race within a break and then in the closing laps with just Steven Howard (Advantage Benefits Endeavour Cycling Club.)
"[Howard] was strong all day, but I thought I had a good chance of beating him in the sprint," said Fairly. "The tactics for the team today was to attack and keep attacking."
Photography
For a thumbnail gallery of these images, click here
Images by Mark Zalewski
Results
Pro & Cat 1/2 Men
 
1 Juan Jose Haedo (Colavita Olive Oil/Sutter Home)                  
2 Karl Menzies (Advantage Benefits/Endeavour)                       
3 Ben Brooks (Jelly Belly/PoolGel)                                  
4 Emile Abraham (Team Monex)                                        
5 Carlos Alzate (Colombian National Team)                           
6 Jonathan Page (Colavita Olive Oil/Sutter Home)                    
7 Carlos Vargas (Team Monex)                                        
8 Danny Pate (Jelly Belly/PoolGel)                                  
9 Dan Schmatz (Kodak Gallery/Sierra Nevada)                         
10 Marco Rios (Kahala-LaGrange)                                     
11 Richard England (Advantage Benefits/Endeavour)                   
12 John Murphy (Team Krystal)                                       
13 Carlos Uran (Colombian National Team)                            
14 Andrew Crater (Wheel and Sprocket)                               
15 Steve Tilford (BikeSource)                                       
16 Russell Hamby (Kodak Gallery/Sierra Nevada)                      
17 Jacob Nielsen (Glud & Marstrand Horsens)                         
18 Paul Martin (Texas Roadhouse)                                    
19 Todd Henriksen (Team Krystal)                                    
20 Karl Bordine (Helen's Cycles)                                    
21 Dennis Haueissen (Team RSH)                                      
22 Diego Garavito (Outdoorlights.com)                               
23 Victor Ayala (Kahala-LaGrange)                                   
24 Jose Serpa (Colombian National Team)                             
25 Kasper Kloostergaard (Glud & Marstrand Horsens)                  
26 Phil Wikoff (Cane Creek Cycling Components)                      
27 Rich Harper (Cane Creek Cycling Components)                      
28 Scott Blanchard (Eclipse Racing)                                 
29 Carlos Julian Quintero (Colombian National Team)                 
30 Russell Langley (Snow Valley presented by Seal on)               
31 mike house (Texas Roadhouse)                                     
32 Jens Mouris (AXA Cycling Team)                                   
33 Robert Sczepurek (Team RSH)                                      
34 Bennet Van der Genugten (Honey Stinger/Spinergy Cycling Team)    
35 Jacob Stephens (Team Cobblestone)                                
36 Seth Hansley (Park City Cycling Academy)                         
37 Scott Zwizanski (Kodak Gallery/Sierra Nevada)                    
38 Peter Andersen (Vegas Velo Racing Team)                          
39 Armando Cardenas (Colombian National Team)                       
40 Nathan Miller (Team Monex)                                       
41 Caleb Manion (Jelly Belly/PoolGel)                               
42 John DeLong (Snow Valley)                                        
43 Steen Rose (Matrix Cycle Club)                                   
44 Evan Lawrence (Hammer Gel)                                       
45 Todd Herriott (Colavita Olive Oil/Sutter Home)                   
46 Ian Lockley (AAVC/Sunrise Sports)                                
47 John Acker (Wheel & Sprocket)                                    
48 Luca Fagundes (Mesa Cycles Racing Team)                          
49 Aram Dellalian (Amgen Cycling Club)                              
50 Stefan Rothe (outdoorlights.com)                                 
 
Pro & Cat 1/2/3 Women
 
1 Magen Long (OBRU/The Bicycle Store)                               
2 Dotsie Cowden (Colavita/ Cooking Light)                           
3 Catherine Powers (TDS Schwalbe)                                   
4 Leigh Valletti (Travelgirl Magazine)                              
5 Laura Charameda (Dewar's Racing Team)                             
6 Brooke O'Connor (Hub Racing)                                      
7 Brenna Lopez-Otero (VELO BELLA)                                   
8 Nichole Wangsgard (Subway)                                        
9 Renee Eastman (Vitamin Cottage Cycling Team)                      
10 Sarah Tillotson (ABD Cycling Team)                               
11 Gina Voci (Defeet)                                               
12 Jenette Williams (HPC Cycling)                                   
13 Anne Meyer (Mercy-Specialized)                                   
14 Sarah Caravella (T.E.A.M. Fuji)                                  
15 Sara LeGrand (BMW/Bianchi)                                       
16 Kelly Benjamin (The Bicycle Store)                               
17 Valeria Sanders (J C Investors)                                  
18 Laura Downey (America's Dairyland)                               
19 Jennifer Green (Travelgirl)                                      
20 Elizabeth Morse (T.E.A.M. Fuji)                                  
21 Allyson Brandt (Team Hotel San Jose)                             
22 Sheba Farrin (Hub Racing)                                        
23 Robin Farina (DeFeet)                                            
24 Deborah Borden (Travelgirl Magazine)                             
25 Jennifer Yaeso (Vitamin Cottage Cycling Team)                    
26 Kristin Wentworth (Nova/ISCorp)                                  
27 Mindi Martin (Mercy Cycling Team)                                
28 Melissa Cox (Mercy Cycling Team)                                 
29 Courtenay Brown (McGuire Cycling)                                
30 Lauren Koedyk (BikeNZ Women's Development Squad)                 
31 Rebecca Wellons (Gear Works Cyclery)                             
32 Stacey Bertsch (Mercy Cycling Team)                              
33 Katie Weber (Team Kenda Tire)                                    
34 Nicole Raspa (Hub Racing)                                        
35 Lauren Gaffney (Ford-Basis)                                      
36 Jo Ryder (BikeNZ Women's Development Squad)                      
37 Patricia Palmer (America's Dairyland)                            
38 Rosy McCall (Team FUJI)                                          
39 Lea Adams (Amgen Cycling Club)                                   
40 Allison Carter (Team Kenda Tire)                                 
41 Suzanne Peters (Velo Bella)                                      
42 Julianne Fiocca (Team Hotel San Jose/Mercedes-Benz Austin)       
43 Trudy Van Der Straaten (Team Kenda Tire)                         
44 Marianne Holt (Travelgirl Magazine)                              
45 Kimberly Sawyer (Travelgirl Magazine)                            
46 Julie Tatar (America's Dairyland)                                
47 Catherine Burnham (Mercy-Specialized)                            
48 Elizabeth Seward (CRCA Bicycle Workshop)                         
49 Kacey Manderfield (Wolverine Sports Club)                        
50 Lynn Gaggioli (Monex)                                            
51 Tracie Nelson (Velo Bella)                                       
52 Kate Gracheck (Team Kenda Tire)                                  
53 Leeanne Manderson (Hub Racing)                                   
 
Junior Men 16-18
 
1 Caleb Fairly (Hot Tubes)                                          
2 Steven Howard (Advantage Benefits Endeavour Cycling Club)         
3 Ryan Keels (Hot Tubes)                                            
4 Eric Riggs (GS Lombardi Sports)                                   
5 Ulric de Young (Minnesota Junior Cycling)                         
6 Tejay Van Garderen (Team 5280 Magazine)                           
7 Chase Renick (Hot Tubes)                                          
8 Brandon McKeever (Rio Grande Cycling Team/Monsoon Racing)         
9 Winston David (Orlando Road Club)                                 
10 Matthew Brandt (Nova/ISCorp)                                     
11 Michael Sheppard (Rio Grande Cycling Team/Monsoon Racing)        
12 Alex Boyd (Hot Tubes)                                            
13 Christopher Monteleone (Team Rio Grande)                         
14 Bjorn Selander (Minnesota Junior Cycling Team)                   
15 Braden Kappius (Team 5280 Magazine)                              
16 Andy Cornelison (Iowa State)                                     
17 Nick Frey (Hot Tubes)                                            
18 Jason Carr (Nova Cycle Sport Inc.)                               
19 Nathan Brown (SyMed/MOAB)                                        
20 Beck Frydenborg (Atomic Race Team)                               
21 Nicholas Weighall (Team Swift)                                   
22 Jared Faciszewski (Nova/IS Corp)                                 
23 Shawn Mullican (TriStar Cycling Team)                            
24 Joseph Iannarelli (Team Swift)                                   
25 Alex Howes (Team 5280 Magazine)                                  
26 Teddy Hockenberry (Ford/Orlando Velo)                            
27 Jens Brabbit (Minnesota Junior Cycling Inc.)                     
28 Wendell Montgomery (Orlando Road Club)                           
29 David Talbott (Outdoors Chattanooga)                             
30 Ryan Williams (Spin Bike Shop)                                   
31 William Dehli (Beans and Barley/One Percent More Racing)         
32 Alex Lewis                                                       
33 Blake Anton (Davis Bike Club)                                    
34 Tucker Olander (Team Rio Grande)                                 
35 Frederik Jacobsen (Nova/ISCorp)                                  
36 Kip Spaude (Nova/ISCorp)                                         
37 Guy East (U Build It / Mob)                                      
38 Benjamin Zawacki (Colavita Racing)                               
39 Peter Stetina (Team 5280 Magazine)                               
40 Walker Savidge (Team 5280 Magazine)                              
41 Spencer Beamer (Hot Tubes)                                       
42 Michael Souers (Indiana Flyers/Sound Hearing Cycling)            
43 Daniel Estevez (Hot Tubes)                                       
44 Shane Braley (Orlando Road Club)                                 
 
Overall standings - Pro/1/2 Men
 
1 Karl Menzies (Advantage Benefits/Endeavour)                    112 pts
2 Jacob Nielsen (Glud & Marstrand Horsens)                        88
3 Danny Pate (Jelly Belly/PoolGel)                                84
4 Jose Serpa (Colombian National Team)                            82
5 Juan Jose Haedo (Colavita Olive Oil/Sutter Home)                77
6 Richard England (Advantage Benefits/Endeavour)                  76
7 Carlos Vargas (Team Monex)                                      73
8 Frank Pipp (Advantage Benefits/Endeavour)                       64
9 John Murphy (Team Krystal)                                      58
10 Marco Rios (Kahala-LaGrange)                                   55
11 Emile Abraham (Team Monex)                                     54
12 Dennis Haueissen (Team RSH)                                    49
13 Glen Mitchell (Kodak Gallery/Sierra Nevada)                    46
14 David McCook (Jelly Belly/PoolGel)                             45
15 Andrew Crater (Wheel and Sprocket)                             43
16 Karl Bordine (Helen's Cycles)                                  42
17 Wes Hartman (Advantage Benefits/Endeavour)                     40
18 Eddy Hilger (Advantage Benefits/Endeavour)                     40
19 Garrett Peltonen (Advantage Benefits/Endeavour)                40
20 Caleb Manion (Jelly Belly/PoolGel)                             40
21 Paul Martin (Texas Roadhouse)                                  39
22 Jens Mouris (AXA Cycling Team)                                 37
23 Ben Brooks (Jelly Belly/PoolGel)                               35
24 Brian Sheedy (Advantage Benefits/Endeavour)                    35
25 Carlos Alzate (Colombian National Team)                        35
26 Hilton Clarke (Navigators Insurance)                           33
27 Armando Cardenas (Colombian National Team)                     33
28 Graham Howard (Advantage Benefits/Endeavour)                   31
29 Jonathan Page (Colavita Olive Oil/Sutter Home)                 29
30 Brian Jensen (HRRC / Saddlewood/ Specialized/ Bikesour)        27
31 Carlos Uran (Colombian National Team)                          26
32 Alexander Gonzalez (Colombian National Team)                   24
33 Dan Schmatz (Kodak Gallery/Sierra Nevada)                      23
34 Erik Saunders (McGuire/Langdale Pro CT)                        19
35 Joshua Carter (Subway)                                         19
36 Bryan Smith (TIAA-CREF)                                        19
37 Jackson Stewart (Kodak Gallery/Sierra Nevada)                  17
38 Alexander Candelario (Jelly Belly/PoolGel)                     16
39 Jason Snow (Cycle Science)                                     15
40 John Puffer (ABD Cycling Team)                                 14
41 Rahsaan Bahati (McGuire/Langdale Pro CT)                       14
42 William Innes (GS Lombardi Sports)                             13
43 Arles Castro (Colombian National Team)                         13
44 Victor Ayala (Kahala-LaGrange)                                 11
45 Steve Tilford (BikeSource)                                     11
46 Todd Henriksen (Team Krystal)                                  11
47 Russell Hamby (Kodak Gallery/Sierra Nevada)                    10
48 Frank Dierking (ABD Cycling Team)                              10
49 David Sachs (Advantage Benefits Endeavour Cycling Club)         9
50 Joshua Goodwin (Team Monex)                                     8
51 Zach Fiocca (Higher Gear)                                       8
52 Carlos Julian Quintero (Colombian National Team)                8
53 Nicholas Reistad (Advantage Benefits/Endeavour)                 8
54 Scott Allen (Team Rubicon)                                      7
55 Diego Garavito (Outdoorlights.com)                              7
56 Tyler Wren (Colavita Olive Oil/Sutter Home)                     6
57 Jacob Rubelt (Team Krystal)                                     6
58 Robert Sczepurek (Team RSH)                                     5
59 Mark Southard (Excel Sports Boulder)                            5
60 Robert White (PCW Cycling)                                      4
61 Brian Bibens (Nalley Automotive)                                3
62 John Acker (Wheel & Sprocket)                                   2
63 Michael Ebert (ABD Cycling Team)                                2
64 Michael Lanyon (Mesa Cycles Racing Team)                        2
65 Reid Mumford (ABD Cycling Team)                                 2
66 Jason Allen (McGuire/Langdale Pro CT)                           1
67 Kasper Kloostergaard (Glud & Marstrand Horsens)                 1
68 Ryan Nenninger (ABD Cycling Team)                               1
69 James Van Toever (Krystal)                                      1
 
Overall standings - Pro/1/2/3 Women
 
1 Magen Long (OBRU/The Bicycle Store)                            159 pts
2 Catherine Powers (TDS Schwalbe)                                138
3 Brooke O'Connor (Hub Racing)                                   118
4 Dotsie Cowden (Colavita/ Cooking Light)                        101
5 Laura Charameda (Dewar's Racing Team)                          101
6 Gina Voci (Defeet)                                              90
7 Nichole Wangsgard (Subway)                                      89
8 Sarah Caravella (T.E.A.M. Fuji)                                 81
9 Elizabeth Morse (T.E.A.M. Fuji)                                 66
10 Jenette Williams (HPC Cycling)                                 57
11 Valeria Sanders (J C Investors)                                55
12 Leigh Valletti (Travelgirl Magazine)                           52
13 Kelly Benjamin (The Bicycle Store)                             52
14 Brei Gudesell (BikeNZ Women's Development Squad)               50
15 Jo Ryder (BikeNZ Women's Development Squad)                    42
16 Renee Eastman (Vitamin Cottage Cycling Team)                   39
17 Sheba Farrin (Hub Racing)                                      29
18 Lisa Vetterlein (Team Kenda Tire)                              29
19 Brenna Lopez-Otero (VELO BELLA)                                27
20 Lea Adams (Amgen Cycling Club)                                 22
21 Deborah Borden (Travelgirl Magazine)                           21
22 Sarah Tillotson (ABD Cycling Team)                             21
23 Megan Monroe (PCW Cycling)                                     21
24 Rebecca Wellons (Gear Works Cyclery)                           20
25 Jana Repulski (Team Tamarack)                                  18
26 Jennifer Yaeso (Vitamin Cottage Cycling Team)                  18
27 Kristin Wentworth (Nova/ISCorp)                                17
28 Rachel O'Connell                                               17
29 Jennifer Green (Travelgirl)                                    16
30 Anne Meyer (Mercy-Specialized)                                 15
31 Sara LeGrand (BMW/Bianchi)                                     15
32 Daniele Staskal (BIANCHI/BMW)                                  13
33 Samantha Schneider (Coyote)                                    12
34 Trudy Van Der Straaten (Team Kenda Tire)                       11
35 Robin Farina (DeFeet)                                          11
36 Patricia Kaufmann (Team Wisconsin)                             10
37 Lauren Gaffney (Ford-Basis)                                     9
38 Courtenay Brown (McGuire Cycling)                               9
39 Laura Downey (America's Dairyland)                              8
40 Stacey Bertsch (Mercy Cycling Team)                             6
41 Susan Hefler (HPC)                                              6
42 Debbie Dust (Team Kenda Tire)                                   5
43 Allyson Brandt (Team Hotel San Jose)                            5
44 Leeanne Manderson (Hub Racing)                                  4
45 Mindi Martin (Mercy Cycling Team)                               2
46 Nicole Raspa (Hub Racing)                                       2
47 Katie Weber (Team Kenda Tire)                                   2
48 Kacey Manderfield (Wolverine Sports Club)                       2