Recently on Cyclingnews.com
International Cycling Classic - Superweek - NE
USA, July 8 -24, 2005
Main Page Results Overall standings Previous Stage Next Stage
Stage 4 - July 11 : Point Beer Tour of Alpine Valley Road Race, East Troy, WI, 160/115km
Superweek takes to the road
Hilger, Long and Beamer strongest in first road race
by Mark Zalewski in East Troy, WI
Eddy Hilger
Photo ©: Mark Zalewski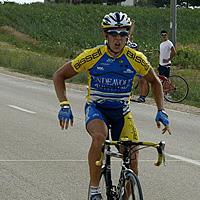 The short but steep climbs of the rolling dairyland countryside proved to be a menace to the riders, many of whom are not familiar with the humidity of the midwest. For Eddy Hilger and his Advantage Benefits/Endeavour teammates it was another banner day for the hometown crowds, taking first, third and fifth in the professional men's race. Hilger bridged up to the three-man breakaway which contained teammate Brian Sheedy, strong Colombian climber Jose Serpa and defending champion Jacob Nielsen (Glud & Marstrand Horsens.)
Hilger knew he was not the strongest climber of the group, and even felt like he was having an off day, so he felt that it was his responsibility to attack the group in a effort to dram out Serpa so that teammate Brian Sheedy could counter. "I knew I had to go because the Colombian was so strong on the climbs," said Hilger. "He attacked on the climbs and I was only able to sit on." The pair rode away from the break with Hilger marking Serpa due to Sheedy's presence in the break. When it was clear that the two would not be caught after the final time up the climb, Hilger switched strategies to Oscar-nominating performances. "I acted like I was cooked," admitted Hilger. "I knew I could beat him in the sprint, so I made it seem like I was shelled." And it worked, combined with a slight downhill finish, Hilger came around to take the win. Sheedy held on for third and sprint leader Frank Pipp took the field sprint for fifth.
Magen Long
Photo ©: Mark Zalewski

In the Women's race, it was the Magen Long/Kelly Benjamin show, teammates on OBRU/The Bicycle Store team and leaders in the overall and sprints respectively. "Is it sixty-two against two?" asked Long after the race. "[The field] would make us do all the work chasing down the attacks," said Benjamin. "Luckily I was climbing well today... and with no sprint points today, it was just keeping Magen in the yellow jersey."
With the field resigned to roll along the corn-shadowed course, Long waited for her chance at the field sprint. "I just jockeyed for position," said Long. From 250 meters out, that position was on the front, riding away from the rest of the field.
The junior men (16-18) began their four-race series for selection to the 2005 Road World Championships, and Spencer Beamer (Hot Tubes) was first to strike, taking a two-up sprint ahead of Alex Howes (Team 5280 Magazine.) "We just got back from racing at Fitchburg," said Beamer. "The climbs here are nothing like the climbing there -- these are short, power climbs. The 5280 guy attacked on the [final] climb and I went with him -- we rotated the work the rest of the way." Beamer figured that since Howes looked like a climber he could take him in the sprint if he could just stay with him on the climb, and he did just that.
Photography
For a thumbnail gallery of these images, click here
Images by Mark Zalewski
Results
Pro & Cat 1/2 Men
 
1 Eddy Hilger (Advantage Benefits/Endeavour)                      
2 Jose Serpa (Colombian National Team)                            
3 Brian Sheedy (Advantage Benefits/Endeavour)                     
4 Jacob Nielsen (Glud & Marstrand Horsens)                        
5 Graham Howard (Advantage Benefits Endeavour Cycling Club)       
6 Frank Pipp (Advantage Benefits/Endeavour)                       
7 Danny Pate (Jelly Belly/PoolGel)                                
8 Marco Rios (Kahala-LaGrange)                                    
9 Caleb Manion (Jelly Belly/PoolGel)                              
10 Richard England (Advantage Benefits/Endeavour)                 
11 Bryan Smith (TIAA-CREF)                                        
12 Dennis Haueissen (Team RSH)                                    
13 Carlos Vargas (Team Monex)                                     
14 John Murphy (Team Krystal)                                     
15 Paul Martin (Texas Roadhouse)                                  
16 Frank Dierking (ABD Cycling Team)                              
17 Alexander Gonzalez (Colombian National Team)                   
18 Carlos Julian Quintero (Colombian National Team)               
19 Arles Castro (Colombian National Team)                         
20 Jacob Rubelt (Team Krystal)                                    
21 Mark southard (Excel Sports Boulder)                           
22 Armando Cardenas (Colombian National Team)                     
23 Brian Bibens (Nalley Automotive)                               
24 Reid Mumford (ABD Cycling Team)                                
25 James Van Toever (Krystal)                                     
26 Aram Dellalian (Amgen Cycling Club)                            
27 Robert White (PCW Cycling)                                     
28 Benjamin Whitehead (Advantage Benefits Group Cycling Team)     
29 Whitey DeBroux (Pro Peloton/Paketa)                            
30 Ian Lockley (AAVC/Sunrise Sports)                              
31 Tom Burke (West Michigan Coast Riders)                         
32 Chris Strout (Team Mack)                                       
33 Ryan White (PCW Cycling)                                       
34 Matthew Huseboe (Minnesota Junior Cycling Inc.)                
35 (unknown rider)                                                
 
Women
 
1 Magen Long (OBRU/The Bicycle Store)                             
2 Laura Charameda (Dewar's Racing Team)                           
3 Gina Voci (Defeet)                                              
4 Erica Lanser (Quark Cycling Team)                               
5 Valeria Sanders (J C Investors)                                 
6 Brooke O'Connor (Hub Racing)                                    
7 Catherine Powers (TDS Schwalbe)                                 
8 (unknown rider)                                                 
9 Jenette Williams (HPC Cycling)                                  
10 Sarah Caravella (T.E.A.M. Fuji)                                
11 Kelly Benjamin (The Bicycle Store)                             
12 Kristin Wentworth (Nova/ISCorp)                                
13 Megan Monroe (PCW Cycling)                                     
14 Nichole Wangsgard (Subway)                                     
15 Elizabeth Morse (T.E.A.M. Fuji)                                
16 Rachel O'Connell                                               
17 Lea Adams (Amgen Cycling Club)                                 
18 Lisa Vetterlein (Team Kenda Tire)                              
19 Brei Gudesell (BikeNZ Women's Development Squad)               
20 Susan Hefler (HPC)                                             
21 Robin Farina (DeFeet)                                          
22 Rebecca Wellons (Gear Works Cyclery)                           
23 Leeanne Manderson (Hub Racing)                                 
24 Katie Weber (Team Kenda Tire)                                  
25 Trudy Van Der Straaten (Team Kenda Tire)                       
26 Marci Titus Hall                                               
27 Kimberly Sawyer (Travelgirl Magazine)                          
28 Julianne Fiocca (Team Hotel San Jose/Mercedes-Benz Austin)     
29 Suzanne Peters (Velo Bella)                                    
30 Shana Sturla (Gopher Wheelman)                                 
 
Junior men
 
1 Spencer Beamer (Hot Tubes)
2 Alex Howes (Team 5280 Magazine)
3 Peter Stetina (Team 5280 Magazine)
4 Ulric de Young (Minnesota Junior Cycling)
5 Brandon McKeever (Rio Grande Cycling Team/Monsoon Racing)
6 Bjorn Selander (Minnesota Junior Cycling Team)
7 Steven Howard (Advantage Benefits Endeavour Cycling Club)
8 Eric Riggs (GS Lombardi Sports)
9 Daniel Estevez (Hot Tubes)
10 Michael Sheppard (Rio Grande Cycling Team/Monsoon Racing)
11 Nicholas Weighall (Team Swift)
12 Caleb Fairly (Hot Tubes)
13 Cole House (Advantage Benefits Endeavour Cycling Club)
14 Winston David (Orlando Road Club)
15 Shawn Mullican (TriStar Cycling Team)
16 Matthew Brandt (Nova/ISCorp)
17 Tejay Van Garderen (Team 5280 Magazine)
18 Jared Faciszewski (Nova/IS Corp)
19 Braden Kappius (Team 5280 Magazine)
20 Michael Souers (Indiana Flyers/Sound Hearing Cycling)
21 Kip Spaude (Nova/ISCorp)
22 Walker Savidge (Team 5280 Magazine)
23 Christopher Stockburger (Team Rio Grande)
24 teddy hockenberry 
25 Nick Frey (Hot Tubes)
26 Chase Renick (Hot Tubes)
27 Alex Boyd (Hot Tubes)
28 Luke Henson (Mercy-Specialized)
29 Ryan Williams (Spin Bike Shop)
30 Beck Frydenborg (Atomic Race Team)
Overall standings
 
Men
 
1 Jose Serpa (Colombian National Team)                          69 pts
2 Frank Pipp (Advantage Benefits/Endeavour)                     64
3 Danny Pate (Jelly Belly/PoolGel)                              59
4 Jacob Nielsen (Glud & Marstrand Horsens)                      46
5 David McCook (Jelly Belly/PoolGel)                            45
6 Dennis Haueissen (Team RSH)                                   44
7 Karl Menzies (Advantage Benefits/Endeavour)                   40
8 Eddy Hilger (Advantage Benefits/Endeavour)                    40
9 Carlos Vargas (Team Monex)                                    40
10 John Murphy (Team Krystal)                                   38
11 Richard England (Advantage Benefits/Endeavour)               36
12 Brian Sheedy (Advantage Benefits/Endeavour)                  35
13 Marco Rios (Kahala-LaGrange)                                 34
14 Hilton Clarke (Navigators Insurance)                         33
15 Garrett Peltonen (Advantage Benefits/Endeavour)              33
16 Paul Martin (Texas Roadhouse)                                31
17 Graham Howard (Advantage Benefits Endeavour Cycling Club)    31
18 Andrew Crater (Wheel and Sprocket)                           25
19 Caleb Manion (Jelly Belly/PoolGel)                           23
20 Emile Abraham (Team Monex)                                   21
21 Alexander Gonzalez (Colombian National Team)                 20
22 Erik Saunders (McGuire/Langdale Pro CT)                      19
23 Bryan Smith (TIAA-CREF)                                      19
24 Alexander Candelario (Jelly Belly/PoolGel)                   16
25 Glen Mitchell (Kodak Gallery/Sierra Nevada)                  15
26 John Puffer (ABD Cycling Team)                               14
27 Rahsaan Bahati (McGuire/Langdale Pro CT)                     14
28 Karl Bordine (Team Helens)                                   13
29 Arles Castro (Colombian National Team)                       13
30 Jens Mouris (AXA Cycling Team)                               12
31 Carlos Uran (Colombian National Team)                        11
32 Frank Dierking (ABD Cycling Team)                            10
33 Joshua Goodwin (Team Monex)                                   8
34 Victor Ayala (Kahala-LaGrange)                                8
35 Zach Fiocca (Higher Gear)                                     8
36 Carlos Julian Quintero (Colombian National Team)              8
37 Jackson Stewart (Kodak Gallery/Sierra Nevada)                 7
38 Scott Allen (Team Rubicon)                                    7
39 Tyler Wren (Colavita Olive Oil/Sutter Home)                   6
40 Jacob Rubelt (Team Krystal)                                   6
41 Robert Sczepurek (Team RSH)                                   5
42 Mark southard (Excel Sports Boulder)                          5
43 Robert White (PCW Cycling)                                    4
44 Carlos Alzate (Colombian National Team)                       4
45 Todd Henriksen (Team Krystal)                                 4
46 Armando Cardenas (Colombian National Team)                    4
47 Diego Garavito                                                3
48 Brian Bibens (Nalley Automotive)                              3
49 John Acker (Wheel & Sprocket)                                 2
50 Michael Ebert (ABD Cycling Team)                              2
51 Reid Mumford (ABD Cycling Team)                               2
52 Jason Allen (McGuire/Langdale Pro CT)                         1
53 James Van Toever (Krystal)                                    1
 
Men sprint
 
1 Frank Pipp (Advantage Benefits/Endeavour)                     59 pts
2 Garrett Peltonen (Advantage Benefits/Endeavour)               41
3 Karl Menzies (Advantage Benefits/Endeavour)                   38
4 Andrew Crater (Wheel and Sprocket)                            38
5 Emile Abraham (Team Monex)                                    26
6 Jens Mouris (AXA Cycling Team)                                21
7 Alexander Candelario (Jelly Belly/PoolGel)                    12
8 John Murphy (Team Krystal)                                    12
9 Paul Martin (Texas Roadhouse)                                 11
10 Jacob Nielsen (Glud & Marstrand Horsens)                     11
11 Hilton Clarke (Navigators Insurance)                         10
12 Nicholas Reistad (Advantage Benefits/Endeavour)               9
13 Danny Pate (Jelly Belly/PoolGel)                              8
14 Erik Saunders (McGuire/Langdale Pro CT)                       7
15 David McCook (Jelly Belly/PoolGel)                            7
16 Rahsaan Bahati (McGuire/Langdale Pro CT)                      5
17 Brian Sheedy (Advantage Benefits/Endeavour)                   4
18 Carlos Julian Quintero (Colombian National Team)              3
19 Glen Mitchell (Kodak Gallery/Sierra Nevada)                   3
20 John Acker (Wheel & Sprocket)                                 2
21 Joshua Goodwin (Team Monex)                                   2
22 Aram Dellalian (Amgen Cycling Club)                           2
23 Whitey DeBroux (Pro Peloton/Paketa)                           1
24 Diego Garavito                                                1
25 Robert White (PCW Cycling)                                    1
 
Women
 
1 Magen Long (OBRU/The Bicycle Store)                           79 pts
2 Catherine Powers (TDS Schwalbe)                               66
3 Gina Voci (Defeet)                                            62
4 Brooke O'Connor (Hub Racing)                                  62
5 Elizabeth Morse (T.E.A.M. Fuji)                               41
6 Jenette Williams (HPC Cycling)                                40
7 Sarah Caravella (T.E.A.M. Fuji)                               39
8 Nichole Wangsgard (Subway)                                    39
9 Laura Charameda (Dewar's Racing Team)                         37
10 Erica Lanser (Quark Cycling Team)                            33
11 Valeria Sanders (J C Investors)                              31
12 Megan Monroe (PCW Cycling)                                   21
13 Leigh Valletti (Travelgirl Magazine)                         19
14 Deborah Borden (Travelgirl Magazine)                         19
15 Kelly Benjamin (The Bicycle Store)                           19
16 Jana Repulski (Team Tamarack)                                18
17 Jennifer Yaeso (Vitamin Cottage Cycling Team)                17
18 Kristin Wentworth (Nova/ISCorp)                              17
19 Brei Gudesell (BikeNZ Women's Development Squad)             15
20 Sheba Farrin (Hub Racing)                                    14
21 Rebecca Wellons (Gear Works Cyclery)                         14
22 Rachel O'Connell                                             14
23 Daniele Staskal (BIANCHI/BMW)                                13
24 Samantha Schneider (Coyote)                                  12
25 Renee Eastman (Vitamin Cottage Cycling Team)                 11
26 Jennifer Green (Travelgirl)                                   9
27 Lea Adams (Amgen Cycling Club)                                9
28 Robin Farina (DeFeet)                                         8
29 Lisa Vetterlein (Team Kenda Tire)                             8
30 Stacey Bertsch (Mercy Cycling Team)                           6
31 Susan Hefler (HPC)                                            6
32 Debbie Dust (Team Kenda Tire)                                 5
33 Lauren Gaffney (Ford-Basis)                                   5
34 Sara LeGrand (BMW/Bianchi)                                    4
35 Trudy Van Der Straaten (Team Kenda Tire)                      4
36 Leeanne Manderson (Hub Racing)                                3
37 Mindi Martin (Mercy Cycling Team)                             2
38 Nicole Raspa (Hub Racing)                                     2
39 Katie Weber (Team Kenda Tire)                                 2
40 Courtenay Brown (McGuire Cycling)                             1
 
Women sprint
 
1 Kelly Benjamin (The Bicycle Store)                            30 pts
2 Magen Long (OBRU/The Bicycle Store)                           17
3 Catherine Powers (TDS Schwalbe)                               15
4 Leigh Valletti (Travelgirl Magazine)                           9
5 Courtenay Brown (McGuire Cycling)                              6
6 Rebecca Wellons (Gear Works Cyclery)                           4
7 Gina Voci (Defeet)                                             3
8 Mindi Martin (Mercy Cycling Team)                              2
9 Lisa Vetterlein (Team Kenda Tire)                              2
10 Katie Weber (Team Kenda Tire)                                 1
11 Laura Downey (America's Dairyland)                            1