Recently on Cyclingnews.com
International Cycling Classic - Superweek - NE
USA, July 8 -24, 2005
Main Page Results Overall standings Previous Stage Next Stage
Stage 17 - July 23 : The Columbia St. Mary's Great Downer Avenue Bike Race, Milwaukee, WI, 90km
Shortened Downer Avenue still delivers excitement
Peltonen solos out of long break for win
By Mark Zalewski, North American Editor in Milwaukee
Advantage Benefits/Endeavour sits on the front
Photo ©: Mark Zalewski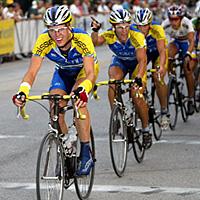 Advantage Benefits/Endeavour continued their success at Superweek by winning the biggest race of the series, the Great Downer Avenue Criterium - once ranked as one of the top five races in the country. The young pro Garrett Peltonen joined overall race leader and teammate Karl Menzies in a seven-man break, using Menzies to attack with two laps to go, then soloing to the win.
"I've won a couple of races just like this before - just attack and hold it for as long as possible," said Peltonen. "I knew I was going to go with two to go. This is right up there with my stage win at Joe Martin!"
"This is the biggest race of the whole series, and we were the only team with two riders in the break," said Menzies. But unlike the previous two days where the break lapped the field, Menzies and Peltonen knew that if it happened again they would lose their two-man advantage, particularly with the speedy Alex Candelario and his equally strong lead-out Jelly Belly-Pool Gel team. Candelario also made the break and worked hard, with the understanding that Menzies and Peltonen were riding for the GC jersey. "I felt really good, but in the end they just rode against me," said Candelario. "Everyone chases you down and nobody wants to hit it after. Candelario knew it was not going to come down to a field sprint with Jelly Belly-Pool Gel absolutely owning field sprints the past two races, but he thought that if he did his share of work he could win the break sprint. "They said they were riding for the jersey... but I guess that's bike racing."
In the other race - the race for the sprint jersey between Emile Abraham (Monex) and Frank Pipp (Advantage Benefits/Endeavour), two of the four sprint laps were neutralised thanks to the seven-man break. However, Abraham's three point lead was cut to just one point thanks to Pipp winning the first two sprints. "I wasn't a hundred percent and Frank got the upper hand early," said Abraham. "But I was quite content once the break went up the road!" With sixteen laps to go, Abraham was involved in a minor crash on the still wet course and decided to pack it in early to rest for Sunday's final race. "We are definitely all about the jersey for tomorrow."
Superweek finishes once again in the north Milwaukee suburb of Whitefish Bay, with Abraham and Pipp set to do battle.
Photography
For a thumbnail gallery of these images, click here
Images by Mark Zalewski
Results
1 Garrett Peltonen (Advantage Benefits/Endeavour)                    
2 Alexander Candelario (Jelly Belly/PoolGel)                         
3 Alvaro Taraguila (UPMC/ACT)                                        
4 Alexander Gonzalez (Colombian National Team)                       
5 Karl Menzies (Advantage Benefits/Endeavour)                        
6 Erik Saunders (McGuire/Langdale Pro CT)                            
7 Marco Rios (Kahala-LaGrange)                                       
8 David McCook (Jelly Belly/PoolGel)                                 
9 Richard England (Advantage Benefits/Endeavour)                     
10 Carlos Alzate (Colombian National Team)                           
11 Carlos Vargas (Team Monex)                                        
12 Jens Mouris (AXA Cycling Team)                                    
13 (unknown rider)                                                   
14 Sergio Hernandez (Veloworx Racing)                                
15 Joe Papp (UPMC/ACT)                                               
16 Jim Baldesare (ABD Cycling Team)                                  
17 Andrew Crater (Wheel and Sprocket)                                
18 Jacob Nielsen (Glud & Marstrand Horsens)                          
19 Kasper Kloostergaard (Glud & Marstrand Horsens)                   
20 Jamiel Danesh (Hammer Nutrition)                                  
21 Cole House (Advantage Benefits Endeavour Cycling Club)            
22 David Kay (Great Dane Velo Club)                                  
23 Roman Kilun (McGuire/Langdale Pro CT)                             
24 Todd Yezefski (TIAA-CREF)                                         
25 Joel Charles (Sports Garage / Soma)                               
26 Brad Armstrong (Colonels)                                         
27 Shawn Willard (Wheel and Sprocket)                                
28 Robert Newman (GS Lombardi Sports)                                
29 Darin Divine (Lombardi Sports)                                    
30 (unknown rider)                                                   
31 Zach Fiocca (Team Hotel San Jose)                                 
32 Ryan White (PCW Cycling)                                          
33 Seth Hansley (Park City Cycling Academy)                          
34 David Sachs (Advantage Benefits/Endeavour)                        
35 Brandon Gavic (Bianchi/Grand Performance)                         
36 (unknown rider)                                                   
37 Reed Tanger (Transrapid-USA.com Cycling)                          
38 Robert White (PCW Cycling)                                        
39 Brett Glembocki (ISCorp/Nova)                                     
40 Robert Kron (Team Mack)                                           
41 Aram Dellalian (Amgen Cycling Club)                               
42 Jason Snider (Flanders)                                           
43 Scott Jackson (Northeast Regional)                                
44 Joshua Carter (Subway)                                            
45 Lance Beuning (Grandstay/Out N About Gear)                        
46 Cameron McKenzie                                                  
47 Michael Lanyon (Mesa Cycles Racing Team)                          
48 (unknown rider)                                                   
49 Matthew Racine (U of Wisconsin - Whitewater Cycling)              
50 (unknown rider)                                                   
51 Christopher Monteleone (Team Rio Grande)                          
52 Frank Pipp (Advantage Benefits/Endeavour)                         
53 Craig Snydal (Transrapid-USA.com Cycling)                         
54 Eric Losak (Veloworx Racing)                                      
55 Wendy Cruz (UPMC/ACT)                                             
56 (unknown rider)                                                   
57 Bryce Mead (ABD Cycling Team)                                     
58 Tim LeRoy (Team Mack)                                             
59 David Chernosky (Torelli)                                         
60 (unknown rider)                                                   
61 (unknown rider)                                                   
62 (unknown rider)                                                   
63 (unknown rider)                                                   
64 (unknown rider)                                                   
65 Andrew Touchstone (Enypesa-Lambea-El Mundo)                       
66 John Fleckenstein (Team Mack Racing)                              
67 Paul Sumner (GS Lombardi Sports)                                  
68 Todd Miller (Advantage Benefits Endeavour Cycling Club)           
69 Danny Pate (Jelly Belly/PoolGel)                                  
70 Adam Biwan (Nova/ISCorp)                                          
71 Nicholas Reistad (Advantage Benefits/Endeavour)                   
72 Kirk Albers (Jelly Belly/PoolGel)                                 
73 Frank Dierking (ABD Cycling Team)                                 
74 Thomas Hallock                                                    
75 Skyler Bishop (Olympic Club)                                      
 
Sprint 1
 
1 Frank Pipp (Advantage Benefits/Endeavour)                          
2 Emile Abraham (Team Monex)                                         
3 Richard England (Advantage Benefits/Endeavour)                     
4 Wes Hartman (Advantage Benefits/Endeavour)                         
5 Andrew Crater (Wheel and Sprocket)                                 
6 Jamiel Danesh (Hammer Nutrition)                                   
7 Karl Menzies (Advantage Benefits/Endeavour)                        
 
Sprint 2
 
1 Frank Pipp (Advantage Benefits/Endeavour)                          
2 Emile Abraham (Team Monex)                                         
3 Karl Menzies (Advantage Benefits/Endeavour)                        
4 Carlos Alzate (Colombian National Team)                            
5 Andrew Crater (Wheel and Sprocket)                                 
6 Roman Kilun (McGuire/Langdale Pro CT)                              
7 Alexander Candelario (Jelly Belly/PoolGel)                         
 
Sprint 3
 
1 Karl Menzies (Advantage Benefits/Endeavour)                        
2 Erik Saunders (McGuire/Langdale Pro CT)                            
3 Alexander Candelario (Jelly Belly/PoolGel)                         
4 Garrett Peltonen (Advantage Benefits/Endeavour)                    
5 Alvaro Taraguila (UPMC/ACT)                                        
6 Marco Rios (Kahala-LaGrange)                                       
7 Alexander Gonzalez (Colombian National Team)                       
 
Sprint 4
 
1 Karl Menzies (Advantage Benefits/Endeavour)                        
2 Alexander Candelario (Jelly Belly/PoolGel)                         
3 Alvaro Taraguila (UPMC/ACT)                                        
4 Garrett Peltonen (Advantage Benefits/Endeavour)                    
5 Marco Rios (Kahala-LaGrange)                                       
6 Alexander Gonzalez (Colombian National Team)                       
7 Erik Saunders (McGuire/Langdale Pro CT)                            
 
Overall standings
 
1 Karl Menzies (Advantage Benefits/Endeavour)                     199 pts
2 Richard England (Advantage Benefits/Endeavour)                  181
3 Carlos Vargas (Team Monex)                                      179
4 Jacob Nielsen (Glud & Marstrand Horsens)                        152
5 Danny Pate (Jelly Belly/PoolGel)                                149
6 David McCook (Jelly Belly/PoolGel)                              149
7 Marco Rios (Kahala-LaGrange)                                    143
8 Jose Serpa (Colombian National Team)                            125
9 Erik Saunders (McGuire/Langdale Pro CT)                         120
10 Carlos Alzate (Colombian National Team)                        114
11 Alexander Candelario (Jelly Belly/PoolGel)                     111
12 Andrew Crater (Wheel and Sprocket)                             111
13 Brian Jensen (HRRC / Saddlewood/ Specialized/ Bikesour)        104
14 Dennis Haueissen (Team RSH)                                     96
15 Emile Abraham (Team Monex)                                      93
16 Frank Pipp (Advantage Benefits/Endeavour)                       91
17 Alexander Gonzalez (Colombian National Team)                    87
18 Garrett Peltonen (Advantage Benefits/Endeavour)                 82
19 Juan Jose Haedo (Colavita Olive Oil/Sutter Home)                77
20 Greg Henderson (Health Net/Maxxis)                              77
21 Caleb Manion (Jelly Belly/PoolGel)                              77
22 Jason Allen (McGuire/Langdale Pro CT)                           73
23 Eddy Hilger (Advantage Benefits/Endeavour)                      72
24 Brian Sheedy (Advantage Benefits/Endeavour)                     70
25 John Murphy (Team Krystal)                                      67
26 Karl Bordine (Helen's Cycles)                                   67
27 Jonathan Page (Colavita Olive Oil/Sutter Home)                  63
28 Kasper Kloostergaard (Glud & Marstrand Horsens)                 59
29 Glen Mitchell (Kodak Gallery/Sierra Nevada)                     57
30 John Lieswyn (Health Net/Maxxis)                                55
31 Paul Martin (Texas Roadhouse)                                   55
32 Jens Mouris (AXA Cycling Team)                                  54
33 Frank Dierking (ABD Cycling Team)                               52
34 Jackson Stewart (Kodak Gallery/Sierra Nevada)                   50
35 Russell Hamby (Kodak Gallery/Sierra Nevada)                     41
36 Wes Hartman (Advantage Benefits/Endeavour)                      40
37 Steve Tilford (BikeSource)                                      39
38 R Curtis Gunn (Team Seasilver (Sea))                            38
39 Dan Schmatz (Kodak Gallery/Sierra Nevada)                       38
40 Armando Cardenas (Colombian National Team)                      37
41 Alvaro Taraguila (UPMC/ACT)                                     36
42 Brent Bookwalter (Advantage Benefits/Endeavour)                 35
43 Ben Brooks (Jelly Belly/PoolGel)                                35
44 Hilton Clarke (Navigators Insurance)                            33
45 Nicholas Reistad (Advantage Benefits/Endeavour)                 33
46 Joe Papp (UPMC/ACT)                                             32
47 Graham Howard (Advantage Benefits/Endeavour)                    31
48 Carlos Uran (Colombian National Team)                           30
49 Carlos Julian Quintero (Colombian National Team)                29
50 Wendy Cruz (UPMC/ACT)                                           25
51 Jamiel Danesh (Hammer Nutrition)                                25
52 William Innes (GS Lombardi Sports)                              23
53 Bryan Smith (TIAA-CREF)                                         22
54 Scott Zwizanski (Kodak Gallery/Sierra Nevada)                   21
55 Brice Jones (Jelly Belly/PoolGel)                               20
56 Alexi Martinez (Excel Sports)                                   20
57 Mateo Sasso (UPMC/ACT)                                          19
58 Reid Mumford (ABD Cycling Team)                                 19
59 Joshua Carter (Subway)                                          19
60 Ryan Roth                                                       17
61 Roman Kilun (McGuire/Langdale Pro CT)                           16
62 Jacob Stephens (Team Cobblestone)                               16
63 Dean LaBerge (GS Lombardi Sports)                               16
64 Jason Snow (Cycle Science)                                      15
65 Aaron Smathers (GS Tenzing)                                     14
66 Rahsaan Bahati (McGuire/Langdale Pro CT)                        14
67 John Puffer (ABD Cycling Team)                                  14
68 Paul Che (Sotheby's)                                            14
69 Victor Ayala (Kahala-LaGrange)                                  14
70 Robert White (PCW Cycling)                                      13
71 Arles Castro (Colombian National Team)                          13
72 Kirk Albers (Jelly Belly/PoolGel)                               12
73 Russell Langley (Snow Valley)                                   12
74 Sebastian Alexandre (Colavita Olive Oil/Sutter Home)            11
75 Todd Herriott (Colavita Olive Oil/Sutter Home)                  11
76 Bryce Mead (ABD Cycling Team)                                   11
77 Ward Solar (Team Cobblestone)                                   11
78 Todd Henriksen (Team Krystal)                                   11
79 Diego Garavito (Outdoorlights.com)                              10
80 Pete Lopinto (Kodak Gallery/Sierra Nevada)                       9
81 Sergio Hernandez (Veloworx Racing)                               9
82 Erik Lyman (Espoirs de Laval)                                    9
83 Zach Fiocca (Team Hotel San Jose)                                9
84 David Sachs (Advantage Benefits/Endeavour)                       9
85 Joshua Goodwin (Team Monex)                                      8
86 Scott Allen (Team Rubicon)                                       7
87 Ryan Nenninger (ABD Cycling Team)                                7
88 Stephen Spencer (Mesa Cycles Racing Team)                        6
89 Tyler Wren (Colavita Olive Oil/Sutter Home)                      6
90 Jacob Rubelt (Team Krystal)                                      6
91 Jim Baldesare (ABD Cycling Team)                                 5
92 Robert Sczepurek (Team RSH)                                      5
93 Patrick Briggs (Cal Giant / Village Peddler)                     5
94 Mark Southard (Excel Sports Boulder)                             5
95 Marco Aledia (Texas Roadhouse)                                   4
96 Michael Ebert (ABD Cycling Team)                                 4
97 Aram Dellalian (Amgen Cycling Club)                              4
98 Michael Anderson                                                 3
99 JD Bergmann (McGuire Cycling)                                    3
100 Darin Divine (Lombardi Sports)                                  3
101 Duane Dickey (Bianchi/Grand Performance)                        3
102 Brian Bibens (Nalley Automotive)                                3
103 Devon Vigus (McGuire/Langdale Pro CT)                           2
104 John Acker (Wheel & Sprocket)                                   2
105 Michael Lanyon (Mesa Cycles Racing Team)                        2
106 John DeLong (Snow Valley)                                       2
107 James Van Toever (Krystal)                                      1
 
Sprint standings
 
1 Emile Abraham (Team Monex)                                      159 pts
2 Frank Pipp (Advantage Benefits/Endeavour)                       158
3 Karl Menzies (Advantage Benefits/Endeavour)                      94
4 Andrew Crater (Wheel and Sprocket)                               86
5 Garrett Peltonen (Advantage Benefits/Endeavour)                  71
6 Carlos Alzate (Colombian National Team)                          44
7 Alexander Candelario (Jelly Belly/PoolGel)                       44
8 Alexander Gonzalez (Colombian National Team)                     37
9 Nicholas Reistad (Advantage Benefits/Endeavour)                  36
10 Jens Mouris (AXA Cycling Team)                                  34
11 Joe Papp (UPMC/ACT)                                             31
12 Reid Mumford (ABD Cycling Team)                                 21
13 John Lieswyn (Health Net/Maxxis)                                21
14 Eddy Hilger (Advantage Benefits/Endeavour)                      20
15 Erik Saunders (McGuire/Langdale Pro CT)                         20
16 Alvaro Taraguila (UPMC/ACT)                                     19
17 Paul Martin (Texas Roadhouse)                                   18
18 Jacob Nielsen (Glud & Marstrand Horsens)                        17
19 Greg Henderson (Health Net/Maxxis)                              15
20 R Curtis Gunn (Team Seasilver (Sea))                            14
21 Joshua Goodwin (Team Monex)                                     14
22 Brian Jensen (HRRC / Saddlewood/ Specialized/ Bikesour)         14
23 Carlos Vargas (Team Monex)                                      14
24 Danny Pate (Jelly Belly/PoolGel)                                14
25 Jonathan Page (Colavita Olive Oil/Sutter Home)                  13
26 John Murphy (Team Krystal)                                      12
27 Richard England (Advantage Benefits/Endeavour)                  11
28 Frank Dierking (ABD Cycling Team)                               10
29 Hilton Clarke (Navigators Insurance)                            10
30 Karl Bordine (Helen's Cycles)                                    9
31 Patrick Briggs (Cal Giant / Village Peddler)                     9
32 Carlos Uran (Colombian National Team)                            8
33 David McCook (Jelly Belly/PoolGel)                               7
34 Diego Garavito (Outdoorlights.com)                               6
35 Rahsaan Bahati (McGuire/Langdale Pro CT)                         5
36 David Sachs (Advantage Benefits/Endeavour)                       5
37 Erik Lyman (Espoirs de Laval)                                    5
38 Brent Bookwalter (Advantage Benefits/Endeavour)                  5
39 Marco Rios (Kahala-LaGrange)                                     5
40 Jacob Stephens (Team Cobblestone)                                5
41 Glen Mitchell (Kodak Gallery/Sierra Nevada)                      5
42 Wes Hartman (Advantage Benefits/Endeavour)                       4
43 Randy Reichardt (Hauln Ass Racing Team(HART))                    4
44 Todd Herriott (Colavita Olive Oil/Sutter Home)                   4
45 Scott Zwizanski (Kodak Gallery/Sierra Nevada)                    4
46 Juan Jose Haedo (Colavita Olive Oil/Sutter Home)                 4
47 Bennet Van der Genugten (Honey Stinger/Spinergy Cycling Team)    4
48 Carlos Julian Quintero (Colombian National Team)                 4
49 Brian Sheedy (Advantage Benefits/Endeavour)                      4
50 Pete Lopinto (Kodak Gallery/Sierra Nevada)                       4
51 Michael Lanyon (Mesa Cycles Racing Team)                         3
52 Matty Rice (Jelly Belly/PoolGel)                                 3
53 kevin Attkinson (Texas Roadhouse)                                3
54 Jackson Stewart (Kodak Gallery/Sierra Nevada)                    3
55 Steen Rose (Matrix Cycle Club)                                   3
56 John Puffer (ABD Cycling Team)                                   3
57 Roman Kilun (McGuire/Langdale Pro CT)                            2
58 Jamiel Danesh (Hammer Nutrition)                                 2
59 Roberto Gaggioli (Monex)                                         2
60 Stephen Spencer (Mesa Cycles Racing Team)                        2
61 Nathan Miller (Team Monex)                                       2
62 Jason Allen (McGuire/Langdale Pro CT)                            2
63 Ben Brooks (Jelly Belly/PoolGel)                                 2
64 Duane Dickey (Bianchi/Grand Performance)                         2
65 John Acker (Wheel & Sprocket)                                    2
66 Aram Dellalian (Amgen Cycling Club)                              2
67 Dennis Haueissen (Team RSH)                                      2
68 Kirk Albers (Jelly Belly/PoolGel)                                1
69 Mateo Sasso (UPMC/ACT)                                           1
70 Dan Schmatz (Kodak Gallery/Sierra Nevada)                        1
71 Caleb Manion (Jelly Belly/PoolGel)                               1
72 Daniel Underwood (Transrapid-USA.com Cycling)                    1
73 Whitey DeBroux (Pro Peloton/Paketa)                              1
74 Robert White (PCW Cycling)                                       1