14th Challenge Illes Balears - 1.1 (x5)
Spain, February 6-10, 2005
Stage 1 - February 6: Palma-Palma (Trofeo Mallorca), 82.5 km
No rainbow curse for Freire
World champion Oscar Freire (Rabobank)
Photo ©: Franklin Tello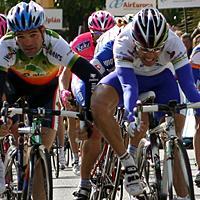 Despite claiming the previous day that he wasn't feeling at his best, world champion Oscar Freire has shrugged off the 'curse of the rainbow jersey' to win the first in the five-race Challenge Illes Balears-Volta a Mallorca series. Freire out-sprinted Isaac Gálvez (Illes Balears) for the victory, depriving Gálvez of the reward from his team's hard work during the 82.5km stage.
With top riders such as Erik Zabel (T-Mobile), Freire, Paolo Bettini (Davitamon) and Gálvez testing their legs for the first time this year, fireworks were expected. The eager peloton didn't disappoint, setting a dizzying pace for the whole race which turned into a 90-minute dash through the streets of Mallorca. The attacks came early and numerous, with the most significant escape involving a 21-rider group that got away after 21km and built a 35 second lead before the local heroes of the Illes Balears team led the chase and shut down the escape.
All the colours of the peloton rainbow
Photo ©: AFP Photo

Illes Balears looked favourite to launch their sprinter Gálvez to victory as they entered the last 10km, with T-Mobile also vying to get Erik Zabel into position, but Freire positioned himself perfectly to nip across the line just ahead.
"The rainbow jersey brings me luck. The curse of this jersey does not affect me," said Freire after his win. "My team-mate De Jongh did great work to help me arrive very well placed in the final metres. Gálvez leftr a small opening and I took advantage.
The peloton races
Photo ©: Franklin Tello

"The race was like an express train and lots of fun. My legs responded well and that's a good sign. I intend to ride the second, fourth and fifth stages of this Challenge. I am very pleased to start my season like this."
Runner-up Isaac Gálvez (Illes Balears) explained, "The final straight was very long. We all arrived very close together and Freire came over the top of me. Tomorrow I will try for the victory again because the course will be good for me."
Gálvez' team-mate Toni Colom, who took the overall victory in last year's series, added, "The escape was very bad for us. It forced us to chase and that wore us out too much. We came into the last kilometre just a little too tired. Friere is a rider who is very hard to beat on this sort of course when he is motivated and in form."
Oscar Freire (Rabobank)
Photo ©: Franklin Tello

Photography
For a thumbnail gallery of these images, click here
Images by Franklin Tello/Franklin Tello Photography
Images by AFP Photo
Images by Mario Stiehl/www.world-of-cycling.com
Results
1 Oscar Freire (Spa) Rabobank                  1.32.59
2 Isaac Galvez (Spa) Illes Balears                    
3 Vicente Reynes (Spa) Illes Balears                  
4 Dimitri De Fauw (Bel) Quick Step                    
5 Erik Zabel (Ger) T-Mobile Team                      
6 Unai Elorriaga (Spa) Spanish national team          
7 Paolo Bettini (Ita) Quick Step                      
8 Aitor Perez (Spa) Spiuk                             
9 Rodrigo Garcia (Spa) Kaiku                          
10 Ricardo Serrano (Spa) Kaiku                        
11 Cristian Moreni (Ita) Quick Step                   
12 Pablo Urtasun (Spa) Kaiku                          
13 Xabat Ochotorena (Spa) Orbea                       
14 Javier Benitez (Spa) Relax-Fuenlabrada             
15 Xavier Florencio (Spa) Relax-Fuenlabrada           
16 David Muñoz (Spa) Comunidad Valenciana             
17 Jesus Del Nero (Spa) Orbea                         
18 Mikel Gaztanaga (Spa) Catalunya-Angel Mir          
19 Vidal Celis (Spa) Orbea                            
20 Jorge Azanza (Spa) Kaiku                           
21 Martin Elmiger (Swi) Phonak Hearing Systems        
22 Luis Perez (Spa) Relax-Fuenlabrada                 
23 David Fernandez (Spa) Andalucia-Paul Versa         
24 Javier Cherro (Spa) Comunidad Valenciana           
25 Nacor Burgos (Spa) Relax-Fuenlabrada               
26 Carlos Castaño (Spa) Andalucia-Paul Versa          
27 Victor M. Gomes (Spa) Andalucia-Paul Versa         
28 Luis Pasamontes (Spa) Relax-Fuenlabrada            
29 Adolfo Garcia (Spa) Comunidad Valenciana           
30 Gorka Gonzalez (Spa) Fundacion C. Euskadi          
31 José A. Bonilla (CRc) Comunidad Valenciana         
32 Iker Mezo (Spa) Orbea                              
33 Fco. J. Garcia (Spa) Catalunya-Angel Mir           
34 José E. Gutierrez (Spa) Phonak Hearing Systems     
35 Unai Etxebarria VEN Fundacion C. Euskadi           
36 Gustavo Domingez (Spa) Orbea                       
37 Antonio Miguel (Spa) Catalunya-Angel Mir           
38 Alejandro Valverde (Spa) Illes Balears             
39 Gustavo Cesar (Spa) Kaiku                          
40 Steven De Jongh (Ned) Rabobank                     
41 Antonio Colom (Spa) Illes Balears                  
42 David De La Fuente (Spa) Saunier Duval-Prodir      
43 Xabier Zandio (Spa) Illes Balears                  
44 Jordi Berenguer (Spa) Catalunya-Angel Mir          
45 Jesus Ramirez (Spa) Spiuk                          
46 Angel Rodriguez (Spa) Spiuk                        
47 Ruben Oarbeascoa (Spa) Kaiku                       
48 Josep Jufre (Spa) Relax-Fuenlabrada                
49 M.A M.Perdiguero (Spa) Phonak Hearing Systems      
50 Joan Font (Spa) Spanish national team              
51 Jaume Rovira (Spa) Andalucia-Paul Versa            
52 Yon Bru (Spa) Kaiku                                
53 Antonio Berasategui (Spa) Kaiku                    
54 Mathew Hayman (Aus) Rabobank                       
55 Juan A. Pastor (Spa) Andalucia-Paul Versa          
56 Thorwald Veneberg (Ned) Rabobank                   
57 Fco. José Martinez (Spa) Andalucia-Paul Versa      
58 Imanol Erviti (Spa) Illes Balears                  
59 Raul Garcia (Spa) Relax-Fuenlabrada                
60 Angel Edo (Spa) Saunier Duval-Prodir               
61 Jesus Perez (Spa) Spiuk                            
62 Juan M. Garate (Spa) Saunier Duval-Prodir          
63 Iker Camano (Spa) Fundacion C. Euskadi             
64 Daniel Schnider (Swi) Phonak Hearing Systems       
65 Oliver Zaugg (Swi) Saunier Duval-Prodir            
66 Pedro Romero (Spa) Spiuk                           
67 José L. Martinez (Spa) Comunidad Valenciana        
68 Bert Grabsch (Ger) Phonak Hearing Systems          
69 Ignacio Gutierrez (Spa) Phonak Hearing Systems     
70 David Herrero (Spa) Fundacion C. Euskadi           
71 Efrain Gutierrez (Spa) Andalucia-Paul Versa        
72 Juan M. Mercado (Spa) Quick Step                   
73 Ronald Mutsaars (Ned) Rabobank                     
74 Rafael Macarron (Spa) Spiuk                        
75 Aketza Peña (Spa) Fundacion C. Euskadi             
76 Angel Gomez (Spa) Saunier Duval-Prodir             
77 Olaf Pollack (Ger) T-Mobile Team                   
78 Aaron Villegas (Spa) Orbea                         
79 Benat Albizuri (Spa) Orbea                         
80 Alberto Benitez (Spa) Spiuk                        
81 Fernando Torres (Spa) Spiuk                        
82 Ivan Gutierrez (Spa) Illes Balears                 
83 Ezequiel Mosquera (Spa) Kaiku                      
84 José Almagro (Spa) Relax-Fuenlabrada               
85 Ruben Plaza (Spa) Comunidad Valenciana             
86 José Ruiz (Spa) Andalucia-Paul Versa               
87 José A. Lopez (Spa) Kaiku                          
88 Aitor Alonso (Spa) Spanish national team           
89 Eloy Teruel (Spa) Spanish national team            
90 Antonio Tauler (Spa) Illes Balears                 
91 Tadej Valjavec (Slo) Phonak Hearing Systems        
92 Tomasz Nose (Slo) Phonak Hearing Systems           
93 Julen Zubero (Spa) Orbea                           
94 Alexandr Kolobnev (Rus) Rabobank                   
95 David Bernabeu (Spa) Comunidad Valenciana          
96 Oscar Laguna (Spa) Relax-Fuenlabrada               
97 Antonio Olmo (Spa) Comunidad Valenciana            
98 Oscar Pereiro (Spa) Phonak Hearing Systems         
99 Rolf Aldag (Ger) T-Mobile Team                     
100 Asier Maeztu (Spa) Spanish national team          
101 Mikel Artetxe (Spa) Fundacion C. Euskadi          
102 Dailos Diaz (Spa) Orbea                           
103 Rory Sutherland (Aus) Rabobank                    
104 Miguel Alzamora (Spa) Spanish national team       
105 Karsten Kroon (Ned) Rabobank                      
106 Carlos Torrent (Spa) Catalunya-Angel Mir          
107 Sebastian Franco (Spa) Spanish national team      
108 Steffen Wesemann (Ger) T-Mobile Team              
109 Stephan Schreck (Ger) T-Mobile Team               
110 Xabier Tondo (Spa) Catalunya-Angel Mir            
111 Christian Werner (Ger) T-Mobile Team              
112 Rik Verbrugghe (Bel) Quick Step                   
113 David Lopez (Spa) Fundacion C. Euskadi            
114 Iñigo Cuesta (Spa) Saunier Duval-Prodir           
115 Andreas Klier (Ger) T-Mobile Team             0.12
116 Angel L. Casero (Spa) Comunidad Valenciana    0.19
117 Ruben Lobato (Spa) Saunier Duval-Prodir           
118 Mads Christensen DEM Quick Step                   
119 Marc Lotz (Ned) Quick Step                        
120 Sergio Dominguez (Spa) Spiuk                      
121 José A. Garrido (Spa) Quick Step                  
122 Jesus Buendia (Spa) Spanish national team         
123 Niki Aebersold (Swi) Phonak Hearing Systems       
124 Nicolas Fritsch (Fra) Saunier Duval-Prodir        
125 David Cañada (Spa) Saunier Duval-Prodir           
126 Joan Llaneras (Spa) Spanish national team         
127 Erik Dekker (Ned) Rabobank                        
128 Jan Schaffrath (Ger) T-Mobile Team                
129 Sergio Escobar (Spa) Illes Balears            0.41
130 Torsten Hiekmann (Ger) T-Mobile Team              
131 Julio Lopez (Spa) Relax-Fuenlabrada               
132 David Navas (Spa) Illes Balears                   
133 Gaizka Lejarreta (Spa) Catalunya-Angel Mir    0.49
 
Metas Volantes
 
1 Luis Perez (Spa) Relax-Fuenlabrada                 3 pts
2 Erik Dekker (Ned) Rabobank                         3
3 Antonio Olmo (Spa) Comunidad Valenciana            2
4 David Fernandez (Spa) Andalucia-Paul Versa         2
5 Alberto Benitez (Spa) Spiuk                        1
6 Gustavo Cesar (Spa) Kaiku                          1
 
Special sprints
 
1 Alberto Benitez (Spa) Spiuk                        4 pts
2 Bert Grabsch (Ger) Phonak Hearing Systems          3
3 Antonio Olmo (Spa) Comunidad Valenciana            3
4 Rory Sutherland (Aus) Rabobank                     2
 
Teams
 
1 Quick Step                                   4.38.57
2 Kaiku                                               
3 Illes Balears                                       
4 Orbea                                               
5 Relax-Fuenlabrada                                   
6 Comunidad Valenciana                                
7 Andalucia-Paul Versan                               
8 Catalunya-Angel Mir                                 
9 Rabobank                                            
10 Spiuk                                              
11 Phonak H. S.                                       
12 Fundacion C. Euskadi                               
13 Sel. Española                                      
14 Saunier Duval-Prodir                               
15 T-Mobile Team                                      
 
General classification after stage 1
 
1 Oscar Freire (Spa) Rabobank                  1.32.59
2 Isaac Galvez (Spa) Illes Balears                    
3 Vicente Reynes (Spa) Illes Balears                  
4 Dimitri De Fauw (Bel) Quick Step                    
5 Erik Zabel (Ger) T-Mobile Team                      
6 Unai Elorriaga (Spa) Spanish national team          
7 Paolo Bettini (Ita) Quick Step                      
8 Aitor Perez (Spa) Spiuk                             
9 Rodrigo Garcia (Spa) Kaiku                          
10 Ricardo Serrano (Spa) Kaiku                        
11 Cristian Moreni (Ita) Quick Step                   
12 Pablo Urtasun (Spa) Kaiku                          
13 Xabat Ochotorena (Spa) Orbea                       
14 Javier Benitez (Spa) Relax-Fuenlabrada             
15 Xavier Florencio (Spa) Relax-Fuenlabrada           
16 David Muñoz (Spa) Comunidad Valenciana             
17 Jesus Del Nero (Spa) Orbea                         
18 Mikel Gaztanaga (Spa) Catalunya-Angel Mir          
19 Vidal Celis (Spa) Orbea                            
20 Jorge Azanza (Spa) Kaiku                           
21 Martin Elmiger (Swi) Phonak Hearing Systems        
22 Luis Perez (Spa) Relax-Fuenlabrada                 
23 David Fernandez (Spa) Andalucia-Paul Versa         
24 Javier Cherro (Spa) Comunidad Valenciana           
25 Nacor Burgos (Spa) Relax-Fuenlabrada               
26 Carlos Castaño (Spa) Andalucia-Paul Versa          
27 Victor M. Gomes (Spa) Andalucia-Paul Versa         
28 Luis Pasamontes (Spa) Relax-Fuenlabrada            
29 Adolfo Garcia (Spa) Comunidad Valenciana           
30 Gorka Gonzalez (Spa) Fundacion C. Euskadi          
31 José A. Bonilla (CRc) Comunidad Valenciana         
32 Iker Mezo (Spa) Orbea                              
33 Fco. J. Garcia (Spa) Catalunya-Angel Mir           
34 José E. Gutierrez (Spa) Phonak Hearing Systems     
35 Unai Etxebarria VEN Fundacion C. Euskadi           
36 Gustavo Domingez (Spa) Orbea                       
37 Antonio Miguel (Spa) Catalunya-Angel Mir           
38 Alejandro Valverde (Spa) Illes Balears             
39 Gustavo Cesar (Spa) Kaiku                          
40 Steven De Jongh (Ned) Rabobank                     
41 Antonio Colom (Spa) Illes Balears                  
42 David De La Fuente (Spa) Saunier Duval-Prodir      
43 Xabier Zandio (Spa) Illes Balears                  
44 Jordi Berenguer (Spa) Catalunya-Angel Mir          
45 Jesus Ramirez (Spa) Spiuk                          
46 Angel Rodriguez (Spa) Spiuk                        
47 Ruben Oarbeascoa (Spa) Kaiku                       
48 Josep Jufre (Spa) Relax-Fuenlabrada                
49 M.A M.Perdiguero (Spa) Phonak Hearing Systems      
50 Joan Font (Spa) Spanish national team              
51 Jaume Rovira (Spa) Andalucia-Paul Versa            
52 Yon Bru (Spa) Kaiku                                
53 Antonio Berasategui (Spa) Kaiku                    
54 Mathew Hayman (Aus) Rabobank                       
55 Juan A. Pastor (Spa) Andalucia-Paul Versa          
56 Thorwald Veneberg (Ned) Rabobank                   
57 Fco. José Martinez (Spa) Andalucia-Paul Versa      
58 Imanol Erviti (Spa) Illes Balears                  
59 Raul Garcia (Spa) Relax-Fuenlabrada                
60 Angel Edo (Spa) Saunier Duval-Prodir               
61 Jesus Perez (Spa) Spiuk                            
62 Juan M. Garate (Spa) Saunier Duval-Prodir          
63 Iker Camano (Spa) Fundacion C. Euskadi             
64 Daniel Schnider (Swi) Phonak Hearing Systems       
65 Oliver Zaugg (Swi) Saunier Duval-Prodir            
66 Pedro Romero (Spa) Spiuk                           
67 José L. Martinez (Spa) Comunidad Valenciana        
68 Bert Grabsch (Ger) Phonak Hearing Systems          
69 Ignacio Gutierrez (Spa) Phonak Hearing Systems     
70 David Herrero (Spa) Fundacion C. Euskadi           
71 Efrain Gutierrez (Spa) Andalucia-Paul Versa        
72 Juan M. Mercado (Spa) Quick Step                   
73 Ronald Mutsaars (Ned) Rabobank                     
74 Rafael Macarron (Spa) Spiuk                        
75 Aketza Peña (Spa) Fundacion C. Euskadi             
76 Angel Gomez (Spa) Saunier Duval-Prodir             
77 Olaf Pollack (Ger) T-Mobile Team                   
78 Aaron Villegas (Spa) Orbea                         
79 Benat Albizuri (Spa) Orbea                         
80 Alberto Benitez (Spa) Spiuk                        
81 Fernando Torres (Spa) Spiuk                        
82 Ivan Gutierrez (Spa) Illes Balears                 
83 Ezequiel Mosquera (Spa) Kaiku                      
84 José Almagro (Spa) Relax-Fuenlabrada               
85 Ruben Plaza (Spa) Comunidad Valenciana             
86 José Ruiz (Spa) Andalucia-Paul Versa               
87 José A. Lopez (Spa) Kaiku                          
88 Aitor Alonso (Spa) Spanish national team           
89 Eloy Teruel (Spa) Spanish national team            
90 Antonio Tauler (Spa) Illes Balears                 
91 Tadej Valjavec (Slo) Phonak Hearing Systems        
92 Tomasz Nose (Slo) Phonak Hearing Systems           
93 Julen Zubero (Spa) Orbea                           
94 Alexandr Kolobnev (Rus) Rabobank                   
95 David Bernabeu (Spa) Comunidad Valenciana          
96 Oscar Laguna (Spa) Relax-Fuenlabrada               
97 Antonio Olmo (Spa) Comunidad Valenciana            
98 Oscar Pereiro (Spa) Phonak Hearing Systems         
99 Rolf Aldag (Ger) T-Mobile Team                     
100 Asier Maeztu (Spa) Spanish national team          
101 Mikel Artetxe (Spa) Fundacion C. Euskadi          
102 Dailos Diaz (Spa) Orbea                           
103 Rory Sutherland (Aus) Rabobank                    
104 Miguel Alzamora (Spa) Spanish national team       
105 Karsten Kroon (Ned) Rabobank                      
106 Carlos Torrent (Spa) Catalunya-Angel Mir          
107 Sebastian Franco (Spa) Spanish national team      
108 Steffen Wesemann (Ger) T-Mobile Team              
109 Stephan Schreck (Ger) T-Mobile Team               
110 Xabier Tondo (Spa) Catalunya-Angel Mir            
111 Christian Werner (Ger) T-Mobile Team              
112 Rik Verbrugghe (Bel) Quick Step                   
113 David Lopez (Spa) Fundacion C. Euskadi            
114 Iñigo Cuesta (Spa) Saunier Duval-Prodir           
115 Andreas Klier (Ger) T-Mobile Team             0.12
116 Angel L. Casero (Spa) Comunidad Valenciana    0.19
117 Ruben Lobato (Spa) Saunier Duval-Prodir           
118 Mads Christensen DEM Quick Step                   
119 Marc Lotz (Ned) Quick Step                        
120 Sergio Dominguez (Spa) Spiuk                      
121 José A. Garrido (Spa) Quick Step                  
122 Jesus Buendia (Spa) Spanish national team         
123 Niki Aebersold (Swi) Phonak Hearing Systems       
124 Nicolas Fritsch (Fra) Saunier Duval-Prodir        
125 David Cañada (Spa) Saunier Duval-Prodir           
126 Joan Llaneras (Spa) Spanish national team         
127 Erik Dekker (Ned) Rabobank                        
128 Jan Schaffrath (Ger) T-Mobile Team                
129 Sergio Escobar (Spa) Illes Balears            0.41
130 Torsten Hiekmann (Ger) T-Mobile Team              
131 Julio Lopez (Spa) Relax-Fuenlabrada               
132 David Navas (Spa) Illes Balears                   
133 Gaizka Lejarreta (Spa) Catalunya-Angel Mir    0.49
 
Metas Volantes classification
 
1 Luis Perez (Spa) Relax-Fuenlabrada                 3 pts
2 Erik Dekker (Ned) Rabobank                         3
3 Antonio Olmo (Spa) Comunidad Valenciana            2
4 David Fernandez (Spa) Andalucia-Paul Versa         2
5 Alberto Benitez (Spa) Spiuk                        1
6 Gustavo Cesar (Spa) Kaiku                          1
 
Special sprint classification
 
1 Alberto Benitez (Spa) Spiuk                        4 pts
2 Bert Grabsch (Ger) Phonak Hearing Systems          3
3 Antonio Olmo (Spa) Comunidad Valenciana            3
4 Rory Sutherland (Aus) Rabobank                     2
 
Teams classification
 
1 Quick Step                                   4.38.57
2 Kaiku                                               
3 Illes Balears                                       
4 Orbea                                               
5 Relax-Fuenlabrada                                   
6 Comunidad Valenciana                                
7 Andalucia-Paul Versan                               
8 Catalunya-Angel Mir                                 
9 Rabobank                                            
10 Spiuk                                              
11 Phonak H. S.                                       
12 Fundacion C. Euskadi                               
13 Sel. Española                                      
14 Saunier Duval-Prodir                               
15 T-Mobile Team