Recently on Cyclingnews.com
Brindabella Challenge - NE
ACT, Australia, December 2-4, 2005
Multi-discipline cycling takes over Canberra
Oenone Wood, Mick Rogers and Stephen Hodge
Photo ©: Gerard Knapp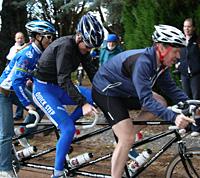 Australia's capital, Canberra is widely considered to be the most bike-friendly of Australia's cities and it certainly proved it over the weekend as it played host to almost every branch of cycling and bike racing at the Brindabella Challenge.
The event, named for the hills that ring the city, included criterium races; road races; a 55km single-loop mountain bike race; BMX races and this year's edition of the Urban Polaris mountain bike orienteering event, which alone had almost 600 entrants. Between the Polaris, the 260-strong MTB race and the several hundred who signed up for the road and BMX races, the Brindabella Challenge was one of the biggest weekends of bike racing Australia has ever hosted, and the country's biggest ever "variety" cycling festival.
Oenone Wood (left)
Photo ©: Gerard Knapp

There was plenty for non-competitive riders to do too, from a tough 120km Tour of Tidbinbilla to the 20km Classic Canberra Cycle that took in the sights of the city including Parliament House and Lake Burley Griffin. The weekend also included mountain bike trials, freestyle BMX, adventure racing, recumbent racing and try-outs, unicycle racing and demonstrations and the Brindabella Challenge roller derby.
Criterium action
Photo ©: Gerard Knapp

Top Australian riders who turned up for the weekend included three-time time trial world champion Michael Rogers and World Cup series champion Oenone Wood, who both hail from Canberra. Mountain bike national series champion Dylan Cooper is also a Canberran and turned out on Saturday to race the 55km event, while the winner of that event, Peter Hatton, is getting ready to start a pro career on the road with Jittery Joe's in 2006.
MTB race newbie Greg McNevin
Photo ©: Liam Tung

It looked for a moment on Friday as though the weather might wipe out the whole event as a storm of Biblical proportions rolled out of the west and deluged the city, causing damage that included a fatality as a person caught in it was hit by a falling tree branch. The storm wiped out the criterium races, which were rescheduled for Sunday, but blew out of Canberra and headed for the coast, leaving improving weather in its wake. The damp conditions on Saturday provided a challenge for the mountain bike racers, but by the afternoon things had dried out for the road races. Sunday dawned bright and sunny - much more typical for the season - and the only weather hazard for the Urban Polaris and BMX races was sunburn.
Ian Stewart and Zoe King finish the Urban Polaris
Photo ©: John Stevenson

Australian Capital Tourism's general manager of tourism events, Neale Guthrie, said the Brindabella Challenge had exceeded expectations for participant numbers, with all but one of its 15 events reaching or surpassing entry targets. "The event also attracted world class Australian and international competitors, including Oenone Wood, Michael Rogers, Australian and European BMX stars Luke Fint, Garrett Byrnes, Ruben Alcantara and Sergio Layos and our own elite cycling team, Team Velo Canberra."
Michael Rogers told Cyclingnews he was keen to see more cycling festivals like the Brindabella Challenge to help popularise cycling and increase its acceptance in Australia. "To get that wide acceptance, you really do need to promote the sport at a family level," said Rogers. "So the nice thing about these couple of days is that there's something for the whole family; there's not only elite, but kids riding behind a fire truck, weaving through cones... and it's what the sport needs to be accepted as a family sport, which it can be."
The BMX AA Men final
Photo ©: Greg McNevin

Looking around him, Rogers noted three different disciplines - road, BMX and mountain bike - all taking place within close proximity of one another, as well as a fun ride for small children that both he participated in, with two other famous Canberra locals Oenone Wood and Stephen Hodge. "I started when I was seven, having fun like this, and this is where cycling starts. Here could be our future champions.
Troy Glennan (MG XPower p/b BigPond)
Photo ©: Anthony Tan

"The kids are our future," continued Rogers, "and if cycling wants a strong community, we have to educate our children to ride. Cycling is a positive sport: it's a mode of transport, it promotes healthy living through exercise, and if a nation's healthy, it's usually happy."