Tattersall's Cup Series Tour of Gippsland - NE
Australia, August 3-7, 2005
Main Page Results Overall standings Previous Stage Next Stage
Stage 4 - August 4: Seaspray - Loch Sport, 59 km
McCauley strikes back
By Rod Morris in Loch Sport
Gordon McCauley
Photo ©: Shane Goss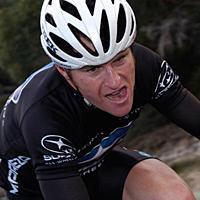 Ace New Zealander Gordon McCauley claimed overall honours after the fourth stage of the Tattersall's Cup Tour of Gippsland yesterday, but his lead is just two seconds.
McCauley wrested the lead away from young Canberra rider James Meadley after the afternoon stage, a 59 km "sprint" from Seaspray to Loch Sport, when he finished fourth behind leading Victorian Robert Tighello, South Australia's Luke Bettany and Sydney's Robert Cater.
McCauley pinched seven bonus seconds in the intermediate sprints, four seconds for his stage placing, and a further three seconds in time bonus, to reduce his deficit to Meadley and find himself in the yellow leader's jersey.
The afternoon stage was full of attacks, but Meadley wasn't amongst any of them. "I finished in the bunch, which hasn't done my GC chances all that much good, but I'm still in the race," said Meadley.
Just follow
Photo ©: Shane Goss

A group of about 20 riders grabbed a one minute lead at around the half way mark, but as the peloton dragged them back, a smaller group of four riders - including Tighello and McCauley - eked out a narrow lead to take to the finish line.
McCauley's fourth placing pushed him into the overall lead and he quickly declared he wasn't about to give it up without a fight. "I came here with a point to prove to New Zealand selectors for leaving me out of the national squad, and although I haven't won a stage yet, my original intention was to figure highly in overall honours," he said. "I'm not over the line yet and there are still five stages and a lot of distance to travel yet, so I've still got a lot of hard work to do."
Victorian Robert Tighello
Photo ©: Shane Goss

Meadley although obviously disappointed to have lost his lead, was adamant he wasn't finished either. "Two seconds isn't much and I've got some good riders around me, so I'm still confident I can get the yellow jersey back," he said.
Tighello jumped into third place overall, narrowing the gap to 12 seconds behind McCauley, whilst McLachlan dropped back to fourth at 20 seconds. Although this tour is still very much alive, the realistic chances of overall honours are narrowing by every stage.
Michael Tolhurst of Canberra is in fifth at 42 seconds behind and Stuart Shaw is next in line at 47 seconds. Pre-tour favourite David McKenzie is yet to fire a shot and is more than a minute behind, but as all riders agreed, so much can still happen before they see the checkered flag in Traralgon on Sunday afternoon.
Photography
For a thumbnail gallery of these images, click here
Images by Shane Goss/www.licoricegallery.com
Results
1 Robert Tighello                               1.10.00
2 Luke Bettany                                         
3 Robert Cater                                         
4 Gordon McCauley                                      
5 George Bunt                                          
6 Mitchell Docker                                      
7 Start Shaw                                       0.03
8 Robert McLachlan                                 0.04
9 Bradley Norton                                   0.06
10 Joshua Marden                                       
11 Bernard Sulzberger                                  
12 Fabio Calabria                                      
13 Mathew Rex                                          
14 Wesley Sulzberger                                   
15 Peter Milostic                                      
16 David Kemp                                          
17 Aaron Salisbury                                     
18 Matthew Gilbert                                     
19 Kirk Eddy                                           
20 Nathan Wise                                         
21 Joshua Wall                                         
22 Peter Dawson                                        
23 Scott Peoples                                       
24 David McKenzie                                      
25 Dean Windsor                                        
26 Robert Crowe                                        
27 Charles Howlett                                     
28 Christopher Jenkins                                 
29 Jason Hegert                                        
30 Craig McCartney                                     
31 Michael Ford                                        
32 Stephen Rossendell                                  
33 Michael Tolhurst                                    
34 Patrick Shaw                                        
35 Andrew Graham                                       
36 Johnny Walker                                       
37 Richard Moffatt                                 0.10
38 Peter Herzig                                        
39 Gerard Lai-Smith                                    
40 Matthew Rice                                        
41 Adam Murchie                                        
42 Cameron Wise                                        
43 James Meadley                                       
44 David Hiley                                         
45 Samuel Rix                                          
46 Brendan Brooks                                      
47 Ben Darlington                                      
48 Richard Vollebregt                                  
49 Ashley Hayat                                        
50 Daniel Furmston                                     
51 Adrian Salter                                       
52 Steven Pilson                                       
53 Kym Howard                                          
54 Simon Pearson                                       
55 James Maebus                                        
56 Matt Haydock                                        
57 Peter McDonald                                      
58 Nathan Rollason                                     
59 Timothy Decker                                      
60 Tim Hucker                                          
61 Trent Stevenson                                     
62 Heath Keenan                                        
63 Brad McCreadie                                      
64 Chris Winn                                          
65 Adrian Hanson                                       
66 Scott Jensen                                        
67 John Mackenzie                                      
68 Darren Lapthorne                                    
69 Grant Gaston                                        
70 Casey Munro                                         
71 Sean Finning                                    0.16
72 Simon Van Der AA                                0.19
73 Glen Peterson                                       
74 Dane Crawford                                       
75 Glen Stojanow                                       
76 Will Dickeson                                       
77 William Murray                                      
78 Phil Gough                                          
79 Jason Johnson                                       
80 Jonathon Tainsh                                     
81 Andrew Naylor                                       
82 Tim Buchanan                                    0.23
83 Timothy Walker                                  0.26
84 Ben Isaksen                                         
85 Kyle Marwood                                    2.57
86 Andrew Hanigan                                  5.53
87 Glenn Myler                                         
88 Peter Ladd                                      7.09
89 Vaughan Bowman                                  7.11
90 Bradley Payne                                   7.15
91 Luke Weir                                       7.32
92 ben Serpell                                     8.44
93 David Salton                                        
 
Sprints
 
Sprint 1 - Flamenco Beach
1 Robert Tighello                                     3 pts
2 Gordon McCauley                                     2
3 George Bunt                                         1
 
Sprint 2 - The Trinculo
1 Robert Tighello                                     3 pts
2 Gordon McCauley                                     2
3 Start Shaw                                          1
 
Sprint 3 - Golden Beach Fooderarma
1 Gordon McCauley                                     3 pts
2 Robert Cater                                        2
3 Luke Bettany                                        1
 
General classification after stage 4
 
1 Gordon McCauley                               6.18.41
2 James Meadley                                    0.08
3 Robert Tighello                                  0.12
4 Robert McLachlan                                 0.20
5 Michael Tolhurst                                 0.44
6 Start Shaw                                       0.45
7 Richard Moffatt                                  0.58
8 Peter McDonald                                   1.02
9 Bernard Sulzberger                               1.12
10 Luke Bettany                                    1.16
11 Bradley Norton                                  1.20
12 Mitchell Docker                                 1.22
13 Craig McCartney                                 1.23
14 Cameron Wise                                    1.29
15 David McKenzie                                  1.30
16 Dean Windsor                                        
17 Scott Peoples                                   1.31
18 Michael Ford                                        
19 Fabio Calabria                                      
20 Wesley Sulzberger                                   
21 Peter Milostic                                      
22 Darren Lapthorne                                1.35
23 David Hiley                                         
24 Glen Stojanow                                   1.44
25 Johnny Walker                                   2.15
26 Richard Vollebregt                              2.17
27 Matthew Gilbert                                 2.19
28 Peter Herzig                                    2.26
29 Brendan Brooks                                      
30 Matt Haydock                                    2.29
31 Chris Winn                                      2.30
32 Simon Pearson                                       
33 Brad McCreadie                                  2.56
34 Adam Murchie                                    3.05
35 Matthew Rice                                    3.08
36 James Maebus                                    3.13
37 Christopher Jenkins                             3.59
38 Will Dickeson                                   4.34
39 Patrick Shaw                                    5.22
40 David Kemp                                      6.59
41 Jason Hegert                                    7.24
42 Casey Munro                                     7.26
43 George Bunt                                     8.05
44 Adrian Salter                                   8.15
45 Aaron Salisbury                                 9.16
46 Peter Ladd                                      9.17
47 Joshua Marden                                   9.18
48 Grant Gaston                                   11.34
49 Trent Stevenson                                     
50 Andrew Graham                                  12.15
51 Nathan Wise                                    13.04
52 Tim Hucker                                     13.08
53 Jonathon Tainsh                                13.13
54 Peter Dawson                                   13.54
55 Vaughan Bowman                                 14.29
56 Timothy Walker                                 15.02
57 Bradley Payne                                  15.21
58 Mathew Rex                                     15.38
59 Stephen Rossendell                             16.07
60 Nathan Rollason                                17.55
61 Charles Howlett                                19.15
62 Robert Crowe                                   19.31
63 Adrian Hanson                                  19.35
64 Timothy Decker                                 26.32
65 Tim Buchanan                                   26.37
66 Sean Finning                                   27.41
67 Luke Weir                                      27.44
68 Robert Cater                                   29.23
69 John Mackenzie                                 29.42
70 Joshua Wall                                    30.11
71 Samuel Rix                                     30.30
72 Ben Isaksen                                    33.45
73 Kym Howard                                     34.17
74 Daniel Furmston                                35.49
75 Andrew Hanigan                                 37.06
76 Kyle Marwood                                   38.48
77 Phil Gough                                     39.41
78 Dane Crawford                                  40.12
79 David Salton                                   40.45
80 Jason Johnson                                  41.10
81 William Murray                                 43.32
82 Kirk Eddy                                      45.48
83 Scott Jensen                                   46.11
84 Ashley Hayat                                   46.54
85 Ben Darlington                                 48.35
86 Gerard Lai-Smith                               51.01
87 Simon Van Der AA                               51.33
88 Glen Peterson                                  52.53
89 Andrew Naylor                                  53.01
90 Steven Pilson                                  56.29
91 Heath Keenan                                   59.17
92 ben Serpell                                  1.01.41
93 Glenn Myler                                  1.18.14
 
Subaru Aggressive Rider Awards
 
1 Gordon McCauley                                     2 pts
2 Robert Tighello                                     2
3 Craig McCartney                                     2
4 James Meadley                                       1
5 Bradley Norton                                      1
6 Aaron Salisbury                                     1
 
Latrobe City Council Sprint Championship
 
1 James Meadley                                      34 pts
2 Gordon McCauley                                    18
3 Aaron Salisbury                                    15
4 Robert Tighello                                    13
5 Bradley Norton                                     13
6 Robert McLachlan                                    9
7 Richard Moffatt                                     8
8 Craig McCartney                                     8
9 Cameron Wise                                        6
10 Start Shaw                                         5
11 Michael Tolhurst                                   3
12 Robert Cater                                       3
13 Joshua Marden                                      2
14 Kyle Marwood                                       2
15 Matthew Rice                                       2
16 Bernard Sulzberger                                 2
17 Peter Herzig                                       2
18 Luke Bettany                                       1
19 Peter McDonald                                     1
20 Sean Finning                                       1
21 George Bunt                                        1
22 David McKenzie                                     1
 
Tourism Victoria King Of The Mountain Championship
 
1 Robert Tighello                                    17 pts
2 Gordon McCauley                                    12
3 Peter McDonald                                     10
4 Michael Tolhurst                                    6
5 Start Shaw                                          5
6 Bernard Sulzberger                                  3
7 Peter Herzig                                        2
8 Mathew Rex                                          2
9 Richard Moffatt                                     2
10 George Bunt                                        1
 
Criterium Championship
 
1 James Meadley                                      10 pts
2 Gordon McCauley                                     9
3 Aaron Salisbury                                     8
4 Bradley Norton                                      7
5 Start Shaw                                          6
6 Robert McLachlan                                    5
7 David McKenzie                                      4
8 Patrick Shaw                                        3
9 Matthew Gilbert                                     2
10 Peter Dawson                                       1