39th Ruban Granitier Breton - 2.2
France, April 25-May 1, 2005
Main Page Results Previous Stage Next Stage
Stage 1 - April 26: Rennes - La Chapelle Des Marais, 153.2 km
Downing's celebration keeps Lee in the lead
By Jean-François Quénet in La Chapelle-des-Marais
Downing wins
Photo ©: JF Quenet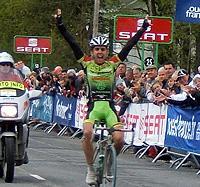 Remember the stage of the 1994 Tour de France finishing in Rennes when Gianluca Bortolami, celebrating his win with his hands up in the air before the finishing line, missed out the yellow jersey that was eventually given to Sean Yates? This time, an Englishman made the same mistake: Russell Downing won stage 1 of the Ruban Granitier Breton but at the end of a magnificent effort, he enjoyed his success before crossing the line. "I celebrated too early," he admitted.
By only one second, he didn't take the lead from Samuel Lee, who said, "I was lucky again today." The day before, the Australian was fortunate to ride the prologue while the road was still dry. "I'm very happy to keep the jersey for one more day," he added.
Downing was a member of an eight man breakaway after only 16 kilometres with Jeroen Boelen and Tim Van der Zanden (Eurogifts.com), Olivier Grammaire (SCO Dijon), Sébastien Duret (Bretagne-Jean Floc'h), Stanislas Kozubek (Dukla Prague), Pierre-Bernard Vaillant (Super Sport) and Alexandre Blain (AVC Aix), the latter being the virtual leader for a while but he suffered cramps when the race hit the final circuit.
With 25km to go, Downing decided to attack. "I didn't want to ride away by myself, he explained. I was expecting three riders to join me but they didn't. The guy from Dijon, the one from Jean Floc'h and the race leader's teammate were strong, unfortunately no one came with me." In his pursuiting style, Downing got a gap of 50 seconds quite quickly and the rest of the break got caught by the peloton.
Still leading
Photo ©: JF Quenet

"In the last kilometre, my legs just died," Downing said. "I couldn't ride quicker than 40k an hour while the bunch was between 50 and 60. But I'm so happy to win, I don't regret to have missed the leader's jersey. I have great form now and I'm here to win the overall." Downing has taken six wins already this year with two legs of the Plages Vendéennes in France, the Cape Argus Cycle Tour in South Africa, and two scratch races of the Revolution series back home in England.
Now everyone knows how strong the Brit is and how much the Breton roads suit him.
Photography
For a thumbnail gallery of these images, click here
Images by Jean-Francois Quenet
Results
1 Russel Downing (GBr) Recycling.Co.Uk-Mg-Xpower-Litespeed            3.55.13
2 Jos Pronk (Ned) Eurogifts.Com                                          0.08
3 Sjef De Wilde (Bel) Bodysol-Win For Life-Jong-Vlaanderen                   
4 Alexandre Pichot (Fra) Vendee U-Pays De La Loire                           
5 Pavel Linet (Fra) G.S Promo Ciclo                                          
6 Dean Downing (GBr) Recycling.Co.Uk-Mg-Xpower-Litespeed                     
7 Stéphane Bonsergent (Fra) Equipe De France Police                          
8 Stefan Loffler (Ger) Die Hofbrau Radler Stuttgart                          
9 Alessio Sienogo (Fra) G.S Promo Ciclo                                      
10 Lionel Faure (Fra) V.C La Pomme Marseille                                 
11 Yanto Barker (GBr) Welsh National Team                                    
12 Romain Mary (Fra) S.C.O Dijon                                             
13 Romain Paillard (Fra) Team U Nantes Atlantique                            
14 Guillaume Lefloch (Fra) Super Sport 35 ACNC                               
15 Alex Broggi (Fra) G.S.C Viris Vigevano                                    
16 Mathieu Drujon (Fra) Team U Nantes Atlantique                             
17 Xavier Laureau (Fra) Team U Nantes Atlantique                             
18 Patr Lazar (Cze) A.S.C Dukla Praha                                        
19 Maarten Neyens (Bel) Bodysol-Win For Life-Jong-Vlaanderen                 
20 Roy Curvers (Ned) Eurogifts.Com                                           
21 Kevin Neirynck (Bel) Wielergroep Beveren 2000                             
22 Ralf Malosti (Fra) G.S.C Viris Vigevano                                   
23 Kieren Cameron (Aus) S.C.O Dijon                                          
24 Gonzalo Zambrano Calderon (Spa) Enypesa Lambea El Mundo                   
25 Jean Luc Delpech (Fra) G.S Bretagne Jean Floch                            
26 Alexandre Sabalin (Rus) V.C La Pomme Marseille                            
27 Kristof De Zutter (Bel) Bodysol-Win For Life-Jong-Vlaanderen              
28 Kevin Desmet (Bel) Wielergroep Beveren 2000                               
29 Martin Blaha (Cze) A.S.C Dukla Praha                                      
30 Samuel Lee (Aus) Super Sport 35 ACNC                                      
31 David Crowley (GBr) Welsh National Team                                   
32 Manuel Michot (Fra) Super Sport 35 ACNC                                   
33 Alexei Medvevev (Rus) G.S.C Viris Vigevano                                
34 Kevin Van Der Slagmolen (Bel) Bodysol-Win For Life-Jong-Vlaanderen        
35 Pablo Hernan Marcosano (Spa) Enypesa Lambea El Mundo                      
36 Rémi Pauriol (Fra) V.C La Pomme Marseille                                 
37 Alexandre Blain (Fra) A.V.C Aix En Provence                               
38 Simon Schaerer (Swi) V.C Mendrisio Mapei                                  
39 Kenny Vanderschuren (Bel) Wielergroep Beveren 2000                        
40 Mario Ickx (Bel) Wielergroep Beveren 2000                                 
41 Pierre Bernard Vaillant (Fra) Super Sport 35 ACNC                         
42 Olivier Grammaire (Fra) S.C.O Dijon                                       
43 Cyrille Noel (Fra) Equipe De France Police                                
44 Timo Krieger (Ger) Die Hofbrau Radler Stuttgart                           
45 Andréa Fumagalli (Swi) V.C Mendrisio Mapei                                
46 Robert Hayles (GBr) Recycling.Co.Uk-Mg-Xpower-Litespeed                   
47 Charles Guilbert (Fra) G.S Bretagne Jean Floch                            
48 Julien Guiborel (Fra) S.C.O Dijon                                         
49 Kieran Page (GBr) A.V.C Aix En Provence                                   
50 Olivier Nari (Fra) S.C.O Dijon                                            
51 Julian Winn (GBr) Welsh National Team                                     
52 Christian Grasmann (Ger) Die Hofbrau Radler Stuttgart                     
53 Maciek Bodnar (Pol) Skil Moser Ah Trentino                                
54 Jamie Norfolk (GBr) Welsh National Team                                   
55 Julien Belgy (Fra) Vendee U-Pays De La Loire                              
56 Marco Ferri (Fra) G.S.C Viris Vigevano                                    
57 Pérrig Quemener (Fra) Vendee U-Pays De La Loire                           
58 Jose Herrada Lopez (Spa) Enypesa Lambea El Mundo                          
59 Gabriele Benedetti (Fra) G.S Promo Ciclo                                  
60 Jelle Van Groezen (Ned) Eurogifts.Com                                     
61 Matteo Colo (Fra) G.S Promo Ciclo                                         
62 Paul Newton (GBr) Recycling.Co.Uk-Mg-Xpower-Litespeed                     
63 Christophe Diguet (Fra) Team U Nantes Atlantique                          
64 Robin Sharmen (GBr) Recycling.Co.Uk-Mg-Xpower-Litespeed                   
65 Steffen Gregger (Ger) Die Hofbrau Radler Stuttgart                        
66 Steven De Neef (Bel) Bodysol-Win For Life-Jong-Vlaanderen                 
67 Thierry David (Fra) V.C La Pomme Marseille                                
68 David Heine (Ger) Die Hofbrau Radler Stuttgart                            
69 Giani Meersman (Bel) Wielergroep Beveren 2000                             
70 Ivan Alvarez Lopez (Spa) Enypesa Lambea El Mundo                          
71 Stéphane Petilleau (Fra) G.S Bretagne Jean Floch                          
72 Bart Oegema (Ned) A.V.C Aix En Provence                                   
73 Fabien Rey (Fra) A.V.C Aix En Provence                                    
74 Michal Kesl (Cze) A.S.C Dukla Praha                                       
75 Frédéric Mille (Fra) Equipe De France Police                              
76 Timothée Lefrancois (Fra) Team U Nantes Atlantique                        
77 Sébastien Duret (Fra) G.S Bretagne Jean Floch                             
78 Tarno Raudsepp (Est) Team U Nantes Atlantique                             
79 Paul Sheppard (GBr) Welsh National Team                                   
80 Nicolas Prin (Fra) A.V.C Aix En Provence                                  
81 Florian Guillou (Fra) Super Sport 35 ACNC                                 
82 Kristian House (GBr) Die Hofbrau Radler Stuttgart                         
83 Noan Lelarge (Fra) G.S Bretagne Jean Floch                                
84 Marvin Van Der Pluym (Ned) Eurogifts.Com                                  
85 Michael Mourecek (Cze) A.S.C Dukla Praha                                  
86 Erik Lievens (Bel) Bodysol-Win For Life-Jong-Vlaanderen                   
87 Frédéric Lubach (Fra) Equipe De France Police                             
88 Ivan Santaromita (Swi) V.C Mendrisio Mapei                                
89 David Le Lay (Fra) G.S Bretagne Jean Floch                                
90 Tim Van Der Zanden (Ned) Eurogifts.Com                                    
91 Michal Hrazdira (Cze) A.S.C Dukla Praha                                   
92 Bartasz Kolendo (Pol) V.C La Pomme Marseille                              
93 Julien Simon (Fra) Super Sport 35 ACNC                                    
94 Jonas Leib (Swi) V.C Mendrisio Mapei                                      
95 Fabien Fleury (Fra) S.C.O Dijon                                           
96 Loïc Muhlemann (Swi) V.C Mendrisio Mapei                                  
97 Yvan Sartis (Fra) Equipe De France Police                                 
98 Julien Guay (Fra) Vendee U-Pays De La Loire                               
99 Stanislav Kozubek (Cze) A.S.C Dukla Praha                                 
100 Jeroen Kregel (Ned) Skil Moser Ah Trentino                               
101 Pedro Villa Garcia (Spa) Enypesa Lambea El Mundo                         
102 Paul Manning (GBr) Recycling.Co.Uk-Mg-Xpower-Litespeed                   
103 Jeroen Boelen (Ned) Eurogifts.Com                                        
104 Robert Partrige (GBr) Welsh National Team                                
105 Marco Maloni (Fra) G.S Promo Ciclo                                       
106 Matteo Buratto (Fra) G.S.C Viris Vigevano                                
107 Philippe Vaillant (Fra) Equipe De France Police                          
108 Tony Goossens (Bel) Wielergroep Beveren 2000                             
109 Wim Botman (Ned) Skil Moser Ah Trentino                                  
110 Frank Wiersta (Ned) Skil Moser Ah Trentino                               
111 Guillaume Bourgeois (Swi) V.C Mendrisio Mapei                        0.26
112 Daryl Impey (RSA) V.C La Pomme Marseille                             1.10
113 Aurélien Passeron (Fra) A.V.C Aix En Provence                        2.02
114 Bas Waaijer (Ned) Skil Moser Ah Trentino                             2.58
115 Vincent Joffre (Fra) Vendee U-Pays De La Loire                       5.04
116 Saverio Crocetti (Fra) G.S Promo Ciclo                               6.43
117 Benoit Genauzau (Fra) Vendee U-Pays De La Loire                      7.06
118 Juha Alaluusua (Fin) Skil Moser Ah Trentino                         11.04
 
General classification after stage 1
 
1 Samuel Lee (Aus) Super Sport 35 ACNC                                4.02.15
2 Russel Downing (GBr) Recycling.Co.Uk-Mg-Xpower-Litespeed               0.01
3 Alexandre Blain (Fra) A.V.C Aix En Provence                            0.04
4 Paul Newton (GBr) Recycling.Co.Uk-Mg-Xpower-Litespeed                      
5 Kieran Page (GBr) A.V.C Aix En Provence                                0.06
6 Tarno Raudsepp (Est) Team U Nantes Atlantique                          0.07
7 Paul Manning (GBr) Recycling.Co.Uk-Mg-Xpower-Litespeed                 0.10
8 Robert Hayles (GBr) Recycling.Co.Uk-Mg-Xpower-Litespeed                0.13
9 Sébastien Duret (Fra) G.S Bretagne Jean Floch                              
10 Mario Ickx (Bel) Wielergroep Beveren 2000                             0.14
11 Stéphane Bonsergent (Fra) Equipe De France Police                     0.15
12 Jose Herrada Lopez (Spa) Enypesa Lambea El Mundo                          
13 Tim Van Der Zanden (Ned) Eurogifts.Com                                0.16
14 Jelle Van Groezen (Ned) Eurogifts.Com                                 0.17
15 Alexandre Pichot (Fra) Vendee U-Pays De La Loire                      0.18
16 Guillaume Lefloch (Fra) Super Sport 35 ACNC                               
17 Bartasz Kolendo (Pol) V.C La Pomme Marseille                              
18 Frédéric Mille (Fra) Equipe De France Police                              
19 Giani Meersman (Bel) Wielergroep Beveren 2000                             
20 David Le Lay (Fra) G.S Bretagne Jean Floch                            0.19
21 Jean Luc Delpech (Fra) G.S Bretagne Jean Floch                            
22 Rémi Pauriol (Fra) V.C La Pomme Marseille                             0.21
23 Maciek Bodnar (Pol) Skil Moser Ah Trentino                                
24 Olivier Grammaire (Fra) S.C.O Dijon                                       
25 Sjef De Wilde (Bel) Bodysol-Win For Life-Jong-Vlaanderen                  
26 Kieren Cameron (Aus) S.C.O Dijon                                      0.22
27 Pérrig Quemener (Fra) Vendee U-Pays De La Loire                           
28 Patr Lazar (Cze) A.S.C Dukla Praha                                    0.23
29 Julian Winn (GBr) Welsh National Team                                     
30 Jos Pronk (Ned) Eurogifts.Com                                             
31 Charles Guilbert (Fra) G.S Bretagne Jean Floch                        0.25
32 Romain Mary (Fra) S.C.O Dijon                                         0.26
33 Christian Grasmann (Ger) Die Hofbrau Radler Stuttgart                     
34 Stéphane Petilleau (Fra) G.S Bretagne Jean Floch                          
35 Simon Schaerer (Swi) V.C Mendrisio Mapei                              0.27
36 Manuel Michot (Fra) Super Sport 35 ACNC                                   
37 Ivan Alvarez Lopez (Spa) Enypesa Lambea El Mundo                          
38 Julien Simon (Fra) Super Sport 35 ACNC                                    
39 Steffen Gregger (Ger) Die Hofbrau Radler Stuttgart                    0.28
40 Erik Lievens (Bel) Bodysol-Win For Life-Jong-Vlaanderen                   
41 Christophe Diguet (Fra) Team U Nantes Atlantique                          
42 Jeroen Boelen (Ned) Eurogifts.Com                                     0.29
43 Julien Belgy (Fra) Vendee U-Pays De La Loire                              
44 Noan Lelarge (Fra) G.S Bretagne Jean Floch                                
45 Stanislav Kozubek (Cze) A.S.C Dukla Praha                                 
46 Robin Sharmen (GBr) Recycling.Co.Uk-Mg-Xpower-Litespeed                   
47 Paul Sheppard (GBr) Welsh National Team                               0.30
48 Wim Botman (Ned) Skil Moser Ah Trentino                                   
49 Kevin Van Der Slagmolen (Bel) Bodysol-Win For Life-Jong-Vlaanderen    0.31
50 Dean Downing (GBr) Recycling.Co.Uk-Mg-Xpower-Litespeed                    
51 Maarten Neyens (Bel) Bodysol-Win For Life-Jong-Vlaanderen                 
52 Michael Mourecek (Cze) A.S.C Dukla Praha                                  
53 Thierry David (Fra) V.C La Pomme Marseille                            0.32
54 Pedro Villa Garcia (Spa) Enypesa Lambea El Mundo                          
55 Martin Blaha (Cze) A.S.C Dukla Praha                                  0.34
56 Pierre Bernard Vaillant (Fra) Super Sport 35 ACNC                         
57 Alexandre Sabalin (Rus) V.C La Pomme Marseille                        0.35
58 Kristian House (GBr) Die Hofbrau Radler Stuttgart                     0.36
59 Michal Kesl (Cze) A.S.C Dukla Praha                                       
60 Stefan Loffler (Ger) Die Hofbrau Radler Stuttgart                         
61 Olivier Nari (Fra) S.C.O Dijon                                        0.37
62 Kevin Neirynck (Bel) Wielergroep Beveren 2000                             
63 Marvin Van Der Pluym (Ned) Eurogifts.Com                                  
64 Julien Guiborel (Fra) S.C.O Dijon                                         
65 Pablo Hernan Marcosano (Spa) Enypesa Lambea El Mundo                  0.38
66 Timo Krieger (Ger) Die Hofbrau Radler Stuttgart                           
67 Mathieu Drujon (Fra) Team U Nantes Atlantique                             
68 Steven De Neef (Bel) Bodysol-Win For Life-Jong-Vlaanderen                 
69 Loïc Muhlemann (Swi) V.C Mendrisio Mapei                              0.39
70 Timothée Lefrancois (Fra) Team U Nantes Atlantique                        
71 Cyrille Noel (Fra) Equipe De France Police                                
72 Julien Guay (Fra) Vendee U-Pays De La Loire                           0.40
73 Ivan Santaromita (Swi) V.C Mendrisio Mapei                                
74 Xavier Laureau (Fra) Team U Nantes Atlantique                         0.41
75 Fabien Fleury (Fra) S.C.O Dijon                                           
76 Roy Curvers (Ned) Eurogifts.Com                                       0.42
77 Philippe Vaillant (Fra) Equipe De France Police                       0.43
78 Bart Oegema (Ned) A.V.C Aix En Provence                                   
79 Robert Partrige (GBr) Welsh National Team                             0.44
80 David Heine (Ger) Die Hofbrau Radler Stuttgart                            
81 Lionel Faure (Fra) V.C La Pomme Marseille                             0.45
82 Jamie Norfolk (GBr) Welsh National Team                                   
83 Yvan Sartis (Fra) Equipe De France Police                                 
84 Frédéric Lubach (Fra) Equipe De France Police                         0.46
85 Florian Guillou (Fra) Super Sport 35 ACNC                                 
86 Gabriele Benedetti (Fra) G.S Promo Ciclo                                  
87 Matteo Buratto (Fra) G.S.C Viris Vigevano                                 
88 Alexei Medvevev (Rus) G.S.C Viris Vigevano                            0.47
89 Kevin Desmet (Bel) Wielergroep Beveren 2000                               
90 Romain Paillard (Fra) Team U Nantes Atlantique                            
91 Kristof De Zutter (Bel) Bodysol-Win For Life-Jong-Vlaanderen              
92 Kenny Vanderschuren (Bel) Wielergroep Beveren 2000                    0.48
93 Alessio Sienogo (Fra) G.S Promo Ciclo                                 0.50
94 Frank Wiersta (Ned) Skil Moser Ah Trentino                                
95 Ralf Malosti (Fra) G.S.C Viris Vigevano                               0.51
96 Yanto Barker (GBr) Welsh National Team                                    
97 Andréa Fumagalli (Swi) V.C Mendrisio Mapei                            0.52
98 Jonas Leib (Swi) V.C Mendrisio Mapei                                      
99 Matteo Colo (Fra) G.S Promo Ciclo                                         
100 Pavel Linet (Fra) G.S Promo Ciclo                                    0.54
101 Jeroen Kregel (Ned) Skil Moser Ah Trentino                           0.55
102 Alex Broggi (Fra) G.S.C Viris Vigevano                               1.01
103 Tony Goossens (Bel) Wielergroep Beveren 2000                         1.05
104 Marco Ferri (Fra) G.S.C Viris Vigevano                                   
105 Nicolas Prin (Fra) A.V.C Aix En Provence                                 
106 Fabien Rey (Fra) A.V.C Aix En Provence                               1.07
107 Gonzalo Zambrano Calderon (Spa) Enypesa Lambea El Mundo              1.08
108 David Crowley (GBr) Welsh National Team                              1.13
109 Guillaume Bourgeois (Swi) V.C Mendrisio Mapei                        1.14
110 Michal Hrazdira (Cze) A.S.C Dukla Praha                              1.16
111 Marco Maloni (Fra) G.S Promo Ciclo                                   1.19
112 Daryl Impey (RSA) V.C La Pomme Marseille                             1.21
113 Aurélien Passeron (Fra) A.V.C Aix En Provence                        3.01
114 Bas Waaijer (Ned) Skil Moser Ah Trentino                             3.53
115 Vincent Joffre (Fra) Vendee U-Pays De La Loire                       5.36
116 Saverio Crocetti (Fra) G.S Promo Ciclo                               7.35
117 Benoit Genauzau (Fra) Vendee U-Pays De La Loire                      7.42
118 Juha Alaluusua (Fin) Skil Moser Ah Trentino                         11.15
 
Points classification
 
1 Russel Downing (GBr) Recycling.Co.Uk-Mg-Xpower-Litespeed                 31 pts
2 Jos Pronk (Ned) Eurogifts.Com                                            20
3 Sjef De Wilde (Bel) Bodysol-Win For Life-Jong-Vlaanderen                 16
4 Alexandre Blain (Fra) A.V.C Aix En Provence                              14
5 Alexandre Pichot (Fra) Vendee U-Pays De La Loire                         14
6 Pavel Linet (Fra) G.S Promo Ciclo                                        12
7 Samuel Lee (Aus) Super Sport 35 ACNC                                     10
8 Stéphane Bonsergent (Fra) Equipe De France Police                        10
9 Dean Downing (GBr) Recycling.Co.Uk-Mg-Xpower-Litespeed                   10
10 Paul Newton (GBr) Recycling.Co.Uk-Mg-Xpower-Litespeed                    9
11 Kieran Page (GBr) A.V.C Aix En Provence                                  8
12 Stefan Loffler (Ger) Die Hofbrau Radler Stuttgart                        8
13 Tarno Raudsepp (Est) Team U Nantes Atlantique                            7
14 Alessio Sienogo (Fra) G.S Promo Ciclo                                    7
15 Lionel Faure (Fra) V.C La Pomme Marseille                                6
16 Paul Manning (GBr) Recycling.Co.Uk-Mg-Xpower-Litespeed                   5
17 Yanto Barker (GBr) Welsh National Team                                   5
18 Robert Hayles (GBr) Recycling.Co.Uk-Mg-Xpower-Litespeed                  4
19 Sébastien Duret (Fra) G.S Bretagne Jean Floch                            4
20 Olivier Grammaire (Fra) S.C.O Dijon                                      4
21 Romain Mary (Fra) S.C.O Dijon                                            4
22 Mario Ickx (Bel) Wielergroep Beveren 2000                                3
23 Romain Paillard (Fra) Team U Nantes Atlantique                           3
24 Guillaume Lefloch (Fra) Super Sport 35 ACNC                              2
25 Pierre Bernard Vaillant (Fra) Super Sport 35 ACNC                        2
26 Alex Broggi (Fra) G.S.C Viris Vigevano                                   1
 
Mountains classification
 
1 Olivier Grammaire (Fra) S.C.O Dijon                                      23 pts
2 Stanislav Kozubek (Cze) A.S.C Dukla Praha                                18
3 Sébastien Duret (Fra) G.S Bretagne Jean Floch                             9
4 Russel Downing (GBr) Recycling.Co.Uk-Mg-Xpower-Litespeed                  8
5 Tim Van Der Zanden (Ned) Eurogifts.Com                                    6
6 Alexandre Blain (Fra) A.V.C Aix En Provence                               4
7 Pierre Bernard Vaillant (Fra) Super Sport 35 ACNC                         2
 
Young rider classification
 
1 Samuel Lee (Aus) Super Sport 35 ACNC                                4.02.15
2 Kieran Page (GBr) A.V.C Aix En Provence                                0.06
3 Mario Ickx (Bel) Wielergroep Beveren 2000                              0.14
4 Jose Herrada Lopez (Spa) Enypesa Lambea El Mundo                       0.15
5 Tim Van Der Zanden (Ned) Eurogifts.Com                                 0.16
6 Alexandre Pichot (Fra) Vendee U-Pays De La Loire                       0.18
7 Guillaume Lefloch (Fra) Super Sport 35 ACNC                                
8 Bartasz Kolendo (Pol) V.C La Pomme Marseille                               
9 Giani Meersman (Bel) Wielergroep Beveren 2000                              
10 Maciek Bodnar (Pol) Skil Moser Ah Trentino                            0.21
11 Pérrig Quemener (Fra) Vendee U-Pays De La Loire                       0.22
12 Jos Pronk (Ned) Eurogifts.Com                                         0.23
13 Simon Schaerer (Swi) V.C Mendrisio Mapei                              0.27
14 Julien Simon (Fra) Super Sport 35 ACNC                                    
15 Julien Belgy (Fra) Vendee U-Pays De La Loire                          0.29
16 Wim Botman (Ned) Skil Moser Ah Trentino                               0.30
17 Maarten Neyens (Bel) Bodysol-Win For Life-Jong-Vlaanderen             0.31
18 Pedro Villa Garcia (Spa) Enypesa Lambea El Mundo                      0.32
19 Pierre Bernard Vaillant (Fra) Super Sport 35 ACNC                     0.34
20 Pablo Hernan Marcosano (Spa) Enypesa Lambea El Mundo                  0.38
21 Mathieu Drujon (Fra) Team U Nantes Atlantique                             
22 Loïc Muhlemann (Swi) V.C Mendrisio Mapei                              0.39
23 Julien Guay (Fra) Vendee U-Pays De La Loire                           0.40
24 Ivan Santaromita (Swi) V.C Mendrisio Mapei                                
25 Xavier Laureau (Fra) Team U Nantes Atlantique                         0.41
26 Bart Oegema (Ned) A.V.C Aix En Provence                               0.43
27 Robert Partrige (GBr) Welsh National Team                             0.44
28 David Heine (Ger) Die Hofbrau Radler Stuttgart                            
29 Gabriele Benedetti (Fra) G.S Promo Ciclo                              0.46
30 Matteo Buratto (Fra) G.S.C Viris Vigevano                                 
31 Alexei Medvevev (Rus) G.S.C Viris Vigevano                            0.47
32 Alessio Sienogo (Fra) G.S Promo Ciclo                                 0.50
33 Frank Wiersta (Ned) Skil Moser Ah Trentino                                
34 Ralf Malosti (Fra) G.S.C Viris Vigevano                               0.51
35 Andréa Fumagalli (Swi) V.C Mendrisio Mapei                            0.52
36 Matteo Colo (Fra) G.S Promo Ciclo                                         
37 Jeroen Kregel (Ned) Skil Moser Ah Trentino                            0.55
38 Marco Ferri (Fra) G.S.C Viris Vigevano                                1.05
39 Nicolas Prin (Fra) A.V.C Aix En Provence                                  
40 Gonzalo Zambrano Calderon (Spa) Enypesa Lambea El Mundo               1.08
41 Guillaume Bourgeois (Swi) V.C Mendrisio Mapei                         1.14
42 Daryl Impey (RSA) V.C La Pomme Marseille                              1.21
43 Aurélien Passeron (Fra) A.V.C Aix En Provence                         3.01
44 Vincent Joffre (Fra) Vendee U-Pays De La Loire                        5.36
45 Saverio Crocetti (Fra) G.S Promo Ciclo                                7.35
46 Juha Alaluusua (Fin) Skil Moser Ah Trentino                          11.15
 
Most combative classification
 
1 Alexandre Blain (Fra) A.V.C Aix En Provence                               8 pts
2 Russel Downing (GBr) Recycling.Co.Uk-Mg-Xpower-Litespeed                  6
3 Olivier Grammaire (Fra) S.C.O Dijon                                       4
4 Pierre Bernard Vaillant (Fra) Super Sport 35 ACNC                         2
5 Sébastien Duret (Fra) G.S Bretagne Jean Floch                             2