39th Ruban Granitier Breton - 2.2
France, April 25-May 1, 2005
Prologue - April 25: Rennes ITT, 5.3 Km
Aussie sensation following the path of Brad McGee
By Jean-François Quénet in Rennes
Samuel Lee
Photo ©: Régis Garnier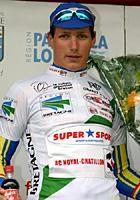 20 year-old Sydneysider Samuel Lee has created a phenomenal sensation by winning the prologue of the 39th Ruban Granitier Breton in Rennes. He only joined local club Super Sport 35 three weeks ago and clocked the best time on the 5.3km circuit in town. "The course suited me very well with a couple of rolling hills and little corners," he said. "But this was the first prologue of my life, so it was different to what I'm used to. It's a very big surprise. I didn't expect it to win. I must say I was very lucky to have a dry run."
Sam Lee, just like the first 45 riders, had a chance to race while the road was still dry, before the typical Breton weather appeared. Remember the last time the Tour de France held its prologue in Brittany? Exactly 10 years ago in St-Brieuc, Jacky Durand got the yellow jersey for the same reasons: he rode before the rain. The only rider from the top 10 at the end who experienced the wet conditions was Rob Hayles from England, while José Herrada of Spanish team Enypesa Lambea el Mundo, in 11th position, was the highest ranked of the riders starting last.
Two Englishmen joined Lee on the podium: Chris Newton and Kieran Page, the latter being one of the most interesting up and coming Brits riding in France. In fourth place was Tarmo Raudsepp from Estonia who got his second win in France two days ago. "My directeur sportif Pascal Déramé was smart to get me to start first in case of rain later," the rider from U Nantes-Atlantique commented.
The results of the prologue may not exactly reflect the hierarchy of the race but it will create a race with a lot of attacks, since hot favourites of Bretagne-Jean Floc'h only have Sébastien Duret in the top 10. Their leader Stéphane Pétilleau is almost 30 seconds down, which means some action coming up.
A hot favourite, victim of the rain:
Photo ©: JF Quenet

"I'm extremely happy to lead the race and I'll try to hold the jersey as long as possible but I don't think I can win the overall", Lee explained. On the same day of his Australian teammate Chris Sutton's win in the prestigious GP Liberazione in Italy, he gave the McGee brothers a good reason to believe in the youngsters they help back home in Sydney. "Brad reckons a three months stay in France is a good experience," Lee said. "I can't stay for longer anyway because I have to finish my apprenticeship as a carpenter."
The young man from Cronulla obviously has some similar skills as his mentor who has won the prologues of the Tour de France and the Tour of Italy. There is a hard job for him in Brittany until Sunday.
Photography
For a thumbnail gallery of these images, click here
Images by Régis Garnier/www.velofotopro.fr.st
Images by Jean-Francois Quenet
Results
1 Samuel Lee (Aus) Super Sport 35 ACNC                                   6.54.10
2 Paul Newton (GBr) Recycling.Co.Uk-Mg-Xpower-Litespeed                  0.04.57
3 Kieran Page (GBr) A.V.C Aix En Provence                                0.06.38
4 Tarno Raudsepp (Est) Team U Nantes Atlantique                          0.07.07
5 Alexandre Blain (Fra) A.V.C Aix En Provence                            0.09.37
6 Paul Manning (GBr) Recycling.Co.Uk-Mg-Xpower-Litespeed                 0.10.49
7 Robert Hayles (GBr) Recycling.Co.Uk-Mg-Xpower-Litespeed                0.13.56
8 Mario Ickx (Bel) Wielergroep Beveren 2000                              0.14.32
9 Sébastien Duret (Fra) G.S Bretagne Jean Floch                          0.14.88
10 Stéphane Bonsergent (Fra) Equipe De France Police                     0.15.03
11 Jose Herrada Lopez (Spa) Enypesa Lambea El Mundo                      0.15.34
12 Tim Van Der Zanden (Ned) Eurogifts.Com                                0.16.59
13 Jelle Van Groezen (Ned) Eurogifts.Com                                 0.17.64
14 Alexandre Pichot (Fra) Vendee U-Pays De La Loire                      0.17.93
15 Guillaume Lefloch (Fra) Super Sport 35 ACNC                           0.18.32
16 Bartasz Kolendo (Pol) V.C La Pomme Marseille                          0.18.35
17 Frédéric Mille (Fra) Equipe De France Police                          0.18.42
18 Giani Meersman (Bel) Wielergroep Beveren 2000                         0.18.49
19 David Le Lay (Fra) G.S Bretagne Jean Floch                            0.18.96
20 Jean Luc Delpech (Fra) G.S Bretagne Jean Floch                        0.18.99
21 Juha Alaluusua (Fin) Skil Moser Ah Trentino                           0.19.25
22 Daryl Impey (RSA) V.C La Pomme Marseille                              0.19.80
23 Rémi Pauriol (Fra) V.C La Pomme Marseille                             0.21.07
24 Maciek Bodnar (Pol) Skil Moser Ah Trentino                            0.21.15
25 Russel Downing (GBr) Recycling.Co.Uk-Mg-Xpower-Litespeed              0.22.41
26 Kieren Cameron (NZl) S.C.O Dijon                                      0.22.61
27 Pérrig Quemener (Fra) Vendee U-Pays De La Loire                       0.22.76
28 Patr Lazar (Cze) A.S.C Dukla Praha                                    0.23.16
29 Olivier Grammaire (Fra) S.C.O Dijon                                   0.23.29
30 Julian Winn (GBr) Welsh National Team                                 0.23.46
31 Charles Guilbert (Fra) G.S Bretagne Jean Floch                        0.25.58
32 Sjef De Wilde (Bel) Bodysol-Win For Life-Jong-Vlaanderen              0.25.85
33 Romain Mary (Fra) S.C.O Dijon                                         0.26.23
34 Christian Grasmann (Ger) Die Hofbrau Radler Stuttgart                 0.26.31
35 Stéphane Petilleau (Fra) G.S Bretagne Jean Floch                      0.26.38
36 Simon Schaerer (Swi) V.C Mendrisio Mapei                              0.27.29
37 Manuel Michot (Fra) Super Sport 35 ACNC                               0.27.53
38 Ivan Alvarez Lopez (Spa) Enypesa Lambea El Mundo                      0.27.55
39 Julien Simon (Fra) Super Sport 35 ACNC                                       
40 Steffen Gregger (Ger) Die Hofbrau Radler Stuttgart                    0.28.26
41 Erik Lievens (Bel) Bodysol-Win For Life-Jong-Vlaanderen               0.28.74
42 Christophe Diguet (Fra) Team U Nantes Atlantique                      0.28.78
43 Jeroen Boelen (Ned) Eurogifts.Com                                     0.29.17
44 Julien Belgy (Fra) Vendee U-Pays De La Loire                          0.29.28
45 Noan Lelarge (Fra) G.S Bretagne Jean Floch                            0.29.52
46 Stanislav Kozubek (Cze) A.S.C Dukla Praha                             0.29.68
47 Robin Sharmen (GBr) Recycling.Co.Uk-Mg-Xpower-Litespeed               0.29.71
48 Jos Pronk (Ned) Eurogifts.Com                                         0.29.72
49 Paul Sheppard (GBr) Welsh National Team                               0.30.55
50 Wim Botman (Ned) Skil Moser Ah Trentino                               0.30.67
51 Kevin Van Der Slagmolen (Bel) Bodysol-Win For Life-Jong-Vlaanderen    0.30.98
52 Enrique Diaz Rubio (Spa) Enypesa Lambea El Mundo                      0.31.07
53 Dean Downing (GBr) Recycling.Co.Uk-Mg-Xpower-Litespeed                0.31.40
54 Maarten Neyens (Bel) Bodysol-Win For Life-Jong-Vlaanderen             0.31.59
55 Michael Mourecek (Cze) A.S.C Dukla Praha                              0.31.71
56 Thierry David (Fra) V.C La Pomme Marseille                            0.31.98
57 Pedro Villa Garcia (Spa) Enypesa Lambea El Mundo                      0.32.11
58 Martin Blaha (Cze) A.S.C Dukla Praha                                  0.34.09
59 Alexandre Sabalin (Rus) V.C La Pomme Marseille                        0.35.20
60 Pierre Bernard Vaillant (Fra) Super Sport 35 ACNC                     0.35.55
61 Kristian House (GBr) Die Hofbrau Radler Stuttgart                     0.36.02
62 Michal Kesl (Cze) A.S.C Dukla Praha                                   0.36.23
63 Stefan Loffler (Ger) Die Hofbrau Radler Stuttgart                     0.36.58
64 Olivier Nari (Fra) S.C.O Dijon                                        0.36.98
65 Kevin Neirynck (Bel) Wielergroep Beveren 2000                         0.37.37
66 Marvin Van Der Pluym (Ned) Eurogifts.Com                              0.37.46
67 Julien Guiborel (Fra) S.C.O Dijon                                     0.37.63
68 Pablo Hernan Marcosano (Spa) Enypesa Lambea El Mundo                  0.38.04
69 Timo Krieger (Ger) Die Hofbrau Radler Stuttgart                       0.38.20
70 Mathieu Drujon (Fra) Team U Nantes Atlantique                         0.38.50
71 Steven De Neef (Bel) Bodysol-Win For Life-Jong-Vlaanderen             0.38.62
72 Loïc Muhlemann (Swi) V.C Mendrisio Mapei                              0.39.18
73 Timothée Lefrancois (Fra) Team U Nantes Atlantique                    0.39.38
74 Cyrille Noel (Fra) Equipe De France Police                            0.39.82
75 Julien Guay (Fra) Vendee U-Pays De La Loire                           0.39.97
76 Vincent Joffre (Fra) Vendee U-Pays De La Loire                        0.40.74
77 Ivan Santaromita (Swi) V.C Mendrisio Mapei                            0.40.77
78 Xavier Laureau (Fra) Team U Nantes Atlantique                         0.41.02
79 Fabien Fleury (Fra) S.C.O Dijon                                       0.41.25
80 Roy Curvers (Ned) Eurogifts.Com                                       0.42.03
81 Philippe Vaillant (Fra) Equipe De France Police                       0.43.49
82 Bart Oegema (Ned) A.V.C Aix En Provence                               0.43.85
83 Benoit Genauzau (Fra) Vendee U-Pays De La Loire                       0.44.04
84 Robert Partrige (GBr) Welsh National Team                             0.44.21
85 David Heine (Ger) Die Hofbrau Radler Stuttgart                        0.44.81
86 Lionel Faure (Fra) V.C La Pomme Marseille                             0.45.08
87 Jamie Norfolk (GBr) Welsh National Team                               0.45.73
88 Yvan Sartis (Fra) Equipe De France Police                             0.45.75
89 Frédéric Lubach (Fra) Equipe De France Police                         0.45.90
90 Florian Guillou (Fra) Super Sport 35 ACNC                             0.46.09
91 Gabriele Benedetti (Fra) G.S Promo Ciclo                              0.46.30
92 Matteo Buratto (Fra) G.S.C Viris Vigevano                                    
93 Alexei Medvevev (Rus) G.S.C Viris Vigevano                            0.47.17
94 Kevin Desmet (Bel) Wielergroep Beveren 2000                           0.47.21
95 Romain Paillard (Fra) Team U Nantes Atlantique                        0.47.38
96 Kristof De Zutter (Bel) Bodysol-Win For Life-Jong-Vlaanderen          0.47.81
97 Kenny Vanderschuren (Bel) Wielergroep Beveren 2000                    0.48.57
98 Alessio Sienogo (Fra) G.S Promo Ciclo                                 0.49.99
99 Frank Wiersta (Ned) Skil Moser Ah Trentino                            0.50.67
100 Ralf Malosti (Fra) G.S.C Viris Vigevano                              0.51.27
101 Yanto Barker (GBr) Welsh National Team                               0.51.60
102 Andréa Fumagalli (Swi) V.C Mendrisio Mapei                           0.52.23
103 Jonas Leib (Swi) V.C Mendrisio Mapei                                 0.52.80
104 Matteo Colo (Fra) G.S Promo Ciclo                                    0.52.89
105 Pavel Linet (Fra) G.S Promo Ciclo                                    0.54.56
106 Jeroen Kregel (Ned) Skil Moser Ah Trentino                           0.55.47
107 Guillaume Bourgeois (Swi) V.C Mendrisio Mapei                        0.56.81
108 Saverio Crocetti (Fra) G.S Promo Ciclo                               1.00.76
109 Alex Broggi (Fra) G.S.C Viris Vigevano                               1.01.07
110 Bas Waaijer (Ned) Skil Moser Ah Trentino                             1.03.72
111 Tony Goossens (Bel) Wielergroep Beveren 2000                         1.05.06
112 Marco Ferri (Fra) G.S.C Viris Vigevano                               1.05.26
113 Nicolas Prin (Fra) A.V.C Aix En Provence                             1.05.30
114 Aurélien Passeron (Fra) A.V.C Aix En Provence                        1.07.05
115 Fabien Rey (Fra) A.V.C Aix En Provence                               1.07.39
116 Gonzalo Zambrano Calderon (Spa) Enypesa Lambea El Mundo              1.08.75
117 David Crowley (GBr) Welsh National Team                              1.13.66
118 Michal Hrazdira (Cze) A.S.C Dukla Praha                              1.16.79
119 Marco Maloni (Fra) G.S Promo Ciclo                                   1.18.96