Recently on Cyclingnews.com
Tour of the Gila - NE
New Mexico, USA, April 27-May 1, 2005
Stage 1 - April 27: Tyrone time trial, 16.15 miles
Blickem defends and Jeanson's back
By Kristy Scrymgeour
Team America
Photo ©: Gila Wilderness Photography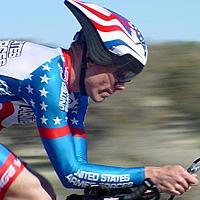 On a course that hurts, both because it has two nasty climbs going each way on the course and also because if its altitude, Ryan Blickem (HealthMaxx pb BOOM) and Genevieve Jeanson clocked the fastest times in their fields putting themselves in the leaders' jerseys after the first day of racing at the Tour of the Gila. Successfully defending his 2004 title by winning today's time trial stage of the Tour of the Gila, Ryan Blickem now leads the field by over 36 seconds going into stage two, whilst in the women's event, Jeanson returns to New Mexico after a year away, proving once again that she is a force to be reckoned with on this course.
Taking the remaining podium positions in the men's field were Andrew Bajadali and Jon Tarkington, both from Vitamin Cottage, putting the team in a good position moving forward, and it was Kimberly Bruckner (T-Mobile) who placed second behind Jeanson, with Katheryn Curi (Webcor) taking third out of the women.
Tomorrow, riders start in Gough Park, Silver city and climb straight out of town, proceeding along the undulating roads towards the steep hilltop finish at Mogollon. The stage includes 4,530' of climbing and is renowned for splitting fields to pieces.
Photography
For a thumbnail gallery of these images, click here
Images by www.gilawilderness.com
Results

Pro men
 
1 Ryan Blickem (USA) Landis/Trek/VW                 36.42.83
2 Andrew Bajadali (USA) Vitamin Cottage              0.36.85
3 Jon Tarkington (USA) Vitamin Cottage               0.51.59
4 Ivan Stevic (Scg) Aerospace Engineer               0.52.42
5 Chris Brennan (USA)                                0.59.11
6 Burke Swindlehurst (USA) Team Seasilver            1.07.87
7 Phil Wong (USA) Fiordi Frutta                      1.14.75
8 Todd Wells (USA) GT/Hyundai                        1.22.28
9 David Clinger (USA) Webcor Builders
10 Bernard Van Ulden (USA) Webcor Builders           1.28.14
11 Michael Olheiser (USA) Memphis Motorwerks         1.28.84
12 John Hunt (USA) Cal Giant/Village                 1.32.85
13 James Mattis (USA) Webcor Builders                1.35.07
14 Kevin Rowe (USA)                                  1.43.60
15 Ubaldo Mesa (Col) Tecos                           1.44.92
16 Daniel Ramsey (USA) Team Seasilver                1.46.24
17 Dustin MacBurnie (Can) Broadmark Capital          1.53.84
18 Clemente Cavaliere (Ita) Aerospace Engineering    2.05.60
19 Andrew Edwards (Aus) GSCIAO                       2.05.86
20 Gregorio Ladino (Col) Tecos                       2.11.97
21 Jonathan Baker (USA) Vitamin Cottage              2.12.62
22 Marc Collard (USA) Webcor Builders                2.22.63
23 Dan Timmerman (USA) Fiordi Frutta                 2.36.90
24 Michael Dietrich (USA) Fiordi Frutta              2.37.30
25 Derik Archibald (USA) The Valley Athletic         2.48.69
26 David Salomon (Mex) Tecos                         2.55.98
27 Tim Carolan (USA) Landis/Trek/VW                  2.56.16
28 George Ganoung (USA) U.S. Armed Forces            2.58.06
29 Sol Frost (USA) Memphis Motorwerks                3.00.08
30 Alex Welch (USA) Mercy                            3.06.65
31 Mat Ankney (USA) Mercy                            3.14.06
32 John Verheul (USA) Bike N Sport                   3.14.69
33 Carlos Vargas (Col)                               3.18.70
34 Benjamin Haldeman (USA) Webcor Builders           3.23.77
35 Ryan Yee (USA) Team Seasilver                     3.24.50
36 Jesus Gajeda (Mex) Rica Burguer Cycling           3.26.76
37 Joel Alamillo (Mex) Tecos                         3.26.87
38 Jaime Gandara (USA) Healthmaxx pb BOOM            3.28.27
39 Christ Stockburger (USA) Team Rio Grande          3.33.68
40 Chris Greene (USA) Cal Giant/Village              3.33.79
41 Mitch Moreman (USA) Rocky Mt Chocolate            3.50.29
42 Rodolfo Fernandez (Mex) Tecos                     3.56.51
43 Chris Walker (USA) Labor Power                    3.58.60
44 Chuck Coyle (USA) Vitamin Cottage                 3.59.83
45 Dave Harward (USA)                                4.01.94
46 Brian Lemke (USA) Landis/Trek/VW                  4.04.37
47 Peter Knoop (USA) Memphis Motorwerks              4.04.52
48 Kevin Nicol (USA) Tokyo Joe's Cycling             4.05.99
49 Jason Sager (USA) Memphis Motorwerks              4.08.63
50 Jerimiah Wiscovitch (USA) Seasilver               4.13.09
51 Alan Obye (USA) US National Team                  4.15.10
52 Matt Shriver (USA) Team Rocky Mountain            4.16.71
53 Ted Huang (USA) Webcor Builders                   4.17.52
54 Bobbie King (USA) Louis Garneau Racing            4.23.26
55 Chad Cagle (USA) Mercy                            4.32.51
56 Frank Breure (USA) Memphis Motorwerks             4.40.66
57 Lucas Euser (USA) Webcor Builders                 4.47.12
58 Larry Perera (USA) Fiordi Frutta                  4.53.73
59 Eric Murphy (USA) Aerospace Engineer              4.56.12
60 Robbie Robinette (USA) Memphis Motorwerks         4.56.97
61 Nick Ranno (USA) US National Team                 5.00.91
62 Mario Aremendariz (Mex) Rica Burguer Cycling      5.02.41
63 Folgardo Hernandez (Mex) Tecos                    5.03.37
64 Shawn Olin (USA) U.S. Armed Forces                5.14.94
65 Francisc Matamoros (Mex) Tecos                    5.23.66
66 Ian Tubbs (USA) Broadmark Capital                 5.42.54
67 Solomon Woras (USA) Broadmark Capital             5.49.02
68 Brian Dziewa (USA) Mercy                          5.50.28
69 John Seehafer (USA) ProPeloton Racing             5.57.40
70 Trent Hornus (USA) U.S. Armed Forces              5.59.39
71 Mike Zagorski (USA)                               5.59.54
72 Chris Rozdilsky (USA) Fiordi Frutta               6.04.39
73 David Reid (USA) Landis/Trek/VW                   6.06.09
74 Scott Romero (USA) Crazy Cat                      6.07.46
75 Matt Lorenz (USA) U.S. Armed Forces               6.11.95
76 Jose Delarosa (Mex) Tecos                         6.13.08
77 Michael Gallagher (USA) U.S. Armed Forces         6.13.67
78 Roy Pickavance (USA) Century Tel                  6.17.49
79 Juan Hernandez (Mex)                              6.20.49
80 Hector Rahael (Mex) Tecos                         6.27.76
81 Skylar Bingham (USA)                              6.31.93
82 Scott Kasin (USA) Six                             6.32.03
83 Andrew Fischer (USA) Broadmark Capital            6.37.87
84 Mike Hoffman (USA) Cal Giant/Village              6.59.70
85 Sam Schultz (USA) US National Team                7.08.98
86 Patrick Briggs (USA) Cal Giant/Village            7.14.02
87 Andy Chocha (USA) U.S. Armed Forces               7.23.05
88 Eduardo Vicencio (Mex) Healthmaxx pb BOOM         7.26.89
89 Ian Holt (USA) U.S. Armed Forces                  7.28.21
90 Eddy Kwon (USA) Mercy Elite Cycling               7.41.87
91 Antonio Velazquez (Mex) Rica Burguer Cycling      8.04.00
92 Neil Shirley (USA) Team Seasilver                 8.13.84
93 Jessel Valenzuela (Mex) Rica Burguer Cycling      8.23.37
94 Roberto Rodriguez (Mex) Rica Burguer Cycling      9.25.08
95 Diego Juarez (Mex) Rica Burguer Cycling           9.30.22
96 Zachary Matin (USA) Mercy                        11.48.17
97 Owen Gue (USA) Broadmark Capital                 24.22.58
 
Pro/1 Men team classification
 
1 Vitamin Cottage                                 1.53.48
2 Webcor Builders                                    0.44
3 Team Seasilver                                     2.38
4 Fiordi Frutta                                      2.48
5 Tecos                                              3.11
6 Landis/Trek/VW                                     3.19
7 Aerospace Engineering-VMG                          4.13
8 Memphis Motorwerks                                 4.52
9 Mercy Elite Cycling Team                           7.12
10 Cal Giant/Village Peddler                         8.25
11 Broadmark Capital Elite                           9.44
12 U.S. Armed Forces                                10.31
13 Rica Burguer Cycling Team                        12.52
 
Women Pro/1/2/3
 
1 Genevieve Jeanson (Can)                           40.25.92
2 Kimberly Baldwin (USA) T-Mobile                    0.44.88
3 Katheryn Curi (USA) Webcor Builders                1.47.69
4 Dotsie Cowden (USA) Colavita/Cooking Light         2.11.52
5 Brooke Ourada (USA) T-Mobile                       2.26.93
6 Lynn Gaggioli (USA) Monex                          2.33.99
7 Beverley Harper (USA) Touchstone Climbing          2.51.04
8 Kori Seehafer (USA) T-Mobile                       3.15.36
9 Kele Hulser (USA) Ford-Basis                       3.20.21
10 Kim Anderson (USA) Colavita/Cooking Light         3.21.87
11 Chrissy Ruiter (USA) Ford-Basis                   3.28.03
12 Gabriella Gonzales-Ferrat (Mex) Velo Bella        3.44.05
13 Alisha Lion (USA) Ford-Basis                      3.45.73
14 Lisa Magness (USA) Hutchs Bend                    3.46.78
15 Molly Hummel (USA) Tokyo Joe's                    3.59.55
16 Jill McLaughlin (USA) Velo Bella                  4.01.43
17 Michelle Beltran (USA) Colavita/Cooking Light     4.05.59
18 Carolyn Donnelly (USA) Landis/Trek/VW             4.18.46
19 Kristen LaSasso (USA) CRCA Team Lipton            4.27.13
20 Nicole Freedman (Isr) Ford-Basis                  4.31.10
21 Betina Hold (USA) Webcor Builders                 4.31.21
22 Jennifer Chapman (USA) Velo Bella                 4.42.71
23 Christina Peick (Den) Colavita/Cooking Light      4.43.51
24 Cat Malone (USA) Webcor Builders                  4.46.53
25 Ina-Yoko Teutenburg (GBr) T-Mobile                4.57.28
26 Merill Sapp (USA) Landis/Trek/VW                  4.58.51
27 Sima Trapp (USA) Subway Pro Cycling               5.01.66
28 Jennifer Gersbach (USA) Tokyo Joe's/Go Lite       5.09.12
29 Rebecca Much (USA) T-Mobile                       5.09.34
30 Barbara Howe (USA) Velo Bella                     5.09.40
31 Shonny Vanlandingham (USA) Tokyo Joe's/Go Lite    5.18.40
32 Maureen Devlin (USA) Touchstone Climbin           5.21.86
33 Carla Flores (USA) Southern Mortgage              5.33.61
34 Lara Koepsch (USA) T-Mobile                       5.34.78
35 Penny Avril (GBr) Touchstone Climbin              5.54.80
36 Dara Marks-Marino (USA) Ford Cycling              6.05.55
37 Irene Mercer (USA) Tamarack                       6.13.98
38 Ann Trombley (USA) Excel Sports                   6.25.48
39 Aimee Vasse (USA) Velo Bella                      6.30.05
40 Suz Weldon (USA) Subway Pro Cycling               6.30.31
41 Nichole Wangsgard (USA) Team Subway               6.36.57
42 Liza Rachetto (USA) CRCA Team Lipton Tea          6.42.27
43 Nina Baum (USA) UNM                               6.49.63
44 Erin Alders (USA) Tamarack                        6.52.15
45 Shannon Tupa (USA) Tokyo Joe's                    6.57.46
46 Nancy Jadatz (USA) Team Snow Valley               6.59.65
47 Jane Ziegler (USA)                                6.59.94
48 Kristen Downs (USA) Tokyo Joe's/Go Lite           7.18.42
49 Holly Borowski (USA) Tamarack                     7.37.52
50 Mary Schuette (USA) Tokyo Joe's/Go Lite           7.37.56
51 Lauren Heilig (USA) Tokyo Joe's/Go Lite           7.51.16
52 Tara Ross (Can) Team Diet Cheerwin                8.11.72
53 Anna Milkowski (USA) CRCA Team Lipton             8.48.03
54 Lisa Matlock (USA) Tamarack                       8.58.84
55 Maggie Williams (USA) Landis/Trek/VW              9.31.52
56 Rhonda Stickle (Can) Team Diet Cheerwine          9.37.17
57 Heather Szabo (USA) Tokyo Joe's/Go Lite           9.52.99
58 Inia Sanjuan (USA) Monte Vista Velo               9.55.18
59 Jo Burtard (USA) Ochsner                         10.22.77
60 Yukie Nakamura (Jpn) Webcor Builders             12.23.98
61 Debra DeCrausaz (USA)                            13.28.40
62 Zoe Frost (RSA) Adidas/Bianchi                   13.33.68
 
Women team classification
 
1 T-Mobile                                        2.07.43
2 Colavita/Cooking Light                             3.12
3 Ford-Basis                                         4.07
4 Webcor Builders                                    4.39
5 Velo Bella                                         6.01
6 Tokyo Joe's                                       10.59
7 Tamarack                                          14.17
 
Men 2
 
1 Randy Corcoran (Heart Hospital)                   38.23.61
2 Matt Seagrave                                      0.43.00
3 Bill Danyluk (USAFA)                               0.51.20
4 Scott Nydam (Sports Barage)                        0.51.24
5 David Nelson (Landis/Trek/VW)                      1.16.82
6 Christopher Kuhl (CRCA/Sakonnet Tech)              1.21.67
7 J. Carl Williams (Mapei-Team Diabeti)              1.23.22
8 Jesse Gordon (Park City Cycling)                   1.27.09
9 Joshua Liberces (Colavita/Cooking L)               1.35.21
10 Dan Vinson                                        1.35.31
11 Christian Reidys (Colavita Bolla)                 1.43.74
12 Christ Monteleone (Team Rio Grande)               1.50.11
13 Jesse Jakomait (Dark Horse Racing)                1.51.41
14 Ryan Hamity (RMCEF)                               1.57.24
15 Jonathan Garcia (RMCEF)                           2.03.57
16 Kyle Colavito                                     2.08.51
17 Jeff Hoppert                                      2.16.05
18 Cliff Redig (Eclipse Racing)                      2.21.03
19 Brian Janezic (Race Lab U23)                      2.21.41
20 Robert Lofgran (Ogden One)                        2.27.56
21 Jake Hunter (Race Lab U23)                        2.31.64
22 King Link (Watermark)                             2.38.54
23 Pete Kuenneman                                    2.40.20
24 Ryan Lynch (Maverick/Ciber)                       2.42.09
25 Stephen Shepherd                                  2.42.50
26 Alexander Hagman (Cannondale)                     2.53.61
27 David Schulhofer (Bike N Sport Racin)             2.54.93
28 Evan Lawrence (Team Hammergel)                    2.55.40
29 Johnny Hayes (CRCA/Sakonnet Tech)                 2.57.89
30 Emiliano Jordan                                   3.03.84
31 Lee Rosenthal (CRCA/Sakonnet Tech)                3.09.50
32 John Stadick (Colavita/Cooking L)                 3.15.41
33 Chad Moor (GS CIAO/Al's Barbe)                    3.16.73
34 Chris Crawford (Club One/PMAX Raci)               3.17.15
35 Thomas Hallock                                    3.19.50
36 Howard-Heretakis (Flano Cycling/Cann)             3.25.16
37 Jeff Wardell (XYBIX Systems Inc.)                 3.28.03
38 Clark Butcher (Memphis Motorwerks)                3.34.12
39 Skye Kraft (Eastside Cycles/Ma)                   3.39.95
40 Alex Rock (Porcupine / Conten)                    3.40.21
41 John Staroba (Eastside Cycles/Ma)                 3.50.55
42 Jeff Parker (Eclipse Racing)                      4.00.03
43 Glenn Murray (Tri State Velo)                     4.01.12
44 Randy Reichardt (Haul'n Ass Race Te)              4.07.35
45 Cody Stephenson                                   4.19.60
46 Paul Esposti (Haul'n Ass Race Te)                 4.23.66
47 Jason Karew (Eclipse Racing)                      4.24.07
48 Zac Coolman (Health Maxx)                         4.30.99
49 David Howell (Glaceau Cycling Te)                 4.34.69
50 Cale Redpath                                      4.44.89
51 Adam Cornette (Watermark)                         5.07.65
52 Peter Schuster (Team Schu)                        5.08.95
53 Derek Strong (Haul'n Ass Race Te)                 5.14.88
54 Taylor Lane (Team Rio Grande)                     5.18.57
55 Greg Hritzo (Landis/Trek/VW)                      5.20.29
56 Erik Long                                         5.30.77
57 Andy Bestwick (Matt Smith HDCC)                   5.41.26
58 Seth Wilkie (Hayden Frontier)                     5.46.36
59 Jonathan Massie (RMCEF)                           5.48.34
60 Darian Founds (Hammer Gel)                        5.57.24
61 Andy Cornelison (Team Rio Grande)                 5.58.72
62 Grant Dunstan (Flagvelo)                          5.59.95
63 Nocholas Weighall (Team Swift)                    6.17.75
64 Joe Cooper (Louisville Velo Cl)                   6.21.85
65 Matt Desmond                                      6.23.46
66 Benjamin Moran (USAFA)                            6.35.06
67 Cameron Tongier (KHSNM.COM)                       6.51.29
68 John Teal (Cody Design/Pro Cy)                    6.58.59
69 Logan Garey (Sports Garage/Soma)                  7.05.17
70 Sean Coleman (BBC/USCG)                           8.01.98
71 Joseph Cullinan (Race Lab U23)                    8.38.90
72 Steve Brawley (GS CIAO)                           8.55.60
73 Troy Dunton                                       8.55.85
74 Courtney Guck (Haul'n Ass Race Te)                9.10.72
75 Clayton Peck (Race Lab U23 Waste)                 9.53.05
76 David Binker (Race Lab U23)                      10.07.63
 
Men 3
 
1 Jason Donald (RMCEF)                              39.25.00
2 Troy Wells (Easton/Crank Broth)                    0.03.79
3 Kurt Larson (NMBRA)                                0.17.89
4 Whitey DeBroux (Pro Peloton)                       1.26.97
5 Andrew Phillips (Colavita Olive Oil)               1.28.21
6 Travis Enmon (Permian Basin Bicy)                  1.38.03
7 Ryan Cole                                          1.48.06
8 Patrick Ramirez (Crazy Cat Cyclery)                1.51.52
9 Ryan Gibson                                        1.57.91
10 Revere Greist                                     2.22.32
11 Randy McLain (Sports Garage/SOMA)                 2.23.40
12 Kris Lunning                                      2.23.46
13 Marin Salvador (Rica Burguer Cycli)               2.28.13
14 Miles Venzara                                     2.29.27
15 Jason Williams (Team Spine)                       2.31.35
16 Stephen Iles (Colavita/Cooking L)                 2.39.65
17 Brian Palen (Colavita/Cooking L)                  2.40.01
18 Ryan Hamilton (Organic Athlete)                   2.52.13
19 Joshua Smith (Century Tel/VRAD)                   2.52.81
20 Charles Knoll (Laser Laser.Com)                   3.10.20
21 Luca Ortolani (Lombardi Sports)                   3.11.38
22 Ian Burnett (Titus Cycles/Duran)                  3.17.49
23 Alex Howes (5280 Magazine)                        3.19.45
24 Todd Cassdan (Rocinante)                          3.19.87
25 Justin Maka (Colorado Premier T)                  3.27.83
26 Jarett Kennedy                                    3.34.08
27 Brent Winebarger (Health FX/CWC)                  3.38.91
28 Christoph Mosora (Vision Quest LLC)               3.41.84
29 Zak White (REI Austin Cycling)
30 Nathan Hobson (Half Fast Velo)                    3.54.25
31 Gregory McCreless                                 4.02.40
32 Gaige Sippy (Durango Wheel Club)                  4.16.56
33 Andres Leal (Health Maxx-Boom)                    4.23.06
34 Tucker Blander (Team Rio Grande)                  4.27.21
35 Will Flanagan (Front Rangers Cycl)                4.28.58
36 Adam Dougl Snyder                                 4.29.50
37 Matthew Oseto                                     4.32.18
38 Kurt Masterson                                    4.37.49
39 Bryce Lawson (Century Tel/VRAD)                   4.41.95
40 Chad Coffman (Sports Garage/SOMA)                 4.43.06
41 Jason Knight (Colavita/Cooking L)                 4.48.64
42 Ewam De Freitas (Haul'n Ass Race Te)              4.51.94
43 Scott Bartel (Century Tel/VRAD)                   4.56.90
44 Pete Lawrence                                     5.03.37
45 Andrew Lee (Grand Sports Winte)                   5.16.79
46 John Shippey (GS Ciao/Al's Barbe)                 5.35.60
47 Brad Bingham (Century Tel/VRAD)                   5.42.07
48 Jackson Salling (Team Michelob Ultr)              5.50.36
49 Scott Barnes (Champion Cycling T)                 5.55.60
50 Kris Lathrop (Colavita/Cooking L)                 6.04.22
51 Jackson Lowery (Team Revolution Ra)               6.15.90
52 William Reuss                                     6.22.20
53 Tad Borek (CRC/Hill & Co.)                        6.43.30
54 Richard Bonner (REI Austin Cycling)               6.50.80
55 Peter Ismert                                      7.13.07
56 Juan Fierro (Health-Maxx)                         7.25.45
57 Carlos Vulgamott (Laser Laser.Com)                7.30.36
58 Kevin Flanagan (Pedal Pushers Cycl)               7.31.53
59 Fred Brito (Team Michelob Ultr)                   7.33.10
60 Gary Phillips (Red Rock Racing)                   7.52.89
61 Ernesto Drozco (Health Maxx-Boom)                 8.04.10
62 Greg Galletta (Wonderwheels)                      8.37.43
63 James Love                                        9.03.12
64 Travis Lukens (Valdoro Mountain L)                9.47.18
65 John Calgiano (Independent Fab)                  10.23.14
66 Jarred Gilker                                    11.06.59
67 Jordan Hester (Permian Basin Bicy)               11.08.13
68 Jim Hebert                                       11.10.63
69 Benjamin Volotsky (Bicycle John's)               12.20.28
70 Jonatha Tallerico (MVV)                          12.20.38
 
Master 45+
 
1 David Zimbelman (Excel Sports)                    40.03.31
2 Corky Kurtz (Team RPM)                             0.28.83
3 David Beirne                                       0.37.33
4 Phillip Sladek (Geriatrix)                         0.44.23
5 Lindsay Blount (Simply Fit)                        1.13.19
6 Peter Marshall (Simple Green/Volvo)                1.34.92
7 Dwight Nelson (SW Hand Cycling)                    1.46.28
8 David Lepell (NMBRA / Chicks H-D)                  1.56.32
9 Tom Bain (Geri Atrix)                              2.07.93
10 Kim Bleth (Simply Fit)                            2.08.36
11 Mark Southard (Excel Sports Bould)                2.14.18
12 Randall Bradford (NMBRA-Chick's)                  2.24.54
13 Curt Shelman (River City Racing)                  2.33.50
14 Bruce Hodgskins (Excel Sports)                    2.38.02
15 David Kruger (Simple Green)                       2.39.51
16 Mark Blaser                                       2.45.34
17 Dan Armijo (NM S&W)                               2.49.84
18 Don Williams (Landis/Trek/VW)                     3.00.26
19 Lindsay Crawford (G.S. Strada)                    3.13.99
20 John Boland                                       3.44.45
21 Greg Reed (River City Racing)                     4.05.54
22 Steve Grusis (Art's/Cyclery)                      4.10.00
23 Mark Wolowiec                                     4.13.91
24 Miroslav Novak (Alabama Master Cyc)               4.20.58
25 David Linden (Flying Rhino's)                     5.56.18
26 Jon Spar (NMBRA Olev Rapido)                      6.12.69
27 Daniel Kelly (New Mexico Sports)                  6.19.31
28 Tom Murphy (RGRT)                                 6.29.77
29 Frank Kurzawa (Violet Crown)                      6.38.94
30 Jon Black (GS Tucson Racing)                      6.50.28
31 Pau McKenzie (Clif Bar)                           7.02.12
32 Nathaniel Cobb (Team Ochsner)                     7.05.07
33 Timothy Schoeny (NMBRA)                           7.14.22
34 Ken Pittaway (Permian Basin Bicy)                 7.28.95
35 Mike Simpson                                      9.33.86
36 Steve Betton (PBBA)                              10.09.09
37 Marc Carpenter (Karl Strauss SCBC)               11.49.46
38 Nechemia Volotzky (Bicycle John's Ser)           13.25.43
39 Franco Panveno (Alberto's)                       14.56.98