La Vuelta de Bisbee - NE
USA, April 22-24, 2005
Main Page Results Overall standings Previous Stage Next Stage
Stage 2 - April 23: Warren Time Trial , 8.3 miles
Stevic & Benassi lead after double stage day
By Matt Hickman, Sierra Vista Bisbee Herald/Review
Yellow jersey Ivan Stevic
Photo ©: Matt Hickman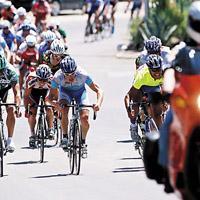 Maatji Benassi
Photo ©: Matt Hickman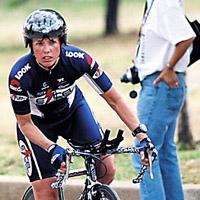 Ivan Stevic of the Aerospace Engineering Racing Team leads the men's pro class and Maatje Benassi of Excel Sports is edging the closest competitors in the women's pro race heading into today's final stage race of the 27th La Vuelta de Bisbee.
Stevic, who went into Saturday morning's road race wearing the yellow jersey after winning Friday's prologue, broke ahead of a surprisingly congested finish in the 82-mile road race.
"That was our plan (to win it) in the sprint," the Serbian Stevic said. "It was supposed to be a sprint for (teammate) Clemente (Cavaliere), but he had problems with his positioning so I took it."
Typically, the top finishers in front of the Copper Queen Hotel in Bisbee are broken up into bunches of threes, fours and fives. On Saturday, however, no fewer than 40 came rushing to the finish line in the same conglomeration.
Stevic went on to win the afternoon time trial as well. He goes into today's final stage with a chance to win all four stages, something which race coordinator Albert Hopper believes would be a first. Benassi, a Netherlands native who lives in Colorado Springs, Colo., was the winner in Friday's prologue but fell back four seconds of Stage 1 winner Sheila Orem of Florida and Team Kenda Tire heading into the Saturday afternoon time trial.
Benassi erased that lead and then some, doing the trial in 19:47 to take a 19 second lead over Brooke Ourada and a 34-second lead over Cynthia Mommsen. Wearing the yellow jersey on the final day is a fine proposition for Stevic who is backed by possibly the best team in the event. But for Benassi, it's a bit of a white elephant.
This year's women's field has just 25 riders, teams are few and when one rider breaks ahead of the pack, the buck tends to get passed on chasing her down, though general etiquette suggests the jersey-wearer do the dirty work.
"It's a no-win situation," Benassi said. "You wear the jersey, it's your responsibility to chase them down." But without a team, you chase down a runner at your own peril.
"It isn't fun being in the yellow jersey without a team," Ourada said. "You have to decide who you want to chase down. We let a girl (Orem) go up ahead over a minute. (Today) there's no way we'll let somebody be doing that."
Ourada, who lives in Boise, Idaho, finished second last year as part of the Colorado-based Victory Brewing Team.
Her performance of a year ago earned her a spot on the T-Mobile squad, one of the top women's racing teams in the country.
"It's been awesome being part of the team. I'm learning a lot about team tactics. We are so well taken care of and we have great equipment." Last year's women's champion Lynn Gaggioli was a member of T-Mobile last year and fought off a fuller and more team-oriented women's field to win La Vuelta. Ourada and Benassi find themselves in that position today.
"If I can keep at least five of the top six in sight, I'll be all right," Benassi said. "She (Gaggioli) is pretty good and has a lot more experience racing. I'm not new but I'm still learning tactics."
Toppling Stevic, who holds a 30 second lead, could be very difficult. The team with the best shot at getting it done is New England-based Fiordifrutta, which features Phil Wong in second and Mike Dietrich 42 seconds back of the leader in third.
Last year's men's race came down to the wire on the uphill climb atop the Mule Pass Tunnel.
David Frattini held off Burke Swindlehurst and Drew Miller to win it all. Stevic doesn't fear the uphill finish.
"We're all good climbers," he said. "The climb is not that long - five or six miles, and it's not that steep."
Stevic said Aerospace Engineering is a Serbian-American team that has one team of European riders competing in America while another dominated by Americans is racing in Europe.
In the men's masters' race, Douglas Loveday of Grand Canyon Racing leads the way, 33 seconds ahead of D.J. Fernandez of CZ Racing and Brian McGuire of The Olympic Club.
Results
Pro/1/2 Men
 
1 Ivan Stevic (Aerospace Eng )                        16.40
2 Ryan Blickem (Landis/Trek/VW)                        0.16
3 Mike Dietrich (Fiordifrutta)                         0.17
4 Phil Wong (Fiordifrutta)                             0.18
5 Curtis Gunn (Seasilver)                              0.19
6 Bernard Van Ulden (Webcor Builders)                  0.26
7 David Clinger (Webcor Builders)                      0.29
8 Cody Peterson (3D Racing)                            0.31
9 Kevin Nicol (Tokyo Joe's Cyc)                        0.36
10 Kevin Rowe (Valley Athletic)                        0.39
11 Hugh Moran (Aerospace Eng)                          0.41
12 Matthew Willinger (RHvilla.com)                     0.45
13 Christopher Stockburger (Team Rio Grande)           0.51
14 John Hunt (Giant/Vill Ped)                          0.53
14 Dan Timmerman (Fiordifrutta)                            
16 Clemente Cavaliere (Aerospace Eng)                  0.59
17 Scott Blanchard (Eclipse Racing)                    1.00
18 Scott Hubbard (KHSnm.com)                           1.03
18 Derik Archibald (Valley Athletic)                       
20 Tim Carolan (Landis/Trek/VW)                        1.08
21 Kyle Colavito (Eclipse Racing)                      1.09
21 Jonathan Garcia (RMCEF)                                 
23 Shawn Olin (US Armed Frcs)                          1.14
24 Mike Janelle (Tokyo Joe's Cyc)                      1.18
25 Nathan Mitchell (TIAA CREF)                         1.19
26 George Ganoung (US Armed Frcs)                      1.21
27 Ted Huang (Webcor Builders)                         1.29
28 Nicholaus Schreiber (Flag Velo)                     1.33
29 Brian Lemke (Landis/Trek/VW)                        1.37
30 Jeff Hoppert (Eclipse Racing)                       1.38
30 Hugh Selby (KHSnm.com)                                  
32 Ryan Hamity (RMCEF)                                 1.41
33 Patrick Briggs (Giant/Vill Ped)                     1.42
33 Marc Collard (Webcor Builders)                          
35 Sean Van Horn (Broadmark)                           1.43
36 Bart Fidelus (Ranchos)                              1.44
37 Jeff Parker (Eclipse Racing)                        1.45
38 Christopher Monteleone (Team Rio Grande)            1.47
39 Scott Kasin (Six)                                   1.51
40 John Dehnert (Team Revolution)                      1.52
41 Jamie Ryan-White (KHSnm.com)                        1.58
42 Chris Greene (Giant/Vill Ped)                       1.59
42 Andy Chocha (US Armed Frcs)                             
44 Christopher Rozdilsky (Fiordifrutta)                2.00
45 Mike Zagorski (UNATT)                               2.01
46 Chris Crawford (Club One/PMax)                      2.07
47 Paul Reichart (Team Spine)                          2.08
48 Zac Coolman (Healthmaxx)                            2.09
48 Matt Lorenz (US Armed Frcs)                             
50 Michael Telega (Oakley)                             2.11
50 Grant Berry (Rky Mt Choc Fac)                           
52 Rob Alvarez (Landis/Trek/VW)                        2.14
53 Emiliano Jordan (Team Revolution)                   2.15
54 Gus Gomez (Arts Cyclery)                            2.19
55 Jake Hunter (Race Lab U23)                          2.20
55 Ian Holt (US Armed Frcs)                                
57 David Glick (Eclipse Racing)                        2.23
58 David Schulhofer (Bike 'n' Sport)                   2.27
59 Nick Friesen (The Bike Shop)                        2.28
60 Peter Schuster (Team SCHU)                          2.29
61 David Reid (Landis/Trek/VW)                         2.31
62 Jason Karew (Eclipse Racing)                        2.33
62 Michael Gallagher (US Armed Frcs)                       
64 Cameron Tongier (KHSnm.com)                         2.38
65 Evan Lawrence (Team Hammer Gel)                     2.40
66 Mike Hoffman (Giant/Vill Ped)                       2.53
67 Trent Hornus (US Armed Frcs)                        2.54
68 Chris Poole (Bicycle Ranch)                         2.55
69 Matt Desmond (Bike 'n' Sport)                       3.02
70 Tim Erwin (Bike 'n' Sport)                          3.03
71 Chad Hummer (CZ Racing)                             3.04
72 Jonathan Massie (RMCEF)                             3.07
73 Michael Hubbard (TopPro)                            3.08
74 Nate Ross (Subaru-G Fisher)                         3.12
75 John Salskov (CZ Racing)                            3.13
76 Erik Long (Eclipse Racing)                          3.14
77 Nate Roark (Flag Velo)                              3.19
78 Ernesto Ramirez (Landis/Trek/VW)                    3.24
79 Michael Nunez (Rky Mt Choc Fac)                     3.27
80 Sean Coleman (BBC/USCG)                             3.28
81 Eric Murphy (Aerospace Eng)                         3.32
81 Ulric De Young (TommyO Bikes)                           
83 Jonathan Mentzer (Eclipse Racing)                   3.51
84 Dan Distefano (Eclipse Racing)                      3.55
84 Travis Huxman (Eclipse Racing)                          
86 Brian Doege (outdoorlights)                         4.13
87 Joshua Powers (Red Rock Racing)                     4.56
88 Jason Spencer (Watermark Cyc)                       8.30
89 Taylor Lane (Team Rio Grande)                      19.41
 
Women
 
1 Cynthia Mommsen (The Olympic Clb )                  19.47
2 Brooke Ourada (T-Mobile)                             0.08
3 Maatje Benassi (Excel Sports)                        0.09
4 Heather Woodhouse (Team Kenda Tire)                  0.12
5 Lisa Hunt (The Olympic Clb)                          0.36
6 Carolyn Donnelly (Landis/Trek/VW)                    0.44
7 Anna Milkowski (Team Lipton)                         0.55
8 Sheila Orem (Team Kenda Tire)                        1.08
9 Paula Higgins (Landis/Trek/VW)                       1.09
10 Merrill Sapp (Landis/Trek/VW)                       1.16
11 Julie Mortello (Landis/Trek/VW)                     1.19
12 Nancy Jadatz (Snow Valley)                          1.26
13 Maggie Williams (Landis/Trek/VW)                    1.45
14 Heidi Clayton (UNATT)                               2.05
15 Mary Downing (Team Kenda Tire)                      2.16
16 Amanda Lawrence (Verducci Racing)                   2.20
17 Jacqi Lockwood (Team Kenda Tire)                    2.51
18 Kate Gracheck (Team Kenda Tire)                     3.08
19 Alicia Voss (Team Kenda Tire)                       3.19
19 Kathleen Vedock (Thunder Mtn Cyc)                       
21 Katherine Farago (NEBC/Cycleloft)                   3.22
22 Jennifer Stern (Team Kenda Tire)                    3.33
23 Kristine Wilcox (Team Kenda Tire)                   5.17
24 Emily Baltes (ProCon)                               5.39
DNF  Deb Wilson (Flag Velo)                                
 
Masters
 
1 Douglas Loveday (Grand Canyon R )                   17.11
2 Troy Love (CZ Racing)                                0.13
3 Brian McGuire (The Olympic Clb)                      0.28
4 Christian Reidys (Colavita Bolla)                    0.29
5 Dj Fernandes (CZ Racing)                             0.32
6 Rick Cimaglia (Grand Canyon R)                       0.49
7 David Zimbelman (Excel Sports)                       0.56
8 Joel Cleare (Strada Racing)                          1.10
9 Joshua Liberles (Colavita Bolla)                     1.14
10 Chad Fischer (CVC)                                  1.19
11 Daniel Smith (Morgan Stanley)                       1.21
12 Don Langley (Morgan Stanley)                        1.23
13 Scott Baker (GS Tucson)                             1.25
14 Jon Gallagher (Cole Sport)                          1.31
15 Ray Dunn (GS Tucson)                                1.32
15 Mark Fosenburg (Honeywell Cyc)                          
17 Nathan Hobson (Half Fast Velo)                      1.35
17 Robert Dolman (HLHAP)                                   
19 Eric Stephen (CVC)                                  1.36
20 Kris Pagano (CZ Racing)                             1.37
21 Link King (Watermark Cyc)                           1.38
22 Greg Hritzo (Landis/Trek/VW)                        1.39
23 Dan Armijo (NM S&W)                                 1.40
24 Robert Johnson (CZ Racing)                          1.42
25 Craig Long (ProCon)                                 1.46
26 John Simonson (GS Tucson)                           1.52
26 Joel Thompson (Southwest Hand)                          
28 Jim Silverman (Flag Velo)                           1.53
29 Kevin Riseborough (Honeywell Cyc)                   1.54
30 Todd Mion (Landis/Trek/VW)                          1.55
31 Gerard Prosnier (ProCon)                            1.57
32 Kenneth Oister (Honeywell Cyc)                      1.58
33 Garrett Ford (Eclipse Racing)                       2.00
34 Stan Andrie (W MI Cst Riders)                       2.04
35 Brock Boring (CZ Racing)                            2.07
36 Geoff Chalmers (Team Vitesse)                       2.08
37 Michael Hillenbrand (AZphalt)                       2.10
38 Chris Gould (GS Tucson)                             2.15
39 Duane Mulvaney (Landis/Trek/VW)                     2.17
40 David Green (Landis/Trek/VW)                        2.21
41 John Sawasky (Red Rock Racing)                      2.24
42 Chris Rutz (CZ Racing)                              2.26
43 Roger Learned (CZ Racing)                           2.29
44 Brian Marcucci (HLHAP)                              2.35
44 Andy Duvall (Presteza)                                  
46 Chris Latshaw (Durango Whl Clb)                     2.37
47 Chris Fusselman (HLHAP)                             2.41
47 Scott Adams (Team Vitesse)                              
49 Jack Phillips (Desert Whl Clb)                      2.45
49 Lindsay Crawford (G.S. Strada)                          
51 Wesley James (CZ Racing)                            2.46
51 Scott Baker (Honeywell Cyc)                             
53 Steve Morton (Hillenbrand)                          2.48
54 William Jacobus (Orlando Rd Clb)                    2.50
55 Rick Hammond (ProCon)                               2.53
56 Jon Black (GS Tucson)                               2.54
57 Chuck Higgins (Landis/Trek/VW)                      2.56
58 Jon Spar (Olev Rapido)                              3.01
58 Ron Ciano (Team Revolution)                             
60 Jeff Dillion (Flag Velo)                            3.03
60 Craig Liming (Thunder Mtn Cyc)                          
62 Adrian Schumacher (Presteza)                        3.04
63 Richard Biocca (DWC)                                3.08
64 Efraim Rojas (Honeywell Cyc)                        3.10
65 Michael Cline (HLHAP)                               3.12
66 Scott Bartel (CenturyTel/VRAD)                      3.13
67 Steve Stuart (Watermark Cyc)                        3.14
68 Andrew Hong (RLR)                                   3.18
69 Jesus Lamb (Presteza)                               3.20
70 Juston Manville (N Atlantic Vel)                    3.29
71 Sujeet Karna (ProCon)                               3.32
71 Gabriel Keck (Red Rock Racing)                          
73 Jeff Ulbrich (Team Revolution)                      3.38
74 Mario Medina (MTB CINCY)                            3.42
75 Peter Chagaris (DWC)                                3.46
76 Scott Rusnak (RPM)                                  3.55
77 Jared Nelson (Flag Velo)                            4.04
77 Phillip Austin (HLHAP)                                  
79 Bryan Antol (Red Rock Racing)                       4.05
80 Matthias Feurer (Fair Wheel)                        4.12
81 William Culpepper (Flag Velo)                       4.13
81 James Buttke (Thunder Mtn Cyc)                          
83 Ophir Sefiha (Red Rock Racing)                      4.15
84 Al Caccavale (Landis/Trek/VW)                       4.30
85 Reg Dowdall (Southwest Hand)                        4.33
86 Donald Guess (Honeywell Cyc)                        4.37
87 Andy Byrnes (CZ Racing)                             4.43
88 Jeffrey Lancaster (Durango Whl Clb)                 4.46
88 Tyson Kinnick (Team Revolution)                         
90 William Bock (DWC)                                  4.49
91 Greg Kilroy (CZ Racing)                             4.56
92 Chris Latham (Red Rock Racing)                      4.59
93 Ken Jones (CZ Racing)                               5.26
94 Mike Thiele (CZ Racing)                             5.48
95 Jorge Caviedes (Honeywell Cyc)                      7.08
96 Glenn Harris (Thunder Mtn Cyc)                      7.09
DNF  Leroy Bloom (Thunder Mtn Cyc)                         
 
General classifications after stage 2
 
Pro/1/2 men
 
1 Ivan Stevic (Aerospace Eng )                      3.33.24
2 Phil Wong (Fiordifrutta)                             0.30
3 Mike Dietrich (Fiordifrutta)                         0.42
4 Ryan Blickem (Landis/Trek/VW)                        0.49
5 Cody Peterson (3D Racing)                            0.50
6 David Clinger (Webcor Builders)                      1.06
7 Bernard Van Ulden (Webcor Builders)                  1.07
8 Matthew Willinger (RHvilla.com)                      1.14
9 Dan Timmerman (Fiordifrutta)                         1.18
10 Hugh Moran (Aerospace Eng)                          1.19
11 Kevin Rowe (Valley Athletic)                        1.21
12 Curtis Gunn (Seasilver)                             1.31
13 Christopher Stockburger (Team Rio Grande)           1.32
14 Kevin Nicol (Tokyo Joe's Cyc)                       1.34
15 John Hunt (Giant/Vill Ped)                          1.38
16 Clemente Cavaliere (Aerospace Eng)                  1.39
17 Scott Blanchard (Eclipse Racing)                    1.40
18 Tim Carolan (Landis/Trek/VW)                        1.46
19 Jonathan Garcia (RMCEF)                             1.47
20 Kyle Colavito (Eclipse Racing)                      1.57
21 Derik Archibald (Valley Athletic)                   2.16
22 Mike Janelle (Tokyo Joe's Cyc)                      2.28
23 Sean Van Horn (Broadmark)                           2.29
24 Nathan Mitchell (TIAA CREF)                         2.33
25 George Ganoung (US Armed Frcs)                      2.41
26 Christopher Monteleone (Team Rio Grande)                
27 Ryan Hamity (RMCEF)                                 2.45
28 Shawn Olin (US Armed Frcs)                          2.50
29 Bart Fidelus (Ranchos)                              2.51
30 Marc Collard (Webcor Builders)                      2.59
31 Scott Hubbard (KHSnm.com)                           3.05
32 Ted Huang (Webcor Builders)                         3.14
33 Grant Berry (Rky Mt Choc Fac)                       3.18
34 Michael Telega (Oakley)                             3.22
35 Hugh Selby (KHSnm.com)                                  
36 Paul Reichart (Team Spine)                          3.27
37 David Glick (Eclipse Racing)                        3.28
38 Patrick Briggs (Giant/Vill Ped)                         
39 Emiliano Jordan (Team Revolution)                   3.31
40 Chris Crawford (Club One/PMax)                      3.35
41 Nick Friesen (The Bike Shop)                        3.37
42 Mike Zagorski (UNATT)                               3.38
43 Rob Alvarez (Landis/Trek/VW)                        3.39
44 John Dehnert (Team Revolution)                          
45 Jeff Hoppert (Eclipse Racing)                       3.40
46 Christopher Rozdilsky (Fiordifrutta)                3.46
47 Chris Greene (Giant/Vill Ped)                       3.48
48 David Schulhofer (Bike 'n' Sport)                   3.55
49 Ian Holt (US Armed Frcs)                            3.57
50 Brian Lemke (Landis/Trek/VW)                        4.05
51 Evan Lawrence (Team Hammer Gel)                     4.07
52 Michael Gallagher (US Armed Frcs)                   4.10
53 Jason Karew (Eclipse Racing)                            
54 Jeff Parker (Eclipse Racing)                        4.13
55 Zac Coolman (Healthmaxx)                            4.15
56 Jake Hunter (Race Lab U23)                          4.16
57 Matt Lorenz (US Armed Frcs)                         4.23
58 Gus Gomez (Arts Cyclery)                            4.29
59 Nicholaus Schreiber (Flag Velo)                     4.42
60 Andy Chocha (US Armed Frcs)                         4.43
61 David Reid (Landis/Trek/VW)                         4.48
62 Chad Hummer (CZ Racing)                                 
63 Nate Ross (Subaru-G Fisher)                         4.49
64 Eric Murphy (Aerospace Eng)                         4.56
65 Mike Hoffman (Giant/Vill Ped)                       5.03
66 Trent Hornus (US Armed Frcs)                        5.08
67 Michael Nunez (Rky Mt Choc Fac)                     5.11
68 Ulric De Young (TommyO Bikes)                       5.14
69 John Salskov (CZ Racing)                            5.16
70 Erik Long (Eclipse Racing)                          5.17
71 Matt Desmond (Bike 'n' Sport)                       5.25
72 Peter Schuster (Team SCHU)                          5.27
73 Scott Kasin (Six)                                   5.28
74 Ernesto Ramirez (Landis/Trek/VW)                    5.42
75 Michael Hubbard (TopPro)                            5.47
76 Chris Poole (Bicycle Ranch)                         6.06
77 Jonathan Massie (RMCEF)                             6.07
78 Sean Coleman (BBC/USCG)                                 
79 Cameron Tongier (KHSnm.com)                         6.27
80 Nate Roark (Flag Velo)                              6.29
81 Travis Huxman (Eclipse Racing)                      6.34
82 Joshua Powers (Red Rock Racing)                     7.08
83 Brian Doege (outdoorlights)                         7.54
84 Jamie Ryan-White (KHSnm.com)                        8.00
85 Tim Erwin (Bike 'n' Sport)                         10.17
86 Jason Spencer (Watermark Cyc)                      11.14
87 Jonathan Mentzer (Eclipse Racing)                  11.16
88 Dan Distefano (Eclipse Racing)                     11.20
89 Taylor Lane (Team Rio Grande)                      20.55
 
Women
 
1 Maatje Benassi (Excel Sports )                    2.37.09
2 Brooke Ourada (T-Mobile)                             0.19
3 Cynthia Mommsen (The Olympic Clb)                    0.34
4 Heather Woodhouse (Team Kenda Tire)                  0.54
5 Carolyn Donnelly (Landis/Trek/VW)                    1.02
6 Sheila Orem (Team Kenda Tire)                        1.10
7 Anna Milkowski (Team Lipton)                         1.29
8 Lisa Hunt (The Olympic Clb)                          2.01
9 Julie Mortello (Landis/Trek/VW)                      2.27
10 Merrill Sapp (Landis/Trek/VW)                       2.34
11 Nancy Jadatz (Snow Valley)                          3.23
12 Maggie Williams (Landis/Trek/VW)                    3.25
13 Mary Downing (Team Kenda Tire)                      3.55
14 Paula Higgins (Landis/Trek/VW)                      4.36
15 Heidi Clayton (UNATT)                               4.39
16 Amanda Lawrence (Verducci Racing)                       
17 Jacqi Lockwood (Team Kenda Tire)                    6.32
18 Kathleen Vedock (Thunder Mtn Cyc)                   7.02
19 Kate Gracheck (Team Kenda Tire)                     8.56
20 Alicia Voss (Team Kenda Tire)                       9.11
21 Katherine Farago (NEBC/Cycleloft)                   9.12
22 Jennifer Stern (Team Kenda Tire)                    9.23
23 Kristine Wilcox (Team Kenda Tire)                  14.06
24 Emily Baltes (ProCon)                              15.35
 
Masters
 
1 Douglas Loveday (Grand Canyon R )                 2.13.03
2 Dj Fernandes (CZ Racing)                             0.33
3 Brian McGuire (The Olympic Clb)                      0.40
4 Troy Love (CZ Racing)                                0.44
5 Christian Reidys (Colavita Bolla)                    1.09
6 Chad Fischer (CVC)                                   1.14
7 David Zimbelman (Excel Sports)                       1.26
8 Joshua Liberles (Colavita Bolla)                     1.58
9 Kris Pagano (CZ Racing)                              2.00
10 Jon Gallagher (Cole Sport)                          2.05
11 Rick Cimaglia (Grand Canyon R)                      2.06
12 Greg Hritzo (Landis/Trek/VW)                        2.07
13 Scott Baker (GS Tucson)                             2.18
14 Dan Armijo (NM S&W)                                 2.26
15 Craig Long (ProCon)                                 2.30
16 Link King (Watermark Cyc)                           2.34
17 Eric Stephen (CVC)                                  2.38
18 Todd Mion (Landis/Trek/VW)                          2.41
19 Daniel Smith (Morgan Stanley)                       2.49
20 Robert Johnson (CZ Racing)                          2.56
21 Robert Dolman (HLHAP)                               3.09
22 Ray Dunn (GS Tucson)                                3.19
23 Jim Silverman (Flag Velo)                           3.24
24 John Simonson (GS Tucson)                           3.28
25 Gerard Prosnier (ProCon)                            3.32
26 Garrett Ford (Eclipse Racing)                       3.34
27 Mark Fosenburg (Honeywell Cyc)                      3.35
28 John Sawasky (Red Rock Racing)                      3.37
29 Chris Gould (GS Tucson)                             3.42
30 Stan Andrie (W MI Cst Riders)                       3.55
31 Joel Thompson (Southwest Hand)                      3.59
32 Chris Latshaw (Durango Whl Clb)                     4.07
33 Scott Adams (Team Vitesse)                          4.09
34 Jon Black (GS Tucson)                               4.12
35 Chris Fusselman (HLHAP)                             4.22
36 Nathan Hobson (Half Fast Velo)                      4.34
37 Richard Biocca (DWC)                                4.51
38 Scott Bartel (CenturyTel/VRAD)                          
39 Kevin Riseborough (Honeywell Cyc)                   4.58
40 Ron Ciano (Team Revolution)                         4.59
41 Duane Mulvaney (Landis/Trek/VW)                     5.01
42 Jesus Lamb (Presteza)                                   
43 William Jacobus (Orlando Rd Clb)                    5.05
44 Jon Spar (Olev Rapido)                              5.10
45 Chuck Higgins (Landis/Trek/VW)                      5.15
46 Gabriel Keck (Red Rock Racing)                      5.16
47 Lindsay Crawford (G.S. Strada)                      5.19
48 Brian Marcucci (HLHAP)                              5.21
49 Steve Morton (Hillenbrand)                          5.24
50 Geoff Chalmers (Team Vitesse)                       5.25
51 Andy Duvall (Presteza)                              5.27
52 Rick Hammond (ProCon)                               5.29
53 Michael Cline (HLHAP)                               5.31
54 Ophir Sefiha (Red Rock Racing)                      5.38
55 Phillip Austin (HLHAP)                                  
56 Jack Phillips (Desert Whl Clb)                      5.41
57 Steve Stuart (Watermark Cyc)                        5.45
58 Don Langley (Morgan Stanley)                        5.46
59 Michael Hillenbrand (AZphalt)                       5.48
60 Andrew Hong (RLR)                                   5.51
61 William Culpepper (Flag Velo)                           
62 Peter Chagaris (DWC)                                5.55
63 Adrian Schumacher (Presteza)                        5.56
64 Bryan Antol (Red Rock Racing)                       6.06
65 Chris Rutz (CZ Racing)                              6.13
66 Jeff Dillion (Flag Velo)                            6.22
67 Chris Latham (Red Rock Racing)                      6.42
68 Sujeet Karna (ProCon)                                   
69 Matthias Feurer (Fair Wheel)                        6.48
70 Scott Baker (Honeywell Cyc)                         6.54
71 Jared Nelson (Flag Velo)                            7.11
72 Efraim Rojas (Honeywell Cyc)                        7.16
73 Andy Byrnes (CZ Racing)                             7.17
74 Mario Medina (MTB CINCY)                            7.28
75 Kenneth Oister (Honeywell Cyc)                      7.33
76 Roger Learned (CZ Racing)                           7.48
77 Scott Rusnak (RPM)                                  7.50
78 Craig Liming (Thunder Mtn Cyc)                          
79 David Green (Landis/Trek/VW)                        8.09
80 Wesley James (CZ Racing)                            8.19
81 Jeffrey Lancaster (Durango Whl Clb)                 8.27
82 Brock Boring (CZ Racing)                            9.02
83 Juston Manville (N Atlantic Vel)                    9.10
84 Donald Guess (Honeywell Cyc)                        9.12
85 Joel Cleare (Strada Racing)                         9.14
86 William Bock (DWC)                                      
87 Ken Jones (CZ Racing)                               9.30
88 Jeff Ulbrich (Team Revolution)                      9.44
89 Al Caccavale (Landis/Trek/VW)                      10.53
90 Reg Dowdall (Southwest Hand)                       11.00
91 Mike Thiele (CZ Racing)                            14.43
92 James Buttke (Thunder Mtn Cyc)                     14.48
93 Tyson Kinnick (Team Revolution)                    17.24
94 Jorge Caviedes (Honeywell Cyc)                     19.48
95 Greg Kilroy (CZ Racing)                            26.07
96 Glenn Harris (Thunder Mtn Cyc)                     30.48