Recently on Cyclingnews.com
Le Tour du Grand Montréal - 2.9.1
Canada, May 31-June 2, 2004
Main Page Results Previous Stage Next Stage
Stage 3 - June 1: St-George road race, 120 km
Arndt awesome in the rain; Nurnberger exchanges jerseys
By Giana Roberge - Quark Cycling Team
Judith Arndt (Nurnberger) wins an epic stage
Photo ©: Rob Karman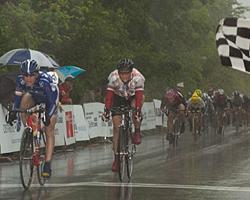 Today's third stage of the Tour of Montreal will go down in the history of the race as an epic day. Not only was the course one to remember but the torrential rain and cold temperatures will leave a memory not soon forgotten. In the end though, it was German Judith Arndt persevering to win the stage in a classic exchange of the yellow leader's jersey from the shoulders of her Nurnberger teammate Petra Rossner.
The difficulty of the stage lay with the steep terrain and three times up the very steep one kilometer climb outside of the quaint town of Rigaud. After the first time up the climb, a small group of three wedged their way off the front. Amy Moore (Quark) was the highest placed in the overall in the group, at only 14 seconds back. Joining Moore was Australian Alison Wright and Rona's Helen Kelly. The threesome worked well together, gaining up to 2'45 with about 40 kilometers to go. Initially the break did not attract a lot of attention from the peloton, however, as the final kilometers ticked away the remaining group of 30 began to chase with heart despite the pouring rain and cold temperatures.
Amy Moore (Quark)

Dense fog
Photo ©: Rob Karman

The final time up the climb, Moore lost her companions and forced the pace alone. In an outstanding effort in which she hoped to set up her teammate Lyne Bessette, Moore was able to hold off the baying chase until only four kilometers to go. However, the chase that ensued behind Moore was captained by Nurnberger's Madeleine Lindberg, who had the field strung out single file the last three kilometers, setting up her teammate Arndt beautifully for the sprint. Behind Arndt, T-Mobile's Dede Demet Barry tried to come around for the victory, but Arndt had one thing in mind - a win and the leader's jersey. With 10 seconds bonus time on the line for the finisher, Arndt's win put her in the lead by mere seconds over Demet-Barry, who finished fourth and will move into second in the overall. Anita Valen (Team S.A.T.S.) was second and Teodora Ruano Sanchon (Spanish National Team) third.
Today's finish did shake up the overall a bit, but only by seconds. Tomorrow's circuit race has more seconds up for grabs, as well as the hefty 10 seconds at the finish. Arndt's lead over Demet is lean, but with Rossner and Lindberg assisting her to scoop some of the time bonuses, Arndt may end the tour in yellow. She will have to fend off very strong and determined T-Mobile and Quark teams, only seconds out of the lead. Hopefully, the weather will smile on the peloton, and make the Quebec area a much more pleasant area so that the foreigners will want to return sometime in the future.
Photography
Images by Rob Karman/www.roadbikephotos.com
Results

1 Judith Arndt (Ger) Nurnberger Versicherung                3.36.10
2 Anita Valen (Nor) Team S.A.T.S.                                  
3 Teodora Ruano Sanchon (Spa) Spanish National Team            0.02
4 Dede Demet-Barry (USA) T-Mobile Professional Cycling Team        
5 Magali Le Floch (Fra) Quark Cycling Team                         
6 Regina Schleicher (Ger) Safi-Pasta Zara Manhattan                
7 Andrea Graus (Aut) World Team                                    
8 Lyne Bessette (Can) Quark Cycling Team                           
9 Trine Hansen (Den) Team S.A.T.S.                                 
10 Kori Kelly (USA) Genesis Scuba/FFCC                             
11 Maribel Moreno (Spa) Spanish National Team                      
12 Geneviève Jeanson (Can) Équipe Cycliste RONA                    
13 Margaret Hemsley (Aus) Australian National Team                 
14 Amber Neben (USA) T-Mobile Professional Cycling Team            
15 Anna Zugno (Ita) Safi-Pasta Zara Manhattan                      
16 Susan Palmer-Komar (Can) Genesis Scuba/FFCC                     
17 Christina Peick-Anderson (Den) Team S.A.T.S.                    
18 Erinne Willock (Can) Équipe Cycliste RONA                       
19 Christine Thorburn (USA) Webcor Cycling Team Composite          
20 Katrina Berger-Grove (USA) Équipe Cycliste RONA                 
21 Anne Samplonius (Can) Équipe du Québec                          
22 Manon Jutras (Can) Team S.A.T.S.                                
23 Diana Ziliute (Ltu) Safi-Pasta Zara Manhattan               0.09
24 Barbara Heeb (Swi) World Team                                   
25 Katheryn Curi (USA) Équipe Cycliste RONA                        
26 Amy Moore (Can) Quark Cycling Team                              
27 Chrissy Ruiter (USA) Basis Aude                                 
28 Tina Mayolo-Pic (USA) Genesis Scuba/FFCC                        
29 Grace Fleury (USA) Genesis Scuba/FFCC                           
30 Modesta Vzesniauskaite (Ltu) Safi-Pasta Zara Manhattan          
31 Oenone Wood (Aus) Australian National Team                      
32 Felicia Greer (Can) Webcor Cycling Team Composite           0.21
33 Kim Anderson (USA) T-Mobile Professional Cycling Team       1.10
34 Hiroko Shimada (Jpn) Webcor Cycling Team Composite          1.13
35 Sigrid Corneo (Ita) Nobili Rubinetterie Guerciotti          1.42
36 Helen Kelly (Aus) Équipe Cycliste RONA                      2.36
37 Madeleine Lindberg (Swe) Nurnberger Versicherung                
38 Mari Holden (USA) T-Mobile Professional Cycling Team        4.09
39 Anna Milkowski (USA) Équipe Cycliste RONA                       
40 Laura Van Gilder (USA) Genesis Scuba/FFCC                       
41 Laura Yoisten (Can) Canadian National Development Team          
42 Dotsie Cowden (USA) T-Mobile Professional Cycling Team          
43 Yulia Razenkova (Rus) Safi-Pasta Zara Manhattan                 
44 Meredith Miller (USA) Team S.A.T.S.                             
45 Iosune Murillo Elkano (Spa) Spanish National Team               
46 Jeannie Longo-Ciprelli (Fra) World Team                         
47 Monika Schachl (Aut) World Team                             4.14
48 Zita Urbonaite (Ltu) Safi-Pasta Zara Manhattan              4.15
49 Alison Wright (Aus) Nobili Rubinetterie Guerciotti          4.21
50 Michelle Beltran (USA) Webcor Cycling Team Composite        7.11
51 Annette Beutler (Swi) World Team                            7.13
52 Anna Gusmini (Ita) Nobili Rubinetterie Guerciotti               
53 Catherine Hare (GBr) British National Team                      
54 Daniela Fusar Poli (Ita) Nobili Rubinetterie Guerciotti         
55 Naiara Telletxea Lopez (Spa) Spanish National Team              
56 Katy St-Laurent (Can) Basis Aude                                
57 Émilie Roy (Can) Quark Cycling Team                             
58 Candice Blickem (USA) Genesis Scuba/FFCC                   11.56
59 Tara Ross (Can) Canadian National Development Team         12.52
60 Arantzazu Azpiroz (Spa) Spanish National Team              14.25
61 Leticia Gil Parra (Spa) Spanish National Team                   
62 Caroline Montminy (Can) Équipe du Québec                        
63 Charlotte Goldsmith (GBr) British National Team                 
64 Rachel Heal (GBr) British National Team                         
65 Petra Rossner (Ger) Nurnberger Versicherung                     
66 Julie Hutsebaut (Can) Équipe du Québec                          
67 Kele Hulser (USA) Basis Aude                               20.29
68 Julie Bélanger (Can) Canadian National Development Team    22.14
69 Emily Sandwith (Can) Canadian National Development Team    22.19
70 Joan Davies (USA) Webcor Cycling Team Composite                 
71 Leah Toffolon (USA) Verizon Wireless Wheelworks            23.22
72 Alicia Genest (USA) Verizon Wireless Wheelworks                 
DNF Lara Kroepsch (USA) T-Mobile Professional Cycling Team         
DNF Élisa Gagnon (Can) Équipe du Québec                            
DNF Nicole Freedman (Isr) Basis Aude                               
DNF Catherine Marsal (Fra) Nobili Rubinetterie Guerciotti          
DNF Olivia Gollan (Aus) Australian National Team                   
DNF Marie-Pier Bédard (Can) Canadian National Development Team     
DNF Rhonda Guzda (Can) Canadian National Development Team          
DNF Audrey Lemieux (Can) Quark Cycling Team                        
DNF Megan Elliott (USA) Quark Cycling Team                         
DNS Jessica Phillips (USA) Nurnberger Versicherung                 
DNS Kym Shirley (Aus) Nobili Rubinetterie Guerciotti               
DNS Janine Verstraeten (USA) Verizon Wireless Wheelworks           
 
General classification
 
1 Judith Arndt (Ger) Nurnberger Versicherung                4.49.36
2 Dede Demet-Barry (USA) T-Mobile Professional Cycling Team    0.11
3 Lyne Bessette (Can) Quark Cycling Team                       0.12
4 Anita Valen (Nor) Team S.A.T.S.                              0.14
5 Amber Neben (USA) T-Mobile Professional Cycling Team         0.15
6 Katrina Berger-Grove (USA) Équipe Cycliste RONA                  
7 Tina Mayolo-Pic (USA) Genesis Scuba/FFCC                         
8 Anne Samplonius (Can) Équipe du Québec                       0.17
9 Kori Kelly (USA) Genesis Scuba/FFCC                          0.18
10 Teodora Ruano Sanchon (Spa) Spanish National Team               
11 Susan Palmer-Komar (Can) Genesis Scuba/FFCC                 0.19
12 Manon Jutras (Can) Team S.A.T.S.                            0.20
13 Amy Moore (Can) Quark Cycling Team                              
14 Christine Thorburn (USA) Webcor Cycling Team Composite      0.21
15 Geneviève Jeanson (Can) Équipe Cycliste RONA                0.22
16 Erinne Willock (Can) Équipe Cycliste RONA                   0.27
17 Chrissy Ruiter (USA) Basis Aude                                 
18 Diana Ziliute (Ltu) Safi-Pasta Zara Manhattan               0.28
19 Trine Hansen (Den) Team S.A.T.S.                                
20 Margaret Hemsley (Aus) Australian National Team             0.29
21 Andrea Graus (Aut) World Team                               0.30
22 Maribel Moreno (Spa) Spanish National Team                  0.31
23 Grace Fleury (USA) Genesis Scuba/FFCC                       0.32
24 Magali Le Floch (Fra) Quark Cycling Team                    0.34
25 Anna Zugno (Ita) Safi-Pasta Zara Manhattan                  0.35
26 Katheryn Curi (USA) Équipe Cycliste RONA                    0.38
27 Regina Schleicher (Ger) Safi-Pasta Zara Manhattan           0.41
28 Oenone Wood (Aus) Australian National Team                      
29 Barbara Heeb (Swi) World Team                               0.42
30 Modesta Vzesniauskaite (Ltu) Safi-Pasta Zara Manhattan      0.49
31 Felicia Greer (Can) Webcor Cycling Team Composite           0.50
32 Christina Peick-Anderson (Den) Team S.A.T.S.                0.51
33 Kim Anderson (USA) T-Mobile Professional Cycling Team       1.28
34 Hiroko Shimada (Jpn) Webcor Cycling Team Composite          1.44
35 Sigrid Corneo (Ita) Nobili Rubinetterie Guerciotti          2.21
36 Helen Kelly (Aus) Équipe Cycliste RONA                      2.58
37 Madeleine Lindberg (Swe) Nurnberger Versicherung            3.00
38 Laura Van Gilder (USA) Genesis Scuba/FFCC                   4.25
39 Mari Holden (USA) T-Mobile Professional Cycling Team        4.32
40 Jeannie Longo-Ciprelli (Fra) World Team                     4.33
41 Dotsie Cowden (USA) T-Mobile Professional Cycling Team      4.34
42 Anna Milkowski (USA) Équipe Cycliste RONA                   4.38
43 Laura Yoisten (Can) Canadian National Development Team      4.40
44 Meredith Miller (USA) Team S.A.T.S.                         4.43
45 Zita Urbonaite (Ltu) Safi-Pasta Zara Manhattan              4.45
46 Yulia Razenkova (Rus) Safi-Pasta Zara Manhattan             4.47
47 Iosune Murillo Elkano (Spa) Spanish National Team           4.48
48 Monika Schachl (Aut) World Team                             4.58
49 Alison Wright (Aus) Nobili Rubinetterie Guerciotti          4.59
50 Katy St-Laurent (Can) Basis Aude                            7.38
51 Annette Beutler (Swi) World Team                            7.40
52 Michelle Beltran (USA) Webcor Cycling Team Composite        7.45
53 Émilie Roy (Can) Quark Cycling Team                         7.46
54 Daniela Fusar Poli (Ita) Nobili Rubinetterie Guerciotti     7.49
55 Naiara Telletxea Lopez (Spa) Spanish National Team          7.53
56 Catherine Hare (GBr) British National Team                  7.54
57 Anna Gusmini (Ita) Nobili Rubinetterie Guerciotti               
58 Candice Blickem (USA) Genesis Scuba/FFCC                   12.04
59 Tara Ross (Can) Canadian National Development Team         13.42
60 Petra Rossner (Ger) Nurnberger Versicherung                14.26
61 Rachel Heal (GBr) British National Team                    14.53
62 Julie Hutsebaut (Can) Équipe du Québec                     14.57
63 Arantzazu Azpiroz (Spa) Spanish National Team              15.02
64 Leticia Gil Parra (Spa) Spanish National Team              15.04
65 Caroline Montminy (Can) Équipe du Québec                   15.19
66 Charlotte Goldsmith (GBr) British National Team            15.21
67 Kele Hulser (USA) Basis Aude                               20.49
68 Julie Bélanger (Can) Canadian National Development Team    22.43
69 Emily Sandwith (Can) Canadian National Development Team    23.03
70 Joan Davies (USA) Webcor Cycling Team Composite            23.04
71 Leah Toffolon (USA) Verizon Wireless Wheelworks            23.52
72 Alicia Genest (USA) Verizon Wireless Wheelworks            24.09
 
Teams classification
 
1 Genesis Scuba/FFCC                                               
2 Équipe Cycliste RONA                                             
3 Quark Cycling Team                                               
4 Team S.A.T.S.                                                    
5 Safi-Pasta Zara Manhattan                                        
6 T-Mobile Professional Cycling Team                               
7 Webcor Cycling Team Composite                                    
8 Équipe Internationale                                            
9 Équipe Nationale d'Espagne                                       
10 Nobili Rubinetterie Guerciotti                                  
11 Nurnberger Versicherung                                         
12 Basis Aude                                                      
13 Équipe du Québec                                                
14 British National Team                                           
15 Canadian National Development Team