Boulder Stage Race - NE
Boulder, Colorado, USA, May 7-9, 2004
Stage 1 - May 7: Morgul Bismark Time Trial , 7 miles
Scott Moninger (Health Net/Maxxis)
Photo ©: Rob Karman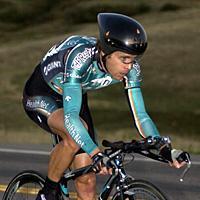 Moninger & Bruckner kick off wins in top-quality 'local' race
By Rob Karman
The inaugural Excel Sports Boulder Stage Race presented by The Boulder Center for Sports Medicine got started with a bang today as competitors tackled 7 miles of Colorado Bicycle Racing history along the Morgal Bismark course made famous in the movie "American Flyers".
In the Pro-1-2 Mens category it was Scott Moninger (HealthNet/Maxxis) picking up where he left off last week at the Tour of the Gila by taking the stage win and the leaders jersey. The podium was rounded out by teammates Mark Southard and Micah Thompson (Excel Sports Boulder). The pro womens race also had some star power with the victory going to Kimberly Bruckner (T-Mobile) followed by Katrina Grove (RONA) and Kelli Emmett.
Kimberly Bruckner (T-Mobile)
Photo ©: Rob Karman

Despite it being a "local" race there is a large contingent of pros in attendance as many of the nation's top riders make their homes in the Boulder, Co area. Health Net presented by Maxxis is well represented with top stars Chris Wherry and Danny Pate among others. The home team from catalog and on-line retailer Excel Sports Boulder has their work cut out for them if they are to try and knock Moninger off the top of the podium.
Racing continues on Saturday with the Flatirons Subaru Road Race followed by the Sunshine Canyon Hill Climb on Sunday morning. Both stages include a bit of dirt road and plenty of climbing.
Photography
Images by Rob Karman/www.roadbikephotos.com
Results
Senior Men pro 123
 
1 Scott Moninger (Health Net Pro Cycli)            17.09.4
2 Mark Southard (Excel Sports)                      0.17.5
3 Micah Thompson (Excel Sports)                     0.30.6
4 Andrew Bajadali (Ofoto-Lombardi Sport)            0.33.6
5 Jeffrey Hartmann (Pro Peloton Racing)             0.39.1
6 mike jones (Health Net Pro Cycli)                 0.52.2
7 Trent Lowe (Intermountain Color)                  0.54.8
8 Zak Grabowski (TIAA-CREF/5280)                    0.55.0
9 Colby Pearce (TIAA-CREF/5280)                     0.58.1
10 Sheldon Deeny (TIAA-CREF/5280)                   1.07.5
11 Jon Tarkington (Vitamin Cottage Cycl)            1.16.4
12 Ian Prichard (Team Rio Grande)                   1.18.9
13 Ben Duke (Unattached)                            1.21.3
14 Travis Brown (JDR-Trek/VW)                       1.22.3
15 Johan Levin (Intermountain Color)                1.22.8
16 Michael Larsen (Pro Con Cycling)                 1.26.8
17 Jonathan Baker (Pro Peloton Racing)              1.34.6
18 Robbie King (Louis Garneau Clothi)               1.35.7
19 Mark Copeland (AST Cycling Team)                 1.37.3
20 Dirk Friel (Vitamin Cottage Cycl)                1.41.9
21 Patrick Brown (JDR-Trek/VW)                      1.43.2
22 Angetti Sheldrake (TIAA-CREF/5280)               1.44.8
23 Craig McCartney (Intermountain Color)            1.48.3
24 Zachary Vestal (Unattached)                      1.50.3
25 Mark Schwab (Excel Sports)                       1.50.4
26 Frank Overton (GS CIAO / Al?s Barbe)             1.54.7
27 Christophe Stockburger (Team Rio Grande)         1.57.3
28 Neil Flock (Jamba Juice/Fuji)                    1.57.5
29 Andrew Manart (TIAA-CREF/5280)                   1.57.6
30 Kevin Nicol (AST Cycling Team)                   1.59.8
31 Robles Alex                                      1.59.9
32 Chuck Coyle (Vitamin Cottage Cycl)               2.02.3
33 Jeffrey Hartman (Big Shark Racing Tea)           2.03.4
34 Evan Ruzanski (JDR-Trek/VW)                      2.05.1
35 Ryan Hamity (RMCEF)                              2.08.9
36 Ian Stanford (Amos Cycling Team)                 2.09.2
37 Travis Jones (Twin Peaks Racing Te)              2.10.4
38 Danny Pate (Health Net Pro Cycli)                2.12.6
39 Christophe Brennan (JDR-Trek/VW)                 2.16.9
40 Ian MacGregor (TIAA-CREF/5280)                   2.18.4
41 Jeff Courter (GS CIAO / Al?s Barbe)              2.18.8
42 Christian McCarthy (Vitamin Cottage Cycl)        2.19.3
43 Chad Moore (GS CIAO / Al?s Barbe)                2.25.3
44 John Seehafer (Pro Peloton Racing)               2.26.1
45 Adam Everest (Intermountain Color)               2.32.2
46 Grayson Pointer (Schwab Cycles/Torell)           2.32.4
47 Joshua Barnett (GS CIAO / Al?s Barbe)            2.33.5
48 Barkley Robinson (Team Rio Grande)               2.34.3
49 Brian Chimileski (Unattached)                    2.34.7
50 Chris Wherry (Health Net Pro Cycli)              2.37.9
51 Jeffrey Dickinson (Schwab Cycles/Torell)         2.40.6
52 Kelly Ruddick (Pro Peloton Racing)               2.40.9
53 Benjamin Peters (GS CIAO / Al?s Barbe)           2.44.0
54 Jonathan Heidemann (RMCEF)                       2.51.0
55 Joseph Taddeucci (Vitamin Cottage Cycl)          2.51.5
56 Joe DePaemelaere (Denver Boulder Couri)          2.51.6
57 Mike Sutter (GS CIAO / Al?s Barbe)               2.52.3
58 Jeff Wardell (Team Louisville Cycl)              2.52.4
59 Trevor Garner (teton cyclesworks)                3.05.9
60 Lew Perna (Schwab Cycles/Torell)                 3.06.6
61 Joseph Siciliano (Team Rio Grande)               3.11.5
62 Hugh MacEachran (Schwab Cycles/Torell)           3.13.0
63 Chris Kinzler (Klein/WRC)                        3.13.9
64 Alan McCormack (Vitamin Cottage Cycl)            3.14.9
65 Steve Smith (Twin Peaks Racing Te)               3.17.4
66  Billy Masterson (Excel Sports)                  3.19.4
67 Mitch Moreman (Hassle Free Sports)               3.23.3
68 Michael Schilling (Vitamin Cottage Cycl)         3.23.4
69 Christophe Behrens (RMCEF)                       3.43.1
70 Ainslie MacEachran (Schwab Cycles/Torell)        3.47.6
71 Logan Garey (Unattached)                         3.48.4
72 James Thies (GS CIAO / Al?s Barbe)               3.49.9
73 Brian Hludzinski (Vitamin Cottage Cycl)          3.54.2
74 Joseph Pinkerton (Vitamin Cottage Cycl)          3.54.4
75 Michael Gibson (RMCEF)                           3.54.6
 
Senior Women Pro 123
 
1 Kimberly Bruckner (T-Mobile)                     17.49.4
2 Katrina Grove (RONA)                              2.04.0
3 Kelli Emmett                                      2.47.4
4 Ann Trombley (Excel Sports)                       2.54.5
5 Allison Lusby (Unattached)                        3.01.9
6 Carla Flores (Lakewood Racing Team)               3.03.7
7 Maatje Benassi (Excel Sports)                     3.03.9
8 Teri Cady (Colorado Velo - Denv)                  3.06.5
9 Stacey Quesada (Unattached)                       3.10.9
10 Heather Armstrong (Colorado Velo - Denv)         3.15.8
11 Renee Eastman (Vitamin Cottage Cycl)             3.36.5
12 Martha Meyer (Vitamin Cottage Cycl)              3.47.0
13 Anne Lannan (Sports Garage/Titus)                3.57.1
14 Jennifer Martin (La Forza)                       4.07.8
15 Cathy Egleston (Colorado Velo - Denv)            4.36.9
16 Lisa Matlock                                     4.37.0
17 Jenner Yaeso (Vitamin Cottage Cycl)              4.42.2
18 Lara Kroepsch (T-Mobile)                         4.46.4
19 Elizabeth Fisk (Colorado Velo - Denv)            5.00.5
20 Day McCarthy-CarrinMeganOne                      5.03.3
21 Jamisony Jamisony (Valdoro Mountain Lod)         5.04.0
22 Monique Rodenburgh (La Forza)                    5.08.7
23 Rachel Couch (America's Dairyland)               5.09.8
24 Jilayne Lovejoy (Excel Sports)                   5.17.5
25 Shannon Tupa (Tokyo Joe?s)                       5.26.1
26 Mary Schuette (AST Cycling Team)                 5.27.3
27 Martha Pomares (Rocky Mountain Road)             5.34.5
28 Danielle Haulman (RMCEF)                         5.38.0
29 Brenda Merritt (Optic Nerve/Lee?s Cy)            5.49.2
30 Deanna Huff (La Forza)                           5.56.0
31 Kate Gracheck (Unattached)                       5.56.7
32 Lauren Heilig (Colorado Velo - Denv)             5.58.4
33 Laura Danley (Team Rio Grande)                   6.22.2
34 Sharon Allpress (Colorado Velo - Denv)           6.46.8
35 Kathy Judson (Christiancycling.com)              8.38.6
 
Junior Women 15-18
 
1 Brett Dollar (Y-Riders)                          24.34.8
 
Junior Women 10-14
 
1 Madeline Hack (Christiancycling.com)             25.41.2
2 Hannah Hausman (Unattached)                       1.07.1
3 Kaitlyn Hack (Christiancycling.com)               2.46.3
4 Hannah Summerhill (RMCEF)                         7.23.9
5 Katie Olwin (RMCEF)                               9.00.7
 
Junior Men 15-18
 
1 Daniel Summerhill (RMCEF)                        18.17.2
2 Bryce Lawson (Century Tel/VRAD)                   0.52.0
3 Will Flanagan (Front Rangers Cyclin)              1.05.2
4 Joshua Smith (Century Tel/VRAD)                   1.28.3
5 Julian Kyer (Pro Peloton Racing)                  1.44.3
6 Waid Wynn (Front Rangers Cyclin)                  2.02.8
7 Sam Antoine (RMCEF)                               2.16.1
8 Clint Mitchell (Front Rangers Cyclin)             2.21.7
9 Jarred Border (Ridgeview Cycling)                 2.23.5
10 Aubrey Miller (Peloton Cycles)                   2.33.2
11 Andrew Simms (RMCEF)                             3.27.0
12 Victor Leos                                      3.28.3
13 Gabriel Bershenyi (Front Rangers Cyclin)         3.30.1
14 Cameron Payne (Lakewood Racing Team)             3.33.0
15 Tyler Gallup (North Metro Cycling)               4.04.6
16 Carter Spencer (Team Ironclad)                   4.43.5
17 Javier Rodriguez (Ridgeview Cycling)             4.58.8
18 Anderson Tim                                     5.05.3
19 Jeremy Long (Front Rangers Cyclin)               5.35.9
20 Michael Simms (Ridgeview Cycling)                6.15.8
21 Harry Morgan (Ridgeview Cycling)                 8.23.3
22 Andrew Flores (Ridgeview Cycling)               12.11.8
23 Steve Worsley (Ridgeview Cycling)               23.05.5
 
Junior men 10-14
 
1 Ty Olwin (RMCEF)                                 23.23.8
2 Davis Balgley (RMCEF)                             0.49.2
3 Jeremy Erbsen (RMCEF)                             2.22.4
4 Connor Simmons (RMCEF)                            2.44.7
5 Cody Lineberger (Rocky Mountain Road)             3.39.3
6 Jon Anderson (Team Rio Grande)                    5.24.1
 
Womens 4/35+
 
1 Jodi Cole (Valdoro Mountain Lod)                 21.32.4
2 Trish Heisdorffer (Klein/WRC)                     0.15.8
3 Kristin Downs                                     0.16.2
4 Karen Dlouhy (La Forza)                           0.37.8
5 Susan Einberger (Boulder Women?s Cycl)            1.09.2
6 Sarah Levy (Team Rio Grande)                      1.13.3
7 Pam Leamons (La Forza)                            1.15.4
8 Valerie Poulin                                    1.17.4
9 Heather Bretz (Klein/WRC)                         1.22.3
10 Kathy Zawadski (La Forza)                        1.23.3
11 Zimeklisy Zimeklisy                              1.52.3
12 Shan Wo (Colorado Velo - Denv)                   1.55.5
13 Howe Beaudoin (DenLakewood Racing Team)          2.15.9
14 Melissa Arthur (Colorado Velo - Denv)            2.16.2
15 Karin Barclay (Tokyo Joe?s)                      2.24.0
16 Jennifer Drake                                   2.31.0
17 Michelle Miller                                  2.39.3
18 Nancy Fox (La Forza)                             2.44.4
19 Ashley Ooley (Team Rio Grande)                   2.46.4
20 Catherine Chalecki                               2.47.4
21 Patricia Palmer (SEAR/Cont'l Homes-Ca)           3.03.5
22 Susan Hooks (Valdoro Mountain Lod)               4.01.8
23 Vickie Marlatt (Peloton Cycles)                  4.02.9
24 Luisa Sullivan                                   4.36.1
25 Kristina Beebe (Unattached)                            
 
Senior Men 55+
 
1 Lawrence Bosch (GS Boulder Masters C)            20.11.3
2 Bill Coffin (GS Boulder Masters C)                1.12.3
3 David Mulica (Red Rocks Velo)                     1.22.7
4 Bob Rubino (Co. Bicycle Racing S)                 1.48.6
5 David Chrislip (Swift Cycling)                    2.01.3
6 Rick Abbott (Team Louisville Cycl)                2.03.5
7 Bradley Snyder (Pro Peloton Racing)               2.03.9
8 Bernie Lieff                                      2.11.8
9 Stephen Bennett (SEAR/Cont'l Homes-Ca)            2.45.3
10 Jim Dlouhy (Team Louisville Cycl)                2.58.4
11 Edmund Scholes (Lakewood Racing Team)            3.06.7
12 Wayne Boyles (Team Rio Grande)                   3.10.3
13 Carl Reed (Team Rio Grande)                      3.11.2
14 Gregory Jones-Albrecht (Colorado Velo - Denv)    3.52.9
15 Jerry McIntosh (Team Rio Grande)                 3.56.9
16 Richard Elliott (Christiancycling.com)           4.02.2
17 John Burris (Team Louisville Cycl)               5.12.2
 
Senior Mens 45+
 
1 Jimi Gibson (Simple Green)                       18.43.6
2 Peter Marshall (Simple Green)                     0.07.9
3 Gary Thacker (Team Louisville Cycl)               0.24.3
4 Brad Olwin (Schwab Cycles/Torell)                 0.40.1
5 Joe Carcich (Eastside Wheelmen)                   0.43.0
6 Robin Gregory (Schwab Cycles/Torell)              0.46.0
7 Barry Messmer (GS Boulder Masters C)              0.48.8
8 Mike Danaher (Co. Bicycle Racing S)               0.58.1
9 William Kellagher (Simple Green)                  0.58.9
10 Robert Bieterman (Simple Green)                  1.02.1
11 Robert Balgley (Schwab Cycles/Torell)            1.02.5
12 Bruce Hodgkins (Excel Sports)                    1.05.7
13 David Kruger (Simple Green)                      1.05.8
14 Steven Worley (GS Boulder Masters C)             1.08.6
15 William Simmons (GS Boulder Masters C)           1.09.7
16 Paul Mack (GS Boulder Masters C)                 1.31.4
17 Dennis Haberkorn (GS Boulder Masters C)          1.44.8
18 Brook Watts (Team ProCycling/Fuji)               1.49.9
19 Steve Riggle (Unattached)                        1.51.1
20 Chris Beaudin                                    1.56.1
21 Chip Chilson (Unattached)                        2.29.7
22 William Mills (Red Rocks Velo)                   2.41.0
23 Dave Sherrer (Unattached)                        2.41.9
24 John DeSisto (Unattached)                        2.51.6
25 Michael Spak (Lakewood Racing Team)              2.58.0
26 Larry Cornman (GS CIAO / Al?s Barbe)             2.58.3
27 Ken Reardon (Team Rio Grande)                    3.02.5
28 Ken Brecheisen (Rocky Mountain Road)             3.11.0
29 Kevin Reichlin (Pro Peloton Racing)              3.12.8
30 Brian Meadows (Lakewood Racing Team)             3.34.5
31 Paul Bauersfeld (Swift Cycling)                  3.50.1
32 Mark Flolid (Swift Cycling)                      3.52.1
33 Bruce Schwab (Lakewood Racing Team)              3.57.3
34 Curtis Summers (Swift Cycling)                   4.28.9
35 David Balaban (Unattached)                       4.34.1
36 Tim Anderson (Team Rio Grande)                   5.26.5
 
Senior Mens 35+
 
1  Michael Carter (Colorado Velo - Denv)           17.25.4
2 Tomas Adamec (Unattached)                         1.09.7
3 Charlie Hayes (Excel Sports)                      1.14.9
4 Danny Sullivan (Red Rocks Velo)                   1.19.6
5 Tim Godby (Team Louisville Cycl)                  1.31.3
6 Karl Kiester (Team ProCycling/Fuji)               1.36.6
7 Dennis Farrell (Red Rocks Velo)                   1.40.4
8 Don Williams (Colorado Velo - Denv)               1.49.8
9 Eric Ray (Swift Cycling)                          1.53.8
10 Franck Abate (Valdoro Mountain Lod)              1.58.4
11 Koenig Tom                                       1.59.5
12 Eric Anderson (GS Boulder Masters C)             2.02.0
13 Mike Hogan (Team Louisville Cycl)                2.04.9
14 Michael Kingery (Valdoro Mountain Lod)           2.05.9
15 Roger Cox (Valdoro Mountain Lod)                 2.06.1
16 Cary Gold (Unattached)                           2.11.6
17 Steve Stewart (Excel Sports)                     2.13.1
18 Robert Pinkerton (Vitamin Cottage Cycl)          2.14.1
19 Evan Wasserman (Red Rocks Velo)                  2.17.7
20 John Cotton (Eastside Wheelmen)                  2.34.2
21 Greg Finnoff (Team Rio Grande)                   2.36.2
22 Brian Hannon (Sports Garage/Titus)               2.44.1
23 Shane Roark (Pro Peloton Racing)                 2.47.9
24 Brian Todeschini (GS Boulder Masters C)          3.06.6
25 Bob Dahl (Valdoro Mountain Lod)                  3.15.3
26 Ted Zenzinger (Red Rocks Velo)                   3.15.9
27 Drew Geer (GS Boulder Masters C)                 3.17.9
28 Mike Moher (Beaver Creek Resort)                 3.20.7
29 Rob Salcido (Simple Green)                       3.20.9
30 Christophe Schmidt (Colorado Velo - Denv)              
31 John Talley (GS Boulder Masters C)               3.22.6
32 Dan Miller (Unattached)                          3.33.7
33 John Ortega (Simple Green)                       3.34.1
34 Eric Sorenson                                    3.40.5
35 Tim Elebaut (GS Boulder Masters C)               3.43.5
36 Derrick Nickel                                   4.00.0
37 Bill Johnson (Unattached)                        4.10.1
38 Kurt Tuggle (Unattached)                         4.13.1
39 Ronald Weber (Red Rocks Velo)                    4.30.7
40 Dean Mason (Vitamin Cottage Cycl)                4.38.2
41 Jr Donald Spence (Team Rio Grande)               4.45.9
42 Rex Engelking (Unattached)                       4.52.1
43 Derek Hayes (Swift Cycling)                      5.43.9
 
Senior Mens 4
 
1 Curt Chesney                                     18.06.1
2 Alex Coelho (Team Rio Grande)                     0.06.3
3 Daniel McKinnon (Denver Boulder Couri)            0.24.6
4 Dave Harber (Acme Racing)                         0.36.3
5 Andrew Phillips (Unattached)                      0.38.6
6 Jonathan Fidelak (Team Louisville Cycl)           0.39.7
7 Jose Garcia (Unattached)                          0.41.4
8 James Sharpe (Trek Racng Team)                    0.43.9
9 Luke Jay                                          0.48.5
10 Greg Anderson                                    0.55.0
11 Vincent Chavanon (Team Procycling/Fuji)          0.58.0
12 Dan Mellish (Team Louisville Cycl)               0.58.1
13 Joseph Brenner (Red Rocks Velo)                  1.01.3
14 Chad Coffman (Unattached)                        1.03.8
15 Jorge Rodriguez (Unattached)                     1.10.4
16 David Bertino (Vitamin Cottage Cycl)             1.13.5
17 Jack Lavier (Optic Nerve/Lee?s Cy)               1.14.2
18 Dustin Jackson (Haul?n Ass Racing Te)            1.16.0
19 Jake Lueckel                                     1.17.1
20 Kent Evans (Eastside Wheelmen)                   1.23.1
21 Tim Miller (Jamba Juice/Fuji)                    1.26.0
22 Todd Haavind (Haul?n Ass Racing Te)              1.26.2
23 Bob Green (FCCC- Lee?s Cyclery)                  1.28.7
24 David Shafter                                    1.29.3
25 Simon Alexander (Haul?n Ass Racing Te)           1.32.7
26 Brian Woltman (Team Louisville Cycl)             1.33.4
27 Sean Steeves (Swift Cycling)                     1.34.7
28 Peter Ismert (Lakewood Racing Team)              1.37.7
29 Matthew Clark (GS Boulder Cycling)               1.38.9
30 Eric Truman (Haul?n Ass Racing Te)               1.39.8
31 Steve Gabbard (Swift Cycling)                    1.41.5
32 Charles Corbin (Colorado Velo - Denv)            1.43.4
33 Charles Schuster                                 1.44.3
34 Eric Ramirez                                           
35 Mark Huang (Team Rio Grande)                     1.47.1
36 Leroy Matticks                                   1.47.2
37 Noah Keeney (Amos Cycling Team)                  1.47.3
38 Craig Belville (Haul?n Ass Racing Te)            1.47.4
39 Jason Cherry (SEAR/Cont?l Homes-Ca)              1.52.8
40 Randy Sutton (Unattached)                        1.55.8
41 Lance Miller (Jamba Juice/Fuji)                  1.58.1
42 Jason Riley                                      1.58.2
43 Christoph Marr (e FCCC- Lee?s Cyclery)           1.58.3
44 James Todd (Vitamin Cottage Cycl)                2.02.0
45 Jerome Contro (Rocky Mounts Racing)              2.03.4
46 Federico Medina                                  2.06.7
47 Jeffrey Knutsen (Rocky Mounts Racing)            2.08.6
48 Zachary Jones (Rocky Mountain Road)              2.08.8
49 Chaz Teplin (Swift Cycling)                      2.20.1
50 James Anderson (Team Rio Grande)                       
51 Jeremy Gebben (Unattached)                       2.21.9
52 Alan Enos (Rocky Mountain Athle)                 2.22.9
53 John Barclay (Tokyo Joe?s)                       2.24.8
54 Joe Passalacqua (Swift Cycling)                  2.27.6
55 Michael Farrell (Team ProCycling/Fuji)           2.30.8
56 Steve Loewenkamp (Optic Nerve/Lee?s Cy)          2.35.1
57 Stuart Kroonenberg (Colorado Velo - Denv)        2.35.2
58 Davis Glasscock (Team Rio Grande)                2.35.6
59 Bill Hanson (North Metro Cycling)                2.37.0
60 Morgan Adams (Unattached)                        2.39.1
61 Michael Harding (Unattached)                     2.39.3
62 Nate Johnson (Unattached)                        2.39.7
63 Scott Hoffman                                    2.43.7
64 Andrew Kurzon (Vitamin Cottage Cycl)             2.46.0
65 Jay Pawlak (Swift Cycling)                       2.48.1
66 Ryan Belew (Unattached)                          2.51.9
67 dan schuetz                                      2.54.7
68 Ethan Harris (Unattached)                        2.55.1
69 Todd Robertson (Unattached)                      2.57.1
70 Rezac Jay                                        3.03.5
71 David Harrison (Haul?n Ass Racing Te)            3.06.1
72 Craig Walker (FCCC- Lee?s Cyclery)               3.08.4
73 Doug Walter                                      3.19.9
74 Eric Peltier (Unattached)                        3.20.9
75 Stephen Paschke (Co. Bicycle Racing S)           3.22.5
76 Pieter Schouten (Jamba Juice/Fuji)               3.29.6
77 Brett Batchelder (Unattached)                    3.30.1
78 Ken Wilhelm (FCCC- Lee?s Cyclery)                3.30.2
79 Alan Christie (Pro Peloton Racing)               3.32.3
80 Ward Baker                                       3.32.4
81 Collin Knaub (Rocky Mounts Racing)               3.34.4
82 Doug Gilkey (pbr)                                3.35.8
83 Lane Miller (Team Louisville Cycl)               3.37.5
84 Tom McKinnon (Swift Cycling)                     3.38.4
85 Christoph Kramp (e Swift Cycling)                3.39.4
86 Mark Norman (SEAR/Cont?l Homes-Ca)               3.41.4
87 Noah Podolefsky (Acme Racing)                    3.43.0
88 Kramer Bryan                                     3.50.0
89 Christophe Cleavelin (Vitamin Cottage Cycl)      3.51.0
90 Ashley Sabados (Red Rocks Velo)                  3.53.9
91 Garrett Ellwood (Team Evergreen)                 3.54.0
92 Shawn Ciaramitaro (Unattached)                   3.54.8
93 Brad Thomas                                      4.00.7
94 Thomas Witman (SEAR/Cont?l Homes-Ca)             4.05.2
95 Scott Walmsley (FCCC- Lee?s Cyclery)             4.06.7
96 Jim Jennings                                     4.07.9
97 Eric Miller (Rocky Mountain Road)                4.17.8
98 Chris Ewing (Rocky Mountain Road)                4.21.5
99 Paul Martinez (Ridgeview Cycling)                4.27.7
100 Shawn Bandel (Amos Cycling Team)                4.31.7
101 Kyohsuke Iida                                   4.40.3
102 Clay Tidwell (Rocky Mountain Road)              4.41.3
103 Daniel Franklin (GS CIAO / Al?s Barbe)          4.41.4
104 Ed Messman (Rocky Mounts Racing)                5.01.8
105 Wade Dollar                                     5.05.6
106 Pete Mohr (Unattached)                          5.15.1
107 Ryan Reel (North Metro Cycling)                 5.17.8
108 Scott Tanner                                    5.31.2
109 Paul Long                                       6.12.1
110 Jamie Miller (Unattached)                       6.27.3
111 Peyman Razifard                                 7.02.5
 
Senior Mens 3
 
1 Greg Krause (Bike Source Multispo)               17.19.3
2 Peter Stetina (TIAA-CREF/5280)                    0.22.9
3 Tom Zirbel (Amos Cycling Team)                    0.31.6
4 Brian Hutchison (FCCC- Lee?s Cyclery)             0.31.9
5 Joshua Puyear (Unattached)                        0.32.2
6 Eric Jones (Colorado Velo - Denv)                 0.34.5
7 Jack Swift (Red Rocks Velo)                       0.38.5
8 Craig Wu (Vitamin Cottage Cycl)                   0.40.5
9 Alex Howes (TIAA-CREF/5280)                       0.44.0
10 Andrew Kulmatiski                                0.46.1
11 Corey Colyer                                     0.46.2
12 Dan Porter (Team Rio Grande)                     0.46.6
13 Neal Henderson (GS CIAO / Al?s Barbe)            0.55.9
14 Derek Strong (Haul?n Ass Racing Te)              1.00.3
15 Scott Nydam (Totally Wired)                      1.03.4
16 Andy Johnson (Red Rocks Velo)                    1.05.8
17 Andrew Bettinger (Jamba Juice/Fuji)              1.06.0
18 Bill Stalhuth (Pro Peloton Racing)               1.09.8
19 Scott Tietzel (GS CIAO / Al?s Barbe)             1.11.3
20 Timothy Bauer (Vitamin Cottage Cycl)             1.12.0
21 Kevin Cawley                                     1.13.2
22 Seth Rubin (Team Mobile Cyclery)                 1.13.9
23 Braden Kappius (TIAA-CREF/5280)                  1.16.0
24 Rowdy Clagg (Swift Cycling)                      1.16.7
25 Ewan deFreitas                                         
26 Mike Fallon (Team Louisville Cycl)               1.20.1
27 Samuel Freeman (Acme Racing)                     1.22.5
28 Nicholas Cady (Team Louisville Cycl)             1.24.4
29 Matson Tew (Rocky Mounts Racing)                 1.24.7
30 Graeme Galyer (Denver Boulder Couri)             1.26.8
31 Courtney Guck (FCCC- Lee?s Cyclery)              1.32.7
32 Stephen Iles (Amos Cycling Team)                 1.32.9
33 Bob Weiner (Red Rocks Velo)                      1.38.9
34 Jimmy Archer                                     1.43.8
35 Eric Liprandi (Team Rio Grande)                  1.45.1
36 Aaron Gallardo (Vitamin Cottage Cycl)            1.45.7
37 Bryan Bergman (Specialized/Turin)                      
38 Danny Suter (Swift Cycling)                      1.51.9
39 Jeff Ofsanko (Swift Cycling)                     1.55.4
40 Mark Adams (Haul?n Ass Racing Te)                1.58.3
41 Jeff Vibert (Unattached)                         1.58.9
42 Matthew Edwards (Haul?n Ass Racing Te)           1.59.7
43 Ben Truitt (SEAR/Cont?l Homes-Ca)                2.00.3
44 Doug Johnson (Excel Sports)                      2.02.7
45 Russell Kappius (Tokyo Joe's)                    2.06.3
46 John Paul Robb (Vitamin Cottage Cycl)            2.08.2
47 Andrew Goodwillie (Haul?n Ass Racing Te)         2.11.6
48 Randall Gilleon (GS Boulder Cycling)                   
49 Louis Brescia (FCCC- Lee?s Cyclery)              2.14.1
50 Brent Webb (Christiancycling.com)                2.17.1
51 Drew Illman                                      2.17.3
52 Michael Koenig                                   2.26.0
53 Jarrett Kennedy                                  2.28.4
54 Emil Marinov (Vitamin Cottage Cycl)              2.28.9
55 Nathan Drake (Techniques Cycling T)              2.29.3
56 Mark Thompson (Team ProCycling/Fuji)             2.30.7
57 Kris Lathrop (Amos Cycling Team)                 2.33.2
58 Rob Schow (Valdoro Mountain Lod)                 2.36.3
59 Barry Schmidt (FCCC- Lee?s Cyclery)              2.39.5
60 Cashion Smith (Amos Cycling Team)                2.42.7
61 John Miller (Denver Boulder Couri)               2.43.8
62 John Shippey (GS CIAO / Al?s Barbe)              2.48.2
63 Mark Agcaoili (Amos Cycling Team)                2.48.7
64 Thomas Hopson (GS Boulder Cycling)               2.49.6
65 William Culpepper (GS Boulder Cycling)           2.49.8
66 Ryan Luttrell (TIAA-CREF/5280)                   2.51.5
67 Daniel Almanzan                                  2.54.7
68 Andrew Stokes (Optic Nerve/Lee?s Cy)             2.56.6
69 John Gaensbauer (Vitamin Cottage Cycl)           2.57.5
70 Matthew Opperman (Pro Peloton Racing)            2.57.9
71 Robert Darrow (Red Rocks Velo)                         
72 Greg Seethaler (Twin Peaks Racing Te)            3.02.7
73 Kevin Krajewski (Colorado Velo - Denv)           3.09.4
74 CJ Gauss (GS CIAO / Al?s Barbe)                  3.11.5
75 Diran Ayandele (Unattached)                      3.15.8
76 Paul Leichtle (Jamba Juice/Fuji)                 3.17.5
77 Michael Bates (Unattached)                       3.22.1
78 Jeromy Vigil (Team Rio Grande)                   3.28.6
79 David Almanzan                                   3.29.7
80 John Drake (Red Rocks Velo)                      3.30.2
81 Chad Taylor (Vitamin Cottage Cycl)               3.30.7
82 Robert Love                                      3.40.7
83 James Herbert (Jamba Juice/Fuji)                 3.50.5
84 Ryan Dibble (Swift Cycling)                      3.50.8
85 David Gladstone (Trek Racing)                    3.54.6
86 John Leybourne (SEAR/Cont'l Homes-Ca)            3.55.8
87 Charles Panaccione (Valdoro Mountain Lod)        4.01.9
88 William Carroll (Jamba Juice/Fuji)               4.16.0
89 Jeff Oakey (GS CIAO / Al?s Barbe)                4.30.1
90 Peter Quesada (Lakewood Racing Team)             4.35.1
91 Joe Sullivan (Vitamin Cottage Cycl)              4.38.1
92 Bradley Rolf (Unattached)                        4.38.8
93 Andrew Couch (Rocky Mounts Racing)               4.49.3
94 Fuller Bob                                       5.41.8