36th Memorial Samyn - 1.3
Fayt-le-Franc, Belgium, March 3, 2004
2003 Results Results Past winners
McEwen wins Memorial Samyn
Robbie McEwen (Lotto-Domo)
Photo ©: AFP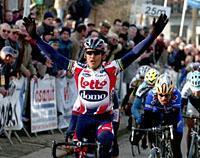 Robbie McEwen has oiled the wheels of the Lotto-Domo machine by winning the 36th Memorial Samyn (GP Fayt-le-Franc) in the Belgian province of Hainaut. McEwen won in a bunch sprint, beating Ludovic Capelle (Landbouwkrediet-Colnago) and Jans Koerts (Chocolade Jacques) across the line.
The race was ridden in excellent conditions, with sunny blue skies and warmer weather than Belgium has experienced in the past few weeks. Early on Chris Peers (Chocolade Jacques) attacked at the 16 kilometre mark, taking Hayden Roulston (Cofidis) and Jean-Michel Tessier (Oktos) with him. The trio managed to gain up to six minutes lead, but the Lotto team turned on the gas in the finishing circuits and reeled them in.
Robbie McEwen (Lotto-Domo)
Photo ©: AFP

A subsequent move by Dave Bruylandts (Chocolade Jacques) failed and the race finished in an uphill bunch sprint. Robbie McEwen was the quickest, and had plenty of time to raise his arms before he crossed the line ahead of Capelle and Koerts. "I've already crashed three times this year, now I've also won for the third time," said McEwen.
"It could have gone differently," added McEwen. "If the other teams had have worked with us it would have been a lot easier. But OK, for us this is a small revenge after the opening weekend. We also realised that it couldn't go any further. Thus this has done us a lot of good."
Photography
Images by AFP Photo
Results - 184 km
1 Robbie McEwen (Aus) Lotto-Domo                       4.31.00 (40.738 km/h) 
2 Ludovic Capelle (Bel) Landbouwkrediet-Colnago
3 Jans Koerts (Ned) Chocolade Jacques-Wincor Nixdorf
4 Saulius Ruskys (Ltu) Oktos-Saint Quentin
5 Michel Van Haecke (Bel) MrBookmaker.com-Palmans
6 Roger Hammond (GBr) MrBookmaker.com-Palmans
7 James Vanlandschoot (Bel) Relax-Bodysol
8 Ciaran Power (Irl) Navigators Insurance Cycling Team
9 Jimmy Engoulvent (Fra) Cofidis, Le Crédit par Téléphone
10 Pieter Mertens (Bel) Vlaanderen-T Interim
11 Franck Pencole (Fra) Oktos-Saint Quentin
12 Philippe Gilbert (Bel) FDJeux.com
13 Bert Hiemstra (Ned) Chocolade Jacques-Wincor Nixdorf
14 Gerben Löwik (Ned) Chocolade Jacques-Wincor Nixdorf
15 Mathew Hayman (Aus) Rabobank
16 Lénaïc Olivier (Fra) Auber 93
17 Kevin De Weert (Bel) Rabobank
18 Johan Coenen (Bel) MrBookmaker.com-Palmans
19 Bert Roesems (Bel) Relax-Bodysol
20 Peter Farazijn (Bel) Cofidis, Le Crédit par Téléphone
21 Niels Scheuneman (Ned) Relax-Bodysol
22 Stefan Van Dijk (Ned) Lotto-Domo                       0.07
23 Dave Bruylandts (Bel) Chocolade Jacques-Wincor Nixd    0.11
24 Geert Van Bondt (Bel) Landbouwkrediet-Colnago
25 Aart Vierhouten (Ned) Lotto-Domo                       0.15
26 Christophe Detilloux (Bel) Lotto-Domo
27 Serge Baguet (Bel) Lotto-Domo                          0.23
28 Rik Reinerink (Ned) Chocolade Jacques-Wincor Nixdor    0.27
29 Staf Scheirlinckx (Bel) Cofidis, Le Crédit par Téléphone
30 Kurt Hovelynck (Bel) Jong Vlaanderen 2016
31 Vassili Davidenko (Rus) Navigators Insurance Cycling Team
32 Stijn Vanstraelen (Bel) Flanders-Afin.com
33 Loïc Lamouller (Fra) Auber 93
34 Jos Lucassen (Ned) AXA Cycling Team
35 Christoph Roodhooft (Bel) MrBookmaker.com-Palmans
36 Sjef De Wilde (Bel) Jong Vlaanderen 2016
37 Maxim Gourov (Kaz) Oktos-Saint Quentin
38 Renaud Dion (Fra) R.A.G.T Semences-MG Rover
39 Sven Renders (Bel) Jong Vlaanderen 2016
40 Roy Curvers (Ned) Van Hemert-Eurogifts
41 Pieter Uytterhoeven (Bel) Jong Vlaanderen 2016
42 Tristan Valentin (Fra) Auber 93
43 Nicolas Reynaud (Fra) R.A.G.T Semences-MG Rover
44 Frederik Willems (Bel) Vlaanderen-T Interim
45 Frédéric Finot (Fra) R.A.G.T Semences-MG Rover
46 Bart Dockx (Bel) Relax-Bodysol
47 Christophe Laurent (Fra) R.A.G.T Semences-MG Rover
48 Thorwald Veneberg (Ned) Rabobank
49 Frank Van Dulmen (Ned) BankGiroLoterij
50 John Nilsson (Swe) Auber 93
51 Yuri Mitlushenko (Ukr) Landbouwkrediet-Colnago
52 Jeroen Blijlevens (Ned) BankGiroLoterij
53 Nico Eeckhout (Bel) Lotto-Domo
54 Ronald Mutsaars (Ned) Rabobank
55 Jelle Van Groezen (Ned) Van Hemert-Eurogifts
56 Geert Verheyen (Bel) Chocolade Jacques-Wincor Nixdorf
57 Laurens Ten Dam (Ned) BankGiroLoterij
58 Erwin Thijs (Bel) MrBookmaker.com-Palmans
59 Benny De Schrooder (Bel) Vlaanderen-T Interim
60 Paul Van Schalen (Ned) AXA Cycling Team
61 Andrey Mizourov (Kaz) Oktos-Saint Quentin
62 Marvin Van Der Pluijm (Ned) Van Hemert-Eurogifts
63 Jeff Louder (USA) Navigators Insurance Cycling Team
64 Yannick Talabardon (Fra) Auber 93
65 Lars Ytting Bak (Den) BankGiroLoterij
66 Kirk O'Bee (USA) Navigators Insurance Cycling Team
67 Bert Scheirlinckx (Bel) Flanders-Afin.com
68 Ludovic Auger (Fra) Auber 93
69 Nico Sijmens (Bel) Landbouwkrediet-Colnago
70 Chris Peers (Bel) Chocolade Jacques-Wincor Nixdorf
71 Ludo Dierckxsens (Bel) Landbouwkrediet-Colnago
72 Marco Bos (Ned) BankGiroLoterij
73 Bert De Waele (Bel) Landbouwkrediet-Colnago
74 Christophe Brandt (Bel) Lotto-Domo
75 Addy Engels (Ned) BankGiroLoterij
76 Robert Bartko (Ger) Rabobank
77 Preben Van Hecke (Bel) Relax-Bodysol
78 Steven De Neef (Bel) Jong Vlaanderen 2016
79 Frederik Veuchelen (Bel) Vlaanderen-T Interim
80 Thierry Marichal (Bel) Lotto-Domo
81 Gilles Bouvard (Fra) R.A.G.T Semences-MG Rover
82 Bart Voskamp (Ned) Chocolade Jacques-Wincor Nixdorf
83 Geert Omloop (Bel) MrBookmaker.com-Palmans
84 Jan Van Velzen (Ned) Chocolade Jacques-Wincor Nixdorf
85 Jef Peeters (Bel) Vlaanderen-T Interim
86 Phil Zajicek (USA) Navigators Insurance Cycling Team
87 Sylvain Calzati (Fra) Oktos-Saint Quentin
88 Christophe Edaleine (Fra) Cofidis, Le Crédit par Téléphone
89 Arthur Farenhout (Ned) AXA Cycling Team
90 Leon Van Bon (Ned) Lotto-Domo
91 Matthé Pronk (Ned) BankGiroLoterij
92 Luke Roberts (Aus) Team ComNet-Senges
93 Kenny Robert Van Hummel (Ned) Van Hemert-Eurogifts
94 Peter Möhlmann (Ned) AXA Cycling Team
95 Jeroen Boelen (Ned) Van Hemert-Eurogifts
96 Hans Dekkers (Ned) Rabobank
97 Niek Voskamp (Ned) AXA Cycling Team
98 Tjarco Cuppens (Ned) Team ComNet-Senges
99 Johnny Hoogerland (Ned) Van Hemert-Eurogifts
100 Kevin Van Der Slagmolen (Bel) Vlaanderen-T Interim
101 Wouter Van Mechelen (Bel) Vlaanderen-T Interim
102 Andries Verspeeten (Bel) Jong Vlaanderen 2016
103 Arno Wallaard (Ned) AXA Cycling Team
104 Aron Huysmans (Bel) Jong Vlaanderen 2016
105 Stefan Cohnen (Ned) Team ComNet-Senges
106 Kristof Trouve (Bel) MrBookmaker.com-Palmans
107 Thierry Masschelein (Bel) Flanders-Afin.com
108 Roel Paulissen (Bel) Jong Vlaanderen 2016
109 Ivaïlo Gabrovski (Bul) Oktos-Saint Quentin
110 Corey Sweet (Aus) Team ComNet-Senges
111 Mark Walters (Can) Navigators Insurance Cycling Team
112 David McKenzie (Aus) Navigators Insurance Cycling Team
113 Robert Retschke (Ger) Team ComNet-Senges
114 Gorik Gardeyn (Bel) Lotto-Domo


Past winners
2003 Stefan van Dijk (Ned) Lotto-Domo        
2002 Magnus Backstedt (Swe) Team fakta
2001 Kris Gerits (Bel) Vlaanderen-T Interim
2000 Frank Hoj (Den) 
1999 Thierry Marichal (Bel)
1998 Ludovic Auger (Fra)
1997 Michel Van Haecke (Bel)
1996 Hans De Meester (Bel)
1995 (3) Johan Capiot (Bel)
1994 (2) Johan Capiot (Bel)
1993 Wil-fried Nelissen (Bel)
1992 Johan Capiot (Bel)
1991 Johnny Dauwe (Bel)
1990 (2) Hendrik Redant (Bel)
1989 Hendrik Redant (Bel)
1987 Claude Criquielion (Bel)
1986 Patrick Onnockx (Bel)
1985 Ronny Van Holen (Bel)
1984 Daniel Rossel (Bel)
1983 Jac Van Meer (Ned)
1982 Joseph Jacobs (Bel)
1981 Pol Verschuere (Bel)
1980 Gery Verlinden (Bel)
1979 Adri Schipper (Ned)
1978 Herman Vanspringel
1977 Michel Perin (Fra)
1976 Dirk Baert (Bel)
1975 Alain Santy (Fra)
1974 André Dierickx (Bel)
1973 Louis Verreydt (Bel)
1972 Marc De Meyer (Bel)
1971 Julien Van Lint (Bel)
1970 Ronny Van de Vijver (Bel)
1969 Herman Vrijders (Bel)
1968 José Samyn (Fra)

Past winners by Mario Stiehl, www.world-of-cycling.com