Recently on Cyclingnews.com
59th Nokere Koerse - 1.3
Belgium, March 17, 2004
2003 Results Results Past winners
Mad Max wins in Nokere
Eventual winner Max van Heeswijk (USPS-Berry Floor)
Photo ©: Gino Verhulst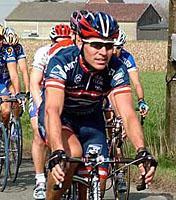 Max van Heeswijk (US Postal-Berry Floor) has won the 59th edition of the Nokere Koerse, which finished in a bunch sprint on the uphill, cobbled finish. Van Heeswijk, who will race this Saturday's Milan-San Remo, beat compatriot Rudi Kemna (BankGiroLoterij) and Jo Planckaert (MrBookmaker-Palmans), with the first 61 riders arriving in the same time.
There were 173 starters in Oudenaarde for the 59th Nokere Koerse, enjoying the warm sunshine and light wind - just a week ago it had been bitterly cold and snowing! The parcours consisted of a 45.7 km loop, including the cobbles at Mater/Kerkgate, followed by 10 laps of a 14.8 km circuit around Nokere, with a 400m/6% cobbled climb each lap.
It was a fast start to the race and the first lap was ridden in just over an hour, with Johan Vansummeren (Bodysol) and Stefan Kupfernagel (Lamonta) coming into Nokere with a 1'05 lead over the peloton. The pair stayed away for another 75 km, reaching a maximum lead of 3 minutes, before they were eventually caught at the 120 km mark.
Lotto-Domo
Photo ©: Gino Verhulst

Several counter-attacks followed, with Chris Peers (Jacques) quite prominent, but it wasn't until 45 km to go when Geoffrey Demeyere (Vlaanderen), Thorwald Veneberg and Roy Sentjens (Rabobank) and Michel Vanhaecke (MrBookmaker-Palmans) got clear. The quartet had a minute's lead going into the last lap, but a hard chase by Lotto-Domo for Robbie McEwen managed to bring them back for a bunch sprint. In the end, McEwen didn't contest the finish, leaving it to Max van Heeswijk (USPS-Berry Floor) to claim his fifth win of the season ahead of Rudi Kemna (BankGiroLoterij) and Jo Planckaert (MrBookmaker-Palmans).
Photography
Images by Gino Verhulst
Results - 193 km
1 Max Van Heeswijk (Ned) US Postal Service presented by Berry Floor  4.25.00
2 Rudi Kemna (Ned) BankGiroLoterij
3 Jo Planckaert (Bel) MrBookmaker.com-Palmans
4 Gerben Löwik (Ned) Chocolade Jacques-Wincor Nixdorf
5 James Vanlandschoot (Bel) Relax-Bodysol
6 Jimmy Casper (Fra) Cofidis, Le Crédit par Téléphone
7 Kurt Hovelynck (Bel) Jong Vlaanderen 2016
8 Jeremy Hunt (GBr) MrBookmaker.com-Palmans
9 Ludovic Auger (Fra) Auber 93
10 Thierry Masschelein (Bel) Flanders-Afin.com
11 Staf Scheirlinckx (Bel) Cofidis, Le Crédit par Téléphone
12 Roger Hammond (GBr) MrBookmaker.com-Palmans
13 Yuri Mitlushenko (Ukr) Landbouwkrediet-Colnago
14 Roy Sentjens (Ned) Rabobank
15 Hans Dekkers (Ned) Rabobank
16 Adriaan Helmantel (Ned) APAC Cycling Team
17 Stijn Vanstraelen (Bel) Flanders-Afin.com
18 Tommy Van De Gehuchte (Bel) Jong Vlaanderen 2016
19 Arno Wallaard (Ned) AXA Cycling Team
20 Wilfried Cretskens (Bel) Quick.Step-Davitamon
21 Roy Curvers (Ned) Van Hemert-Eurogifts
22 John Nilsson (Swe) Auber 93
23 Bram Tankink (Ned) Quick.Step-Davitamon
24 Johan Verstrepen (Bel) Landbouwkrediet-Colnago
25 Mathew Hayman (Aus) Rabobank
26 Antonio Cruz (USA) US Postal Service presented by Berry Floor
27 Denys Kostyuk (Ukr) Chocolade Jacques-Wincor Nixdorf
28 Paul Van Schalen (Ned) AXA Cycling Team
29 Chris Peers (Bel) Chocolade Jacques-Wincor Nixdorf
30 Robby Meul (Bel) Jartazi Granville Team
31 Marc Lotz (Ned) Rabobank
32 Bart Dockx (Bel) Relax-Bodysol
33 Erwin Thijs (Bel) MrBookmaker.com-Palmans
34 Geert Steurs (Bel) Jong Vlaanderen 2016
35 Lénaïc Olivier (Fra) Auber 93
36 Tristan Valentin (Fra) Auber 93
37 Stijn Devolder (Bel) US Postal Service presented by Berry Floor
38 Kirk O'Bee (USA) Navigators Insurance Cycling Team
39 Maarten Den Bakker (Ned) Rabobank
40 Rik Reinerink (Ned) Chocolade Jacques-Wincor Nixdorf
41 Mark Walters (Can) Navigators Insurance Cycling Team
42 Jan Kuyckx (Bel) Vlaanderen-T Interim
43 Wouter Van Mechelen (Bel) Vlaanderen-T Interim
44 Maxime Monfort (Bel) Landbouwkrediet-Colnago
45 Guennadi Mikhailov (Rus) US Postal Service presented by Berry Floor
46 Robbie McEwen (Aus) Lotto-Domo
47 Bert Scheirlinckx (Bel) Flanders-Afin.com
48 Kristof Trouve (Bel) MrBookmaker.com-Palmans
49 Steffen Weigold (Ger) Team Lamonta
50 Siro Camponagara (Ita) Navigators Insurance Cycling Team
51 Jos Lucassen (Ned) AXA Cycling Team
52 Marvin Van Der Pluijm (Ned) Van Hemert-Eurogifts
53 Bertil Klootwijk (Ned)
54 Christoph Von Kleinsorgen (Ger) Team Lamonta
55 Peter Möhlmann (Ned) AXA Cycling Team
56 Lars Ytting Bak (Den) BankGiroLoterij
57 Jimmy Engoulvent (Fra) Cofidis, Le Crédit par Téléphone
58 Niels Scheuneman (Ned) Relax-Bodysol
59 Jurgen Van Den Broeck (Bel) US Postal Service presented by Berry Floor
60 Paul Van Hyfte (Bel) Vlaanderen-T Interim
61 Folkert De Haan (Ned) APAC Cycling Team
62 Wim Van Huffel (Bel) Vlaanderen-T Interim                             0.34
63 Kevin De Weert (Bel) Rabobank
64 Geert Omloop (Bel) MrBookmaker.com-Palmans
65 Paul Sneeboer (Ned) APAC Cycling Team
66 Hayden Roulston (NZl) Cofidis, Le Crédit par Téléphone
67 Allan Bo Andresen (Den) BankGiroLoterij
68 Ludovic Capelle (Bel) Landbouwkrediet-Colnago
69 Tomas Vaitkus (Ltu) Landbouwkrediet-Colnago
70 Bert De Waele (Bel) Landbouwkrediet-Colnago                           0.38
71 Stefan Schumacher (Ger) Team Lamonta
72 Yannick Talabardon (Fra) Auber 93
73 David McKenzie (Aus) Navigators Insurance Cycling Team
74 David Kopp (Ger) Team Lamonta
75 Leon Van Bon (Ned) Lotto-Domo
76 Loïc Lamouller (Fra) Auber 93
77 Michel Van Haecke (Bel) MrBookmaker.com-Palmans
78 Filip Meirhaeghe (Bel) Jong Vlaanderen 2016
79 Cameron Jennings (Aus) Cyclingnews.com
80 Stephen Gallagher (Irl)
81 Olivier Huysveld (Bel) Jartazi Granville Team
82 Björn Glasner (Ger) Team Lamonta
83 Laurent Dufaux (Swi) Quick.Step-Davitamon
84 Frank Dressler (Ger) Team ComNet-Senges
85 Preben Van Hecke (Bel) Relax-Bodysol
86 Francesco Planckaert (Bel) Chocolade Jacques-Wincor Nixdorf
87 Wesley Van Speybroeck (Bel) Vlaanderen-T Interim
88 Hans De Clercq (Bel) Lotto-Domo
89 Jeroen Blijlevens (Ned) BankGiroLoterij
90 Andy De Smet (Bel) MrBookmaker.com-Palmans
91 Geoffrey Demeyere (Bel) Vlaanderen-T Interim
92 Morten Hegreberg (Nor) Jartazi Granville Team
93 Gorik Gardeyn (Bel) Lotto-Domo                                        0.58
94 Jeroen Boelen (Ned) Van Hemert-Eurogifts
95 Stefan Wijnands (Bel) Jong Vlaanderen 2016
96 Ken Devaere (Bel) Jartazi Granville Team
97 Rudy Vriend (Ned) Van Vliet-EBH advocaten
98 Michael Blanchy (Bel) Chocolade Jacques-Wincor Nixdorf
99 Marc Streel (Bel) Landbouwkrediet-Colnago
100 David Breard (Fra) Auber 93
101 Jelle Van Groezen (Ned) Van Hemert-Eurogifts
102 David Harrigan (Aus) Cyclingnews.com
103 Johan Van Summeren (Bel) Relax-Bodysol
104 Nico Eeckhout (Bel) Lotto-Domo
105 Frederik Penne (Bel) Jartazi Granville Team
106 Jehudi Schoonacker (Bel) Vlaanderen-T Interim
107 Klaas De Gruyter (Bel) Jartazi Granville Team
108 Harm Bronkhorst (Ned) APAC Cycling Team
109 Maint Berkenbosch (Ned) APAC Cycling Team
110 Thorwald Veneberg (Ned) Rabobank
111 Tom Barras (GBr) Cyclingnews.com
112 Jurgen Van Goolen (Bel) Quick.Step-Davitamon
113 Kurt Van Landeghem (Bel) Van Vliet-EBH advocaten
114 Cody Stevenson (Aus) Cyclingnews.com
115 Angelo Van Melis (Ned) Van Vliet-EBH advocaten
116 Michael Schweizer (Ger) Team ComNet-Senges
117 Peter Magyarosi (Ger) Team Lamonta
118 Allan Johansen (Den) BankGiroLoterij
119 Glenn d'Hollander (Bel) Lotto-Domo
120 Kenny Robert Van Hummel (Ned) Van Hemert-Eurogifts

Starters: 173
Classified: 120


Past winners
           1st                     2nd                      3rd
2003  Matthé Pronk (Ned)      Magnus Backstedt (Swe)  Hendrik Van Dijck (Bel)
2002  Aurélien Clerc (Swi)    Jans Koerts (Ned)       Steven De Jongh (Ned)
2001  Michel Van Haecke       Bart Voskamp (Ned)      Nico Eeckhout (Bel)
2000  Hendrik Van Dyck        Nico Mattan             Jan Koerts (Ned)
1999  Jeroen Blijlevens       Michel Van Haecke       Wielfried Cretskens 
1998  Scott Sunderland (Aus)  Leon Van Bon (Ned)      Chris Peers
1997  Hendrik Van Dyck        Wim Feys                Bart Voskamp (Ned)
1996  Hendrik Van Dyck        Jelle Nydam (Ned)       Michel Cornelisse (Ned)
1995  Jo Planckaert           Michel Vermote          Geert Van Bondt
1994  Peter De Clercq         Michel Cornelisse       Chris Peers
1993  Michel Cornelisse (Ned) Jan Bogaert             Mario De Clercq 
1992  Johan Capiot            Peter De Clercq         Benjamin Van Itterbeeck
1991  Koen Van Rooy           Johan Capiot            Martin Koekelhoren (Ned)
1990  Herman Frison           Roger Vandenbossche     Filip Van Vooren
1989  Rik Van Slycke          André Mierzejewski      Peter Spanhoven
1988  Patrick Versluys        Yves Godimus            Danny Janssens
1987  Etienne De Wilde        Francky Van Oyen        Ludo Giesberts
1986  Luc Colyn               Jan Van Camp            Rony Van Holen
1985  Didier Foubert          Patrick Versluys        Jan Bogaert
1984  Jan Bogaert             Patrick Versluys        Eric Stevens
1983  Walter Schoonjans       Patrick Cocquyt         Gerald Veldschoten (Ned)
1982  William Tackaert        Ludo De Keulenaer       Rudi Matthys
1981  Gerrit Knetemann (Ned)  Herman Van Springel     Claude Criquelion
1980  Jos Van De Poel         Johan Vandevelde (Ned)  Paul Jesson (NZl)
1979  Hendrik De Vos          William Tackaert        Tony Houbrechts
1978  Gustaaf Van Roosbroeck  Jan Aling (Ned)         Jos Jacobs
1977  Frans Van Looy          Gerrit Knetemann (Ned)  Roberto Cerieto (Ita)
1976  Luc Leman               Lucien De Brauwere      Geert Malfait
1975  Marc De Meyer           Willy Teirlinck         Jan Raas (Ned)
1974  Freddy Maertens         Pierrino Gavazzi (Ita)  Ronald De Witte
1973  Noël Van Tieghem        Claude Magni (Ita       Gerard Vianen (Ned)
1972  Tony Houbrechts         Rony Van Marcke         Willy Planckaert
1971  Herman Van Springel     Eric Leman              Maurice Eyers
1970  Andre Dierick           Patrick Sercu           Bernard Van De Kerkhove 
1969  Roger Rosiers           Frans Mintjes           Michel Jacquemin
1968  Frans Brands            Roger Cooreman          Michel Jacquemin
1967  Walter Godefroot        Jacques De Boever       Roger Blockx 
1966  Jacques De Boever       Oswald De Clercq        Reindert De Jongh (Ned)
1965  Arthuur De Cabooter     Jos Mathy               Gustaaf De Smet
1964  Robert De Middeleir     Leon Van Daele          André Noyelle
1963  Frans De Mulder         Daniël Doom             Norbert Kerckbove
1961  Leon Van Daele          Jozef Vloeberghs        Gilbert Maes
1960  Gilbert De Smet         Louis Troonbeeckx       Pol Rosseel
1959  No race
1958  Arthuur De Cabooter     Gilbert Desmet          Julien Schepens
1957  André Aucquier          Pino Cerami             Francis Kemplaire
1956  Marcel Ryckaert         Roger Declerck          Lucien Mathijs
1955  Jozef Schils            Briek Schotte           Henri Denijs
1954  Jan Zagers              Roger Decock            Roger Desmet
1953  Baziel Wambeke          Rik Jochums             Julien Pascal
1952  Wim Van Est             André Pieters           Rafaël Jonckheere
1951  Gerard Buyl             Maurice Blomme          Valeer Ollivier
1950  Jules De Poortere       Roger Decock            Flander Janssens
1949  Nest Sterckx            Maurice De Simpelaere   Michel Remue
1948  Roger Cnockaert         André Declerck          Jeroom Renier
1947  Berten Sercu            Michel Remue            O. VD Meerschaut
1946  Emanuel Thoma           André Pieters           Briek Schotte
1945  Briek Schotte           Michel Remue            Desiré Keteleer
1944  Marcel Kint             Theo Middelkamp         G. Van Overloop

Past winners by Mario Stiehl, www.world-of-cycling.com