44th Brabantse Pijl - 1.2
Belgium, March 28, 2004
2003 Results Results Past winners
Paolini wins for brother-in-law Rusconi
Quick.Step double in Belgian weekend
Luca Paolini (Quick.Step-Davitamon) does it for brother-in-law Marco Rusconi
Photo ©: AFP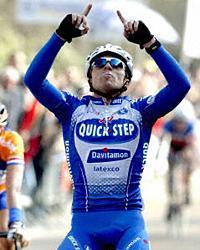 Italian Luca Paolini (Quick.Step-Davitamon) gave his team its second win of the weekend after Tom Boonen in the E3 Prijs, today winning the 44th Brabantse Pijl. Paolini was too strong for defending champion Michael Boogerd (Rabobank), taking his wheel when he attacked near the foot of the Alsemberg finishing climb and not letting it go until 200 metres to go when he sprinted round him for the win, turning the tables on the Dutchman who had beaten him last year. Boogerd had to be content with second place, his sixth podium finish in this race, while the young Nico Sijmens (Lanbouwkrediet-Colnago) had an excellent race to finish third.
As Paolini crossed the line, he pointed to the sky with both hands, signifying that the victory was for his brother-in-law Marco Rusconi, who died in November last year from a congenital heart condition. "I really wanted to win this race," said an emotional Paolini at the finish. "Last winter my wife's brother Marco passed away. I wanted to win this race for him. I am happy with today's win but to be honest it is difficult to be really really happy. The bitterness of Marco's death is still too strong."
After finishing third behind Boogerd and Freire last year, Paolini felt confident this time that he would be able to play for the win. "I had a great feeling right from the start this morning," he added. "My reference points were Bruylandts and Boogerd as I knew they were the favourites. When Boogerd made a move I followed him and from there on, the selection came about itself."
How it unfolded
Once again, perfect spring weather greeted the riders for the 44th edition of this race, which started from Zaventem with a 90 km loop to Alsemberg before finishing with six laps of a demanding 18.2 km circuit, containing four climbs per lap (Lakenberg, Bruineput, Lindenberg and Alsemberg). A fast race early on saw 92 kilometres covered in the first two hours, before a breakaway finally established itself on the finishing circuit.
At first there were 18 riders in front, then another five joined to form a 23 man group containing: Tankink, Nuyens, Cretskens (Quick.Step-Davitamon), Den Bakker, De Groot, Mutsaars (Rabobank), Merckx, Van Sevenant, Steegmans (Lotto-Domo), Van der Wouwer, Coenen, Wuyts (MrBookmaker-Palmans), Rous, Geslin (Brioches), Kuyckx, De Schrooder (Vlaanderen), Van Summeren (Bodysol), Johansen (BankGiroLoterij), Sunderland (Alessio-Bianchi), Tombak (Cofidis), Agnolutto (Ag2r), Ludewig (Saeco) and Nauduzs (Domina Vacanze). The latter actually abandoned while in the lead group, stopping with just under 80 km to go to the surprise of everyone but himself and his director. Other early abandons included Stuart O'Grady (Cofidis), who was suffering from his crash yesterday, and Jaan Kirsipuu (Ag2r).
Chocolade Jacques was one of the few teams with no riders in front, and Chris Peers did a lot of work to bring back the leaders to a manageable 20 seconds just before the end of the second finishing circuit. This paved the way for his teammate Dave Bruylandts to bridge across on the Alsemberg, although he ended up taking a number of others with him: Boogerd, Lotz (Rabobank), Vasseur (Cofidis), Furlan (Alessio-Bianchi), Paolini (Quick.Step), Marichal, Vierhouten (Lotto-Domo), Leukemans (MrBookmaker) and Sijmens (Landbouwkrediet-Colnago).
The lead group was now 32 riders strong with 69 km left, and it was inevitable that there would be more attacks. Rabobank, Lotto-Domo, Quick.Step and MrBookmaker were all very well represented in the lead, and no move could get away without one of them in it. The notable strong men were Boogerd, Merckx and Leukemans, who seemed to be in every attack that mattered.
The big lead group eventually splintered and reformed with three laps to go, when Boogerd and Merckx rode away from the rest. They were joined by Lotz (Rabobank), Paolini (Quick.Step), Leukemans and Van De Wouwer (MrBookmaker), Rous (Brioches) and Kuyckx (Vlaanderen), with another group led by Bartoli trying to get across.
At 42 km to go, there were 17 men in front and with the rest of the peloton now at 1'27, the winner was more than likely to come from this group. Other riders who had made the selection included Bartoli, Sijmens and De Waele (Landbouwkrediet), Florencio, Jufre (Relax-Bodysol), Baguet (Lotto-Domo), Kroon (Rabobank), Tombak (Cofidis) and Bazenov (Domina). Boogerd attacked on the Bruineput with 29 km to go and was chased down by Paolini, De Waele and Rous. A couple of kilometres later, and Lotz and Sijmens had joined the party and the rest of the chasers shut down.
With six very strong riders in front, Florencio and Jufre (Relax) tried in vain to bring them back, but each time one of them did a big turn, there would be a Rabobank or Lotto rider on his wheel. The selection had been made.
The leaders were paying careful attention to each other on the last lap, until Sijmens put in a big acceleration on the Bruineput with 12 km to go. His move surprised the rest, and forced Marc Lotz to do the chasing for his team leader Boogerd. Sijmens was caught on the descent and the break more or less stuck together after that.
Luca Paolini tried a pre-emptive strike just before the final climb of Alsemberg with 2 km to go, but the rest were too watchful and caught the Italian before the climb started. Then Boogerd dug deep with around a kilometre to go to try and open up a critical gap on the climb, but Paolini was right there with him. Boogerd tried to get the Quick.Step rider to come through but Paolini wisely didn't move, knowing that he had the better sprint. Finally Boogerd restarted his sprint as the road flattened out and Paolini simply waited until the right moment before coming round to take a clear victory. Nico Sijmens tried desperately to close the gap at the end, but had to be content with third place.
Photography
Images by DCP/Bert Geerts (click here to view this as a photo gallery)
Images by Luc Claessen/Cyclingnews/www.actiefotos.be
Images by AFP/Etienne Ansotte
Images by Gert Starckx/users.pandora.be/gert.starckx
Images by Sabine Sunderland
Results
1 Luca Paolini (Ita) Quick Step-Davitamon      4.30.00
2 Michael Boogerd (Ned) Rabobank
3 Nico Sijmens (Bel) Landbouwkrediet-Colnago
4 Didier Rous (Fra) Brioches-La Boulangière
5 Axel Merckx (Bel) Lotto-Domo
6 Marc Lotz (Ned) Rabobank
7 Xavier Florencio (Spa) Relax-Bodysol            1.35
8 Janek Tombak (Est) Cofidis                      2.40
9 Karsten Kroon (Ned) Rabobank
10 Michele Bartoli (Ita) CSC
11 Jan Kuyckx (Bel) Vlaanderen-T Interim
12 Joseph Jufre (Spa) Relax-Bodysol
13 Björn Leukemans (Bel) MrBookmaker.com
14 Marcus Ljungqvist (Swe) Alessio-Bianchi
15 Alexander Bazhenov (Rus) Domina Vacance
16 Bert de Waele (Bel) Landbouwkrediet-Colnago
17 Johan Coenen (Bel) MrBookmaker.com
18 Allesandro Ballan (Ita) Lampre
19 Kurt van de Wouwer (Bel) MrBookmaker.com
20 Bram Tankink (Ned) Quick Step-Davitamon
21 Maarten den Bakker (Ned) Rabobank
22 Bert Scheirlinckx (Bel) Flanders-Afin.com
23 Sebastien Hinault (Fra) Credit-Africole        3.02
24 Serge Baguet (Bel) Lotto-Domo
25 Bekim Christensen (Den) CSC                    4.29
26 Erwin Thijs (Bel) MrBookmaker.com              5.43
27 Christ Agnolutto (Fra) AG2r                    6.49
28 Ronald Mutsaars (Ned) Rabobank
29 Cedric Vasseur (Fra) Cofidis
30 Tomas Vaitkus (Lit) Landbouwkrediet-Colnago
31 Sergio Marinangeli (Ita) Domina-Vacance
32 Jorg Ludewig (Ger) Saeco
33 Peter Wuyts (Bel) MrBookmaker.com
34 Gerhard Trampusch (Aut) Acqua & Sapone
35 Frederik Willems (Bel) Vlaanderen-T Interim
36 Nick Nuyens (Bel) Quick Step-Davitamon
37 Anthony Geslin (Fra) Brioches-La Boulangière
38 Kevin de Weert (Bel) Rabobank
39 Gorka Beloki (Spa) Brioches-La Boulangière
40 Thierry Marichal (Bel) Lotto-Domo
41 Gert Steegmans (Bel) Lotto-Domo
42 Allan Johansen (Den) Bankgiroloterij
43 Wim Vansevenant (Bel) Lotto-Domo
44 Dave Bruylandts (Bel) Chocolade Jacques-Wincor Nixdorf
45 Bram de Groot (Ned) Rabobank
46 Aart Vierhouten (Ned) Lotto-Domo
47 Thomas Voeckler (Fra) Brioches-La Boulangière

Courtesy of Ronald Schipper

Past winners
2003 Michael Boogerd (Ned) Rabobank         197 kms in 4.31.00 (42.458 km/h)
2002 Fabian De Waele (Bel) Mapei-Quick Step 198 kms in 4.30.10 (43.97 km/h)
2001 Michael Boogerd (Ned) Rabobank         194 kms in 4.31.10 (42.93 km/h)
2000 Johan Museeuw (Bel) Mapei-Bricobi      195 kms in 4.33.43 (42.675 km/h)
1999 Michele Bartoli (Ita) Mapei-Quick Step 193 kms in 4.43.15 (40.882 km/h)
1998 Johan Museeuw (Bel) Mapei-Bricobi      193 kms in 4.15.50 (45.263 km/h)
1997 Gianluca Pianegonda (Ita)
1996 Johan Museeuw (Bel)
1995 Edwig Van Hooydonck (Bel)
1994 Michele Bartoli (Ita)
1993 Edwig Van Hooydonck (Bel)
1992 Johan Capiot (Bel)
1991 Edwig Van Hooydonck (Bel)
1990 Frans Maassen (Ned)
1989 Johan Capiot (Bel)
1988 Johan Capiot (Bel)
1987 Edwig Van Hooydonck (Bel)
1986 Johan Van de Velde (Ned)
1985 Adri Van der Poel (Ned)
1984 Ronny Van Holen (Bel)
1983 Eddy Planckaert (Bel)
1982 Claude Criquielion (Bel)
1981 Roger De Vlaeminck (Bel)
1980 Michel Pollentier (Bel)
1979 Daniel Willems (Bel)
1978 Marcel Laurens (Bel)
1977 Frans Verbeeck (Bel)
1976 Freddy Maertens (Bel)
1975 Willem Peters (Bel) 
1974 Herman Vanspringel (Bel)
1973 Johan De Muynck (Bel)
1972 Eddy Merckx (Bel)
1971 Joseph Spruyt (Bel)
1970 Herman Vanspringel (Bel) 
1969 Willy In'T'Ven (Bel)
1968 Victor Van Schil (Bel)
1967 Roger Rosiers (Bel)
1966 Jan Janssen (Ned)
1965 Willy Bocklant (Bel)
1964 Arnaldo Pambianco (Ita)
1963 Joseph Wouters (Bel)
1962 Marcel Janssens (Bel)
1961 Pino Cerami (Bel)

Past winners by Mario Stiehl, www.world-of-cycling.com