Swedish National Championships - CN
Sollerön, Sweden, June 23-26, 2004
Nationals results National champions summary
Main Page Results Previous Day Next Day
Day 3 - June 25: Elite Men & Women Road Races, 190/130 km
Renäng's biggest win
By Tommy Prim, Team Bianchi Nordic
The podium
Photo ©: Tommy Prim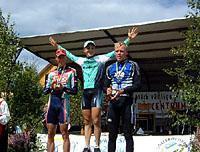 Bianchi Nordic's Petter Renäng took his biggest career victory by winning the Swedish Championship in a four man sprint. The parcours was not the usual type of championship circuit but instead a road race with two loops around the Orsa lake via the feared Skeer Hills, with two passages up the Gesunda Hill, a local slalom slope, thrown in for good measure at the beginning and towards the end of the race.
The first serious attack came after the first Gesunda passage when eleven riders got a gap. Bianchi Nordic was well represented with Mikael Segersäll (as usual), Mattias Carlsson and Jesper Ingevaldsson from Bianchi, while John Nilsson (Auber 93) was the only continental pro in the group. The break got at most five minutes to the peloton where the "continentals" had to do most of the job.
With their mates up the road, Renäng and Bianchi's other major favourite, Jonas Holmkvist, had a nice ride in the peloton that didn't catch the breakaways until 65 kilometres remained in the race.
With 40 km to go, the final selection was made with all the favourites: Thomas Lövkvist (FDJeux.com), Marcus Ljungqvist (Alessio-Bianchi), Stefan Adamsson (Barloworld) as well as Petter Renäng and once again Mattias Carlsson of Team Bianchi Nordic.
On the way to the final climb up the Gesunda Hill, Mattias Carlsson put in a couple of attacks forcing the pro's to chase. At the foot of the hill everyone expected Lövkvist to attack but instead it was Renäng who found the tempo too slow.
Only Lövkvist and Ljungqvist managed to follow over the hill and on the way down, Christoffer Stevensson also managed to join the trio. The group worked well together and an exciting sprint was expected on Sollerön's feared and famous uphill finish.
Once again Renäng attacked some kilometres from the finish, but Ljungqvist managed to cover and tried a counter-attack that Stevensson covered in turn.
With two kilometres remaining it was Lövkvist's time to try an attack but again Stevensson caught him coming in on the finishing straight with Ljungqvist and Renäng in tow. From his fourth position, Renäng passed them all for his first elite road race title (he won the crit title last year) to wear the blue and yellow champion's jersey for a year.
Results
1 Petter Renäng (Team Bianchi Nordic)                       4.24.40
2 Marcus Ljungqvist (Alessio-Bianchi/Falu CK)                  0.02
3 Christofer Stevenson (Cyclecomponents.com CK)                0.04
4 Thomas Lövkvist (FDJeux.com/Ringmurens CK)                       
5 Stefan Adamsson (Barloworld/Örebrocyklisterna)               0.49
6 Jonas Ljungblad ( Amore e Vita/Skoghalls CK - Hammarö)           
7 Mattias Carlsson (Team Bianchi Nordic)                       0.54
8 Martin Johansson (Mölndals CK)                                   
9 Fredrik Modin (Team Mälarenergi CK)                          1.14
10 Fredrik Johansson (Team Mälarenergi CK)                     1.25
11 Håkan Nilson (Burseryds IF)                                 1.56
12 Jonas Holmkvist (Team Bianchi Nordic)                           
13 John Nilsson (Auber 93/Sollerö IF)                              
14 Andreas Johanson (Team Mälarenergi CK)                          
15 Johan Svensson (Falkenbergs CK)                                 
16 Patrik Löfving (Klubben Cyklisten)                              
17 Robert Österling (Karlstads CA)                                 
18 Magnus Bäckstedt (Alessio-Bianchi/Kopparbergs CK)               
19 Tomas Grönqvist (Amore e Vita/CK ECI Champion)                  
20 Jesper Ingevaldsson (Team Bianchi Nordic)                   2.02
21 Lucas Persson (Team Mälarenergi CK)                         2.04
22 Gustav Larsson (Skoghalls CK - Hammarö)                         
23 Lars Robertsson (Värnamo CK)                                    
24 Fredrik Eriksson (Upsala CK)                                    
25 Peter Lundblad (Västerås CK)                                3.45
26 Anders Juhlin (CK ECI Champion)                            14.41
27 Johan Flodin (Tranemo IF)                                  17.48
28 Mattias Carlzon (Alingsås CK)                                   
29 Johan Nyman (Åstorps CK)                                   18.04
30 Rikard Sjöberg (Team Mälarenergi CK)                       18.40
31 Martin Axelsson (Sollerö IF)                                    
32 Henrik Åbom (Skara CK)                                     18.41
33 Michael Johansson (CK Hymer)                                    
34 Martin Erlandsson (Skara CK)                                    
35 Benny Elofsson (Värnamo CK)                                     
36 Marcus Svensson (CK Master)                                     
37 Michael Nolin (CK Norrtälje)                                    
38 Magnus Anundsson (Västerås CK)                                  
39 Michael Stevenson (Cyclecomponents.com CK)                      
40 Per Kumlin (Spårvägen CF)                                       
41 Petter Persson (CK Fix)                                         
42 Anders Dellien (CK Ringen)                                      
43 Johan Landström (Falu CK)                                       
44 Dennis Persson (Team Mälarenergi CK)                            
45 Colin Ray (CK Norrtälje)                                   18.47
46 Mikael Hägg (Upsala CK)                                         
47 Alexander Gustafsson (Åstorps CK)                               
48 Anders Johansson (Alingsås CK)                                  
49 Mattias Lundqvist (Mölndals CK)                            18.53
50 Roger Karlsson (Borlänge CK)                               18.55
51 Mikael Segersäll (Team Bianchi Nordic)                          
52 Marcus Rothqvist (CK Hymer)                                20.10
53 Kalle Sandell (CK Ceres)                                   21.47
54 Daniel Eriksson (CK ECI Champion)                          22.51
55 Fredrik Lindberg (Burseryds IF)                                 
56 Mattias Haal (CK Revanche)                                 23.37
57 Mikael Olausson (CK ECI Champion)                          47.48
58 Mattias Jansson (Alingsås CK)                                   
59 Henrik Andersson (CK ECI Champion)                              
60 Jonas Olsson (Skara CK)                                    49.19
61 Christian Björkman (Falu CK)                             1.06.00
DNF Anders Grönqvist (Amore e Vita/CK ECI Champion)                
DNF Jesper Andersson (CK Norrtälje)                                
DNF Peter Lindqvist (CK Norrtälje)                                 
DNF Martin Cameron (CK Revanche)                                   
DNF Marcus Johansson (CK Valhall)                                  
DNF Henric Wilert (CK Valhall)                                     
DNF Freddie Nihlén (Eslövs CK)                                     
DNF Marcus Nihlén (Eslövs CK)                                      
DNF Kent Johansson (Karlstads CA)                                  
DNF Marcus Juneholt (Karlstads CA)                                 
DNF Jon Andersson (Laholmscyklisten CK)                            
DNF Tobias Ingvarsson (Oskarshamns CK)                             
DNF Andreas Herlitz (Ringmurens CK)                                
DNF Marcus Larsson (Ringmurens CK)                                 
DNF Dennis Nystrand (Skara CK)                                     
DNF Peter Resar (Sollerö IF)                                       
DNF Rickard Almquist (Team Mälarenergi CK)                         
DNF Magnus Norlinder (Värnamo CK)                                  
DNF Tommy Mlekus (Västerås CK)                                     
DNF Rikard Alatalo (Trampen FK)                                    
DNF Andreas Granberg (Trampen FK)                                  
DNF Martin Rittsel (Trampen FK)                                    
DNF Jan Mattsson (Upsala CK)                                       
DNF Jens Westergren (Upsala CK)                                    
DNF Oskar Ekstam (Falu CK)                                         
DNF Fredrik Rudenstam (Motala AIF CK)                              
DNF Stefan Carlsson (Västerviks CK)                                
DNF Anders Ljungberg (Västerviks CK)                               
DNF Mattias Reck (Mölndals CK)                                     
DNF Joel Ljungberg (Falu CK)                                       
DNS Mathias Bergkvist (Almby IK)                                   
DNS Bengt Jonsson (CK Norrtälje)                                   
DNS Mathias Forslund (CK Revanche)                                 
DNS Anders Gerhardsson (CK Valhall)                                
DNS Morgan Sidenbäck (CK Wimer)                                    
DNS Peter Sidenbäck (CK Wimer)                                     
DNS Karl Mattsson (Skara CK)                                       
DNS Mikael Nystrand (Skara CK)                                     
DNS Mikael Salomonsson (Spårvägen CF)                              
DNS Alexis Campos (Söderhamns CA)                                  
DNS Peter Eriksson (Söderhamns CA)                                 
DNS Tobias Lergård (Team Bianchi Nordic)                           
DNS Martin Halvarsson (Team Mälarenergi CK)                        
DNS Martin Nyman (Team Mälarenergi CK)                             
DNS Peter Gustavsson (Värnamo CK)                                  
DNS Björn Lind (CK Norrtälje)                                      
DNS Andreas Papp (Upsala CK)                                       
DNS Stefan Kindberg (Laxå CK)                                      
DNS Robert Johansson (Mora CK)                                     
 
Elite Women - 130 km
 
1 Susanne Ljungskog (Team S.A.T.S./CK Thor Ale-Göteborg)    3.34.58
2 Monica Holler (Laxå CK)                                      3.20
3 Madeleine Lindberg (Nürnberger/Team Mälarenergi CK)          3.22
4 Emma Johansson (Härnösands CK)                                   
5 Karin Aune (FK Volvo)                                            
6 Åsa Hagberg (Borlänge CK)                                        
7 Lisa Nordén (Kristianstad CK)                                3.34
8 Lotta Green (CK Revanche)                                    9.51
9 Kristina Skog (Fredrikshofs IF)                             11.17
10 Johanna Reeder (CK Valhall)                                     
11 Susanne Nystrand (Uddevalla CK)                                 
12 Madelene Olsson (Svanesunds GOIF)                               
13 Mirella Ehrin (CK Falken)                                  11.21
14 Anna Engstrand (Nässjö CK)                                      
15 Maria Ehrin (CK Falken)                                    11.37
16 Emma Grenestam (Motala AIF CK)                             13.28
17 Sara Danielsson (Mölndals CK)                              14.13
18 Linda Josefsson (CK Master)                                28.21
19 Martina Thomasson (Ulricehamns CK)                              
20 Daisy Bell (Landskrona CK)                                 52.11
21 Linda Jansson (Kvänums IF)                               1.00.22
DNF Erica Österlund (Borlänge CK)                                  
DNF Linnea Börjesson (Borås CA)                                    
DNF Caroline Eriksson (CK Falken)                                  
DNF Veronica Andréasson (Skoghalls CK - Hammarö)                   
DNF Linda Forss (Tranemo IF)                                       
DNF Camilla Larsson (Upsala CK)                                    
DNF Maria Landström (Falu CK)                                      
DNS Tove Wiklund (Kristianstad CK)                                 
 
Solleröloppet - 130 km
 
1 Peter Johansson (Alingsås CK)                             3.11.02
2 Håkan Löfström (Sandvikens CK)                               2.24
3 Per Strömblad (CK Valhall)                                   3.09
4 Anders Wiklund (CK Hymer)                                        
5 Frans Sjöblom (Kvänums IF)                                       
6 Magnus Svedin (Gimonäs CK)                                       
7 Ola Torstensson (Gimonäs CK)                                     
8 Tom Sahipakka (Sundsvallscyklisterna)                            
9 Mathias Bergkvist (Almby IK)                                     
10 Björn Karlsson (CK Antilopen)                                   
11 Anders Haritz (Borlänge CK)                                     
12 Torbjörn Troell (CK Falken)                                     
13 Mikael Sarsgard (Borlänge CK)                                   
14 Björn Lind (CK Norrtälje)                                       
15 Henrik Johansson (Eskilstuna CK)                                
16 Anders Trädgård (Borlänge CK)                                   
17 Stefan Stengård (CK Dainon)                                     
18 Fredrik Wennergren (CK Master)                                  
19 Gustav Karlsson (Kristianstad CK)                               
20 Johannes Karlsson (Svanesunds GOIF)                             
21 Pontus Andersson (Alingsås CK)                                  
22 Christer Myerscough (Norge)                                     
23 Fredrik Åkerman (IK Vinco)                                      
24 Peter Berntsen (CK Master)                                  3.18
25 Johan Johansson (Skellefteå AIK CK)                         3.32
26 Friedrich Eltester (CK Valhall)                             3.39
27 Mikael Ström (CK Valhall)                                   3.42
28 Johan Balck (Degeberga CK)                                  4.10
29 Stefan Pedersen (CK Falken)                                     
30 Nils Karlsson (CK Ceres)                                    4.13
31 Peter Eide-Jensen (CK Valhall)                              4.18
32 Magnus Svensson (Finspångs CA)                              4.20
33 Martin Brink (CK Ringen)                                    4.51
34 Johan Ekman (Falu CK)                                       5.43
35 Patrik Stark (Falu CK)                                          
36 Ivar Fridén (CK Ceres)                                      7.36
37 Fredrik Almgren (CK Valhall)                                7.49
38 David Elmfeldt (CK Valhall)                                 7.56
39 Mattias Steén (Falu CK)                                     8.02
40 Eric Wingren (CK Dainon)                                    8.04
41 Johnny Törnblom (Södertälje CK)                             8.12
42 Mats Blomberg (CK Valhall)                                      
43 Kimmo Delfin (CK ECI Champion)                              8.20
44 Göran Svensson (Gottne IF)                                      
45 Patrik Johansson (Mölndals CK)                              8.25
46 Henrik Sandberg (CK Dainon)                                 9.55
47 Peter Bäck (Falu CK)                                            
48 Mats Hedlund (Borlänge CK)                                      
49 Robert Sandell (CK Ceres)                                  10.02
50 Mathias Lövgren (Finspångs CA)                             10.06
51 Per Gustafsson (Sollerö IF)                                10.10
52 Christoffer Rodas (Svanesunds GOIF)                        10.15
53 Daniel Rytz (CK Valhall)                                   12.31
54 Tommy Johansson (Nås IF)                                        
55 Roland Högberg (Sandvikens CK)                             12.33
56 Håkan Fremin (CK Valhall)                                       
57 Bengt Larsson (Gimonäs CK)                                      
58 Rickard Olsson (Svanesunds GOIF)                           12.36
59 Erik Svensson (CK Master)                                  12.38
60 Pontus Eriksson (Mölndals CK)                                   
61 Per Danielsson (Kopparbergs CK)                            12.40
62 Tommy Rundcrantz (Falu CK)                                 13.05
63 Sten Nerell (Falu CK)                                      13.34
64 Jonas Aspman (Falu CK)                                     16.48
65 Niklas Jonsson (CK Ceres)                                  17.22
66 Göran Buss (CK ECI Champion)                               17.26
67 Peter Nilsson (CK Antilopen)                               17.28
68 Per Ahlin (Karlstads CA)                                   17.36
69 Lars Utterström (CK Hymer)                                 17.58
70 Nils-Arne Arvidsson (Kopparbergs CK)                       18.19
71 Sigve Colbjörnsen (CK Dainon)                              20.07
72 Ingmar Nilja (CK Bure)                                     20.37
73 Mattias Johansson (Mölndals CK)                                 
74 Magnus Östberg (CK Norrtälje)                              23.42
75 Thomas Ekström (CK Valhall)                                29.42
76 Christer Johanson (Spårvägen CF)                           32.32
77 Markus Nanderöd (Svanesunds GOIF)                          36.19
78 Klas Kullman (Söderhamns CA)                               37.29
79 Johan Norin (CK Valhall)                                   37.35
80 Patrik Lindberg (Nås IF)                                   37.37
81 Ivan Ström (CK ECI Champion)                               37.51
82 Sten Eriksson (CK ECI Champion)                                 
83 Anders Brüning (CK Antilopen)                              41.39
84 Timo Ohrankämmen (CK Master)                                    
85 Stefan Haglund (Söderhamns CA)                             43.58
86 Alexander Filipowicz (Spårvägen CF)                        44.02
87 Tomas Pakkanen (Södertälje CK)                             44.08
DNF Mattias Prohs (Borlänge CK)                                    
DNF Niklas Brissmyr (CK Bure)                                      
DNF Nicklas Jansson (CK Ceres)                                     
DNF Jonas Alfredsson (CK Falken)                                   
DNF Magnus Eriksson (CK Falken)                                    
DNF Håkan Svensson (CK Falken)                                     
DNF Lennart Tyllman (CK Falken)                                    
DNF Fredrik Bengtsson (CK Ringen)                                  
DNF Hans Ekholm (CK Valhall)                                       
DNF Peter Ericsson (CSK Ludvika)                                   
DNF Jan Jakobsson (Fagersta CA)                                    
DNF Jakob Kleist (Falu CK)                                         
DNF Joakim Tjernlund (Falu CK)                                     
DNF Kenneth Gustafsson (Härnösands CK)                             
DNF Mats Niss (Sollerö IF)                                         
DNF Jan Sarenmark (Sollerö IF)                                     
DNF Jimmy Bodin (Värnamo CK)                                       
DNF Thomas Jönsson (Värnamo CK)                                    
DNF Johnny Karlsson (Värnamo CK)                                   
DNF Luca Mara (CK Valhall)                                         
DNF Andreas Moberg (Cyclecomponents.com CK)                        
DNF Mikael Brolin (Sandvikens CK)                                  
DNF Andreas Ingemarsson (Sandvikens CK)                            
DNF Jesper Starkerud (CK Norrtälje)                                
DNF Nils Olson (Falu CK)                                           
DNF Stefan Larsén (CK Valhall)                                     
DNF Johan Kejler (Spårvägen CF)                                    
DNS Per Heidenfors (CK Ceres)                                      
DNS Stefan Finman (CK ECI Champion)                                
DNS Sauli Venäläinen (CK Falken)                                   
DNS Robert D'agostino (CK Valhall)                                 
DNS Mattias Engberg (CK Valhall)                                   
DNS David Marklund (CK Valhall)                                    
DNS Anders Montelius (Falu CK)                                     
DNS Daniel Söderström (Falu CK)                                    
DNS Stefan Johansson (Mariestad Cyklisten)                         
DNS Kim Wallin (Skoghalls CK - Hammarö)                            
DNS Tony Carlzon (Spårvägen CF)                                    
DNS Christer Jarnemyr (Spårvägen CF)                               
DNS Mikael Henriksson (Sundsvallscyklisterna)                      
DNS Ludvig Remb (Sundsvallscyklisterna)                            
DNS Christian Olsson (Svanesunds GOIF)                             
DNS Ulf B. Andersson (Örestadscyklisterna IF)                      
DNS Victor Cordova (CK Valhall)                                    
DNS Erik Ernstsson (Finspångs CA)                                  
DNS Filip Tysander (Fredrikshofs IF)                               
DNS Mats Bodegren (CK Ceres)                                       
DNS Göran Pettersson (CK Ceres)