Recently on Cyclingnews.com
Euskal Bizikleta - 2.1
Spain, June 2-6, 2004
Main Page Results Previous Stage Next Stage
Stage 4b - June 5: Elorrio - Abadiño ITT, 14.9 km
Vicioso and Heras increase stranglehold on GC
By Martin Hardie in Abadiño
Angel Vicioso (Liberty Seguros)
Photo ©: AFP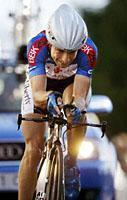 Manolo Saiz's Liberty squad has secured a stranglehold over this year's edition of the Euskal Bizikleta with a dominant performance in the afternoon's testing time trial. Angel Vicioso picked up his second win in two days and as a result for the first time in the four days of the race, there is a leader who is clear of the remainder of the field on time.
Vicioso was 19 seconds better than teammate Roberto Heras, who rendered an impressive performance against the clock. Heras told Cyclingnews earlier this week that he expected to go better against the clock this year as a result of changes in his seat position and training. The early times were dominated by their teammate Alvaro Gonzalez de Galdeano until he was pipped by a second when Brioche la Boulangère's Sylvain Chavanel arrived in Abadiño.
Roberto Heras (Liberty Seguros)
Photo ©: AFP

The day's big loser was Haimar Zubeldia. It seemed Zubeldia took it easy over the first third of the course, conserving his energies for the climb of the dead road up to the village of Axpe. After 5 kilometres Zubeldia had conceded more than ten seconds to Heras, but when Vicioso came through the check at Aparte, Euskaltel's leader was twenty in the red.
The Euskaltel story of the day continued to be the attack of Laiseka yesterday. Laiseka's attack and the Liberty attempts to follow him also had the lanky Guipuzkoan in the red. Laiseka claimed that then when he was up the road he came to an agreement with Vicioso, who when his Director saw Piepoli coming back up to the Heras/Zubeldia group ordered Vicioso to stop working. The result was it seemed Laiseka's attack caused Zubeldia enough trouble that when Heras and co. surged further up the slopes he could not follow. There were not many happy faces dressed in orange as a result today. They were even more disillusioned after Zubeldia's ride today.
Angel Vicioso (Liberty Seguros)
Photo ©: AFP

In the end today, Liberty had seven of their eight in the top 15 of the time trial. They will start tomorrow's final stage - that includes a short but steep Cat.3, a long dragging 9% Cat. 3, the steep and mythical Cat. 2 Elgeta, containing multitude of ramps of more than 12%, topped off with a dressing of three crossings, in different directions of the Cat. 1 peak of Eibar - Ixua/Arrate - the final repeatedly topping 13%. It will be up to Liberty to hold on and for either Sanchez or Zubeldia to at least try and unseat Koldo Gil to find themselves on the podium.
Photography
Images by AFP Photo
Images by Martin Hardie
Results
1 Angel Vicioso (Spa) Liberty Seguros                              17.46
2 Roberto Heras (Spa) Liberty Seguros                               0.19
3 Sylvain Chavanel (Fra) Brioches La Boulangere                     0.29
4 Alvaro Glez. Galdeano (Spa) Liberty Seguros                       0.30
5 Marco Pinotti (Ita) Lampre                                        0.34
6 Daniele Contrini (Ita) Team L.P.R.-Piacenza Management SRL        0.35
7 René Andrle (Cze) Liberty Seguros                                     
8 Alberto Martinez (Spa) Relax-Bodysol                              0.39
9 Didier Rous (Fra) Brioches La Boulangere                              
10 Carlos Barredo (Spa) Liberty Seguros                             0.46
11 Marcos Serrano (Spa) Liberty Seguros                             0.53
12 Luis Perez (Spa) Cofidis, le credit par Telephone                0.55
13 Samuel Sanchez (Spa) Euskaltel-Euskadi                           0.58
14 Koldo Gil (Spa) Liberty Seguros                                  1.01
15 Aitor Gonzalez (Spa) Fassa Bortolo                               1.04
16 Matthieu Sprick (Fra) Brioches La Boulangere                         
17 Alessandro Ballan (Ita) Lampre                                   1.05
18 Aitor Perez (Spa) Cafes Baque                                    1.07
19 Mikel Pradera (Spa) Illes Balears-Banesto                        1.08
20 Roberto Laiseka (Spa) Euskaltel-Euskadi                          1.12
21 Gorka Gonzalez (Spa) Euskaltel-Euskadi                               
22 Aitor Hernandez (Spa) Team L.P.R.-Piacenza Management SRL        1.13
23 Michele Scotto (Ita) Lampre                                      1.14
24 Tom Danielson (USA) Fassa Bortolo                                    
25 Haimar Zubeldia (Spa) Euskaltel-Euskadi                              
26 Mikel Elgezabal (Spa) Costa De Almeria-Paternina                 1.17
27 Roberto Sgambelluri (Ita) Vini Caldirola-Nobili Rubinetterie     1.20
28 David Latasa (Spa) Comunidad Valenciana-Kelme                        
29 Unai Yus (Spa) Brioches La Boulangere                            1.21
30 Joseba Beloki (Spa) Brioches La Boulangere                           
31 Giuseppe Palumbo (Ita) Acqua & Sapone-Caffe Mokambo              1.22
32 Francisco José Lara (Spa) Costa De Almeria-Paternina             1.23
33 Jose Antonio Lopez Gil (Spa) Illes Balears-Banesto               1.28
34 Txema Del Olmo (Spa) Milaneza Maia                               1.29
35 Jon Odriozola (Spa) Comunidad Valenciana-Kelme                   1.30
36 Cedric Vasseur (Fra) Cofidis, le credit par Telephone                
37 M.A. Martin Perdiguero (Spa) Saunier Duval-Prodir                1.31
38 Sergio Barbero (Ita) Lampre                                      1.33
39 Peio Arreitunandia (Spa) Cafes Baque                                 
40 Juan Carlos Dominguez (Spa) Saunier Duval-Prodir                 1.34
41 Rafael Casero (Spa) Saunier Duval-Prodir                             
42 Rubén Plaza (Spa) Comunidad Valenciana-Kelme                     1.35
43 Eladio Jimenez (Spa) Comunidad Valenciana-Kelme                      
44 Roberto Petito (Ita) Fassa Bortolo                               1.37
45 Mauro Facci (Ita) Fassa Bortolo                                  1.38
46 Alberto Lopez De Munain (Spa) Euskaltel-Euskadi                  1.39
47 Unai Etxebarria (Ven) Euskaltel-Euskadi                              
48 Gustavo Dominguez (Spa) Relax-Bodysol                                
49 Bruno Pires (Por) Milaneza Maia                                      
50 Pablo Lastras (Spa) Illes Balears-Banesto                        1.40
51 Francisco Palacio (Spa) Cafes Baque                              1.41
52 Lander Euba (Spa) Costa De Almeria-Paternina                     1.42
53 José Luis Arrieta (Spa) Illes Balears-Banesto                    1.44
54 Hugo Sabido (Por) Milaneza Maia                                  1.46
55 Jokin Ormaetxea (Spa) Costa De Almeria-Paternina                 1.48
56 Hernan Buenahora (Col) Cafes Baque                               1.49
57 Ivan Parra (Col) Comunidad Valenciana-Kelme                      1.50
58 Ricardo Serrano (Spa) Cafes Baque                                1.51
59 Giampaolo Cheula (Ita) Vini Caldirola-Nobili Rubinetterie            
60 Daniel Atienza (Spa) Cofidis, le credit par Telephone            1.52
61 Anthony Charteau (Fra) Brioches La Boulangere                    1.54
62 Joaquin Lopez (Spa) Costa De Almeria-Paternina                   1.57
63 Ivan Mayoz (Spa) Relax-Bodysol                                       
64 Leonardo Piepoli (Ita) Saunier Duval-Prodir                      1.58
65 Javier Ramirez (Spa) Liberty Seguros                             1.59
66 Joseba Zubeldia (Spa) Euskaltel-Euskadi                              
67 Xabier Zandio (Spa) Illes Balears-Banesto                        2.03
68 Ion Del Rio (Spa) Costa De Almeria-Paternina                     2.04
69 David De La Fuente (Spa) Saunier Duval-Prodir                    2.06
70 Luis Perez Romero (Spa) Relax-Bodysol                                
71 Paolo Longo (Ita) Vini Caldirola-Nobili Rubinetterie             2.09
72 Simone Bertoletti (Ita) Lampre                                   2.11
73 Joaquin Rodriguez (Spa) Saunier Duval-Prodir                     2.16
74 Mauro Santanbrogio (Ita) Team L.P.R.-Piacenza Management SRL     2.22
75 Valery Kobzarenko (Ukr) Acqua & Sapone-Caffe Mokambo                 
76 Claudio Astolfi (Ita) Acqua & Sapone-Caffe Mokambo               2.24
77 Julián Sanchez (Spa) Fassa Bortolo                               2.31
78 Peter Farazjin (Bel) Cofidis, le credit par Telephone            2.33
79 Giulio Tomi (Ita) Vini Caldirola-Nobili Rubinetterie             2.34
80 Paulo Barroso (Por) Milaneza Maia                                2.40
81 Iñigo Cuesta (Spa) Cofidis, le credit par Telephone              2.42
82 Marco Cavallari (Ita) Vini Caldirola-Nobili Rubinetterie             
83 Elio Aggiano (Ita) Team L.P.R.-Piacenza Management SRL           2.46
84 Felix Cardenas (Col) Cafes Baque                                 2.47
85 Jonathan Gonzalez (Spa) Costa De Almeria-Paternina               2.51
86 David Herrero (Spa) Costa De Almeria-Paternina                   2.52
87 Antonio Olmo (Spa) Comunidad Valenciana-Kelme                    2.55
88 Daniele Masolino (Ita) Team L.P.R.-Piacenza Management SRL       2.57
89 Angel Edo (Spa) Milaneza Maia                                    2.58
90 Luca Nardello (Ita) Team L.P.R.-Piacenza Management SRL          3.02
91 Claudio Lucchini (Ita) Team L.P.R.-Piacenza Management SRL       3.05
92 Marco Gili (Ita) Vini Caldirola-Nobili Rubinetterie              3.06
93 Romans Vainsteins (Lat) Lampre                                   3.10
94 Renato Silva (Por) Milaneza Maia                                 3.12
95 Aitor Osa (Spa) Illes Balears-Banesto                            3.17
96 Dimitri Konyshev (Rus) Team L.P.R.-Piacenza Management SRL       3.31
97 Lizuarte Manuel Martins (Por) Milaneza Maia                      3.32
98 Alessandro D'andrea (Ita) Acqua & Sapone-Caffe Mokambo           3.56
 
Points
 
1 Angel Vicioso (Spa) Liberty Seguros                                 25 pts
2 Roberto Heras (Spa) Liberty Seguros                                 20
3 Sylvain Chavanel (Fra) Brioches La Boulangere                       16
4 Alvaro Glez. Galdeano (Spa) Liberty Seguros                         14
5 Marco Pinotti (Ita) Lampre                                          12
6 Daniele Contrini (Ita) Team L.P.R.-Piacenza Management SRL          10
7 René Andrle (Cze) Liberty Seguros                                    9
8 Alberto Martinez (Spa) Relax-Bodysol                                 8
9 Didier Rous (Fra) Brioches La Boulangere                             7
10 Carlos Barredo (Spa) Liberty Seguros                                6
11 Marcos Serrano (Spa) Liberty Seguros                                5
12 Luis Perez (Spa) Cofidis, le credit par Telephone                   4
13 Samuel Sanchez (Spa) Euskaltel-Euskadi                              3
14 Koldo Gil (Spa) Liberty Seguros                                     2
15 Aitor Gonzalez (Spa) Fassa Bortolo                                  1
 
Teams
 
1 Liberty Seguros                                                  54.07
2 Brioches La Boulangere                                            1.23
3 Lampre                                                            2.04
4 Euskaltel - Euskadi                                               2.33
5 Fassa Bortolo                                                     3.06
6 T. L.P.R. Piacenza                                                3.21
7 Relax-Bodysol                                                     3.26
8 Illes Balears - Banesto                                           3.27
9 Cofidis, le credit par telephone                                  3.28
10 Cafes Baque                                                      3.32
11 Costa de Almeria - Paternina                                     3.33
12 Kelme - Comdad. Valenciana                                       3.36
13 Saunier Duval - Prodir                                           3.50
14 Milaneza - Maia                                                  4.05
15 Vini Caldirola                                                   4.31
16 Acqua & Sapone - Caffe Mokambo                                   5.19
 
General classification after stage 4b
 
1 Angel Vicioso (Spa) Liberty Seguros                           14.19.16
2 Roberto Heras (Spa) Liberty Seguros                               0.19
3 Koldo Gil (Spa) Liberty Seguros                                   1.01
4 Samuel Sanchez (Spa) Euskaltel-Euskadi                            1.29
5 Haimar Zubeldia (Spa) Euskaltel-Euskadi                           1.40
6 Marcos Serrano (Spa) Liberty Seguros                              1.51
7 Luis Perez (Spa) Cofidis, le credit par Telephone                 1.53
8 Txema Del Olmo (Spa) Milaneza Maia                                1.55
9 Roberto Laiseka (Spa) Euskaltel-Euskadi                           2.05
10 M.A. Martin Perdiguero (Spa) Saunier Duval-Prodir                2.29
11 Leonardo Piepoli (Ita) Saunier Duval-Prodir                      2.56
12 Eladio Jimenez (Spa) Comunidad Valenciana-Kelme                  3.13
13 Peio Arreitunandia (Spa) Cafes Baque                             3.19
14 Alberto Martinez (Spa) Relax-Bodysol                             3.38
15 Francisco José Lara (Spa) Costa De Almeria-Paternina             3.41
16 Michele Scotto (Ita) Lampre                                      3.53
17 David Latasa (Spa) Comunidad Valenciana-Kelme                    4.05
18 Giuseppe Palumbo (Ita) Acqua & Sapone-Caffe Mokambo              4.14
19 Roberto Sgambelluri (Ita) Vini Caldirola-Nobili Rubinetterie     5.17
20 Hernan Buenahora (Col) Cafes Baque                               6.16
21 Tom Danielson (USA) Fassa Bortolo                                6.47
22 Daniel Atienza (Spa) Cofidis, le credit par Telephone            7.25
23 Mikel Elgezabal (Spa) Costa De Almeria-Paternina                 7.45
24 Francisco Palacio (Spa) Cafes Baque                              8.00
25 Lander Euba (Spa) Costa De Almeria-Paternina                     8.10
26 Ion Del Rio (Spa) Costa De Almeria-Paternina                     8.32
27 Bruno Pires (Por) Milaneza Maia                                  8.41
28 Mikel Pradera (Spa) Illes Balears-Banesto                        9.18
29 Didier Rous (Fra) Brioches La Boulangere                        10.44
30 Joaquin Rodriguez (Spa) Saunier Duval-Prodir                    11.24
31 Unai Yus (Spa) Brioches La Boulangere                           11.36
32 Marco Pinotti (Ita) Lampre                                      12.02
33 Joaquin Lopez (Spa) Costa De Almeria-Paternina                  12.14
34 Sylvain Chavanel (Fra) Brioches La Boulangere                   12.32
35 Cedric Vasseur (Fra) Cofidis, le credit par Telephone           12.58
36 Julián Sanchez (Spa) Fassa Bortolo                              13.02
37 Gorka Gonzalez (Spa) Euskaltel-Euskadi                          14.08
38 Aitor Hernandez (Spa) Team L.P.R.-Piacenza Management SRL       14.33
39 Jonathan Gonzalez (Spa) Costa De Almeria-Paternina              15.00
40 David Herrero (Spa) Costa De Almeria-Paternina                  16.08
41 Aitor Osa (Spa) Illes Balears-Banesto                           17.18
42 Aitor Gonzalez (Spa) Fassa Bortolo                              17.26
43 Iñigo Cuesta (Spa) Cofidis, le credit par Telephone             17.46
44 Ivan Parra (Col) Comunidad Valenciana-Kelme                     18.09
45 Hugo Sabido (Por) Milaneza Maia                                 18.19
46 Anthony Charteau (Fra) Brioches La Boulangere                   18.34
47 Peter Farazjin (Bel) Cofidis, le credit par Telephone           19.40
48 Mauro Facci (Ita) Fassa Bortolo                                 20.03
49 Gustavo Dominguez (Spa) Relax-Bodysol                           20.04
50 Pablo Lastras (Spa) Illes Balears-Banesto                       20.27
51 Valery Kobzarenko (Ukr) Acqua & Sapone-Caffe Mokambo            20.29
52 Alvaro Glez. Galdeano (Spa) Liberty Seguros                     20.42
53 René Andrle (Cze) Liberty Seguros                                    
54 Carlos Barredo (Spa) Liberty Seguros                            20.54
55 Sergio Barbero (Ita) Lampre                                     21.59
56 Paolo Longo (Ita) Vini Caldirola-Nobili Rubinetterie            22.35
57 José Luis Arrieta (Spa) Illes Balears-Banesto                   23.25
58 Aitor Perez (Spa) Cafes Baque                                   24.20
59 Xabier Zandio (Spa) Illes Balears-Banesto                       24.52
60 Rafael Casero (Spa) Saunier Duval-Prodir                        25.53
61 Mauro Santanbrogio (Ita) Team L.P.R.-Piacenza Management SRL    27.46
62 Daniele Contrini (Ita) Team L.P.R.-Piacenza Management SRL      28.00
63 Jon Odriozola (Spa) Comunidad Valenciana-Kelme                  28.55
64 Unai Etxebarria (Ven) Euskaltel-Euskadi                         29.03
65 Matthieu Sprick (Fra) Brioches La Boulangere                    29.43
66 Alberto Lopez De Munain (Spa) Euskaltel-Euskadi                 29.56
67 Paulo Barroso (Por) Milaneza Maia                               30.05
68 Joseba Beloki (Spa) Brioches La Boulangere                      30.28
69 Renato Silva (Por) Milaneza Maia                                30.37
70 Roberto Petito (Ita) Fassa Bortolo                              32.44
71 Giampaolo Cheula (Ita) Vini Caldirola-Nobili Rubinetterie       33.11
72 Angel Edo (Spa) Milaneza Maia                                   34.05
73 Alessandro Ballan (Ita) Lampre                                  34.30
74 Jose Antonio Lopez Gil (Spa) Illes Balears-Banesto              35.04
75 Felix Cardenas (Col) Cafes Baque                                35.34
76 Jokin Ormaetxea (Spa) Costa De Almeria-Paternina                38.20
77 Javier Ramirez (Spa) Liberty Seguros                            39.56
78 Ivan Mayoz (Spa) Relax-Bodysol                                  43.36
79 David De La Fuente (Spa) Saunier Duval-Prodir                   43.45
80 Simone Bertoletti (Ita) Lampre                                  44.37
81 Joseba Zubeldia (Spa) Euskaltel-Euskadi                         46.22
82 Lizuarte Manuel Martins (Por) Milaneza Maia                     48.36
83 Rubén Plaza (Spa) Comunidad Valenciana-Kelme                    50.11
84 Antonio Olmo (Spa) Comunidad Valenciana-Kelme                   51.18
85 Claudio Lucchini (Ita) Team L.P.R.-Piacenza Management SRL      54.03
86 Luis Perez Romero (Spa) Relax-Bodysol                           54.11
87 Marco Gili (Ita) Vini Caldirola-Nobili Rubinetterie             54.22
88 Juan Carlos Dominguez (Spa) Saunier Duval-Prodir                54.30
89 Giulio Tomi (Ita) Vini Caldirola-Nobili Rubinetterie            54.39
90 Marco Cavallari (Ita) Vini Caldirola-Nobili Rubinetterie        54.47
91 Elio Aggiano (Ita) Team L.P.R.-Piacenza Management SRL          54.51
92 Luca Nardello (Ita) Team L.P.R.-Piacenza Management SRL         55.23
93 Claudio Astolfi (Ita) Acqua & Sapone-Caffe Mokambo              57.13
94 Romans Vainsteins (Lat) Lampre                                  57.44
95 Ricardo Serrano (Spa) Cafes Baque                               57.51
96 Dimitri Konyshev (Rus) Team L.P.R.-Piacenza Management SRL      58.05
97 Daniele Masolino (Ita) Team L.P.R.-Piacenza Management SRL    1.03.44
98 Alessandro D'andrea (Ita) Acqua & Sapone-Caffe Mokambo        1.04.43
 
Points classification
 
1 Angel Vicioso (Spa) Liberty Seguros                                 95 pts
2 M.A. Martin Perdiguero (Spa) Saunier Duval-Prodir                   72
3 Roberto Heras (Spa) Liberty Seguros                                 59
4 Alberto Martinez (Spa) Relax-Bodysol                                40
5 Samuel Sanchez (Spa) Euskaltel-Euskadi                              39
6 Haimar Zubeldia (Spa) Euskaltel-Euskadi                             28
7 Koldo Gil (Spa) Liberty Seguros                                     27
8 Txema Del Olmo (Spa) Milaneza Maia                                  26
9 Dimitri Konyshev (Rus) Team L.P.R.-Piacenza Management SRL          25
10 Sylvain Chavanel (Fra) Brioches La Boulangere                      23
11 Marcos Serrano (Spa) Liberty Seguros                               22
12 Didier Rous (Fra) Brioches La Boulangere                           21
13 Ion Del Rio (Spa) Costa De Almeria-Paternina                       20
14 Luis Perez (Spa) Cofidis, le credit par Telephone                  15
15 Peio Arreitunandia (Spa) Cafes Baque                               14
16 Alvaro Glez. Galdeano (Spa) Liberty Seguros                        14
17 Ricardo Serrano (Spa) Cafes Baque                                  14
18 Roberto Laiseka (Spa) Euskaltel-Euskadi                            13
19 Leonardo Piepoli (Ita) Saunier Duval-Prodir                        13
20 Marco Pinotti (Ita) Lampre                                         12
21 Marco Gili (Ita) Vini Caldirola-Nobili Rubinetterie                12
22 Daniele Contrini (Ita) Team L.P.R.-Piacenza Management SRL         10
23 Jon Odriozola (Spa) Comunidad Valenciana-Kelme                     10
24 René Andrle (Cze) Liberty Seguros                                   9
25 Angel Edo (Spa) Milaneza Maia                                       9
 
Mountains classification
 
1 Koldo Gil (Spa) Liberty Seguros                                     18 pts
2 Julián Sanchez (Spa) Fassa Bortolo                                  17
3 Roberto Heras (Spa) Liberty Seguros                                 12
4 Alvaro Glez. Galdeano (Spa) Liberty Seguros                         11
5 M.A. Martin Perdiguero (Spa) Saunier Duval-Prodir                   10
6 Mauro Facci (Ita) Fassa Bortolo                                      8
7 Luis Perez (Spa) Cofidis, le credit par Telephone                    7
8 Francisco José Lara (Spa) Costa De Almeria-Paternina                 6
9 Angel Vicioso (Spa) Liberty Seguros                                  6
10 Samuel Sanchez (Spa) Euskaltel-Euskadi                              6
11 David Herrero (Spa) Costa De Almeria-Paternina                      6
12 Unai Etxebarria (Ven) Euskaltel-Euskadi                             6
13 Roberto Laiseka (Spa) Euskaltel-Euskadi                             4
14 Carlos Barredo (Spa) Liberty Seguros                                4
15 José Luis Arrieta (Spa) Illes Balears-Banesto                       3
16 Matthieu Sprick (Fra) Brioches La Boulangere                        3
17 Haimar Zubeldia (Spa) Euskaltel-Euskadi                             2
18 Marcos Serrano (Spa) Liberty Seguros                                2
19 Paolo Longo (Ita) Vini Caldirola-Nobili Rubinetterie                2
20 Xabier Zandio (Spa) Illes Balears-Banesto                           2
21 Aitor Osa (Spa) Illes Balears-Banesto                               1
22 Aitor Perez (Spa) Cafes Baque                                       1
23 Giampaolo Cheula (Ita) Vini Caldirola-Nobili Rubinetterie           1
24 Ricardo Serrano (Spa) Cafes Baque                                   1
 
Metas volantes classification
 
1 José Luis Arrieta (Spa) Illes Balears-Banesto                        6 pts
2 Aitor Perez (Spa) Cafes Baque                                        6
3 Aitor Osa (Spa) Illes Balears-Banesto                                6
4 Carlos Barredo (Spa) Liberty Seguros                                 4
5 Hugo Sabido (Por) Milaneza Maia                                      4
6 Anthony Charteau (Fra) Brioches La Boulangere                        3
7 Mikel Pradera (Spa) Illes Balears-Banesto                            2
8 Matthieu Sprick (Fra) Brioches La Boulangere                         1
9 Unai Etxebarria (Ven) Euskaltel-Euskadi                              1
10 Francisco José Lara (Spa) Costa De Almeria-Paternina                1
11 Giulio Tomi (Ita) Vini Caldirola-Nobili Rubinetterie                1
12 Mauro Santanbrogio (Ita) Team L.P.R.-Piacenza Management SRL        1
 
Teams classification
 
1 Liberty Seguros                                               42.58.37
2 Euskaltel - Euskadi                                               4.23
3 Saunier Duval - Prodir                                           14.54
4 Cafes Baque                                                      15.45
5 Costa de Almeria - Paternina                                     17.40
6 Cofidis, le credit par telephone                                 18.06
7 Kelme - Comdad. Valenciana                                       24.05
8 Milaneza - Maia                                                  28.06
9 Brioches La Boulangere                                           28.59
10 Lampre                                                          32.44
11 Fassa Bortolo                                                   34.34
12 Illes Balears - Banesto                                         43.17
13 Vini Caldirola                                                  59.12
14 T. L.P.R. Piacenza                                              59.41
15 Relax-Bodysol                                                 1.02.47
16 Acqua & Sapone - Caffe Mokambo                                1.03.09