34th Giro d'Italia U26 e U23 - 2.6
Italy, June 11-20, 2004
Main Page Results Previous Stage Next Stage
Stage 5 - June 15: Paspardo (Bs) - Lozio (Bs), 138.7 km
Frenchman Dupont wins fifth stage
By Augusto Rosati, Il Mondo Del Ciclismo
Hubert Dupont (V.C.La Pomme Marseille)
Photo ©: Pisoni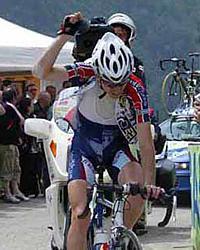 French rider Hubert Dupont (La Pomme Marseille) has won the difficult fifth stage of the Giro d'Italia U26. On the uphill finish in Lozio, Dupont crossed the line with a 13 second advantage over Marco Marzano (Ceramiche Pagnoncelli) and Dupont's teammate, Irishman Philip Deignan.
Today's stage between Paspardo and Lozio over 128 km was not easy, using a parcours around Valcamonica and Valle di Lozio and including three first category mountain passes: Cevo (1,000m), Resù (1,040m) and Lozio (936m); and more one third category climb, Cristo Re, after 47km of racing. But the final uphill was very hard, with an 18 percent gradient.
Immediately after the start, several attempts were made to escape by Maisto, Priamo, Ciccone, Bevenati and other riders, but it was the French riders of V.C. La Pomme Marseille who made the crucial move on the penultimate ascent (Resù). Philippe Deignan got away and reached the top of Resù as the first rider, and had a 45 second lead after the descent. He was solo on the last climb of Lozio, but in the final and hardest kilometre, Deignan was caught by his teammate Hubert Dupont, who won with an advantage of 0'13 over Marco Marzano and Deignan.
Alessandro Bertuola (Ima Moro Brugnotto Zotta), who won yesterday, arrived 11th today and took the pink jersey from Australian Peter Dawson.
Tomorrow's sixth stage, from Civitade Camuno to Gerengazo over 159 km, is a flat course and suitable for the sprinters.
Photography
Images by Pisoni/Il Mondo del Ciclismo
Results
1 Hubert Dupont (Fra) V.C.La Pomme Marseille                  3.33.03
2 Marco Marzano (Ita) V.C.Ceramiche Pagnoncell                   0.13
3 Philip Deignan (Irl) V.C.La Pomme Marseille                       
4 Matej Mugerli (Slo) Ima Moro Brugnotto Zotta                   0.21
5 Domenico Pozzovivo (Ita) G.S.Zalf Desire' Fior                 0.24
6 Luca Zanasca (Ita) Mx6 Palazzago-Casini Vel                    0.26
7 Micula De Matteis (Ita) G.S.Bottoli Artoni Zocco               0.34
8 Marco Osella (Ita) Mx4 Gs. Resine Ragnoli F                        
9 Ivan Stevic (Yug) V.C.Aran World Cantina T                     0.49
10 Paolo Bailetti (Ita) Camel Brunero Boeris Can                 0.51
11 Alessandro Bertuola (Ita) Ima Moro Brugnotto Zotta                
12 Nicola Del Puppo (Ita) G.S.Promosport                         0.54
13 Giorgio Orizio (Ita) Mx6 Palazzago-Casini Vel                 0.58
14 Palev Kalinin (Rus) Russia                                    1.16
15 Hrvoje Miholjevic (Cro) Mx7 Promociclo-Basso Pie              1.20
16 Alexandr Sabalin (Mda) V.C.La Pomme Marseille                 1.24
17 Riccardo Ricco' (Ita) G.C.Fausto Coppi Grassi                 1.26
18 Anton Sintsov (Rus) Russia                                    1.40
19 Matteo Gregianin (Ita) G.S.Bottoli Artoni Zocco               2.04
20 Denis Shkarpeta (Uzb) V.C.Ceramiche Pagnoncell                2.21
21 Dainius Kairelis (Ltu) Mx1 Cyber Team Faresin                 2.35
22 Daniele Marziani (Ita) V.C.Aran World Cantina T               2.43
23 David Betts (Aus) Australia                                       
24 Donato Cannone (Ita) Futura Team Matricardi                   2.45
25 Vincenzo Garofalo (Ita) G.S.Maltinti Lamp.Solgom              2.49
26 Maxim Belkov (Rus) Russia                                     2.52
27 Isodoro Micael Duarte (Por) G.S.Maltinti Lamp.Solgom          2.55
28 Mirko Allegrini (Ita) G.S.Zalf Desire' Fior                   2.57
29 Alexey Esin (Rus) Russia                                          
30 Alessio Ricciardi (Ita) Mx2 Bedogni Natalini- Gr                  
31 Roberto Traficante (Ita) V.C.Bassano 1802 Elca Se             1.57
32 Carmelo Nicolosi (Ita) Calz.M.Granaro                         3.03
33 Mauro Da Dalto (Ita) S.C.Marchiol Famila Site                 3.08
34 Diego Caccia (Ita) G.S.Bottoli Artoni Zocco                   3.12
35 Fabricio Morandi (Bra) Brazil                                     
36 Simone Bruson (Ita) Camel Brunero Boeris Can                  3.17
37 Maurizio Flocchini (Ita) Mx3 V.C.Mantovani- G.S.T             3.31
38 Stefano Bonini (Ita) G.S.Bottoli Artoni Zocco                 3.34
39 Patrique Azevedo (Bra) Brazil                                 4.12
40 Simone Meda (Ita) V.C.Podenzano                               7.04
41 Massimiliano Maisto (Ita) V.C.Podenzano                           
42 Maurizio Bellin (Ita) V.C.Podenzano                           7.32
43 Matteo Priamo (Ita) S.C.Marchiol Famila Site                  7.40
44 Paolo Montanari (Ita) G.S.Bottoli Artoni Zocco                8.51
45 Alexander Sergeev (Rus) G.S.Promosport                        8.54
46 Marco Stefani (Ita) Mx2 Bedogni Natalini- Gr                  8.56
47 Viktor Panaev (Rus) Russia                                    9.02
48 Gene Bates (Aus) V.C.Podenzano                                    
49 Marco Righetto (Ita) U.C.Trevigiani                               
50 Bernard Sulzberger (Aus) Australia                            9.09
51 Roberto Canu (Ita) Mx3 V.C.Mantovani- G.S.T                       
52 Aaron Kemps (Aus) Australia                                       
53 Peter Dawson (Aus) Australia                                      
54 Paolo Zenobi (Ita) G.C.Fausto Coppi                           9.15
55 Gianluca Coletta (Ita) G.C.Fausto Coppi Grassi                9.24
56 Nicola Peccolo (Ita) S.C.Marchiol Famila Site                 9.37
57 Wilfried Marget (Ita) U.C.Trevigiani                              
58 Adriano Angeloni (Ita) Futura Team Matricardi                 9.46
59 Paride Grillo (Ita) V.C.Ceramiche Pagnoncell                 10.28
60 Orviz Mario De Sarraga (Spa) Calz.M.Granaro                       
61 Ivan Buoso (Ita) Camel Brunero Boeris Can                    12.53
62 Gianluca Massano (Ita) Camel Brunero Boeris Can              13.06
63 Nicola Cortivo (Ita) G.S.Promosport                          13.24
64 Dario Benenati (Ita) Ima Moro Brugnotto Zotta                13.33
65 Angelo Ciccone (Ita) S.C.Marchiol Famila Site                15.19
66 Alessandro Garziera (Ita) Mx3 V.C.Mantovani- G.S.T           15.27
67 Kwanten Frank (Ned) Team Moser-Ah Profession                      
68 Jonathan Righetto (Ita) U.C.Trevigiani                            
69 Stefano Brunelli (Ita) U.C.Trevigiani                             
70 Michele Maccanti (Ita) Mx1 Cyber Team Faresin                15.36
71 Francesco Conserva (Ita) Mx4 Gs. Resine Ragnoli F                 
72 Marco Pederzani (Ita) G.S.Promosport                              
73 Domenico Loria (Ita) Mx2 Bedogni Natalini- Gr                15.41
74 Breno Sidoti (Bra) Brazil                                         
75 Davide Tortella (Ita) G.S.Zalf Desire' Fior                  15.46
76 Simone Friso (Ita) V.C.Bassano 1802 Elca Se                  15.55
77 Domenico Quagliarello (Ita) Futura Team Matricardi           16.04
78 Giosué Zecchin (Ita) Mx4 Gs. Resine Ragnoli F                16.34
79 Alberto Ceralli (Ita) Camel Brunero Boeris Can                    
80 Luca Iattici (Ita) G.C.Fausto Coppi Grassi                   18.02
81 Luigi Salimbeni (Ita) Calz.M.Granaro                         18.05
82 Davide Silvestri (Ita) V.C.Bassano 1802 Elca Se              18.20
83 Alexander Kiselev (Rus) Mx4 Gs. Resine Ragnoli F             22.52
84 Mattia Gavazzi (Ita) Mx4 Gs. Resine Ragnoli F                     
85 Ivan Svchegoleu (Rus) Mx3 V.C.Mantovani- G.S.T                    
86 Bruno Martelli (Ita) V.C.Aran World Cantina T                     
87 Steven Aubert (Fra) V.C.La Pomme Marseille                        
88 Luis Fernandez Macias (Mex) Messico                               
89 Alexandr Mironov (Rus) Russia                                     
90 Alessandro Gaia (Ita) Mx4 Gs. Resine Ragnoli F                    
91 Alessandro Maserati (Ita) G.S.Bottoli Artoni Zocco                
92 Armando Camelo (Ita) G.C.Fausto Coppi                             
93 Werner Hendrik (Ger) Team Moser-Ah Profession                     
94 Ignacio Sarabia (Mex) Messico                                     
95 Roberto Gennaro (Ita) Futura Team Matricardi                      
96 Ashley Humbert (Aus) Australia                                    
97 Joan José Rivas Quintero (Ven) Mx2 Bedogni Natalini- Gr           
98 Manolo De Flavis (Ita) V.C.Aran World Cantina T                   
99 Fabrizio Cravero (Ita) Camel Brunero Boeris Can                   
100 Alessio Signego (Ita) Mx7 Promociclo-Basso Pie                   
101 Emanuele Rizza (Ita) G.S.Maltinti Lamp.Solgom                    
102 Nicholas Sanderson (Aus) Australia                               
103 Eugenio Loria (Ita) Mx2 Bedogni Natalini- Gr                     
104 Roland Turelli (Ita) G.S.Promosport                              
105 Massimiliano Caccin (Ita) V.C.Ceramiche Pagnoncell               
106 Harald Starzengruger (Aut) U.C.Trevigiani                        
107 Daniele Colli (Ita) G.S.Zalf Desire' Fior                        
108 Manuel Quiriconi (Ita) G.S.Maltinti Lamp.Solgom                  
109 Alessandro Raisoni (Ita) V.C.Podenzano                           
110 Claudio Masnata (Ita) S.C.Marchiol Famila Site                   
111 Marco Carletti (Ita) Futura Team Matricardi                      
112 Loris Poli (Ita) Mx1 Cyber Team Faresin                          
113 Marco Endrizzi (Ita) Mx1 Cyber Team Faresin                      
114 Marco Vettoretti (Ita) G.S.Promosport                            
115 Luca Amoriello (Ita) G.S.Zalf Desire' Fior                       
116 Sergio Lagana' (Ita) Mx2 Bedogni Natalini- Gr                    
117 Paolo Capponcelli (Ita) V.C.Podenzano                            
118 Ariel Richeze (Arg) V.C.Bassano 1802 Elca Se                     
119 Giuseppe Muni (Ita) Calz.M.Granaro                               
120 Giuseppe De Maria (Ita) Mx6 Palazzago-Casini Vel                 
121 Gianluca Geremia (Ita) G.S.Zalf Desire' Fior                     
122 Emanuele Grassi (Ita) Futura Team Matricardi                     
123 Davide Bianchi (Ita) G.S.Maltinti Lamp.Solgom                    
124 Maurizio Biondo (Ita) V.C.Ceramiche Pagnoncell                   
125 Roberto Savoini (Ita) V.C.Bassano 1802 Elca Se                   
126 Botman Wim (Ned) Team Moser-Ah Profession                        
127 Mattia Turrina (Ita) U.C.Trevigiani                              
128 Umberto Moretti (Ita) G.C.Fausto Coppi                           
129 Antonio Fratepietro (Ita) Calz.M.Granaro                         
130 Giampaolo Gallo (Ita) Mx1 Cyber Team Faresin                     
131 Lambert Marcel (Ned) Team Moser-Ah Profession                    
132 Ivan De Nobile (Ita) V.C.Aran World Cantina T                    
133 Lorenzo Costa (Ita) G.C.Fausto Coppi Grassi                      
134 Francesco Di Paolo (Ita) V.C.Aran World Cantina T                
135 Emanuele Fornasier (Ita) Ima Moro Brugnotto Zotta                
136 Mazur Peter (Pol) Team Moser-Ah Profession                       
137 Denis Camiel (Ned) Team Moser-Ah Profession                      
138 Bruno Bertolini (Ita) Ima Moro Brugnotto Zotta                   
139 Walter Palmeri (Ita) Calz.M.Granaro                              
140 Marco Bertoletti (Ita) S.C.Marchiol Famila Site                  
141 Ivan Duso (Ita) Mx1 Cyber Team Faresin                           
142 Geremia Cocco (Ita) Ima Moro Brugnotto Zotta                     
 
General classification after stage 5
 
1 Alessandro Bertuola (Ita) Ima Moro Brugnotto Zotta         17.30.37
2 Nicola Del Puppo (Ita) G.S.Promosport                          1.27
3 Ivan Stevic (Yug) V.C.Aran World Cantina T                     2.12
4 Alessio Ricciardi (Ita) Mx2 Bedogni Natalini- Gr               2.19
5 Paolo Bailetti (Ita) Camel Brunero Boeris Can                  2.21
6 Micula De Matteis (Ita) G.S.Bottoli Artoni Zocco               2.47
7 Alexandr Sabalin (Mda) V.C.La Pomme Marseille                  2.57
8 Marco Marzano (Ita) V.C.Ceramiche Pagnoncell                   3.07
9 Matej Mugerli (Slo) Ima Moro Brugnotto Zotta                   3.21
10 Domenico Pozzovivo (Ita) G.S.Zalf Desire' Fior                3.24
11 Marco Osella (Ita) Mx4 Gs. Resine Ragnoli F                   3.34
12 Diego Caccia (Ita) G.S.Bottoli Artoni Zocco                   3.45
13 Dainius Kairelis (Ltu) Mx1 Cyber Team Faresin                 3.55
14 Giorgio Orizio (Ita) Mx6 Palazzago-Casini Vel                 3.58
15 Hrvoje Miholjevic (Cro) Mx7 Promociclo-Basso Pie              4.20
16 Riccardo Ricco' (Ita) G.C.Fausto Coppi Grassi                 4.26
17 Anton Sintsov (Rus) Russia                                    4.40
18 Daniele Marziani (Ita) V.C.Aran World Cantina T               4.53
19 Hubert Dupont (Fra) V.C.La Pomme Marseille                    4.54
20 Mirko Allegrini (Ita) G.S.Zalf Desire' Fior                   4.56
21 Stefano Bonini (Ita) G.S.Bottoli Artoni Zocco                 5.04
22 Matteo Gregianin (Ita) G.S.Bottoli Artoni Zocco                   
23 Luca Zanasca (Ita) Mx6 Palazzago-Casini Vel                   5.31
24 Alexey Esin (Rus) Russia                                      5.40
25 Donato Cannone (Ita) Futura Team Matricardi                   5.45
26 Vincenzo Garofalo (Ita) G.S.Maltinti Lamp.Solgom              5.49
27 David Betts (Aus) Australia                                   5.51
28 Maxim Belkov (Rus) Russia                                     5.52
29 Denis Shkarpeta (Uzb) V.C.Ceramiche Pagnoncell                6.00
30 Mauro Da Dalto (Ita) S.C.Marchiol Famila Site                 6.08
31 Simone Bruson (Ita) Camel Brunero Boeris Can                  6.17
32 Peter Dawson (Aus) Australia                                  8.15
33 Palev Kalinin (Rus) Russia                                    8.16
34 Wilfried Marget (Ita) U.C.Trevigiani                         10.10
35 Matteo Priamo (Ita) S.C.Marchiol Famila Site                 10.55
36 Philip Deignan (Irl) V.C.La Pomme Marseille                  11.00
37 Roberto Traficante (Ita) V.C.Bassano 1802 Elca Se            11.13
38 Gene Bates (Aus) V.C.Podenzano                               11.57
39 Viktor Panaev (Rus) Russia                                   12.02
40 Marco Righetto (Ita) U.C.Trevigiani                               
41 Carmelo Nicolosi (Ita) Calz.M.Granaro                        12.17
42 Orviz Mario De Sarraga (Spa) Calz.M.Granaro                  13.20
43 Isodoro Micael Duarte (Por) G.S.Maltinti Lamp.Solgom         13.46
44 Aaron Kemps (Aus) Australia                                  14.58
45 Massimiliano Maisto (Ita) V.C.Podenzano                      15.01
46 Ivan Buoso (Ita) Camel Brunero Boeris Can                    15.48
47 Fabricio Morandi (Bra) Brazil                                16.16
48 Paolo Montanari (Ita) G.S.Bottoli Artoni Zocco               16.32
49 Domenico Quagliarello (Ita) Futura Team Matricardi           16.37
50 Nicola Peccolo (Ita) S.C.Marchiol Famila Site                17.18
51 Domenico Loria (Ita) Mx2 Bedogni Natalini- Gr                17.33
52 Simone Meda (Ita) V.C.Podenzano                              18.35
53 Roberto Canu (Ita) Mx3 V.C.Mantovani- G.S.T                  20.46
54 Luigi Salimbeni (Ita) Calz.M.Granaro                         21.05
55 Jonathan Righetto (Ita) U.C.Trevigiani                       21.19
56 Bernard Sulzberger (Aus) Australia                           21.24
57 Maurizio Flocchini (Ita) Mx3 V.C.Mantovani- G.S.T                 
58 Adriano Angeloni (Ita) Futura Team Matricardi                23.41
59 Ivan Svchegoleu (Rus) Mx3 V.C.Mantovani- G.S.T               25.52
60 Mattia Turrina (Ita) U.C.Trevigiani                               
61 Ashley Humbert (Aus) Australia                               26.03
62 Alessandro Garziera (Ita) Mx3 V.C.Mantovani- G.S.T           26.04
63 Kwanten Frank (Ned) Team Moser-Ah Profession                      
64 Alessio Signego (Ita) Mx7 Promociclo-Basso Pie               26.10
65 Breno Sidoti (Bra) Brazil                                    26.18
66 Simone Friso (Ita) V.C.Bassano 1802 Elca Se                  26.29
67 Stefano Brunelli (Ita) U.C.Trevigiani                        27.01
68 Marco Pederzani (Ita) G.S.Promosport                         27.13
69 Paolo Capponcelli (Ita) V.C.Podenzano                        27.24
70 Michele Maccanti (Ita) Mx1 Cyber Team Faresin                28.40
71 Armando Camelo (Ita) G.C.Fausto Coppi                        28.44
72 Nicholas Sanderson (Aus) Australia                                
73 Marco Bertoletti (Ita) S.C.Marchiol Famila Site              28.57
74 Alexander Sergeev (Rus) G.S.Promosport                       29.19
75 Alexandr Mironov (Rus) Russia                                29.29
76 Maurizio Bellin (Ita) V.C.Podenzano                          29.44
77 Claudio Masnata (Ita) S.C.Marchiol Famila Site               31.20
78 Davide Silvestri (Ita) V.C.Bassano 1802 Elca Se              31.24
79 Roberto Savoini (Ita) V.C.Bassano 1802 Elca Se               32.06
80 Gianluca Coletta (Ita) G.C.Fausto Coppi Grassi               32.12
81 Alberto Ceralli (Ita) Camel Brunero Boeris Can               32.48
82 Harald Starzengruger (Aut) U.C.Trevigiani                    33.23
83 Nicola Cortivo (Ita) G.S.Promosport                          33.49
84 Gianluca Massano (Ita) Camel Brunero Boeris Can              34.05
85 Paride Grillo (Ita) V.C.Ceramiche Pagnoncell                 34.23
86 Davide Tortella (Ita) G.S.Zalf Desire' Fior                  34.56
87 Giosué Zecchin (Ita) Mx4 Gs. Resine Ragnoli F                35.34
88 Bruno Bertolini (Ita) Ima Moro Brugnotto Zotta               35.53
89 Mazur Peter (Pol) Team Moser-Ah Profession                        
90 Gianluca Geremia (Ita) G.S.Zalf Desire' Fior                 35.56
91 Ignacio Sarabia (Mex) Messico                                     
92 Marco Vettoretti (Ita) G.S.Promosport                        36.31
93 Daniele Colli (Ita) G.S.Zalf Desire' Fior                    36.33
94 Emanuele Fornasier (Ita) Ima Moro Brugnotto Zotta            36.48
95 Paolo Zenobi (Ita) G.C.Fausto Coppi                          36.51
96 Luis Fernandez Macias (Mex) Messico                          37.19
97 Emanuele Rizza (Ita) G.S.Maltinti Lamp.Solgom                38.46
98 Alessandro Raisoni (Ita) V.C.Podenzano                            
99 Francesco Conserva (Ita) Mx4 Gs. Resine Ragnoli F            40.41
100 Sergio Lagana' (Ita) Mx2 Bedogni Natalini- Gr               42.35
101 Patrique Azevedo (Bra) Brazil                               43.03
102 Massimiliano Caccin (Ita) V.C.Ceramiche Pagnoncell          43.34
103 Lorenzo Costa (Ita) G.C.Fausto Coppi Grassi                 43.51
104 Manolo De Flavis (Ita) V.C.Aran World Cantina T             44.10
105 Maurizio Biondo (Ita) V.C.Ceramiche Pagnoncell              44.13
106 Giuseppe Muni (Ita) Calz.M.Granaro                          44.17
107 Marco Stefani (Ita) Mx2 Bedogni Natalini- Gr                45.09
108 Bruno Martelli (Ita) V.C.Aran World Cantina T               45.50
109 Ariel Richeze (Arg) V.C.Bassano 1802 Elca Se                45.58
110 Joan José Rivas Quintero (Ven) Mx2 Bedogni Natalini- Gr     46.08
111 Denis Camiel (Ned) Team Moser-Ah Profession                 46.15
112 Eugenio Loria (Ita) Mx2 Bedogni Natalini- Gr                46.37
113 Emanuele Grassi (Ita) Futura Team Matricardi                46.40
114 Roberto Gennaro (Ita) Futura Team Matricardi                     
115 Alessandro Gaia (Ita) Mx4 Gs. Resine Ragnoli F              46.55
116 Angelo Ciccone (Ita) S.C.Marchiol Famila Site               47.08
117 Steven Aubert (Fra) V.C.La Pomme Marseille                  51.41
118 Manuel Quiriconi (Ita) G.S.Maltinti Lamp.Solgom             51.51
119 Werner Hendrik (Ger) Team Moser-Ah Profession               54.29
120 Alessandro Maserati (Ita) G.S.Bottoli Artoni Zocco          54.37
121 Dario Benenati (Ita) Ima Moro Brugnotto Zotta               55.39
122 Fabrizio Cravero (Ita) Camel Brunero Boeris Can             56.24
123 Marco Endrizzi (Ita) Mx1 Cyber Team Faresin                 56.34
124 Mattia Gavazzi (Ita) Mx4 Gs. Resine Ragnoli F               56.39
125 Francesco Di Paolo (Ita) V.C.Aran World Cantina T           56.52
126 Botman Wim (Ned) Team Moser-Ah Profession                   56.57
127 Ivan Duso (Ita) Mx1 Cyber Team Faresin                      57.05
128 Ivan De Nobile (Ita) V.C.Aran World Cantina T               57.48
129 Alexander Kiselev (Rus) Mx4 Gs. Resine Ragnoli F            57.49
130 Giuseppe De Maria (Ita) Mx6 Palazzago-Casini Vel            59.32
131 Luca Amoriello (Ita) G.S.Zalf Desire' Fior                1.01.22
132 Roland Turelli (Ita) G.S.Promosport                       1.01.25
133 Umberto Moretti (Ita) G.C.Fausto Coppi                    1.01.45
134 Geremia Cocco (Ita) Ima Moro Brugnotto Zotta              1.01.51
135 Luca Iattici (Ita) G.C.Fausto Coppi Grassi                1.02.27
136 Marco Carletti (Ita) Futura Team Matricardi               1.03.09
137 Davide Bianchi (Ita) G.S.Maltinti Lamp.Solgom             1.04.37
138 Lambert Marcel (Ned) Team Moser-Ah Profession                    
139 Antonio Fratepietro (Ita) Calz.M.Granaro                  1.04.53
140 Loris Poli (Ita) Mx1 Cyber Team Faresin                   1.06.00
141 Walter Palmeri (Ita) Calz.M.Granaro                       1.09.42
142 Giampaolo Gallo (Ita) Mx1 Cyber Team Faresin              1.10.17