Tattersall's Cup - NE
Australia, July 28-August 25, 2004
Main Page Results Previous Race
Race 5 - August 25: Tamar Valley Vineyards, 137.7 km
Walker walks it in
But McKenzie takes series finale in Tassie
By Rod Morris
David McKenzie takes the win in the fifth race of the Tattersall's Cup
Photo ©: Shane Goss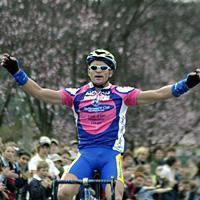 Young Victorian gun William Walker has stamped himself as the next superstar of Australian cycling after claiming the biggest win of his short career. Walker (18), from the inner Melbourne suburb of Ivanhoe, defended his lead in the Tattersall's Cup series, to claim overall honours, four points ahead of Victorian veteran David McKenzie, despite the latter winning the final race of the series. In stellar form leading into the Australian summer, McKenzie won the new-look Tour of the Tamar Vineyards in Tasmania.
Tour promoter John Craven took the Tasmanian leg of the series down the East Tamar (instead of the other direction) and through Scottsdale and finishing at the sleepy hamlet of Lilydale. McKenzie however was far from sleepy, reeling in a four minute deficit at the half way mark of the race to win by narrowly from Walker.
"This was a much tougher race than last year," McKenzie said. "There were a lot more hills and they all seemed to be spaced apart just so you couldn't get a decent spell in between. Whoever set this course must have been in a nasty mood," McKenzie smiled in front of Craven.
McKenzie has been in golden form throughout the Tattersall's Cup series, claiming a win, two seconds and a fourth from his four appearances. He didn't ride in the opening event and it may well have cost him overall victory when you consider he finished just four points behind Walker. "Lets not deny William his victory, he rode very well during the series and particularly in this race, he did everything he had to do tactically to ensure his overall win," McKenzie admitted.
They're off in race five
Photo ©: Shane Goss

A group of five riders broke away
Photo ©: Shane Goss

Jai Crawford (TIS/Cyclingnews)
Photo ©: Shane Goss

To some it felt like the road to nowhere!
Photo ©: Shane Goss

Jersey winners
Photo ©: Shane Goss

Walker has only been riding for five years and has no serious cycling background to fall back on. "I got started after a mate, who wasn't really into the sport either, suggested I have a got at it," he said.
Like most young Australian riders, Walker has an ambition to turn professional, represent Australia at the Olympic Games and ride in the Tour de France. "I'm no different to any other young rider I suppose," he said.
Well different he is...he can ride a bike with aggression, speed, guile and some old fashioned race-cunning. "I knew what I had to do today to keep my lead in the overall series and that was to watch closely what David McKenzie was doing. If I could stay on his wheel or at least somewhere near it, then I knew I wouldn't be in too much trouble."
Walker was also named the 2004 winner of the Sid Patterson Rider of the Future award. "To compete - and do well - in this series alongside the likes of David McKenzie, Robert McLachlan and Scott Guyton has been an absolute thrill and I'm now looking forward to what the future holds for me."
Walker and McKenzie, along with eight other riders, Domenic Gatto, Chris Bradford, Peter Milostic, David Tanner, Matthew Lloyd, David Pell, James Meadley and Robert McLachlan all won automatic selection into the Herald Sun Tour, which will be raced in Victoria from October 14-24. That reward comes after claiming the top 10 overall positions in the Tattersall's Cup series.
How it unfolded
The Tour of the Tamar Vineyards (137.7 km) was a war of attrition, with many riders struggling to come to terms with the seemingly endless amount of climbs. Whilst not steep, the climbs had a severe impact on the field, with many riders just happy to limp home.
The early pace was set by four breakaway riders, Troy Glennan (NSW), Tim Decker, Ashley Baines and Damien Forster, all of Victoria. That quartet shared in the majority of the sprints and king of the mountains points on offer before the peloton reeled them in. To Glennan's credit, he was able to dig deep and claim a top 10 spot (7th) in the final sprint to the line.
Baines produced the "feel-good" story of the day. Starting the day 8-points behind James Meadley, Baines reeled him in and eventually claimed overall honours in the Sprint Championship. At the corresponding race last year, Baines arrived safely in Tasmania ready to compete, whilst his bike was en-route to Cairns...the other end of the country! It cost him a place in the overall Top 10.
McKenzie was a clear winner of the King of the Mountain Championship.
Many of the Tour of the Tamar Vineyards field will stay in Tasmania to compete in the following day's inaugural Forestry Tasmania Scottsdale Grand Prix.
Photography
Images by Shane Goss/www.licoricegallery.com
Results
1 David McKenzie (Victoria) 
2 William Walker (Victoria) 
3 Domenic Gatto (Victoria) 
4 David Tanner (Victoria) 
5 Scott Lyttle (New Zealand) 
6 Andrew Graham (Victoria) 
7 Troy Glennan (New South Wales) 
8 Josh Wilson (Tasmania) 
9 Richard England (Victoria) 
10 Chris Bradford (Victoria)

King of the Mountains

1 David McKenzie (Victoria)

Sprint Championship

1 Ashley Baines (Victoria)

Tattersall's Cup final overall standings

1 William Walker (Victoria)          88 pts
2 David McKenzie (Tasmania)          84
3 Domenic Gatto (Victoria)           75
4 Chris Bradford (Victoria)          73
5 Peter Milostic (New South Wales)   69
6 David Tanner (Victoria)            65
7 Matthew Lloyd (Victoria)           52
8 David Pell (Victoria)              52
9 James Meadley (ACT)                49
10 Robert McLachlan (ACT)            46