Recently on Cyclingnews.com
Cascade Classic - NE
Bend, Oregon, USA, July 7-11, 2004
Stage 1 - July 7: Pacific Power Road Race, 110 miles
Elkern takes stage 1
Evan Elkan won
Photo ©: Beth Seliga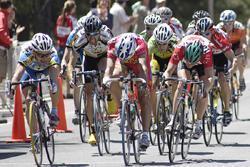 Evan Elkan (Broadmark Capital Cycling) won the first stage of the Cascade Classic today which came down to a bunch sprint at the end of an aggressive day in the saddle. Elkan edged out seasoned sprinters Alex Candelario (Jelly Belly) and Gord Fraser (Health Net p/b Maxxis to take the win and earn the leaders jersey going into stage two.
Not a bad place to ride
Photo ©: Beth Seliga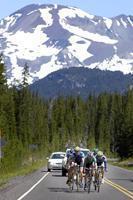 After ten miles of racing the attacks began through the gorgeous landscape of Bend, Oregon. Christian Fowler from the newly formed Subway team broke away with Jeff Louder (Navigators) for one of the first breaks of the day. Fowler was caught, and Louder soloed on to take the first KOM of the day. He was later joined by another group of five riders containing John Lieswyn, Burke Swindlehurst (Navigators), Michael Creed (USPS), Charles Dionne (Webcor) and Cam Evans (Symmetrics). The gap stretched out to over three minutes but was later caught with counters to follow.
With ten miles to go, Chris Baldwin (Navigators) took off with Andrew Bajadali (O'Foto) for one final attempt to get to the line solo. They two were reeled in by Health Net who were preparing Fraser for the sprint. On the line though, it was Elkan who snuck around on the right to take the win from Candelario.
Photography
Images by Beth Seliga/www.3catsphoto.com
Results
1 Evan Elken (Broadmark Capital Cycling)               3.49.49
2 Alex Candeloria (Jelly Belly/Aramark)                       
3 Gord Fraser (Health Net)                                    
4 Henk Vogels (Navigators)                                    
5 Russell Hamby (Sierra Nevada)                               
6 Andrew Pinfold (Symetrix)                                   
7 Kirk O'Bee (Navigators)                                     
8 Chris Gruber                                                
9 Glen Mitchell (Sierra Nevada)                               
10 Todd Yezefski (TIAA-CREF/5280)                             
11 Chris Baldwin (Navigators)                                 
12 Carl Decker (Broadmark Capital Cycling)                    
13 Aaron Norman (DeltaVelo)                                   
14 Tim Larkin (Ofoto.com-Lombardi Sports)                     
15 Svein Tuft (Symetrix)                                      
16 Geofrey Rapoport                                           
17 Josh Horowitz (Velo Club LaGrange)                         
18 Tim Duggan (TIAA-CREF/5280)                                
19 Victor Rapinski (Navigators)                               
20 Barkley Robinson (Team Rio Grande)                         
21 Solamar Woras (Team Revolution/Rubican)                    
22 Jeff Louder (Navigators)                                   
23 Charles Dionne (Webcor Builders Cycling Team)              
24 Remi McManus (Subway-Express)                              
25 Antonio Cruz (U.S. Postal Service)                         
26 Stewart Jackson (Ofoto.com-Lombardi Sports)                
27 John Osguthorpe (Harristone)                               
28 Doug Ollerenshaw (Jelly Belly/Aramark)                     
29 Owenn Gue (Hammer Gel)                                     
30 Damon Kluck (U.S. Postal Service)                          
31 Colby Pearce (TIAA-CREF/5280)                              
32 Ben Jacques-Maynes (Sierra Nevada)                         
33 David Richter (Subway-Express)                             
34 Cam Evans (Symetrix)                                       
35 Jeff Hartman (Big Shark Racing)                            
36 Nathan Miller (McGuire ProCycling)                         
37 Anthony Colby (AST)                                        
38 Aaron Olson (Colavita Olive Oil Pro Team)                  
39 Mitch Moreman (Hassle Free Sports)                         
40 Pat McCarty (U.S. Postal Service)                          
41 Bart Fidelus (Team Ranchos)                                
42 Roman Kilun (McGuire ProCycling)                           
43 Andy Bajadals (Ofoto.com-Lombardi Sports)                  
44 Matthew Bonin (Maple Leaf Cycling/Local 444)               
45 Scott Moninger (Health Net)                                
46 Jason Klikna (Sierra Nevada)                               
47 Phil Zajicek (Navigators)                                  
48 Deeny Sheldon (TIAA-CREF/5280)                             
49 Michael Sayers (Health Net)                                
50 Troy White (Sierra Nevada)                                 
51 Marc Hagenlocher (Webcor Builders Cycling Team)            
52 Zach Winter (Hayden Frontier)                              
53 Andrew Touchstone (Village Peddler)                        
54 John-Paul Hunt (Village Peddler)                           
55 Chris Horner (Webcor Builders Cycling Team)                
56 John Kelley (Webcor Builders Cycling Team)                 
57 Justin England (Webcor Builders Cycling Team)              
58 Andy Edwards (Soma)                                        
59 Tim Johnson (Saunier Duval)                                
60 Ted Huang (Webcor Builders Cycling Team)                   
61 Darren Vogler (CDS-Kenwood)                                
62 Dario Falquier (Webcor Builders Cycling Team)              
63 Will Routley (Symetrix)                                    
64 Eric Flynn (Harristone)                                    
65 Cameron Hughes (Subway-Express)                            
66 Chris Wherry (Health Net)                                  
67 Ian Prichard (Team Rio Grande)                             
68 Dan Bowman (TIAA-CREF/5280)                                
69 Greg Canfield (Hutch's)                                    
70 Jesse Gordon (Harristone)                                  
71 Robbie Yost (Subway-Express)                               
72 Mike Creed (U.S. Postal Service)                           
73 Matthew Dubberly (Sierra Nevada)                           
74 Taylor Kneuven (Beaverton Bicycle Club)                    
75 Ben Brooks (Jelly Belly/Aramark)                           
76 Burke Swindlehurst (Navigators)                            
77 Greg Tyler (GS Camerati)                                   
78 John Lieswyn (Health Net)                                  
79 Imanol Ayestaran (Webcor Builders Cycling Team)            
80 Dustin Molicki                                             
81 Chris Brennan (JDR/Trek/VW)                                
82 Patrick Caro (Team Monex)                              0.53
83 Pat Dunaway (McGuire ProCycling)                       2.34
84 Tom Crawford (Broadmark Capital Cycling)                   
85 Michael Kehrberg (Subway-Express)                          
86 Omer Kem (Subway-Express)                                  
87 Andrew McDirmid (Starbucks Double Shot)                    
88 Marsh Cooper (Symetrix)                                    
89 Christopher Jones (San Diego B.C.)                         
90 Calvin Allen (Broadmark Capital Cycling)                   
91 Justin Morgan (Broadmark Capital Cycling)                  
92 David Robinson (Broadmark Capital Cycling)                 
93 Josh Klikna (McGuire ProCycling)                           
94 Christian Foster (Subway-Express)                          
95 John-Paul Ballou (Red Edge)                                
96 Andy Bestwick (HDCC)                                       
97 Bryson Perry (Harristone)                                  
98 Mariano Frederick (Jelly Belly/Aramark)                    
99 Trevor Garner (Teton Cycle Works)                          
100 Russell Cree (Broadmark Capital Cycling)                  
101 Mike Martin (Lowes Properties)                            
102 Tyler Farrar (Health Net)                                 
103 David Washburn (Sierra Nevada)                            
104 John Hygelund (Sierra Nevada)                             
105 Joel Cooper (Colorado Velo-Denver Spoke)                  
106 Andres Gil (DeltaVelo)                                    
107 Luca Segato                                               
108 Ian MacGregor (TIAA-CREF/5280)                            
109 Derek Darves (Hutch's)                                    
110 Robert Lofgran (Harristone)                           4.46
111 Adam McClounie (Maple Leaf Cycling/Local 444)             
112 Bernard van Ulden (Webcor Builders Cycling Team)          
113 Ben Stafford (Webcor Builders Cycling Team)               
114 Derrick Stallings (Hutch's)                           6.22
115 John Hackman (Velo Club LaGrange)                         
116 Mike Zagorski (Velo Club LaGrange)                        
117 Joel Arnone (Hammer Gel)                                  
118 Dylan Sebel (Symetrix)                                    
119 Anton Jackson (Broadmark Capital Cycling)                 
120 Eric Long (Hutch's)                                   8.21
121 Don Oakly (Full Sail Racing)                          9.46
122 Jason Lokkesmoe (Health Net)                         13.26
123 Tim Gernitis (Village Peddler)                       18.17
124 Michael Nunez (KHS mm.com)                                
125 Dan Hopely (Village Peddler)                         21.22
126 Teunis Schoneveld (Full Sail Racing)                 47.15
127 Seth Wilkie (Hayden Frontier)