58th Aalst Criterium - NE
Belgium, July 26, 2004
2003 Results Results Past Winners The inside story of the post-TdF crits
McEwen - Boonen show pleases Aalst crowd
Robbie McEwen
Photo ©: Elmar Krings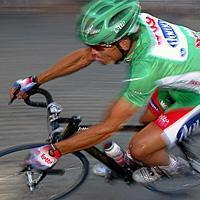 The huge crowd that lined the streets of Aalst for the first of the Belgian post-Tour criteriums got what it came for: a great sprint between Tour de France stage winners Tom Boonen and Robbie McEwen. After a fast and very exciting race, crowd favourite Tom Boonen only just failed to edge past McEwen on the line. Geert Omloop was third, and Australian Scott Sunderland fifth, rolling across the line behind Marc Wauters.
Organisers estimate that 50,000 people turned out on a warm and sunny summer evening for the race in the Eastern-Flemish city. As always, the beer flowed generously and while consuming the traditional hot-dogs, hamburgers and French fries the public consensus was clearly that Belgium's Tom Boonen should win the criterium this year.
However, an unshaven Boonen was interviewed by Belgian TV channel Sporza and admitted to not feeling that fresh. The after-Tour party held in his honour in his home-town of Balen had clearly left its mark, and you could tell by the dark shades and the croaky voice that it had been a big, late night for Tom.
Tom Boonen
Photo ©: Elmar Krings

Scott Sunderland (Alessio-Bianchi)
Photo ©: Elmar Krings

Mark Wauters (Rabobank)
Photo ©: Elmar Krings

With two wins in his first Tour de France and 18 professional victories since he turned pro in 2002, Tom Boonen is one of the generation of new star sprinters in the peloton and cycling-mad Belgium has lost its heart to the easy-going 23 year old.
At 7 pm, the start signal was given by Flemish minister-president Yves Leterme.
The ever-popular Ludo Dierickxsens animated the criterium in his usual style and Scott Sunderland's Team Alessio-Bianchi's colours led the chasing peloton for numerous laps. McEwen had planty of team-mates to smooth the way for him and Wim Vansevenant did plenty of work on the front for his team leader.
A few laps before the finish, kangaroo McEwen jumped on Scott Sunderland's wheel after his fellow Aussie had launched another powerful attack. Sunderland was driving hard but Tom Boonen was having none of it and brought back the other favourites. Peter Van Petegem jumped from the group of eight riders which had formed but to no avail. In the final lap Marc Wauters also tried his luck but the race ended up in a group sprint, with McEwen fastest across the line.
Photography
Images by Elmar Krings
Results
1 Robbie McEwen (Aus) Lotto-Domo                           2.28.00
2 Tom Boonen (Bel) Quick.Step-Davitamon                           
3 Geert Omloop (Bel) MrBookmaker.com-Palmans                      
4 Marc Wauters (Bel) Rabobank                                     
5 Scott Sunderland (Aus) Alessio-Bianchi                          
6 Peter Van Petegem (Bel) Lotto-Domo                              
7 Geert Van Bondt (Bel) Landbouwkrediet-Colnago                   
8 Kevin Van Der Slagmolen (Bel) Vlaanderen-T Interim              
9 Wouter Van Mechelen (Bel) Vlaanderen-T Interim              0.28
10 Danny Verhelst (Bel)                                           
11 Koen Barbé (Bel)                                               
12 Jurgen Landrie (Bel)                                           
13 Hans De Meester (Bel)                                          
14 Francesco Planckaert (Bel) Chocolade Jacques-Wincor Nixdorf    
15 Bart Heirewegh (Bel)                                           
16 Mario Willems (Bel)                                            
17 Bert Scheirlinckx (Bel) Flanders-Afin.com                      
18 Roy Sentjens (Ned) Rabobank                                    
19 Steven De Neef (Bel)                                           
20 Peter Farazijn (Bel) Cofidis, Le Crédit par Téléphone          
21 Dries Van Der Ginst                                            
22 Ben Berden (Bel)                                               
23 Ludo Dierckxsens (Bel) Landbouwkrediet-Colnago                 
24 Jan Verstraeten (Bel)                                          
25 Tony Bracke (Bel) Landbouwkrediet-Colnago                      
26 Bart Laeremans (Bel)                                           
27 Andy De Smet (Bel) MrBookmaker.com-Palmans                     
28 Wesley Van Der Linden (Bel) Vlaanderen-T Interim               
29 Christophe Stevens (Bel) Chocolade Jacques-Wincor Nixdorf      
30 Kevin Van Impe (Bel) Lotto-Domo                                

Past winners
2003 Alessandro Petacchi (Ita) Fassa Bortolo
2002 Robbie McEwen (Aus) Lotto-Domo
2001 Serge Baguet (Bel) Lotto-Adecco
2000 Axel Merckx (Bel)
1999 Ludo Dierckxsens (Bel)
1998 (2) Tom Steels (Bel)
1997 Frank Vandenbroucke (Bel)
1996 Tom Steels (Bel)
1995 Johan Bruyneel (Bel)
1994 Hendrik Redant (Bel)
1993 Alain Van den Bossche (Bel)
1992 Dirk De Wolf (Bel)
1991 Benjamin Van Itterbeeck (Bel)
1990 Johan Museeuw (Bel)
1989 Etienne De Wilde (Bel)
1988 Eddy Planckaert (Bel)
1987 Josef Lieckens (Bel)
1986 Marc Sergeant (Bel)
1985 (2) Eric Vanderaerden (Bel)
1984 Frank Hoste (Bel)
1983 Eric Vanderaer-den (Bel)
1982 (3) Roger De Vlaeminck (Bel)
1981 (2) Lucien Van Impe (Bel)
1980 Ferdinand Van den Haute (Bel)
1979 Marc Demeyer (Bel)
1978 Francesco Moser (Ita)
1977 Lucien Van Impe (Bel)
1976 Rik Van Linden (Bel)
1975 (2) Roger De Vlaeminck (Bel)
1974 Eddy Peelman (Bel)
1973 Roger De Vlaeminck (Bel)
1972 Walter Godefroot (Bel)
1971 (2) Eddy Merckx (Bel)
1970 Victor Van Schil (Bel)
1969 Eddy Merckx (Bel)
1968 (2) Rik Van Looy (Bel)
1967 Rik Van Looy (Bel)
1966 Edward Sels (Bel)
1965 Edgar Sorgeloos (Bel)
1964 Benoni Beheyt (Bel)
1963 Frans Melckenbeeck (Bel)
1962 Robert Lelangue (Bel)
1961 Norbert Kerckhove (Bel)
1960 (3) Rik Van Steenbergen (Bel)
1959 (2) Rik Van Steenbergen (Bel)
1958 Rik Van Steenbergen (Bel)
1957 Joseph Plas (Bel)
1956 Alfred De Bruyne (Bel)
1955 Jules Cools (Bel)
1954 (2) Roger Decock (Bel)
1953 (2) André Rosseel (Bel)
1952 Valeér Olivier (Bel)
1951 Roger Decock (Bel)
1950 Alberic Schotte (Bel)
1949 Frans Leenen (Bel)
1948 André Rosseel (Bel)
1947 Achille Buysse (Bel)

Past winners by Mario Stiehl, www.world-of-cycling.com