69th GP Stad Zottegem-Dr. Tistaert Prijs - 1.3
Belgium, August 17, 2004
2003 Results Results Past winners
Kopp op kop
By Jeff Jones in Zottegem
David Kopp (Lamonta)
Photo ©: CN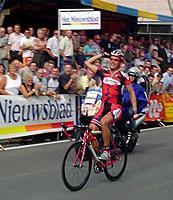 Team Lamonta's David Kopp has become the first German rider to win the GP Stad Zottegem-Dr. Tistaert Prijs, soloing away from a nine man lead group on the last lap to win by 15 seconds. Kopp was followed across the line by young Belgian Kevin Van Impe (Lotto-Domo) and Björn Leukemans (MrBookmaker.com-Palmans), with Gerben Löwik (Chocolade Jacques) and Jeroen Boelen (Van Hemert-Eurogifts) rounding out the top five.
"I'm a bit spent, but I'm very happy with this victory," said 25 year old Kopp of his eighth professional win. "It was very hard with this tempo and a so much wind."
Kopp is in his third year as a professional, having come out of the Telekom development squad and ridden for the professional team in 2002 and 2003. Although Division III Team Lamonta was a big step down from Division I, Kopp has shown this year that he has the talent to progress in future.
Kevin Van Impe (Lotto-Domo)
Photo ©: CN

Second placed Kevin Van Impe (Lotto-Domo) described himself as "very satisfied" with his result. "I don't think anyone expected this...Kopp attacked just after the railway and he was too strong."
Leukemans was certainly not as happy as Van Impe, as he considered himself a good chance to win today. But when Kopp attacked, "The cooperation was not the best. I'm a bit disappointed. A win is always better than third."
How it unfolded
The GP Stad Zottegem is slowly evolving out of its status as a standard pro kermis, consummate with its relatively new UCI 1.3 ranking. Starting with an 80 km loop around Sint-Lievens-Houtem, Gavere, Oudenaarde, Brakel and back to Zottegem, the race finishes with seven 16.1 km laps in town, including the Grotenberge climb, for a total of 189.6 km. The conditions were good for racing, with temperatures in the low 20's and a moderate wind blowing from the south.
Jans Koerts (Jacques)
Photo ©: CN

The field was the usual mixture of Division I, II and III teams, with notable starters such as Belgian champion Tom Steels (Landbouwkrediet), who was riding in a mixed team together with Ludo Dierckxsens, Stijn Devolder, and local Zottegem identity Scott Sunderland. MrBookmaker-Palmans included defending champion Geert Omloop, while Rabobank (de Jongh, Sentjens), Chocolade Jacques (Löwik, Capelle), BankGiroLoterij (Pronk) and Lotto-Domo (Baguet, Hoste, Marichal) all had strong squads. There was even a delegation from Cyclingnews.com-Down Under among the various Division III teams.
The start of the race was fast and aggressive, with a large group getting clear towards the end of the opening circuit. But with so many riders anxious to keep their chances alive and an average speed that was always between 44 and 45 km/h, the peloton regrouped after the first finishing circuit. There was no easing up of the pace, and each time through Zottegem the bunch was in one long line, each rider glued to the wheel in front, with the occasional gap appearing.
'Local' Scott Sunderland (Alessio-Bianchi)
Photo ©: CN

No group was able to establish itself until finally the elastic started to break with approximately five laps (80 km) to go, when a large group of 17 riders escaped. They were chased and caught by the peloton, but it didn't take long for a counter-attacking bunch to form and at three laps (48 km) to go there were some 35 riders in the lead with the main peloton at 5'30. The big bunch - now more than seven minutes behind - was pulled out with one lap left, while the leaders sorted themselves out in front.
During the third last lap, the decisive breakaway went with nine riders from all of the big teams present. In addition to Kopp (Lamonta), Van Impe (Lotto-Domo), Leukemans (MrBookmaker), Löwik (Chocolade Jacques) and Boelen (Van Hemert), there were also Laurens Ten Dam (BankGiroLoterij), Christian Knees (Team Wiesenhof), Steven De Neef (Jong Vlaanderen) and Jan Boven (Rabobank). With two laps to go, the break had 40 seconds and they were not coming back, as too many of them had teammates back in the chasing group.
The gap hovered at between 40 and 50 seconds for the whole lap, and with one lap to go, local boy Serge Baguet (Lotto-Domo) made a big attempt to get across. But although Baguet carved the difference down to 17 seconds, once the attacks started in front it proved to be impossible to get across.
Jeroen Boelen (Van Hemert-Eurogifts)
Photo ©: CN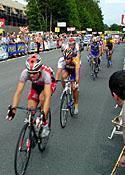 David Kopp attacked on the final lap with approximately 8 km to go, and was able to get just enough of a lead to prevent the others from recapturing him. Van Impe countered with 4 km left, and was joined by Leukemans, but the two were unable to haul the flying German back. The race announcer realised - with a small degree of disappointment - that there would be a Duitse overwinnaar, but no-one could deny that David Kopp was the strongest rider in the race, and he had plenty of time to celebrate his win in the final 100 metres as he cruised down the finishing straight. A handful of seconds behind, Van Impe beat Leukemans for second, while a little later, Serge Baguet won a small group sprint for 10th place.
Photography
Images by Jeff Jones/Cyclingnews.com
Results - 189.6 km
1 David Kopp (Ger) Team Lamonta                            4.10.00 (45.5 km/h)
2 Kevin Van Impe (Bel) Lotto - Domo                           0.13
3 Bjorn Leukemans (Bel) Mr.Bookmaker.com - Palmans            0.19
4 Gerben Löwik (Ned) Chocolade Jacques  - Wincor     
5 Jeroen Boelen (Ned) Van Hemert -  Eurogifts                 0.38
6 Steven De Neef (Bel) Jong Vlaanderen 2016      
7 Christian Knees (Ger) Team Wiesenhof     
8 Jan Boven (Ned) Rabobank     
9 Laurens Ten Dam (Ned) Bankgiroloterij     
10 Serge Baguet (Bel) Lotto - Domo                            0.57
11 Matthé Pronk (Ned) Bankgiroloterij     
12 Pieter Weening (Ned) Rabobank     
13 Gert Vanderaerden (Bel) Mr.Bookmaker.com - Palmans     
14 Glenn D'Hollander (Bel) Lotto - Domo     
15 Thorwald Veneberg (Ned) Rabobank     
16 Paul Van Schalen (Ned) Axa Cycling Team                    1.12
17 Andy De Smet (Bel) Mr.Bookmaker.com - Palmans              1.20
18 Benny De Schrooder (Bel) Vlaanderen - T Interim     
19 Steven Caethoven (Bel) Vlaanderen - T Interim     
20 Christophe Stevens (Bel) Chocolade Jacques  - Wincor     
21 Killian Patour (Fra) Crédit Agricole Espoirs     
22 Sjef De Wilde (Bel) Jong Vlaanderen 2016     
23 Peter Wuyts (Bel) Mr.Bookmaker.com - Palmans     
24 Kevin v.d. Slagmolen (Bel) Vlaanderen - T Interim     
25 Richard Faltus (Cze) AC Sparta Praha     
26 Tommy Van De Gehuchte (Bel) Jong Vlaanderen 2016     
27 Antonio Cruz (USA) US Postal     
28 Bert Scheirlinckx (Bel) Flanders - Afincom     
29 Björn Glasner (Ger) Team Lamonta     
30 Enrico Poitschke (Ger) Team Wiesenhof     
31 Cyril Lemoine (Fra) Crédit Agricole Espoirs     

Courtesy of Ronald Schipper

Past Winners
2003 Geert Omloop (Bel) Palmans-Collstrop
2002 Matthe Pronk (Ned) Rabobank
2001 Jo Planckaert (Bel) Cofidis
2000 Michel van Haecke (Bel)
1999 Etienne De Wilde (Bel)
1998 Paul Van Hyfte (Bel)
1997 Frank Hoj (Den)
1996 Chris Peers (Bel)
1995 Hendrik Redant (Bel)
1994 Marc Wauters (Bel)
1993 Pierre Herinne (Bel)
1992 Marc Dierickx (Bel)
1991 Peter De Clercq (Bel)
1990 Marco Van der Hulst (Ned)
1989 Gino Van Hooydonck (Bel)
1988 Chris Scharmin (Bel)
1987 Nico Verhoeven (Ned)
1986 Patrick Cocquyt (Bel)
1985 Raoul Bruyndonckx (Bel)
1984 Luc Colijn (Bel)
1983 Mario Mariotti (Bel)
1982 Rudy Colman (Bel)
1981 Gery Verlinden (Bel)
1980 Etienne Van der Helst (Bel)
1979 Pol Verschuere (Bel)
1978 Daniël Willems (Bel)
1977 Herman Vrijders (Bel)
1976 Willem Peeters (Bel)
1975 Jan Raas (Ned)
1974 André Dierickx (Bel)
1973 Maurice Dury (Bel)
1972 Herman Van Springel (Bel)
1971 Albert Van Vlierberghe (Bel)
1970 Fernand Hermie (Bel)
1969 Willy Vanden Eynde (Bel)
1968 Frans Melckenbeeck (Bel)
1967 Roland Vande Rijse (Bel)
1966 Jo De Roo (Ned)
1965 Frans Aerenhouts (Bel)
1964 Clément Roman (Bel)
1963 Jean-Baptist Claes (Bel)
1962 Jef Schils (Bel)
1961 Frans Schoubben (Bel)
1960 Jef Schils (Bel)
1959 Arthur De Cabooter (Bel)
1958 Roger Baens (Bel)
1957 Willy Schroeders (Bel)
1956 Lucien Matthijs (Bel)
1955 André Auquier (Bel)
1954 Gilbert Desmet I (Bel)
1953 Leon Delathouwer (Bel)
1952 Leopold Schaeken (Bel)
1951 Maurits Blomme (Bel)
1950 Maurits Blomme (Bel)
1949 Maurits Blomme (Bel)
1948 Emile Vanderveken (Bel)
1947 Michel Remue (Bel)
1946 Michel Van Elsué (Bel)
1945 K. De Baere (Bel)
1944 No race
1943 P. Depredomme (Bel)
1942 Albert Ritserveldt (Bel)
1941 Georges Claes (Bel)
1940 No race
1939 Marcel Kint (Bel)
1938 Louis Janssens (Bel)
1937 Sylvain Grysolle (Bel)
1936 P. Van Teemsche (Bel)
1935 Michel Buyck (Bel)
1934 André Verlinden (Bel) 
Past winners by Mario Stiehl, www.world-of-cycling.com